Jaguar F-Pace Shown without Camouflage
We've seen a ton of teaser footage of the Jaguar F-Pace, so we already have a pretty good idea what the new sport SUV looks like. Still, it's nice to finally see it without camo.
In this brief teaser video released for China's Chengdu Motor Show, Jaguar shows off all of the internal components that go into the F-Pace, then in the last couple of seconds, they show a brief side view of the vehicle. Overall, it still looks almost identical to the C-X17 concept we saw two years ago, but there are a few subtle differences. Most notably, the F-Pace has more pronounced sculpting on the bottom of the doors, and does away with the indentation at the top of the front door. It also looks like the hood has a little less height to it, and the mirrors are a bit more conventional And before you say anything about the fuel door, that's only because I flipped the image of the C-X17 to line them up.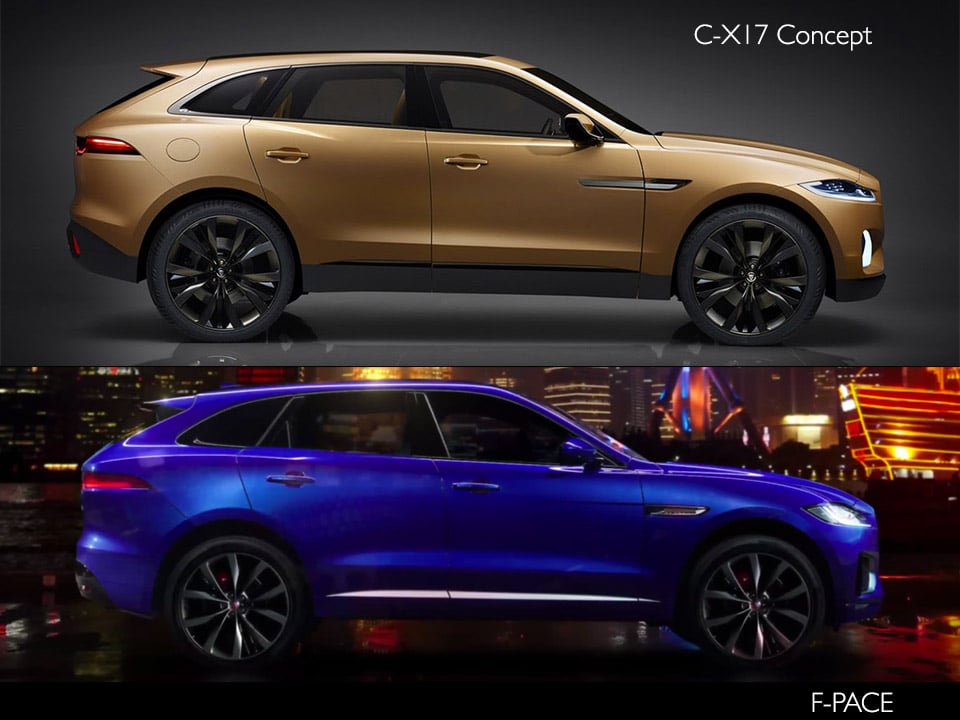 Overall, the F-Pace looks like a pretty sweet ride, and does a good job carrying across the great looks of Jaguar's other recent vehicles, but what will really make or break it is how well it drives, how it's priced, and if the interior provides enough utility to compete in the crowded crossover market.