Review: 2015 Ford Edge
crossovers | ford | ford edge | September 7, 2015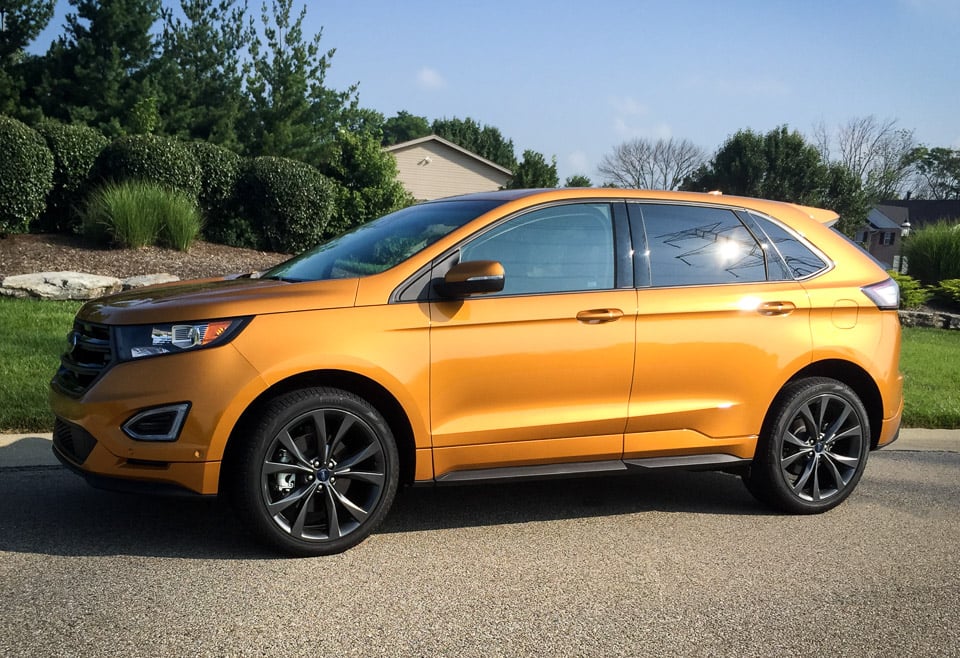 2015 Ford Edge Sport

Engine: 2.7-liter EcoBoost Turbocharged V6
Horsepower: 315
Torque (lb-ft.): 350
Transmission: 6-speed automatic
Drive Configuration: FWD or AWD
Top Speed (mph): 132
City/Hwy/Combined MPG: 17/24/20(AWD) / 18/27/21 (FWD)
Curb Weight (lb): 4437
Wheelbase (in): 112.2
Total Length (in): 188.1
Width (in): 75.9 (w/o mirrors)
Base Price (USD): $40,095
Price as Tested (USD): $45,380
The Ford Edge has lived up to its name since it was first introduced in 2007. You may not initially think of it as an "edgy" vehicle, but it was actually ahead of its time back in its early days. At the start of the crossover craze (which still continues today), carmakers would build vehicles that rode like a car but was higher off the ground like an SUV. The Edge has always been successful at this combination. Now, for the 2015 model year, the Edge is redesigned and looks to be a trendsetter again.
As today's crossovers are going smaller and smaller, the redesigned Edge actually grew in length by nearly four inches. Maybe (hopefully) this is a sign of things to come for the entire segment.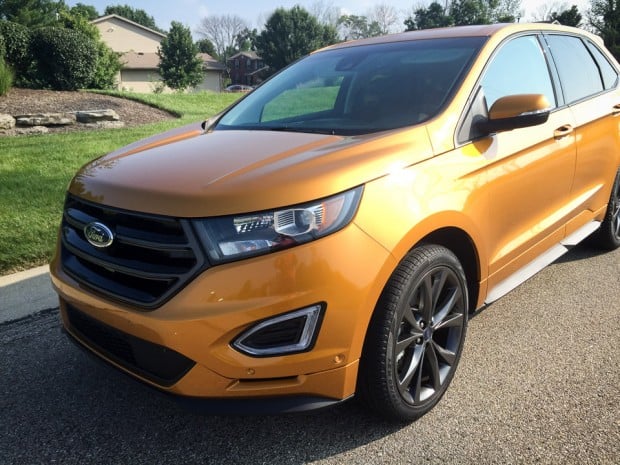 The new Edge has a redesigned exterior that still holds true to its new-era station wagon look. The front end is stubby as is the back, while it's long in the middle, where, as passengers, you want the length. Most vehicles look better from the front, rather than the back, but with the Edge its posterior is actually its best side.
An angular body frame near the C-pillar juts into the LED tail lights, and the rear spoiler is an attractive touch. Dual exhaust tips give it a sharp and sporty look. As is the current trend, design indentations on the side panels are crisp and also help drive the eye toward the back of the vehicle.
The Edge Sport has its own distinctive appearance. The front and rear fascias have more aggressive looks than the other Edge trims. It also rides on has 20-inch rims, giving it a more stout appearance.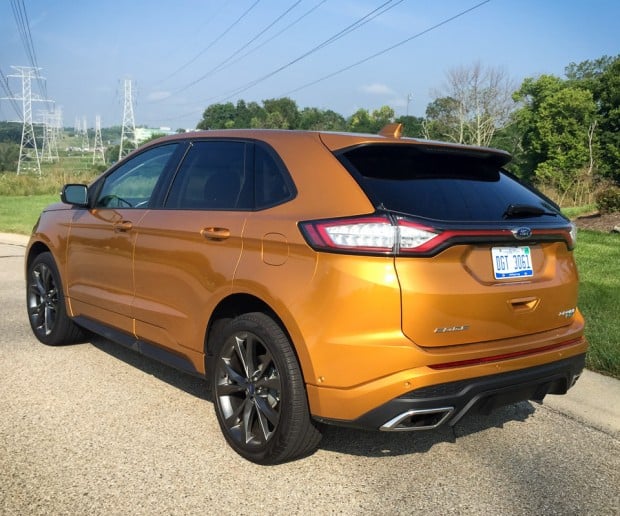 Ford is adding turbos to many of their vehicles, with their EcoBoost engines increases power numbers while also saving on fuel economy. A 2.0-liter 4-cylinder turbocharged engine is standard for most Edges. However, there are two other options, including a 3.5-liter V6 engine. The loaded Edge Sport has an exclusive 2.7-liter turbo 6 engine that has impressive power numbers – 315 horsepower and 350 lb-ft. of torque. In fact, this engine makes more torque and horsepower than the bigger (and less fuel efficient) 3.5-liter. I don't understand why the need for the 3.5-liter at all.
My tester had a lot of power, both off the line and on the open road. The Edge is available either in front-wheel drive or all-wheel drive. My tester was the AWD which comes with a six-speed automatic transmission. The transmission was the only aspect I was disappointed with. For a complete upgrade, I was hoping for more gears, or at least a more responsive transmission. The shifts are slow, and there is some noticeable turbo lag on top of that. Overall, the transmission still felt a little outdated, which is the opposite of how the rest of the Edge feels.
Inside, the Edge has really improved. Overall materials are softer and more luxurious. This is even more the case with the Sport trim which has leather and suede-like seats, ambient lighting and heated and cooled seats.
The Edge is full of modern technology. One such feature is the kick-open rear liftgate. How this works is, if you have the key fob on you, the back liftgate will open if you just sway your foot underneath the back bumper. At first I thought this was nothing more than a gimmick. Then my wife (who's opinion I value on things like this) perfectly demonstrated why this is a great feature. She had her hands full of shopping bags, and her purse on her shoulder. Rather than fumble trying to open the back, she swung her foot and voila, it was open. So that little demonstration won me over that this is quite useful and not just a gimmick.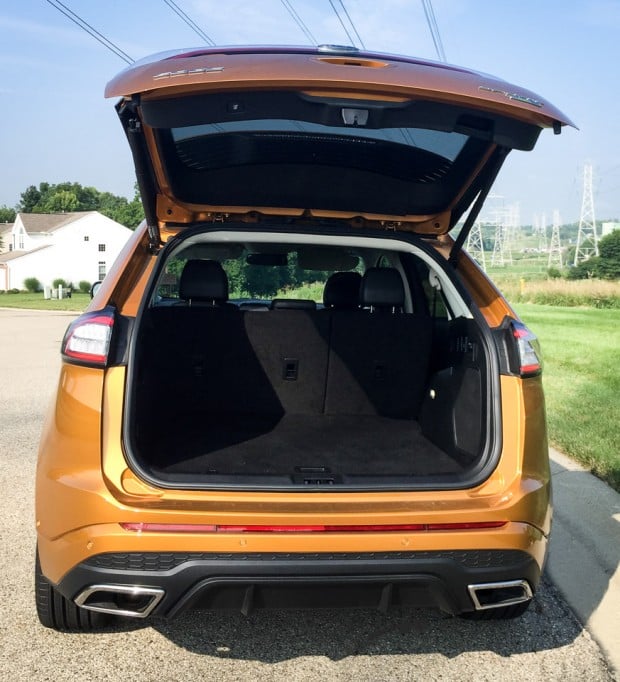 Other available technology includes voice-activated navigation, blind spot monitoring, lane departure warning and parallel park-assist. Ford has had the park-assist feature for a while, and each time I use it, I'm still impressed.
Ford's MyTouch system is still integrated as part of the infotainment system. This system has been critically panned for its less than intuitive interface and terrible voice control. However, as part of the Edge's overhaul, the MyTouch system has also been upgraded. There are more actual buttons, which make it easier to use. I also will say that I've never been as critical of MyTouch as others. I find the voice system to work if you speak clearly and know the right commands.
There isn't a single infotainment system that isn't without flaws. As is always the case, read the manual or get a demonstration of the system from the dealer if you purchase one.
From a safety standpoint, there's an ultra-cool 180 degree front camera that helps after you've reversed. The angle stays active while in low speeds. Again, this may seem like a gimmick, but when you are in a tight parking lot or parking garage, it will help you see objects that can scuff up your rims. Is it necessary? No. But it's a nice added feature.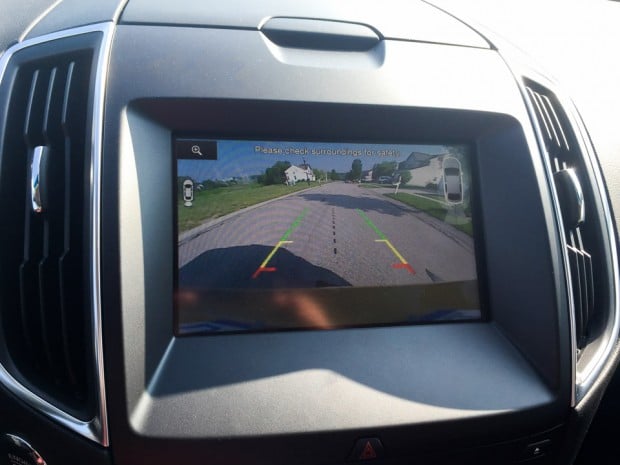 Unfortunately, most of the aforementioned features are part of a higher trim or sold as part of an added equipment package. I dislike when carmakers tease us with neat technology, but then make optional.
Case in point, the basic trim Edge (SE) has a starting price of $28,100(USD). But the Sport (in all its glory with all its tech) starts at $40,995. To compound that further, my tester with the extra equipment package that includes the 180-degree camera, the sensors and the park assist had a final price of $45,380. That is a vast price difference from the base model, and from a consumer standpoint can be bewildering for the car buyer. They want as much as they can get for as little as possible. Ford is not alone in doing this, as many carmakers hide the technology and features you want in the higher priced options and trims.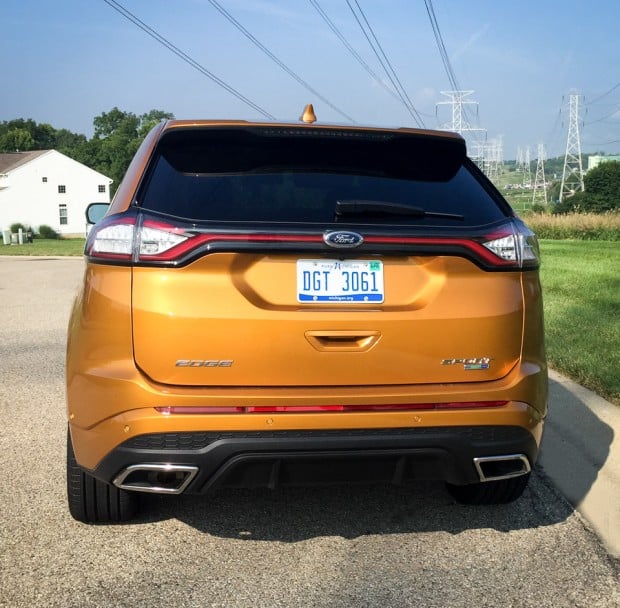 The Edge's fuel economy is fantastic. For a vehicle with 300+ horsepower to average more than 20 mpg is outstanding. The Edge Sport, with AWD has an EPA rating of 17 mpg/city and 24 mpg/highway. The FWD model does even better. In a week's worth of driving, mostly in town, I averaged 20.5 mpg. In the world of five-passenger SUVs, you'd be hard pressed to find this kind of combination of power and fuel economy.
Sporting new looks and new engines, while bigger, yet more fuel efficient, Ford's five-passenger crossover SUV continues to live on the Edge.