Turbo-powered 2017 Porsche 911 Carrera Packs up to 420hp
911 | carrera | porsche | September 7, 2015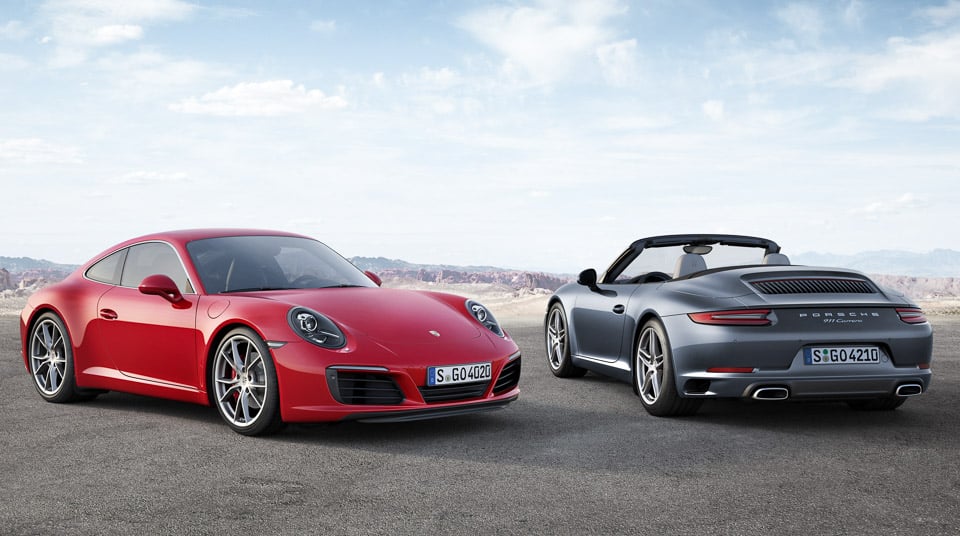 It used to be that when you were talking about a twin-turbo Porsche sports car, you were talking about a very special and specific edition of the venerable 911. That isn't the case today with Porsche officially unveiling the all-new turbo powered Carrera for 2017. The new Carrera is updated on the outside with new headlights, and vertical louvers on the rear deck lid, but the big change is the new turbocharged engine.
The normal 911 Carrera gets a twin-turbo flat-six engine making 370 hp and 331 lb-ft. of torque. The hotter Carrera S version makes 420 hp and 368 lb-ft. of torque. Both power outputs may seem a bit low by today's standards, but make these the fastest Carrera's ever made. The standard transmission all versions is a 7-speed manual, but Porsche says that when the standard Carrera is fitted with a PDK and Sport Chrono package it can hit 60 mph in 4 seconds. The Carrera S can do the same feat in 3.7 seconds.
Top speed for the Carrera is 183 mph with the Carrera S able to reach 191 mph. S buyers can also opt for rear-axle steering as an option. Pricing starts at $89,400(USD) for the standard Carrera and $103,400 for the Carrera S.