First Drive Review: 2016 Lexus RX 350
lexus | lexus rx | September 8, 2015
2016 Lexus RX 350

Engine: 3.5L DOHC V6
Horsepower: 295
Torque (lb-ft.): 267
Transmission: 8-speed automatic
Drive Configuration: AWD or FWD
0-to-60 Time (secs): 7.9 (AWD) / 7.7 (FWD)
Top Speed (mph): 124 (limited)
City/Hwy/Combined MPG: 19/26/22 (AWD) / 20/28/23 (FWD)
Curb Weight (lb): 4,387 (AWD) / 4,222 (FWD)
Wheelbase (in): 109.8
Total Length (in): 192.5
Width (in): 74.6
Base Price (USD): $TBD
In all honesty, I've never been a big fan of the current-gen Lexus RX. Its styling was just too conservative, and the driving experience too disengaged for me. Sure, it's practical and reasonably upscale, but exciting, it isn't. That's all about to change with the 2016 Lexus RX. The new generation of RX not only looks much more dynamic than previous models, it offers a much more rewarding driving experience, fulfilling Lexus goal of offering a vehicle that is both sophisticated and edgy.
Lexus will offer the new RX in six primary models – the RX 350 as well as the RX 450h hybrid, in Standard, Luxury and F-Sport trims. For purposes of this story, I'll focus on the RX 350 Luxury and F-Sport models as those are the ones I managed to drive during a recent trip to Portland.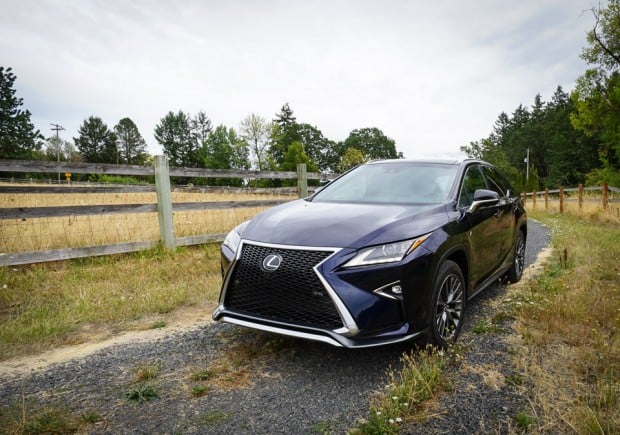 Outside, the new RX really feels like a proper big brother to the NX, featuring sharp, angular lines, a huge spindle grille, and arrow-shaped LED lighting that all draw your eye front and center. The F-Sport features a black mesh grille, and aerodynamic ground effects, while the Luxury's grille is a bit more conservative, with horizontal bars running across, and not quite as exaggerated. In sharing photos of the RX, the grille design has been pretty divisive among my friends, but I much prefer something that pushes the envelope than is too restrained as the Lexus of old would have offered.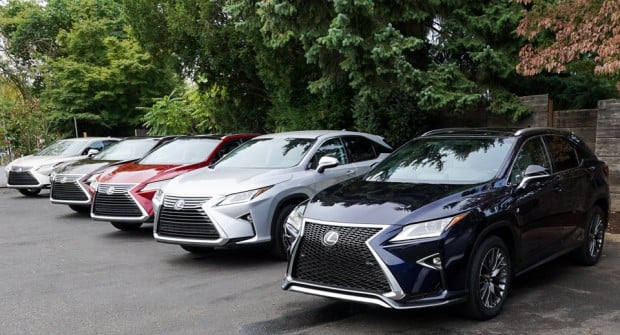 From the side, the new NX looks more substantial than before. For starters, it's 4.7″ longer, and sits on a wheelbase that's 1.9″ longer than the previous model. The revised creases running along the doors give it a better sense of movement, while the roofline appears to float as it passes by the second row of seats. And without increasing overall height, Lexus managed to raise the ground clearance by 0.79″ over the past model, to 8.2″.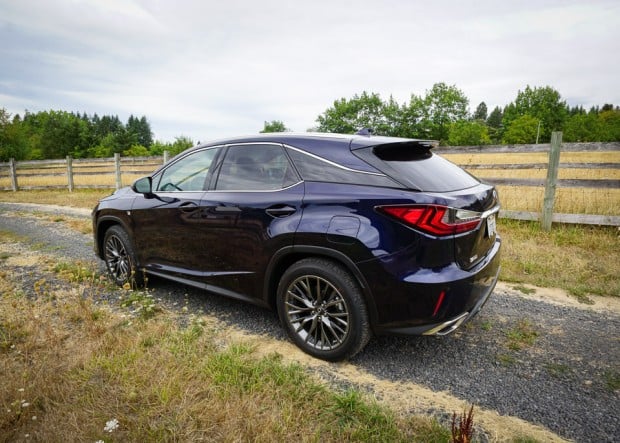 The F-Sport rides on 20″ dark-finish alloy wheels, while the Standard model is equipped with 18″ wheels by default. Personally, I prefer the swirling, two-tone look of the 20″ wheels on the Luxury model best, which offer choices for the accent color, too. I wish you could order those wheels for the F-Sport – at least as an option.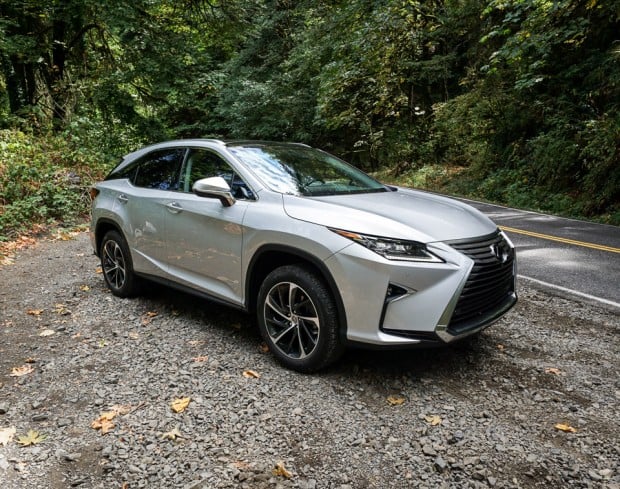 The rear also has seen improvements, with modern LED taillamps, and a design that mirrors the spindle and arrow shapes up front. The sculptured dual chrome exhaust helps give it a more finished and performance-oriented look too.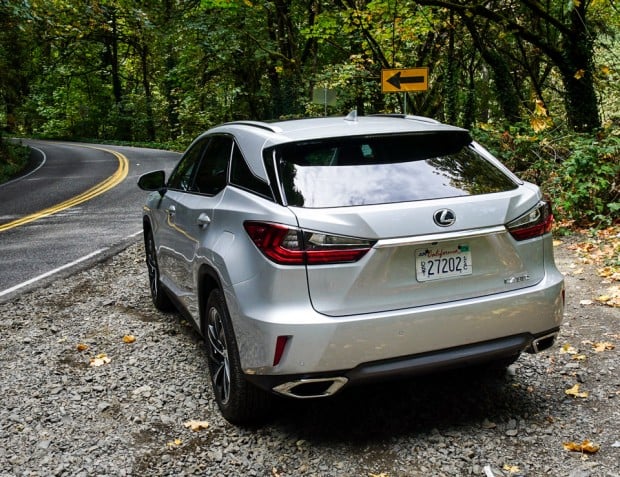 Beyond its exterior redesign, there are numerous improvements in the way the RX drives. Both the Luxury and F-Sport are far less mushy than past models, and body roll has been substantially reduced, increasing driving confidence when cornering or changing lanes. The Luxury model still has a pretty soft ride, while the F-Sport's active suspension is much more my to my taste, providing great road feedback, while still providing good shock absorption. On some twisty and turny roads with frequent speedbumps, the F-Sport's better suspension compliance was a godsend. My driving companion was thrilled with the ride in the F-Sport, while she actually felt carsick from the soft ride of the Luxury model.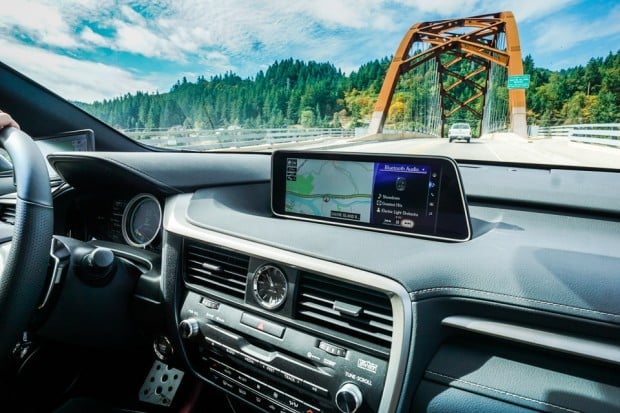 The revamped 3.5-liter six under the hood provides good get-up-and-go, with 295 horses, and 267 lb-ft. of torque, a gain of 20 hp and 19 lb-ft. over the prior model. Impressive gains, given the fact that fuel economy actually improved. As before, there's a choice of either a front-wheel or all-wheel drivetrain (F-Sport is AWD only). Since I stuck to dry, paved roads, I didn't get a chance to put the AWD setup to the test, but on everyday roads, traction felt well sorted on the twisty and hilly roads I did take it on. The 8-speed automatic shifted smoothly, and comes with paddle shifters if you go for the F-Sport. Putting the transmission into "M" mode forces sporty, high-revving sequential shifts.
A driving mode selector lets you adjust throttle and steering response for a more economical, comfortable or sporty feel. The F-Sport model goes one better, with Sport+ mode, which tightens up the suspension too. In general, the steering feel in the RX is pretty light, even in the Sport modes, but still offers reasonable road feedback.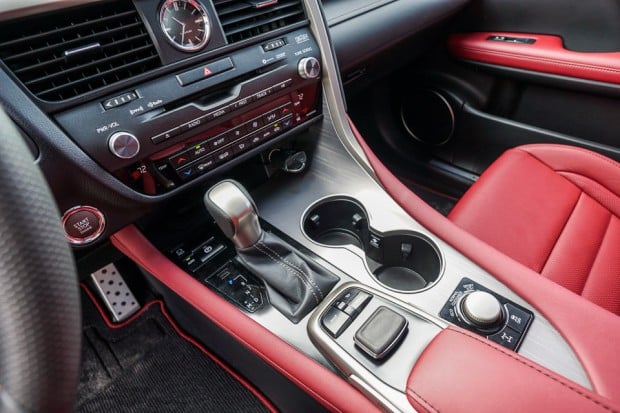 One little trick Lexus did to make things feel sportier was to lower the angle of the steering column by 2º, and to move the seat 0.75″ closer to the floor. Overall visibility has been improved as well. Road noise and vibration is very well controlled in the cabin, something we've all come to expect from Lexus vehicles.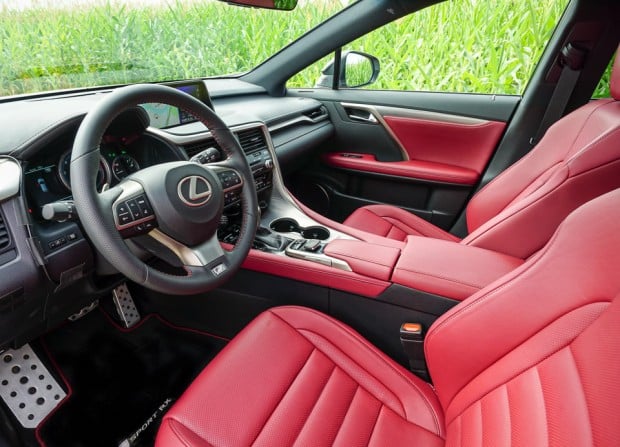 The interior of the RX is perhaps even more changed than the exterior, feeling far more cohesive and modern than the outgoing model. The dashboard features strong horizontal lines, and a satisfying mix of soft touch and metal-like materials for visual interest. Luxury and F-Sport models get premium trims on the center console and doors, either grey sapele wood with inlaid aluminum stripes, or in the case of the F-Sport, brushed aluminum.
While the standard model RX 350 comes with Nuluxe seats, the Luxury package bumps those up to leather trimmed, and the F-Sport gets leather sports seats with thick side bolstering. The Rioja Red seats shown here are the most dramatic available, but can also be had in Black or Status Grey. Both of the premium models get heated and ventilated front seats, while the Luxury package gets heated, power-folding rear seats, and a heated steering wheel. The F-Sport also gets aluminum pedals.
Standard and available tech is plentiful, packing the RX with both safety and convenience features. The infotainment display is now 8″ instead of 7″ by default, but the 12.3″ screen shown here looks really great, offering room for side-by-side navigation and other information on the same display. I still wish it were a touchscreen, but Lexus seems to be committed to its awkward navigation controller for the foreseeable future. While I didn't get to test out the factory audio, the optional Mark Levinson audio system sounded spectacular, offering both power and a clean, natural sound through its 15 speakers.
Available safety features include pre-collision warning with pedestrian detection, a new dynamic radar cruise control which can maintain a safe interval, even if the car in front of you comes to a complete stop, as well as intelligent high-beams, a heads-up display, and lane departure alert, which not only vibrates but gently corrects your steering. The panoramic parking monitor, paired with blind-spot monitoring and rear cross-traffic alert work well to keep you from hitting things, and if I had my way, they'd be standard equipment on every car.
The cabin is quite comfortable with good legroom, headroom and kneeroom for five adults. In fact, the front headroom with the panoramic moonroof installed is 0.3″ better than the old model without one, and rear headroom is 1.4″ better. Front legroom is 1″ better, and rear legroom improved 1.2″. Hiproom is also wider by about an inch up front and 1.5″ in the rear. This all adds up to a cabin that's more comfortable than before, and the old cabin was already quite comfy. There's also ample cargo capacity, with 18.4 cubic feet behind the rear seats, and 56.3 cubic feet available if you fold them down. The prior model specs show a bigger number, but this is due to a change in the measurement methodology. Rest assured that the actual cargo area is even more spacious than last year's model.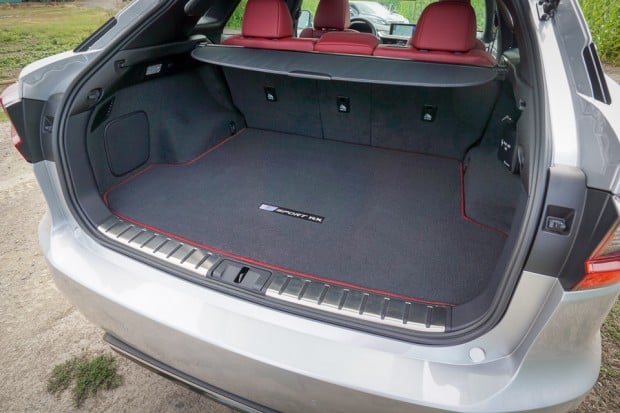 Overall, Lexus has improved the RX on just about every front. It's a bold move to make so many changes to their most popular model, but the end result is a vehicle that's far more appealing and engaging. It's decidedly bolder in its style inside and out, which might at first put off more conservative types, but I think Lexus did a good job tempering the design in the Luxury mode, and going all out only on the F-Sport. Overall, the F-Sport offers a better overall driving experience, so if you like its styling, I suggest you go for that model. Also, be sure to check out the RX 450h as well, if you do a lot of city driving, as the hybrid drivetrain can substantially increase fuel economy at low speeds and in stop/start traffic.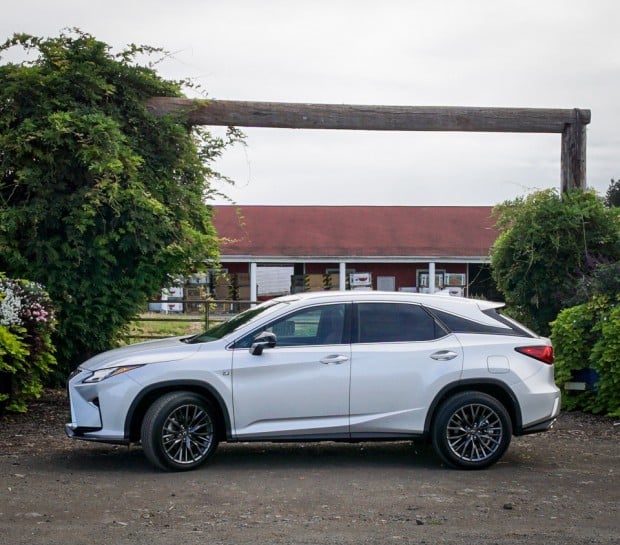 Lexus has yet to announce pricing for the 2016 RX lineup, but says the model will start "well under $45,000" when it lands in dealers this November.