Renault Alaskan Concept Takes on Small Pickup Market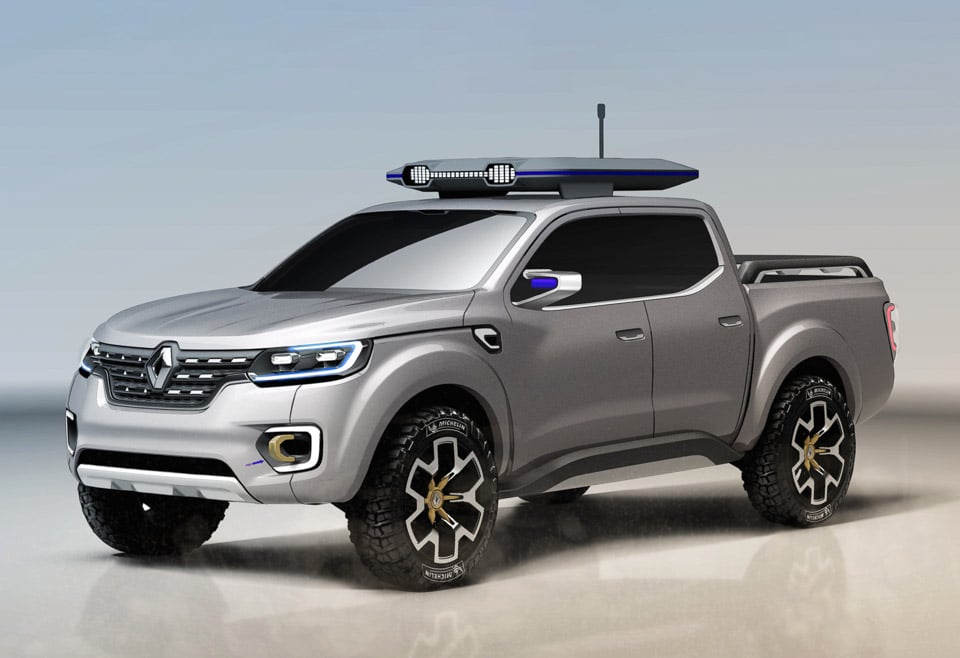 Some of my favorite concept cars aren't cars at all – they're trucks. Case in point, the recently revealed Hyundai Santa Cruz, which melds modern crossover sensibilities with the utility of a small pickup. The design was so well received that Hyundai may put it into production. Now, French automaker Renault is showing off a similar concept pickup, dubbed the Alaskan.
While it's more of a traditional small pickup than the SUV-style Santa Cruz, the Alaskan looks really sweet too. Sporting rugged, yet modern design sensibilities, it looks unlike the more conservative pickup trucks that American and Japanese manufacturers have stuck with for as long as I can remember. The Alaskan would be powered by a twin-turbo four, which probably means its towing capacity will be pretty limited, and it'll be more of an adventurer's vehicle. And no, other than the LED fog lamps on the front, I have no idea what that roof thing is. It looks like there are some solar panels on top, if that gives you any clue.
The five-passenger, one-ton truck is designed for heavy duty off-roading, with plenty of cargo capacity for camping, biking, and other outdoor gear. The Alaskan would ride on huge 21-inch wheels, which look great with the truck's muscular aesthetics, though aren't likely the wheels you'd use for chewing up rocks and dirt.
Renault hasn't announced any further details about the Alaskan, other than to say that it plans on showing off a production version of the pickup in 2016. Since it's been more than 25 years since Renault sold its last car in the U.S., I'd be surprised to ever see a production Alaskan in Alaska.