Track Day: 2016 Ford Performance Shelby GT350/GT350R
ford | ford mustang | shelby | shelby gt350 | shelby gt350r | September 11, 2015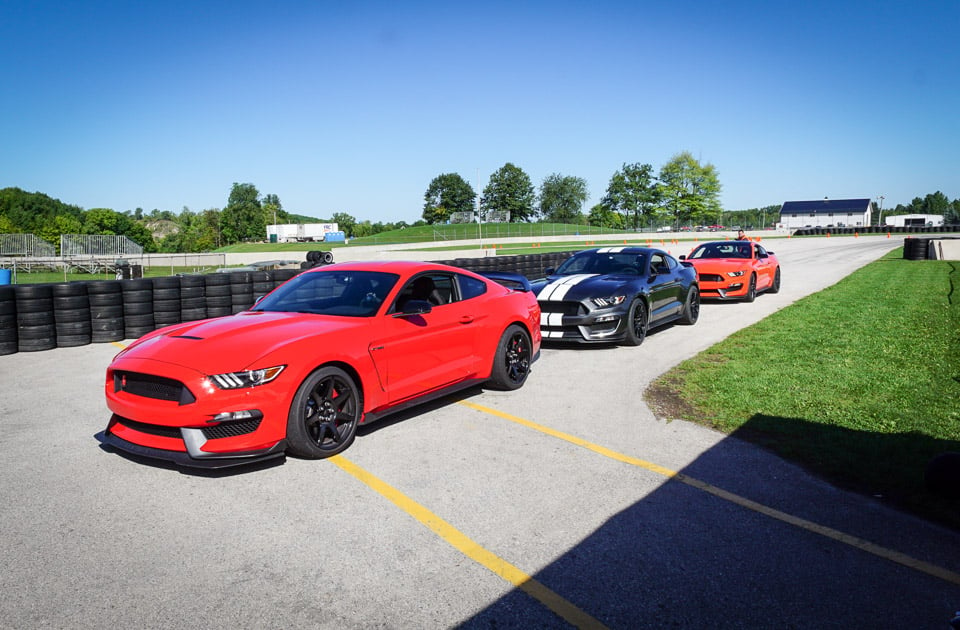 Ford Performance was kind enough to invite me behind the wheel of the new Shelby GT350 and GT350R sports cars to see just what these tricked out Mustangs could do. I spent the day at the beautiful Road America circuit in Elkhart Lake, Wisconsin – one of America's greatest road courses, learning about Ford and Shelby heritage and engineering, as well as hands-on time on the track.
There was a time not so long ago when you might have questioned whether a Mustang could hang with the big boys on a road circuit. After all, with its heavy V8 and live axle, it was best in a straight line. However, the dramatic improvements to chassis rigidity, handling and suspension that started with the 2015 Mustang, married with further changes for the track makes these Shelbys some serious contenders.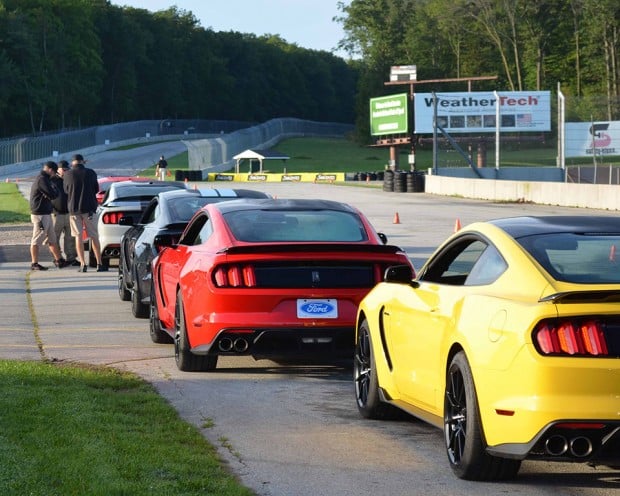 The GT 350 badge has major significance for both Ford and Shelby. The original 1965 GT350 was the first Mustang created by Carroll Shelby, who was charged with creating a road course beast out of the relatively tame Mustang. Naturally, he succeeded, and the rest is history. That said, the latest generation GT350 has some big shoes to fill, and I'm happy to say it not only filled them, it burst the seams and needs to get some of those giant-sized Nikes that basketball players wear now.
Now before we dive in, you should know that almost everything from the A-pillar forward on this car is changed from a stock Mustang. At the heart of the new Shelby GT350 and GT350R is a fantastic new engine – a 5.2-liter all-aluminum V8 driven by a flat-plane crank. This provides the basis for an insanely high-revving power plant that tops out at 8,250 RPM. From the second you put your foot on the floor in 1st gear, you know there's something very special going on. The exhaust note is a thing of beauty, a baritone roar that could have come from the biggest lion in the jungle. In other words, it produces the sound of angels for gearheads like me.
The big, naturally-aspirated engine is a giant step forward from the already very good 5.0 Coyote you find in a stock Mustang GT. This bad boy offers up a level of power and finesse that track fiends will drool over. To achieve an output of 526 horsepower and 429 lb-ft. of torque at 4,750 RPM without any sort of forced induction is quite a feat.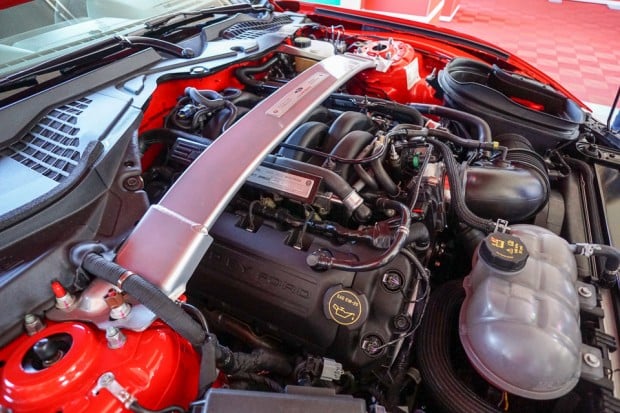 The 6-speed Tremec manual shifts effortlessly, though it took a mental jump to realize just how high the redline was. Just when you think you've gone far enough, keep going, then go some more – then shift. Fortunately, Ford includess a cool LED heads-up display which can indicate exactly when it's time to shift. And while I was too busy focusing on my driving to deal with setting up a video rig, here's some awesome footage of a GT350R being put through its paces by one of Ford's pros.
On the track, both the GT350 and GT350R handled beautifully, in part thanks to a magnetic damping system, which dynamically adjusts the suspension in as little as 7 milliseconds. This system is standard on the GT350R, while it comes with the optional Track or Tech Pack on the GT350. I definitely think it's MagneRide is a worthwhile investment if you plan on buying one of these cars.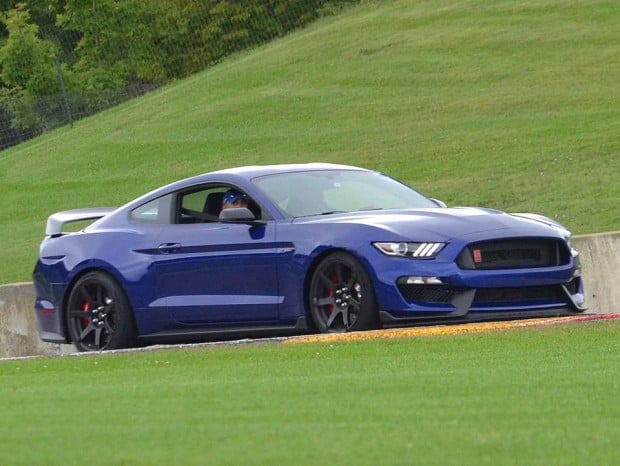 The 15.5″ and 14.9″ custom brakes with 4-piston Brembo calipers worked brilliantly, offering excellent stopping power into sharp turns on the track, and dished out the confidence to push the car faster and faster each lap. If I have any complaint about driving dynamics at all, it's that the steering is a bit too light for my tastes, even in Sport and Track modes. I'd prefer a more manual and connected feel in my sports cars. Perhaps it's just that the steering is the one area where the GT350 doesn't feel like a totally different car than a regular Mustang GT.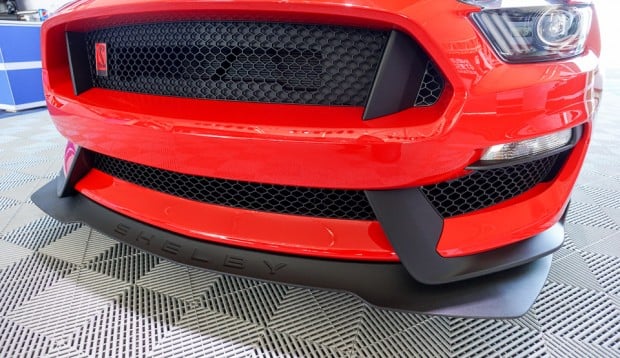 The GT350R has a couple of significant advantages on the track over the GT350. Among the upgrades you get with the R variant are a larger front splitter and a big carbon fiber rear wing. These provide a tremendous amount of added downforce, and combined with its race tuning, it holds to the corners much more confidently, and has less of a tendency to nose dive on braking.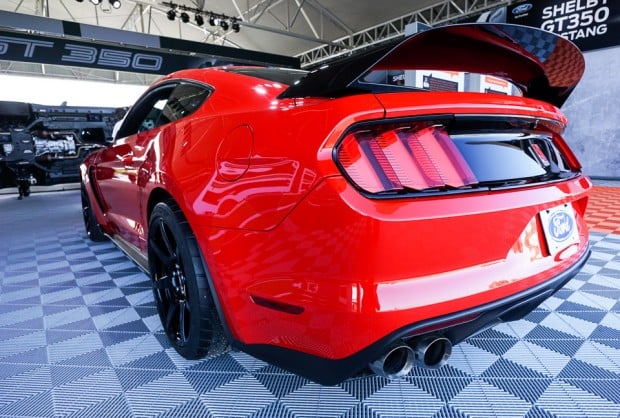 On the other hand, the GT350R has less of some things than the GT350. Of particular note are the extreme measures they took to reduce about 120 pounds of weight. For starters, they stripped out the back seat, air conditioning, radio, trunk lining and spare tire. Then, they tied up with Australia's Carbon Revolution to produce carbon fiber wheels. These cut about 60 pounds of weight, but since they're unsprung mass, the impact on ride is pretty dramatic.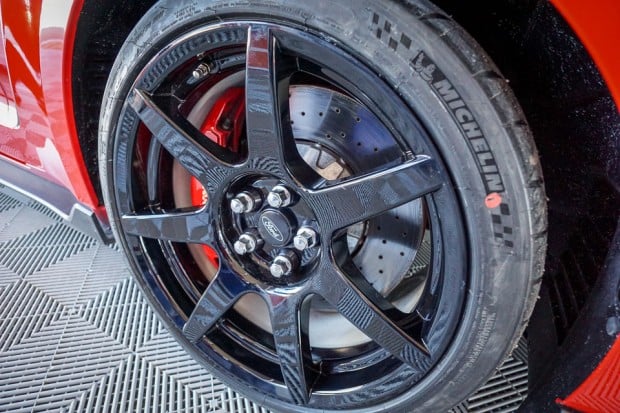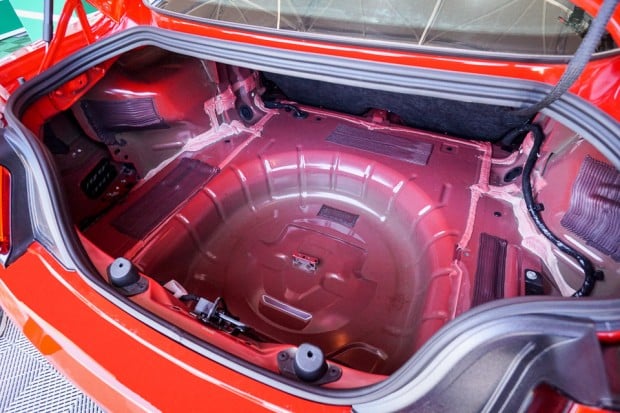 As a result, the GT350R is the lightest feeling Mustangs I've ever driven. It hugs corners and grips like nobody's business, sounding awesome every step of the way. Another cool bit about the wheels is how they're white inside. That's because they're lined with the same technology that was used on the bottom of the Space Shuttle to disperse heat. And speaking about cooling, all of those vents you see around the Shelby are truly functional, providing much needed airflow to the brakes, engine, transmission and oil systems.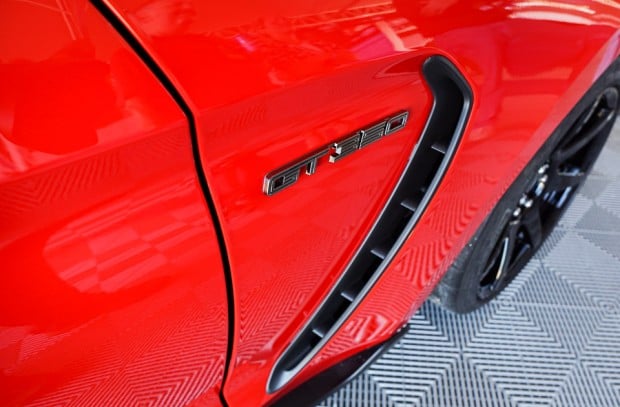 Inside, you can really see the differences between the cars, with the GT350R rocking track-ready Recaro seats with big side bolsters, and a truly minimal dashboard. On the other hand, the GT350 gets more street friendly Recaros and creature comforts, like a radio, nav, and heated/ventilated seats if you go for the Tech package. That said, if you plan on spending 90% or more of your time at the track, go for the GT350R. The GT350 with the Track Pack is a better bet as a daily driver with regular track use, while the Tech Pack is for gadget junkies who only occasionally will push the car toward its limits.
One of my favorite touches on the interior of these cars is the heavy use of matte finishes. This wasn't an aesthetic choice, rather it was done to ensure there is minimal glare when tearing around a race track.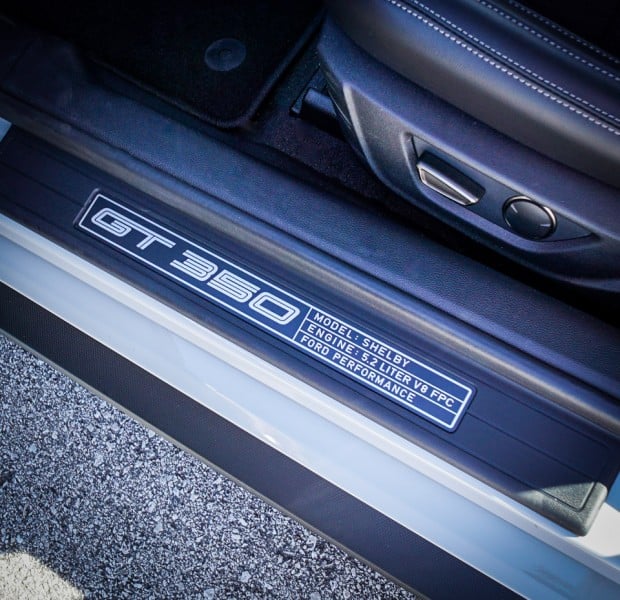 The 2016 Shelby GT350 lineup is unlike any other Mustang I've ever driven. For a straight-from-the-factory ride, it's truly impressive, with excellent handling, a nearly endless fount of power, and one of the best exhaust notes I've ever heard from a production car. Any muscle car fanatic would be thrilled to have either the GT350 or GT350R in their garage. Base price for the GT350 is $47,995, while the GT350R starts at $61,295.