Review: 2015 Toyota 4Runner TRD Pro
toyota | toyota 4runner | trd | September 24, 2015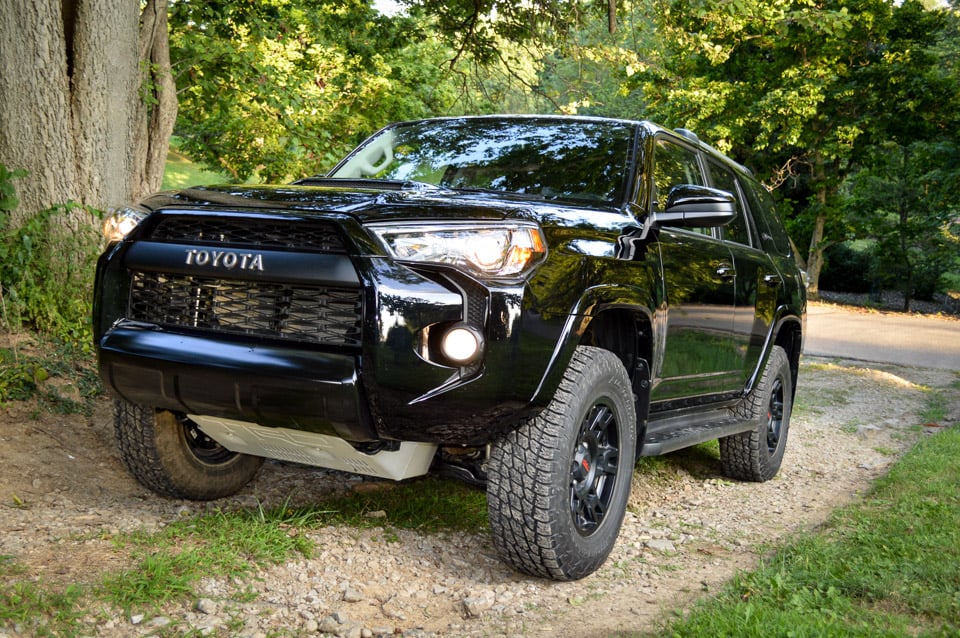 2015 Toyota 4Runner TRD Pro

Engine: 4.0-liter V6
Horsepower: 270
Torque (lb-ft.): 278
Transmission: 5-speed automatic
Drive Configuration: 4WD
Top Speed (mph): 115
City/Hwy/Combined MPG: 17/21
Curb Weight (lb): 4,400
Wheelbase (in): 109.8
Total Length (in): 190.2
Width (in): 75.8
Price as Tested (USD): $42,540
Hey kids, who wants to go off-roading today? Okay, that is likely not a conversation most dads will have with his family on a Sunday morning. But those who own a Toyota 4Runner COULD have that conversation. New for the 2015 model year is a new trim that takes the 4Runner's already off-ready attitude and cranks it up a few extra notches. The 4Runner is Toyota's ruggedly handsome, black sheep SUV.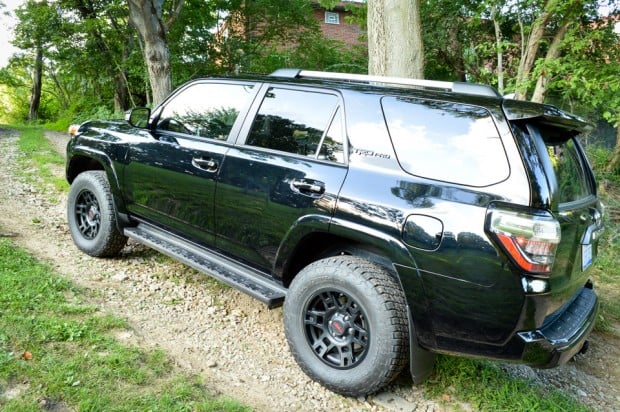 The 4Runner is a body-on-frame SUV that can carry up to seven passengers (five passenger seating is standard) on or off the road. Talk about being in a class of its own. The Toyota 4Runner TRD Pro is a new trim for the 2015 model year and with that comes with bigger tires, performance shocks and aggressive styling. The TRD Pro makes the 4Runner even better, at least better in looks and for off-roading.
The midsize SUV is a chameleon when it comes to trims and appearance. Four trims can offer either five or seven passenger capabilities and two of the four trims are divided into Standard and Luxury trims. So in both aesthetics and offerings, the 4Runner can be whatever you want it to be.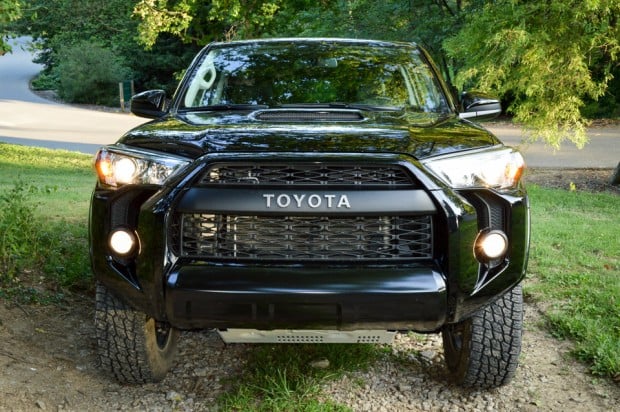 In each trim, the 4Runner is handsome, capable and an SUV through and through. The 4Runner has distinction and a clear identity. On the road it's distinguishable, and through the years, as it's evolved, it's also managed to maintain its strong, sturdy appearance. Toyota deciding to add a true off-road trim under their fantastic TRD badging was a great way to continue to develop and expand on the 4Runner.
The 4Runner TRD Pro has 17-inch off-road tires with matte-black highlights. While the wheels are an absolutely stunning addition to the SUV, they're less than practical for on road performance, where those special tires diminish from the performance, and also add noise to the cabin. But they are incredibly sexy attributes to the 4Runner's appearance and rough road abilities. There's a stamped front skid plate with the TRD logo on it and a black front grille that resembles the black matte tires. It all ties in beautifully, and the 4Runner TRD Pro is easily the best looking SUV in the Toyota family.
Inside, the TRD touches continue, and certainly add to the interior quality of the 4Runner. This SUV is not one known for plush amenities. The interior of the 4Runner, especially at the more basic SR5 trim, is well organized and simple. Touch points are simply nice at the lower trims. The overall interior quality is aimed at a more rugged vibe, than an over-the-road cruiser. With the TRD Pro trim you get stitched, SofTex-trimmed seats. There is also more TRD badging inside and the suede-like seats are the closest the 4Runner gets to luxury.
All seats are comfortable and help ease the overall rugged ride of the 4Runner. My tester had five-passenger capability, and the back seat had ample legroom and headroom. Despite its rugged ride, rear passengers will be comfortable. There are also rear vents to help control their heating and cooling preferences.
The 4Runner is a leader in the segment when it comes to cargo room (for the five-passenger set ups). In those models, there's 47 cubic feet of space behind the second row. Fold the rear seats flat and that cargo area amplifies to 89.7 cubic feet. The cavernous cargo room demonstrates that the 4Runner is versatile for weekend projects and also has vast amount of interior cabin space all around.
There's a 6.1-inch touchscreen that the entire infotainment system uses. Toyota's Entune system is serviceable, but not very cutting edge. It integrates well with smartphones and devices and downloadable apps interact with the system and the devices. There's auxiliary audio jacks and a USB plug as well.
Other than the gorgeous looks of the TRD trim, the best feature about the 4Runner is its powerful engine. All 4Runners have a 4.0-liter V6 engine that makes 270 horsepower and 278 lb-ft. of torque. The only downfall of the powerplant is the outdated five-speed automatic transmission. Shifting is just adequate, but also quite noticeable.
The 4Runner is available as either rear-wheel drive or four-wheel drive. The TRD Pro is available only with 4WD. Other features of the 4Runner TRD Pro include a locking rear differential, crawl control and driver terrain modes. In this regard, the TRD reminds me of a Jeep Wrangler.
I've seen the crawl mode in full effect (used only in low gear) and it's unbelievable. You can crawl down steep grades, over rocky, uneven terrain, and you can focus on steering instead of throttle and brake input. A 4Runner is capable of towing up to 4,700 pounds as well, with proper equipment.
The 4Runner TRD PRO is fine as a daily driver. It's not without flaws. Similar to how a Wrangler drives on the road and as a daily driver, so too is the 4Runner comparable. It lacks some refinement over the highway, but it has amazing power. Steering can be a little rigid, and as mentioned, road noise is intrusive. For those who want less ruggedness, they should migrate toward the SR5 or Limited trims and away from the more trail-friendly trims.
The 4Runner has practically identical fuel economy between the RWD and 4WD models. RWD 4Runners have an EPA estimate of 17 mpg/city and 22 mpg/hwy while 4WD models are rated 17/21. In a week's worth of driving, where I did take it briefly onto a trail, I averaged 19 mpg. The 4Runner is not a fuel sipper by any stretch. Still, it has a wide audience that appreciate its looks, interior space and overall identity.
Base trim 4Runners start around $33,000(USD). My tester, being a special off-road trim, has a steeper price with an MSRP of $42,540. The 4Runner is sort of the bad-boy of the Toyota family. When you add a TRD package to it, it definitely becomes even more of a rebel. But in this case, everyone loves a bad boy!