Review: 2015 Range Rover Sport SVR
land rover | range rover | svr | September 29, 2015
2015 Range Rover Sport SVR

Engine: 5.0-liter supercharged V8
Horsepower: 550
Torque (lb-ft.): 502
Transmission: 8-speed automatic
0-to-60 Time (secs): 4.5
Top Speed (mph): 162
City/Hwy/Combined MPG: 14/19
Curb Weight (lb): 5,350
Wheelbase (in): 115.1
Total Length (in): 191.0
Width (in): 78.1
Base Price (USD): $111,470
Price as Tested (USD): $126,360
The "standard" Range Rover Sport Supercharged is plenty fast all on its own. 510 horses from its 5.0-liter V8 will rocket it to 60 mph in 5.0 seconds, almost half a second faster than a Porsche Cayman, a car that weighs about 2,400 pounds less than the performance SUV. But who's counting, really? Well, Land Rover is. Their SVR is for the deep-pocketed customer who wants the fastest Land Rover ever made, one that will move expensive antiques at blistering speeds, make spoiled children pee in their pants and send cucumber finger sandwiches into the next life.
This is Jaguar Land Rover's first vehicle that gets the Special Vehicles Operations division treatment. That's longspeak for their newly minted performance arm, a-la BMW M, Merc AMG and Audi S. Jaguar Land Rover's SUV offerings are no slouches to begin with, but the SVR treatment aims to put the power and performance questions to rest by delivering the top end models in the lineup.
The ordinary citizen might be hard-pressed to see the visual differences since they are subtle but nicely executed. The SVR model forgoes the slit fog lamps and goes with big flanking air intakes with tasty black mesh below the entire bumper. Side mirrors and roof are black, as well, as are the vents aft of the front wheels, now dramatically larger and ready to blow out chunks of hapless squirrel that get caught in the front wheels. We note that owners of the ridiculously powerful SVR likely won't stop for them.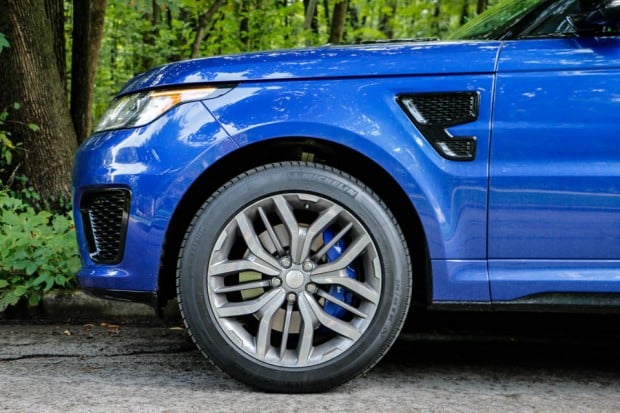 The interior, unfortunately, doesn't change all that much. The normal supercharged Sport is no slouch, but for the not so bargain basement starting price of $111,470, the SVR feels too similar to its less-pricey brother. Sure, it's still comfortable as hell, but aesthetically there's not much of a change aside from the more sporty look.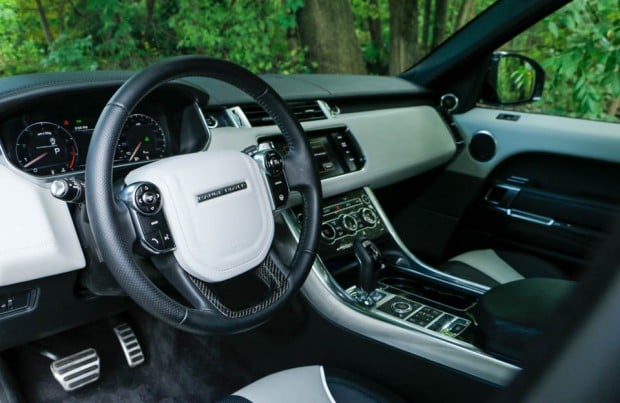 There are carbon fiber bits to darken things up, and black faux suede inserts in the racing seats to make sure your tuchus doesn't fly off their surfaces violently. But we figure what you're paying for is deeper than automotive flesh, into the bone and muscle underneath. The extra dough means the SVR wants to hurt you and everyone else in its radius of destruction.
And boy does it ever. With 550 horses and 502 lb-ft. of torque from its supercharged 5.0-liter V8, it's just about the fastest thing on four wheels with a nutty-high center of gravity, with the exception of the Porsche Cayenne Turbo S, which does 60 mph from a standstill in a supercar-like 3.8 seconds. But the SVR is easily more than sufficient for the rest of us heavy-footed mortals, with its 4.5 second time.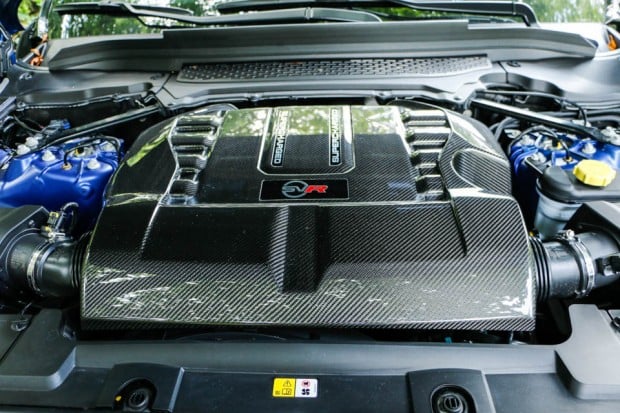 Nothing hardware-wise really gets massaged or changed in order to bring the nuclear-like firepower home. Rather, the SVR gets software changes that extract the extra horses and torque. It also gets revised and smooth shifting 8-speed automatic transmission programming that amounts to faster upshifts, rev-matching on downshifts, and more pronounced diff-locking that provides torque vectoring like dynamics, enhancing the SVR's handling the way a good performance SUV should.
I drove the Sport Supercharged, and its power is what you could call impressive. The SVR's, however, makes you nearly soil yourself like the previous night's Mexican dinner making its way back to the open air. It surprises because in elementary school zone environments and everything shy of highway speeds, the SVR is completely civilized like a good, modern Land Rover should be. No jerkiness, no tooth-rattling – only smooth shifting and a surprisingly forgiving air suspension that manages speed bumps, potholes and surface undulations like a muscled dromedary.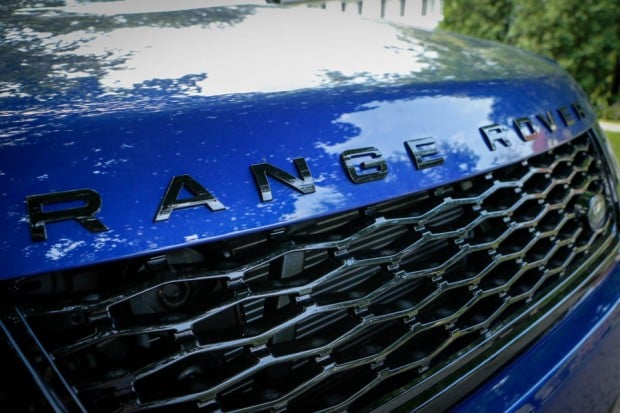 The performance-minded setup is slightly altered from stock with modified pistons, revised settings in the adaptive dampers, and firmer bushings – but the feel of the ride around town is hardly changed from the standard Ranger Rover Sport. Then when you call upon the powers of Hades, it delivers like fire-breathing stallions pulling the Dark Overlord's chariot. Any semblance of British properness is launched into oblivion. The torque wanted to pull my face off, and my foot wasn't even mashed to the floor. On one particularly desolate portion of I-94 on a Sunday night, the SVR pulled to 120 mph from legal speeds in a manner worthy of supercars. The quoted 0-60 time of 4.5 seconds feels woefully conservative. It feels easily less than that as evidenced by my sweaty palms at 3 and 9.
But it's not just drag-strip like acceleration that gets you. It's the way the SVR handles, and that statement isn't just in light of its Beluga-like curb weight. It's so good, it almost feels nimble, like the balletic hippos in Fantasia. Turn in is quick, steering feel and weightedness are stellar for an SUV, and the heft of the car disappears thanks to the big standard 21-inch wheels and fat rubber (22s are optional). Even under hard driving, it was tough to elicit nose-heavy understeer. The SVR, like other performance SUVs, was tested at Germany's infamous Nürburgring, making it more than just a hurtling comet – more like one that adroitly dodges debris. A car this size really has no business being this planted or rapid, but it's a testament to Land Rover Special Vehicle Operation's impressive work.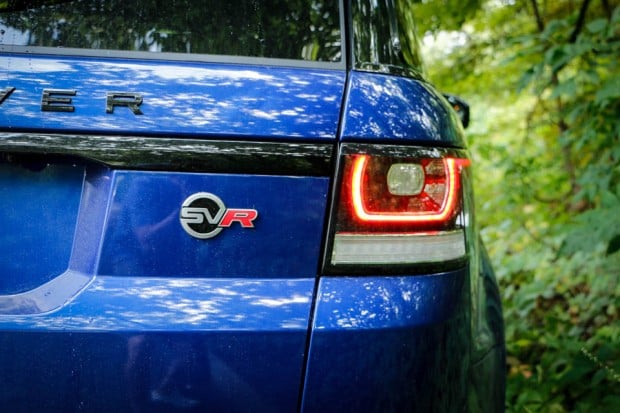 Suffice it to say that there's no practical need for a vehicle like this, and it's an even weaker argument than the already fast stock version. But at the end of the day, it's not about necessity as much as desire, and that's what Land Rover is after with the SVR. It's their ultimate statement of power and performance, and though it's not the fastest four-wheeler on Earth, it certainly has what it takes to both turn heads and snap necks.