The Land Rover Evoque Convertible Goes Off-Road
convertibles | evoque | land rover | off-road | range rover | October 5, 2015
When I first heard that Land Rover was going to make a drop-top Evoque, I thought it sounded like a weird idea. After all, when Nissan tried it with the Murano, it was a complete fail. But the Evoque is no Murano, not only offering a truly sporty ride, and plenty of creature comforts, but it can handle a decent variety of terrains. And if you think about it, Range Rover has a long history of creating open-back versions of its off-road vehicles.
Land Rover recently wrapped up a vigorous round of off-road testing for the Evoque and has shared some video and images of the testing at their all-terrain proving ground in Eastnor, UK. Despite cutting apart the roof structure of the Evoque, it's still rugged enough to take it off road, and from the looks of things, it handled the course with aplomb.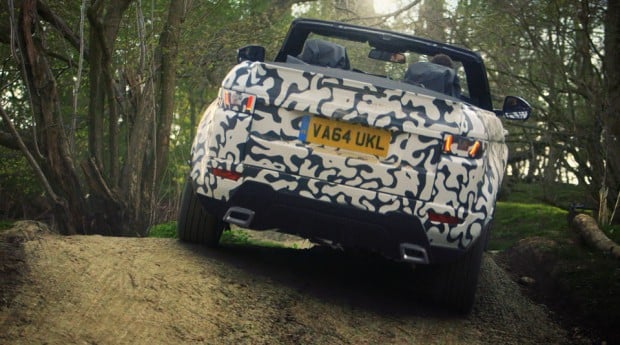 Given the fact that it can ford 18″ of water and can drop its top, I'm wondering if Land Rover is doing anything special to protect the inside of the vehicle from mud and splashes.