Scoot Quad is a Nissan Concept EV You Can Rent in San Fran
nissan | scoot quad | October 20, 2015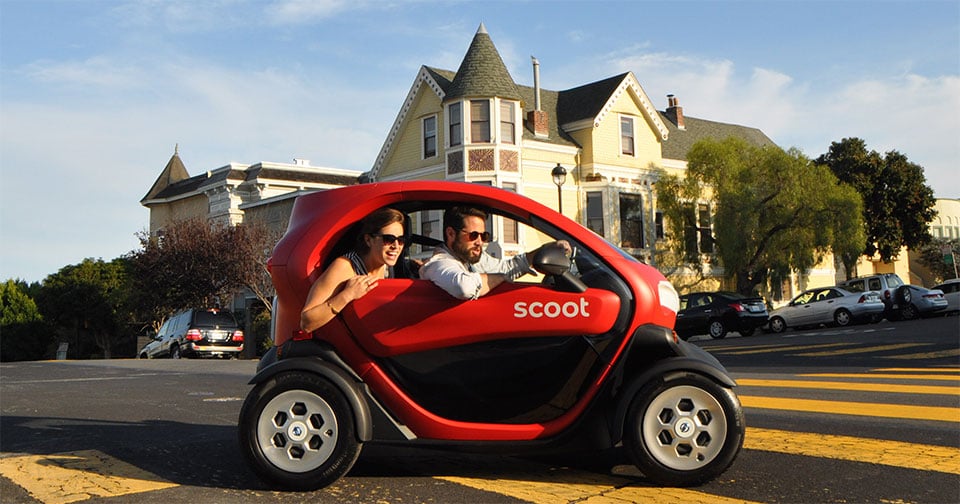 Having lived in Texas my entire life it's hard to fathom not owning a car. Mostly this is because the vast majority of Texas is so spread out we measure distance in hours, not miles. Want to go to Dallas for shopping or to hang out, that's about two hours' drive. Driving half an hour without traffic to get to work each way is considered a decent commute. In short, you can't not own a car and get to work in much of Texas.
In places like San Francisco where everything is much more compact lots of folks get by without a car. They can rent vehicles or use a taxi to get where they are going. In keeping with the modern urban commute style, Scoot Networks has announced a cool new rental called the Scoot Quad – based on Nissan's New Mobility Concept EV.
The EV can cruise 40 miles per charge at a speed of 25 mph. It's limited to use on streets with speed limits 35 mph or less. It can carry two people tandem style and is the first foray into four wheels for Scoot. Renting one will cost up to $16 per half hour or $80 for a day. That's expensive if you need a car all the time, but if you just need one every once in a while, it might be worth it.