2015 Fiat 500 Abarth: Small But Leaves a Big Impression
abarth | fiat | October 21, 2015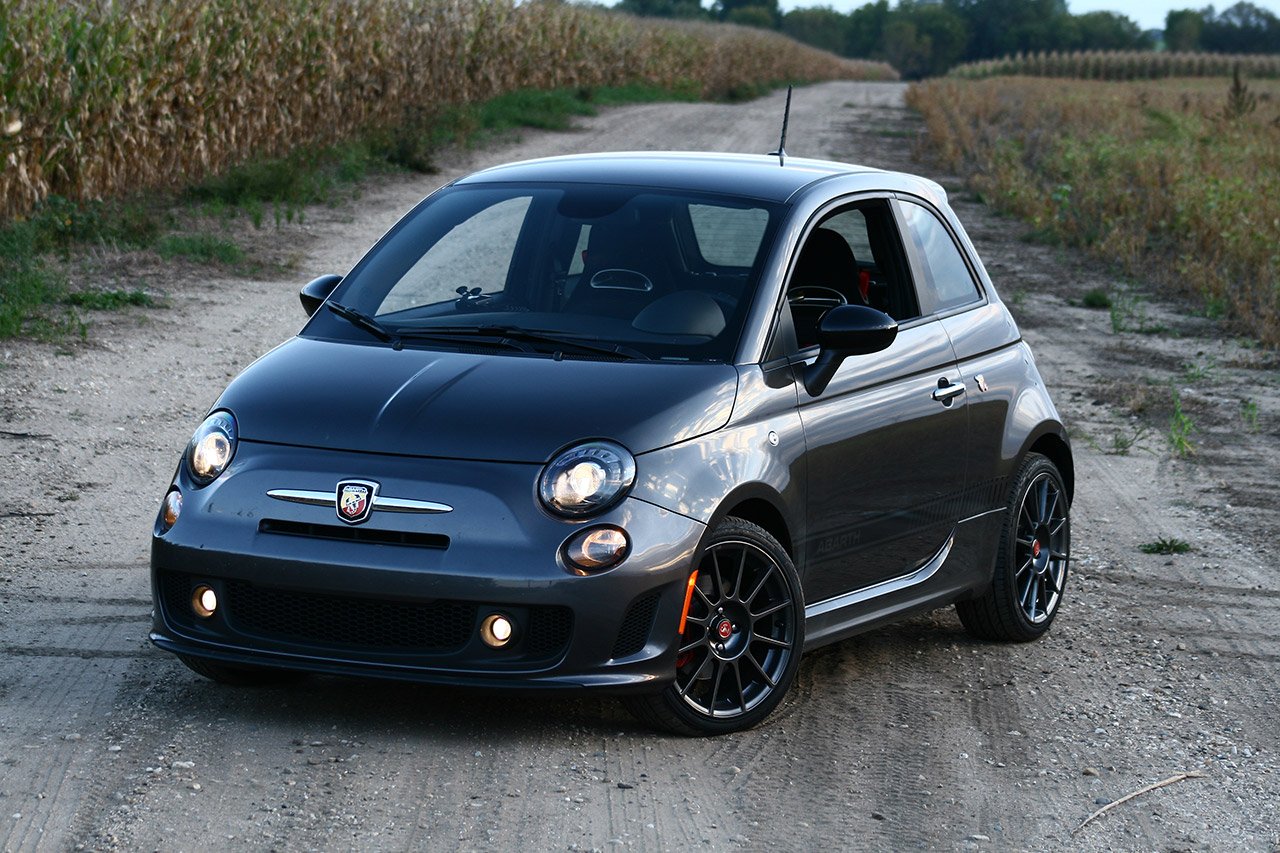 Fiat 500 Abarth

Engine: 1.4L 4-cylinder turbocharged
Horsepower: 160
Torque (lb-ft.): 170
Transmission: 5-speed manual or 6-speed automatic w/sport mode
Drive Configuration: FWD
City/Hwy/Combined MPG: 28/34
Curb Weight (lb): 2,512
Wheelbase (in): 90.6
Total Length (in): 144.4
Width (in): 64.1
Base Price (USD): $22,495 (Manual) / $23,845 (Auto)
When you enjoy a car this much, relating that joy into words becomes increasingly difficult. How do I explain that a car – one which has a modest 160 horsepower – left a perpetual smile on my face? How about trying to describe to fellow car enthusiasts why the cute little hatchback easily found it's way on to a wish-list of next cars to buy… I'll rewind a bit to when my time with the Abarth started.
Surprises are one of the unknown joys of being an automotive journalist. When a car is scheduled, you're told what kind it'll be, and that's about it. Color, equipment, and other specifics are up in the air till the moment you lay eyes on it. The Abarth was less of a surprise and a bit more of a shock, as I was greeted with the dreaded 'PRND.' I genuinely thought an automatic gearbox would spoil the experience. It would turn out that initial impression was flat wrong.
Turn the key in the ignition (no push button start on the Abarth) and the motor angrily bursts into life. It really emits quite a big bark for a scant 1.4 litre engine. Think of the sound as a bit like a small scale SRT4 Neon. As an added aural bonus, the little turbo can be heard through all of the cold-idle bustle. The car is already trying to beat its chest before you've even selected "D."
Leaving the car in full automatic is a bit silly. After all, you do have a manual shift mode where you can move the lever to change gears. It allows full manual shifting, thankfully, letting you bounce off the rev limiter, and also preventing unexpected downshifts. It only makes a change when you call for that command to be made. Alright, so for automatics, it's not so terrible.
The upshift from 1st to second is where this car really started to slowly dig deeper into the essence of my being. A lovely "POP!" from the exhaust is repeatable nearly every time, and the upshift into third is no less entertaining with a loud "brap!" to match. Letting the car scurry up to redline was an exercise in restraint, as every upshift left another yearning for that high-RPM buzz. It never once hinted that it disliked when the throttle was buried in the carpet. The playfulness of the engine was but one of many reasons why I really started to enjoy this thing.
The other part of the car that never failed to plaster a grin across my face was how it tackled the twisty stuff. There's not much of it here in the suburbs of Illinois, sadly. Even so, intersections, on-ramps and the occasional back-road all proved one thing. The car makes fun of you for going slowly. Feedback through the front wheels is superb and the short wheel-base means you can chuck it into the tightest of bends without taking any regard to the consequences. The car replies with ample grip, almost no resistance from the optional 205/35-17 tires and a sense that the car wants you to try it again. Only faster this time, because you clearly weren't trying hard enough. The little Abarth has just called you an old man and told you that you drive like a wimp. I love it.
The technical bits of the car make this all the more fascinating. There's a dead-axle out back (there goes the theory for IRS being critical to handling), and just a simple McPherson strut setup out front. The short wheelbase – and even shorter overhang – contribute to the Fiat's nimble attributes.
I've had cars before that have higher levels of grip, higher levels of acceleration, but none of them have left such a lasting impression with me. It's like a hot date that you just cant forget about. Perhaps with that gal from the Abarth adverts.