Review: 2015 Jeep Renegade Limited 4×4
jeep | jeep renegade | October 28, 2015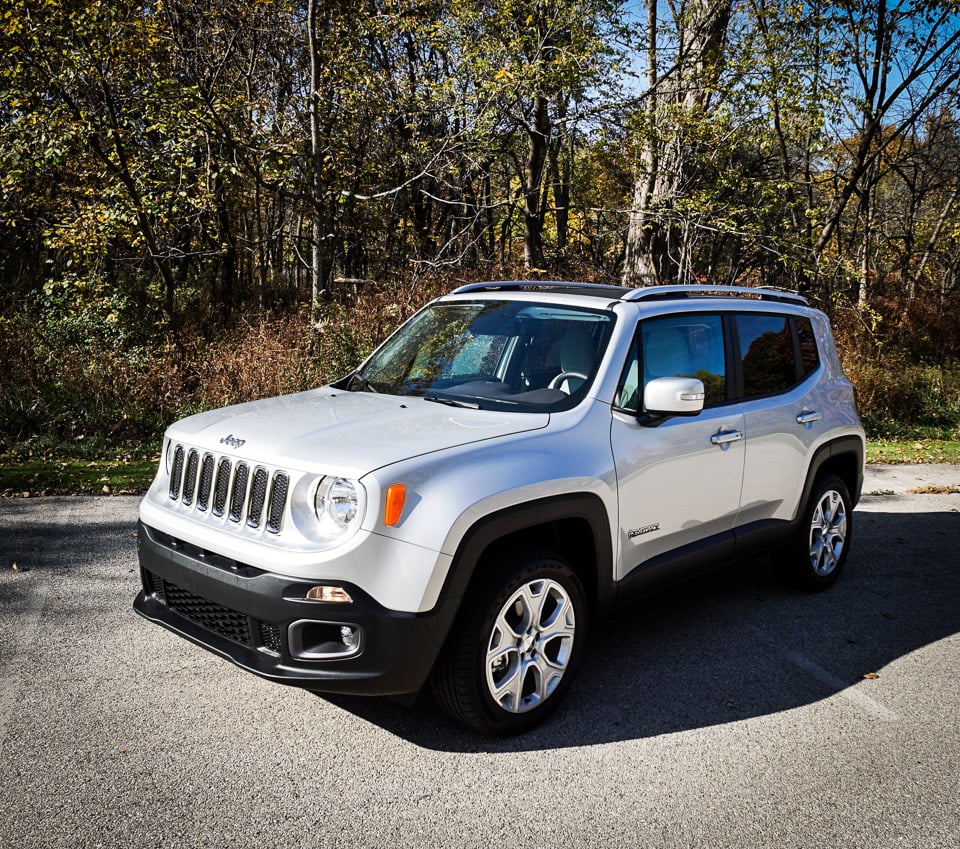 2015 Jeep Renegade Limited 4x4

Powertrain: FWD or 4WD
Engine: 2.4L TigerShark 4-cylinder
Horsepower: 180
Torque (lb-ft.): 175
Transmission: 9-speed automatic
City/Hwy/Combined MPG: 21/29/24
Curb Weight (lb): 3,126
Wheelbase (in): 101.2
Total Length (in): 166.6
Width (in): 71"
Base Price (USD): $26,795
Price as Tested (USD): $31,120
When Jeep first revealed the new Renegade last year, I was worried that it might not live up to the Jeep name. After all, it's the first ever Jeep to be made in Italy, in the same plant churning out FIATs, so I thought that might be an odd fit for the brand. Well, I've spent more than a week living with the 2015 Jeep Renegade as my daily driver, and I'm a convert. This little guy is fun, versatile, capable, and best of all, it has lots of charisma. If I had to use a single word to describe the latest Renegade, it would be "playful," a trait that's evident in virtually every aspect of the vehicle.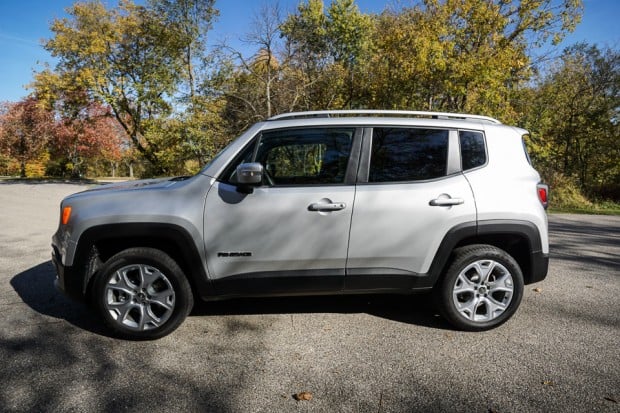 Specifically, the model I've been driving is the Limited 4×4, which is towards the higher end of the line, which is comprised of the Sport, Latitude, Limited and off-road friendly Trailhawk edition. While there are numerous differences between the four variants, the biggest difference is that the Sport and Latitude have a 1.4-liter turbo engine that produces 160 hp, connected to a 6-speed manual gearbox, while the Limited and Trailhawk have a 2.4-liter naturally-aspirated 4-cylinder that puts out 180 hp. These models also sport a 9-speed automatic transmission, which improves fuel efficiency, and makes for an easier drive for those not versed in manuals.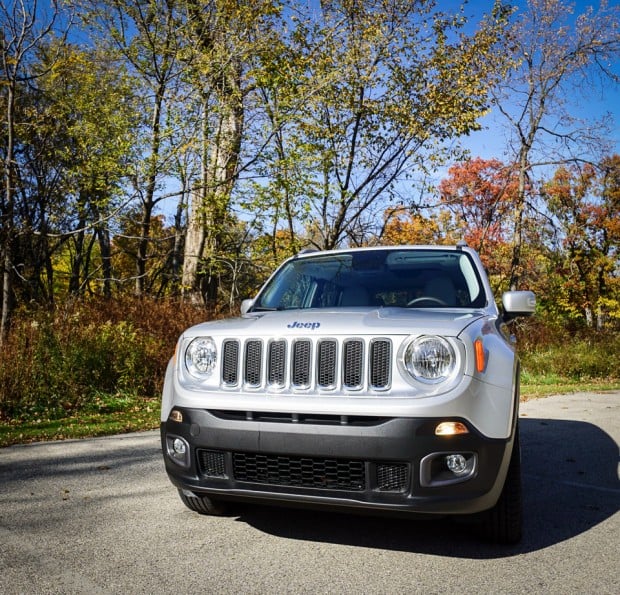 That 2.4-liter engine offers plenty of get up and go for a vehicle of the Renegade's size, and the word I'd use to describe its off-the-line power is "zippy." Shifts were smooth and fast, and I never encountered any of the software issues that plagued the ZF-sourced 9-speed in other vehicles it's been used in. It's interesting to note that both Renegade engines are rated at an EPA 31 mpg on the highway, and the smaller engine actually produces a little more torque (184 lb-ft. for the 1.4 vs 175 lb-ft for the 2.4). The 4WD models drop to 29 mpg highway, but I bested that with a consistent 30.3 in a mix of city and highway driving.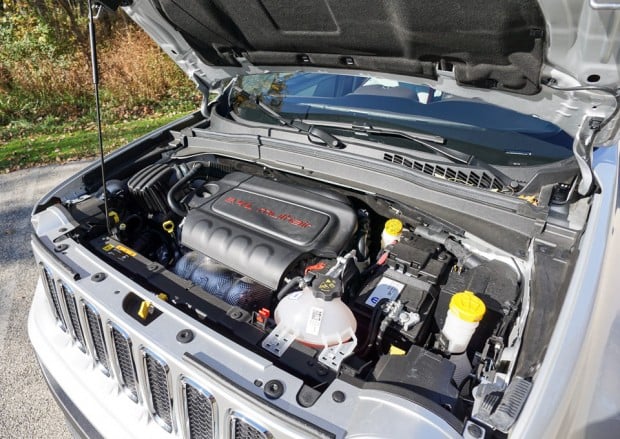 I found the Renegade to offer a good balance between road feel and comfort, though its excellent suspension system erred on the side of softness, despite riding on fairly large 18″ wheels. This worked wonders in absorbing even the nastiest of Chicago's potholed streets, and the rough and rugged country roads I would later drive it on. While there's a little bit of noticeable body roll in turns and big bumps, I don't feel like it had a negative impact on the overall drive.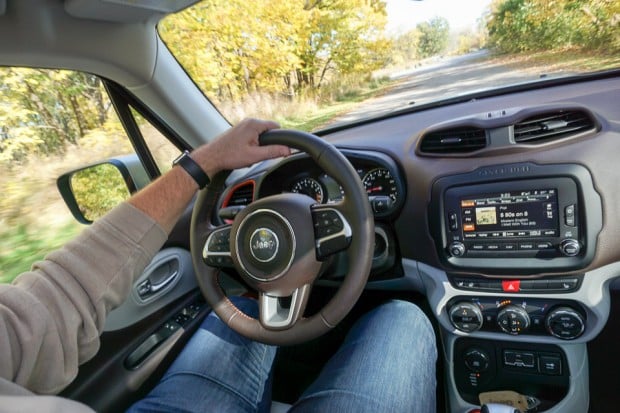 In its 4×4 configuration, the drivetrain is front-wheel biased, only engaging the rear wheels as needed to improve traction. It offers selectable traction modes for handling snow, sand and mud, as well as a default mode which automatically adapts to varying terrain. There's also the ability to lock the 4WD system on.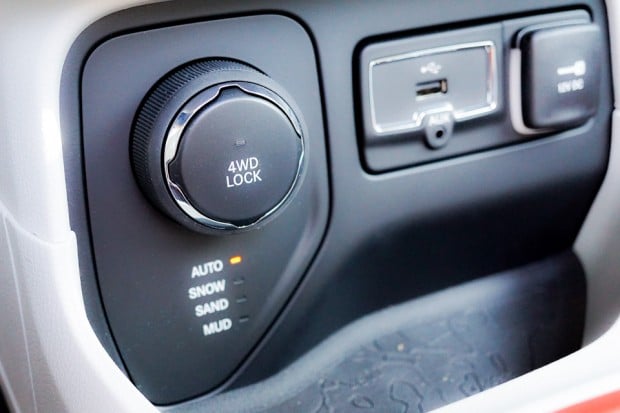 About a month earlier, I had the chance to take the Renegade Trailhawk on a real off-road course, and this feature came in handy – as did the Trailhawk's slightly higher ground clearance and protective skid plates. Keep in mind that these upgrades add more than 300 pounds, so fuel economy and acceleration are likely a bit lower in the Trailhawk than in other models.
While I didn't take the Limited off-road, the Trailhawk made quick work of mud ruts, fording shallow creeks, dirt, gravel and slippery uphill and downhill climbs. While the Limited isn't appropriate for rock crawling, it's more than capable enough of handling outdoor adventures. If you plan on dealing with big rocks, go for the Trailhawk – which even has a rock mode.
Inside, the Renegade is like no other car. Its designers express a sense of joy and whimsy throughout, while at the same time ensuring the cabin is comfortable and practical.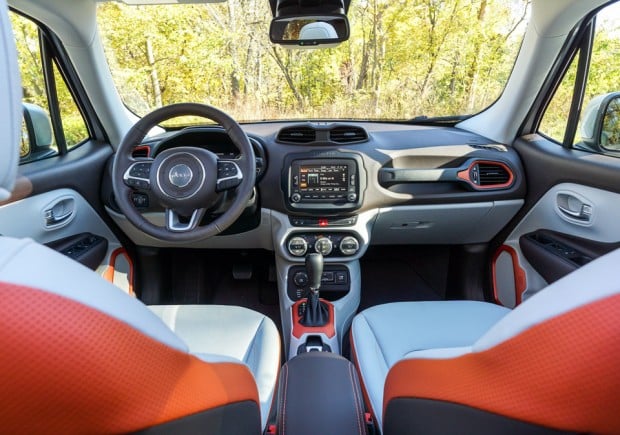 I'm particularly enamored of the light grey, orange and brown color scheme in my loaner, which sported said colors on its leather trimmed seats, as well as on its dash and doors. While there are some soft touch surfaces, most of them aren't what I'd call premium materials. But the Renegade's designers made the most of the material budget they had to work with by using a mix of surface textures and colors to make for a truly appealing environment.
The front seats and steering wheel offer heat and the driver's seat has 8-way power adjustments. I found the seats to be comfortable and supportive, even on longer drives, and despite my preference for low-lying sport seating, I really liked the high driving position that gave me a commanding sense of the road. I do wish the chunky "A" pillars were a little thinner, as they do create some visibility issues.
Headroom is excellent, in part thanks to the removable panoramic roof panels. The rear seats are also comfortable, though legroom isn't stellar for taller passengers. I'm 6 feet-tall, and my knees touched the front seat backs with the driver's seat set to a comfortable driving position for me. That said, I was able to compromise my front seat position by a couple of inches to make it work.
There's also ambient lighting in the doors and center console, a Uconnect infotainment system with either a 5″ or 6.5″ display – the larger model gaining Sirius XM, HD Radio, and Navigation capabilities. Convenience features include a backup camera, keyless start/stop, tire pressure monitoring, 2 USB ports for front seat passengers, and a 120V accessory outlet in the back row.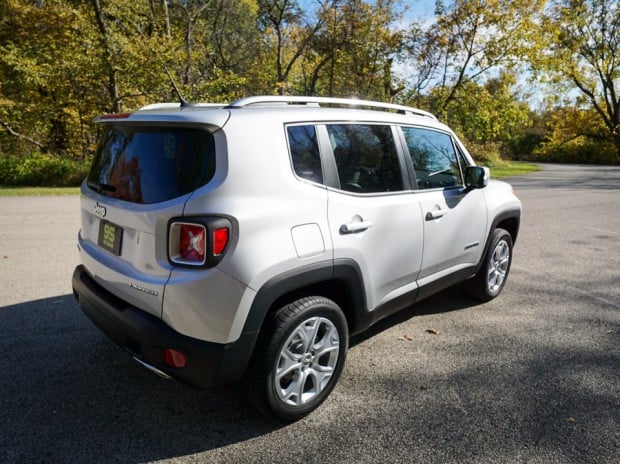 Storage in the Renegade is surprisingly good, offering enough space for several suitcases, or a week's worth of groceries for the whole family. The rear seats are in a 40/20/40 fold-down configuration, which not only offers storage versatility, but allows you to go from a 3-seat row to a 2-seat back row with dual cupholders and an armrest. You can also choose from two different heights for the trunk tray for added flexibility.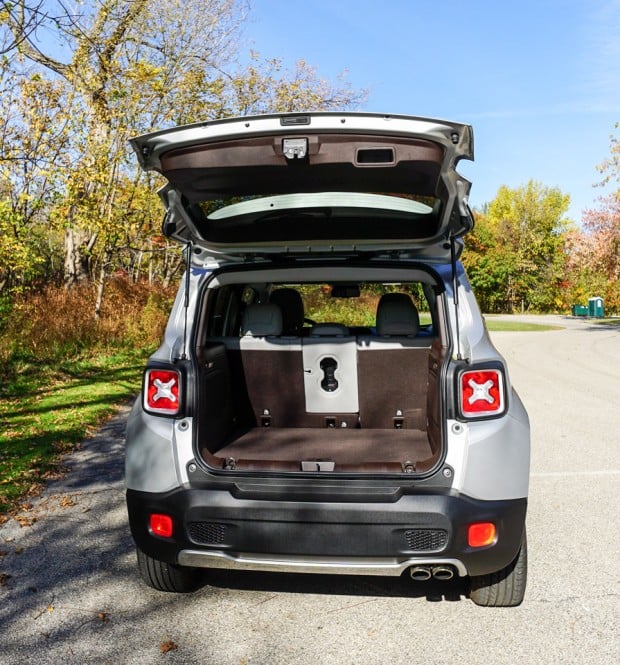 I also loved having the MySky roof system. This particular version includes a front sunroof that offers motorized retract and tilt, but can also be removed and stowed. With both the front and rear panels popped out, there's a great sense of space and light, while the outer roof structure still provides a sense of security. Removing the panels takes just a few seconds each, and they can be stowed in a padded bag that fits behind the rear seats. Putting the panels back in place took me about a minute each, but I'm pretty sure that it would go faster once I got the hang of it.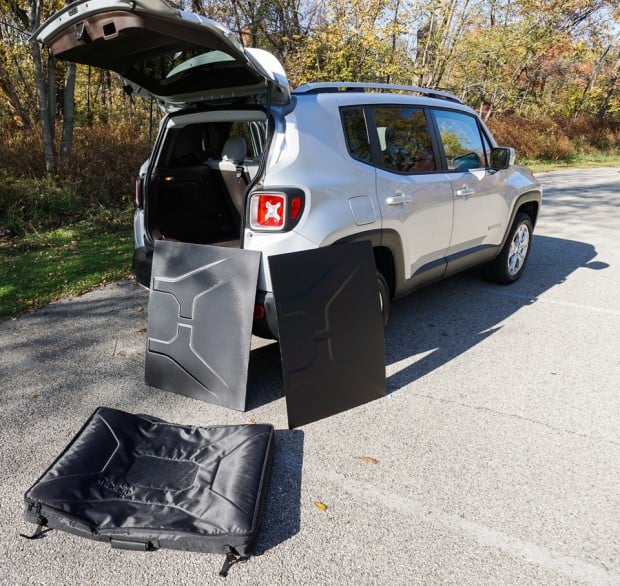 One of my favorite things about the Renegade is the huge number of design "Easter eggs" the car is packed with – or as I like to call them "Jeepster eggs." It's clear that the designers were having fun when creating the Renegade, and this levity rubs off on anyone riding in the car, the minute they discover their first Easter egg. There are tiny Jeep grilles, jerry cans, and other fun hidden images throughout the car. The sasquatch on the back window, and the spider by the gas tank filler are my personal favorites. Check out the ones I was able to find in the gallery below:
The Renegade is the perfect car for anyone who likes to mix everyday city and suburban driving with the occasional out of town adventure. Its design and driving style is fun and lighthearted, and it offers a good balance of comfort, utility and fuel economy. Pricing ranges from as low as $18,000 for the base Sport model, up to $32,000 for a fully loaded Limited or Trailhawk, so you'll want to test a few different models before you make any buying decisions.