Review: 2016 Mazda6 Grand Touring
mazda | mazda6 | November 29, 2015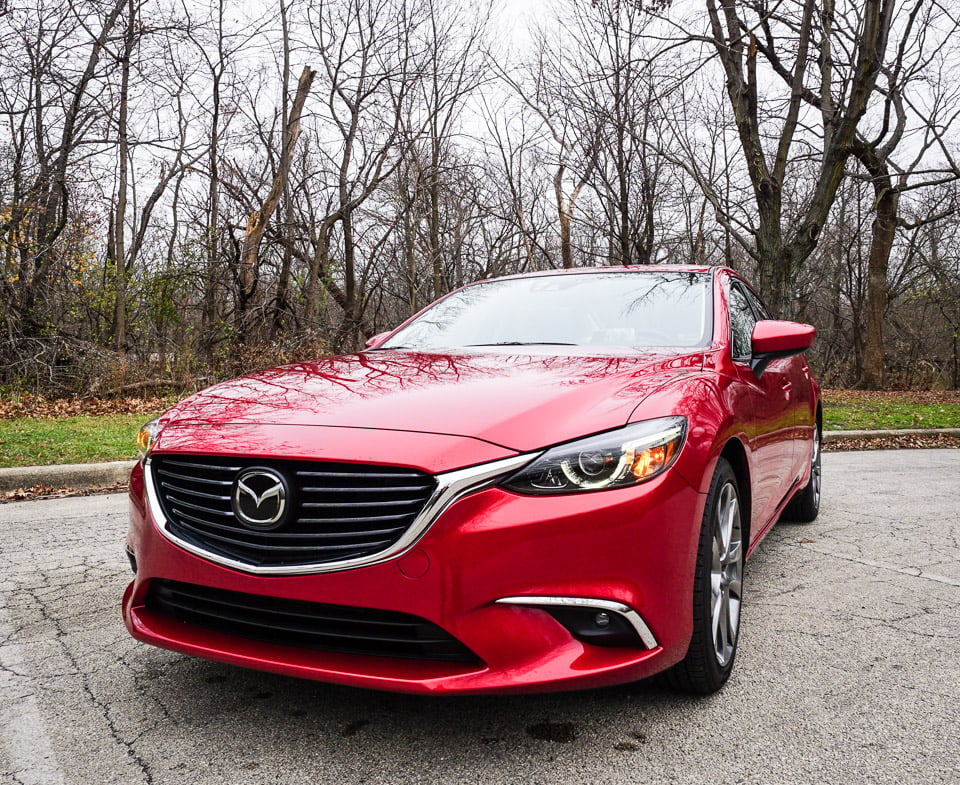 2016 Mazda6 Grand Touring

Engine: 2.5L 4-cylinder
Horsepower: 184
Torque (lb-ft.): 185
Transmission: 6-speed automatic
Drive Configuration: FWD
City/Hwy/Combined MPG: 28/40/32
Curb Weight (lb): 3250
Wheelbase (in): 111.4
Total Length (in): 191.5
Width (in): 72.4
Base Price (USD): $30,195
Price as Tested (USD): $33,695
As families have migrated more and more to SUVs and crossovers in recent years, the mid-size car market has been shrinking. But that has forced automakers to step up their mid-size game in recent years, and there are currently several excellent entries in this once boring category. Despite being a bit of an underdog, one of my favorites is the Mazda6, which blends smart and modern design with technology, comfort and enjoyable driving.
The Mazda6 has been in the Japanese car company's lineup since 2002, when it replaced the trusty Mazda 626. My wife and I owned the 5-door Mazda 626 back in 1988, and remember it fondly. The latest Mazda6 is a far cry from that boxy classic, with a fresh and modern design aesthetic that fits into the company's "Kodo" design philosophy, with athletic proportions that push the wheels out to the corners of the car, and a wide stance when viewed from the front. I particularly like design when you look at it head on – as the headlights, foglights and grille work together to form a sort of X shape not unlike the wings on an X-Wing Fighter. Slathered in Mazda's trademark Soul Red paint, the car looks particularly great.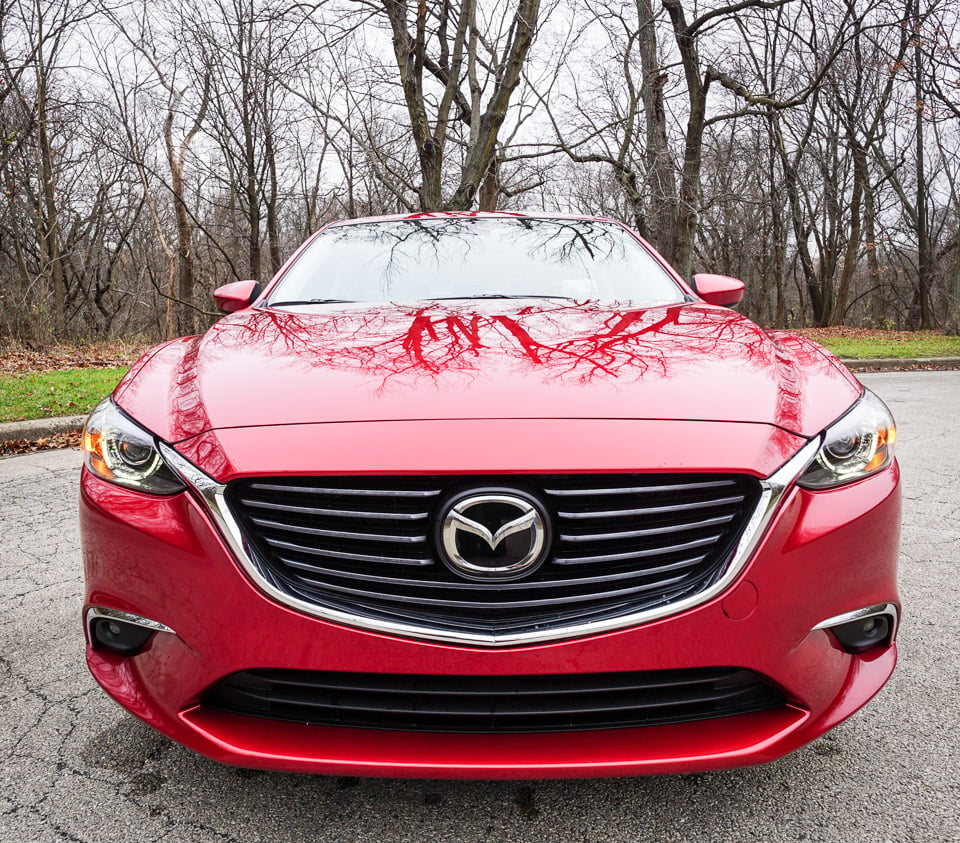 Sitting at the top of the Mazda6 lineup, the Grand Touring model is packed with premium features inside and out. Riding on 19″ alloy wheels, it sports an integrated trunk spoiler and dual exhaust for a sporty look.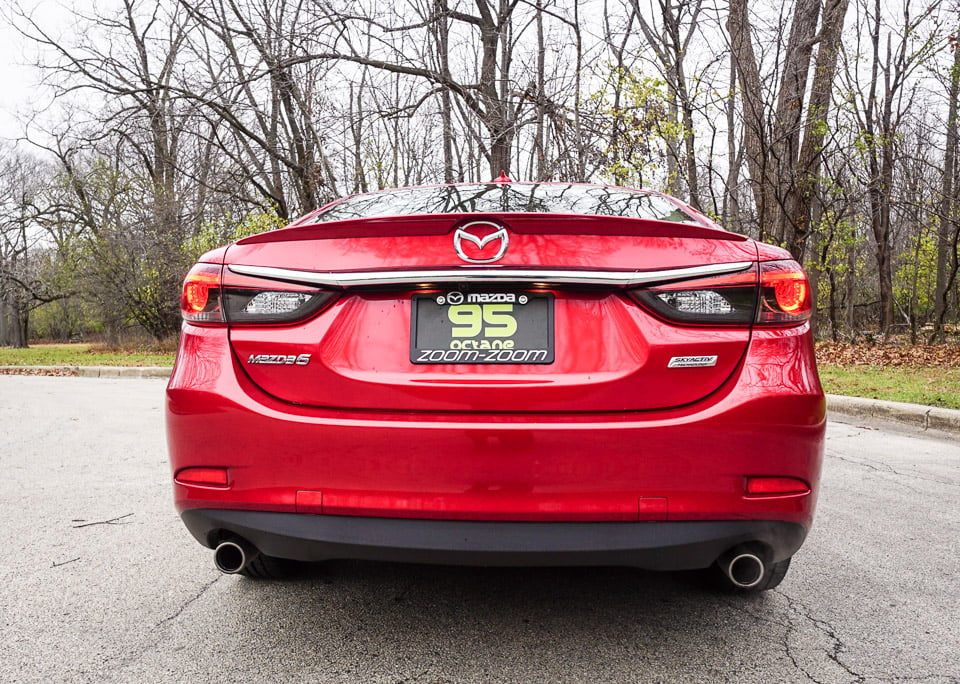 Under the hood is a Skyacrtiv 4-cylinder engine that pushes out 184 hp and 185 lb-ft. of torque. Mated to a 6-speed automatic with paddle shifters, it offers a surprising amount of get up and go, helped by its svelte 3250 lb. curb weight. This combination helps the car turn in impressive MPG numbers: 28 city / 40 highway /32 combined. I consistently managed around 30 to 31 during my week with the car, in a mix of both urban traffic and road trip driving.
One cool feature that's part of the GT's tech package is Mazda's "i-ELOOP" – a regenerative braking system that recovers energy to power electric items in the car, such as the stereo, headlights and climate control systems, reducing demand on the alternator, and further improving fuel efficiency.
Steering takes just a light touch, which makes for an easy, if not exactly sporty drive, and the suspension offers good isolation from bumps and vibration. Noise levels are good in the cabin, though there was a bit more wind noise than I'm used to hearing in more luxurious cars. A typical trade-off in lightweight cars is that you typically end up with less acoustic insulation, so perhaps that's why this one isn't super quiet.
While I'm not sure about the practicality of white leather seats in a family sedan, there's no question that the interior of the Grand Touring package looks amazing. I particularly like the two-tone look with the charcoal grey seat backs and similarly-colored accents on the dash and doors. If you look carefully, you'll notice red accent stitching on the seat backs as well – a nice touch.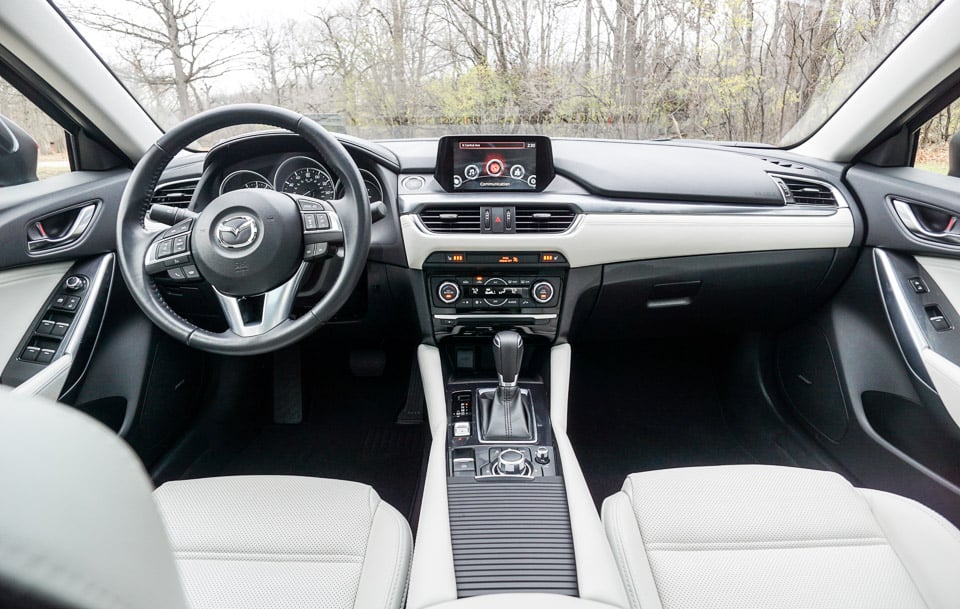 I took a couple of 4-ish hour road trips in the car, and found the driver's seat to offer great comfort and support, and it was nice to have them heated on the cold winter days I was driving the car. Though compared to other cars with heated seats, I found these took a bit longer than most to heat up.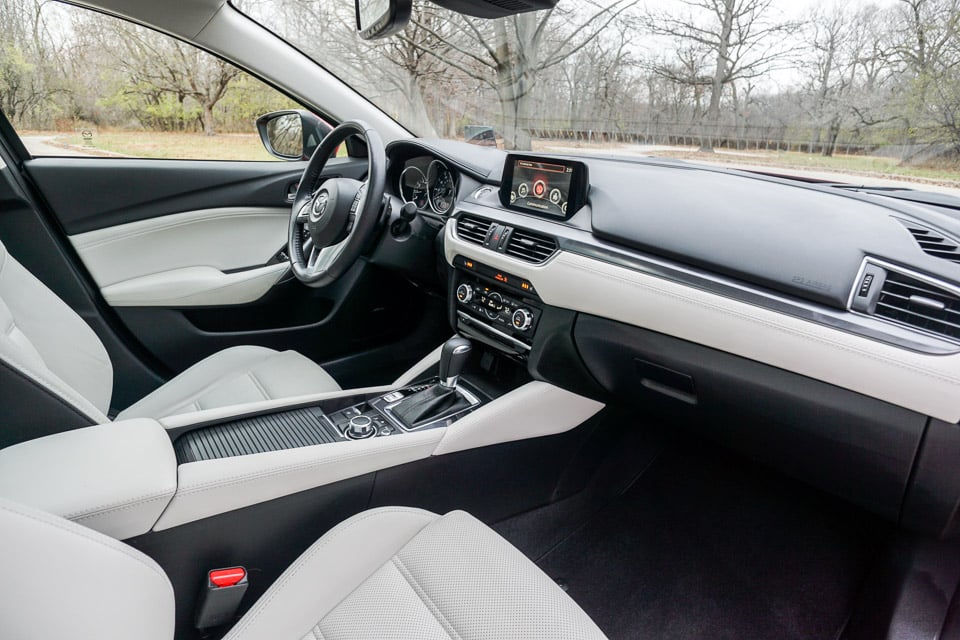 The car has numerous tech bells and whistles, my favorite being the active radar cruise control, which can automatically manage your distance from other cars at speeds down to about 20mph. I drove the first 200 miles of my road trip without having to touch the gas or brake the whole time. Other features include a 7-inch color infotainment system that's intuitive and offers both touchscreen and wheel-based controls, navigation, and a Bose 11-speaker audio system with excellent sound quality. There's also keyless push button stop/start, a power moonroof, a rearview camera, blind spot monitoring, lane departure warning, and dual-zone climate control.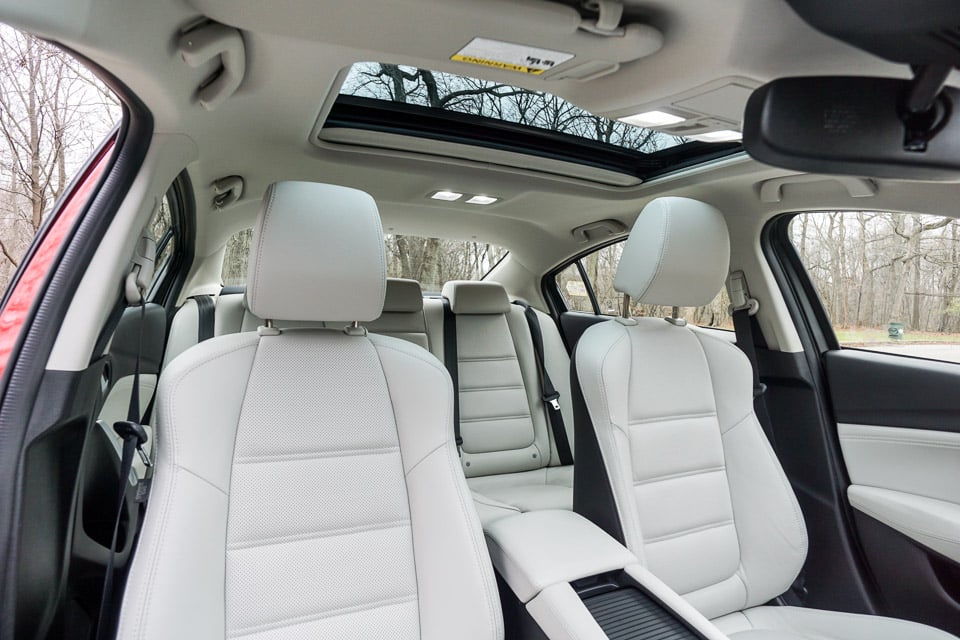 One of the bonuses of offering the Mazda6 with only a 4-cylinder engine is that it allows the passenger compartment to be longer than some of its competitors that offer a V6 option. This pays off for rear seat passengers especially, who get much better than average legroom, offering comfort even for tall riders.
There's also a spacious 14.8 cubic foot trunk, paired with a feature that's typically reserved for SUVs and station wagons – the rear seats fold down in a 60/40 configuration for transporting long and large objects.
The Mazda6 is a great daily driver, with dynamic styling, a comfortable and upscale cabin, excellent fuel economy, and an enjoyable ride. If you're shopping for a family sedan, and don't need the cargo flexibility and ride height that an SUV affords, it should definitely be on your test drive list.