Review: 2016 Honda Pilot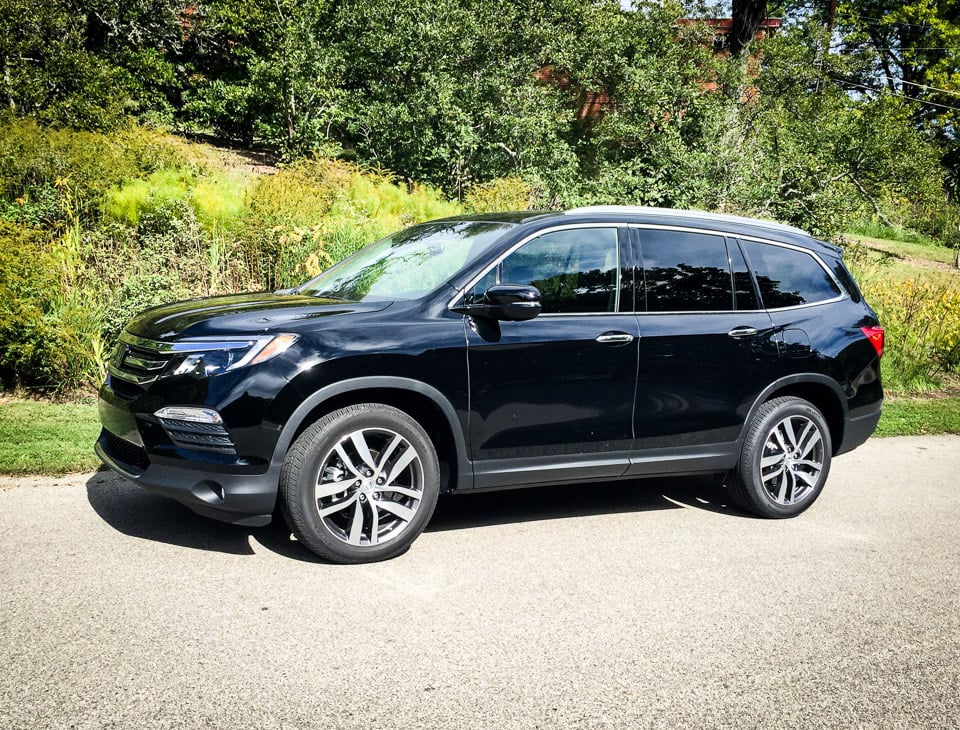 2016 Honda Pilot

Engine: 3.5-liter V6
Horsepower: 280
Torque (lb-ft.): 262
Transmission: 6-speed automatic (three trims) / 9-speed automatic (two trims)
Drive Configuration: FWD or AWD
Top Speed (mph): 114
City/Hwy/Combined MPG: 19/26
Curb Weight (lb): 4,054
Wheelbase (in): 111
Total Length (in): 194.5
Width (in): 78.6
Base Price (USD): $33,000
Price as Tested (USD): $45,350
What car do you drive yourself? That's the question I'm usually asked by readers. Truth be told, I don't actually own a vehicle, per se. My wife has a 2013 Honda Pilot that she loves. We use it to pull our camper, and believe it or not, it does a great job. As a seven-passenger vehicle it serves us quite well. I needed to back story all of this, in order to explain a slight bias for my tester this week – the 2016 Honda Pilot. My wife was ecstatic that we'd get to compare and contrast this SUV, as she's been contemplating an upgrade to the new model. So it was like our own personal, week-long test drive.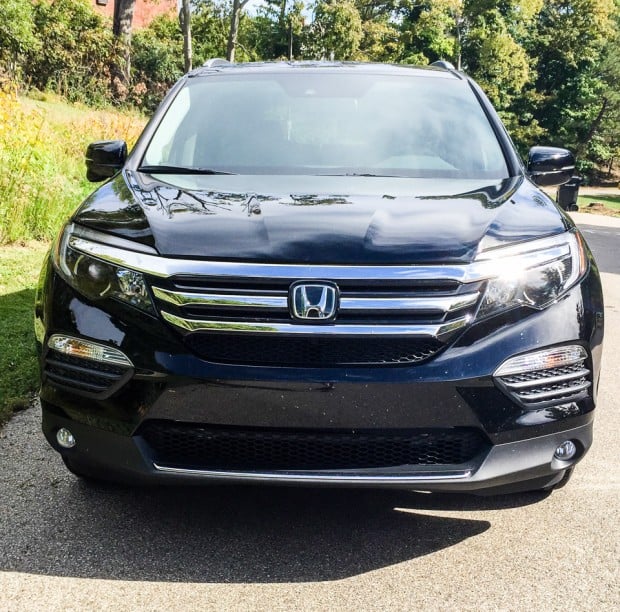 Honda has completely overhauled the Pilot for this model year including new looks, a new powertrain and an improved interior. The previous generation Pilot was stout, and boxy. This 2016 is quite the opposite. It more closely matches the looks of the top-selling CR-V, only bigger. Yet, when compared to my wife's 2013 Pilot, the 2016 looks more modern and bigger. In fact, it is three inches longer, so those looks aren't deceiving you. As with all Hondas, the overall exterior styling is conservative. There's nothing too garish or overly stylized on the Pilot. It's just a solid, nice, modern upgrade for this seven-passenger full-size SUV. The new grille is attractive but actually shortens up the appearance of the Pilot. It looks less stout than before. However, on side profile, the Pilot's styling really elongates it, which carries over toward the back end which is more rounded and has a spoiler. Overall, the Pilot looks better from the side and back than from the front.
The 2016 Pilot has a powertrain that resembles the 2016 Acura MDX. A 3.5-liter V6 engine with a six-speed automatic transmission is standard for most trims. The push button transmission (the same one from the MDX, that Honda is advancing in other vehicles too) is still gimmicky, but does help to keep the steering column and center stack clean and neatly organized. But for sure, pushing a button to put it in drive, reverse, etc. takes some getting used to. The Touring and Elite trims do get a far superior nine-speed transmission which is absolutely the way to go, and hopefully this becomes the standard transmission for all trims of the Pilot.
The increased power on the Pilot is noticeably better than the prior gen. The new Pilot makes 280 horsepower and 262 lb.-ft. of torque. My wife's Pilot never felt poky or underpowered, but this new model feels more spry and agile. The overall performance of the Pilot offers a smooth, comfortable ride and when paired with all-wheel drive – ready to handle itself in all conditions. The Pilot is also available in front-wheel drive, but for a vehicle this size, I prefer the piece of mind offered by the AWD version, especially in climates where it snows.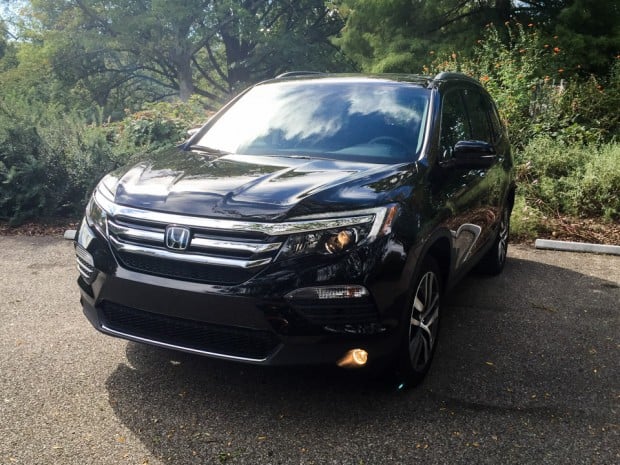 As mentioned, we use our Pilot to tow our camper. Our older Pilot has a towing capacity of 4,500 pounds, and our camper is well under that number. However, with the five-speed transmission, it labors to pull it on longer trips. So one of the selling points for upgrading to the 2016 is that increased towing capacity. FWD Pilots can now tow 3,500 pounds (vs. 2,000 pounds previously), while the AWD Pilot can now tow 5,000 pounds.
The interior of the Pilot is one part Odyssey and one part CR-V. In other words, it's the best of both worlds. The interior is spacious and versatile like a minivan, but more SUV-like in the way seating is organized. With room for seven passengers, the Pilot is a great family vehicle. With its redesigned interior, the overall materials and touch points are noticeably improved. A clear focus on family and space was put into this Pilot. There are more cupholders than actual seats and there are so many storage compartments and door pockets throughout. The second row is available as either a three-person bench-style seat (with 60/40 split) or as captain-style seating. The second row seats tilt fore and aft giving a more versatile seating arrangement and making sure legroom and shoulder room are a non-issue.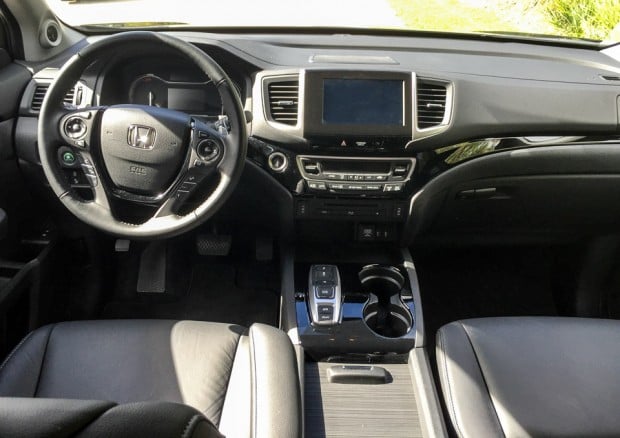 Access to the third row seating area is much improved. Whereas before, trying to get back there would've been challenging for adults, now it's accessible and easy. Leg and headroom is still limited in the third row, and should only be used for kids, but at least you can access that area easier now.
There is 16.5 cubic feet of space behind the third row seats (with them upright). With all seats folded flat, the Pilot has an amazing 89.3 cubic feet of space. This is increased over the previous generation.
A conservative car company like Honda isn't really known for cutting-edge technology. And the Pilot certainly doesn't have anything overly exciting when it comes to tech. Although, the new infotainment system with 8-inch touchscreen is much better than the previous one. Still, the response time on the touchscreen can be frustrating as it's not very sensitive and requires some fumbling and eyes off the road to perform simple tasks. There are four total USB connections and it integrates well with mobile devices. Honda has made several apps available to integrate with devices and the infotainment system.
The 2016 Pilot has a lot more senses which help with overall performance and also offer safety features. There is collision-avoidance and lane-departure warning technology, as well as a nice rear parking camera and rear parking sensors too.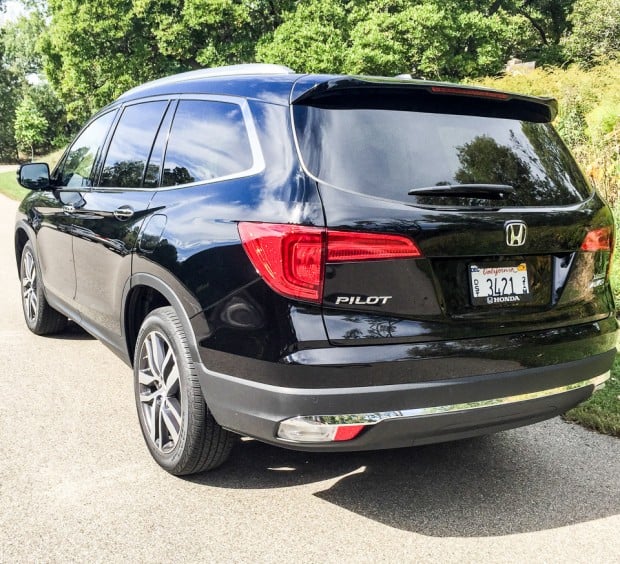 Some vehicles outperform their stated EPA fuel economy, and the Pilot has always been a vehicle that seems to do that. I remember test driving a 2012 version that I drove on a family vacation to New York City and did better than the EPA estimates, without any hypermiling tricks. It was that trip that convinced me to buy a Pilot. The 2016 Pilot is 300 pounds lighter with a more aerodynamic design, so it sees a significant improvement in fuel economy. The FWD Pilot gets an EPA estimate of 20 mpg/city and 27 mpg/hwy, while the AWD version gets 19/26. I averaged about 23 mpg in a week's worth of driving (and no I didn't pull the camper that week).
The Pilot is available in five trims, EX, EX-L, LX, Elite and Touring. I drove the top-of-the-line Touring version with a base price of $43,700. Honda added several options to my tester which took the final MSRP to $45,350. The base model EX starts around $33,000 (the Misses should take note of that more affordable trim).
The 2016 Honda Pilot demonstrates a maturity and evolution beyond the prior generation. It's still versatile and practical, but now lighter and longer, and with a better powertrain, it will make families take note as a phenomenal people mover and family vehicle. I know my wife has taken note, and there could be one of these in my garage in the near future.