First Drive Review: 2016 Lexus GS F
lexus | lexus gs | December 17, 2015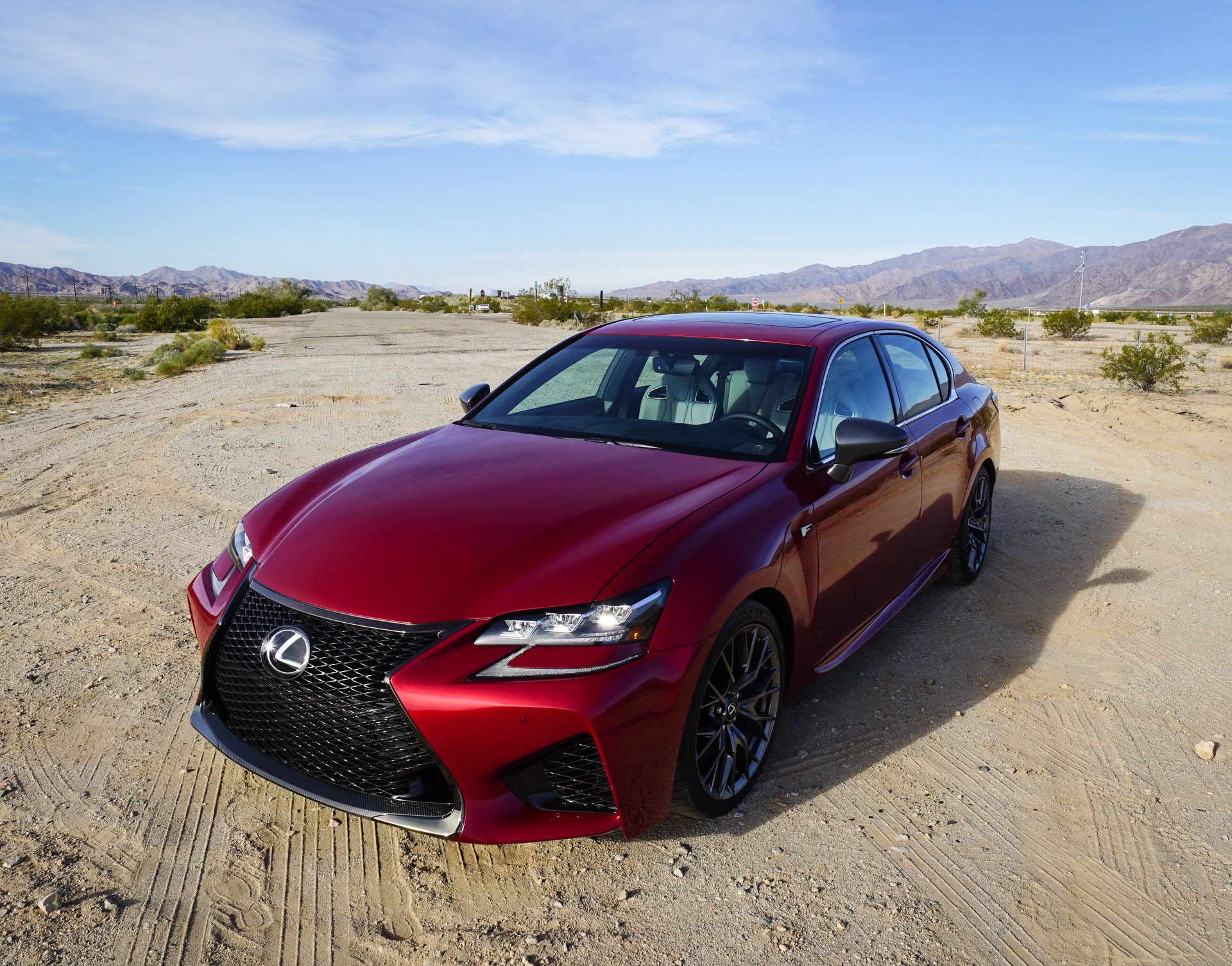 2016 Lexus GS F

Engine: 5.0-liter DOHC V8
Horsepower: 467
Torque (lb-ft.): 389
Transmission: 8-speed automatic with paddle shifters
Drive Configuration: RWD
0-to-60 Time (secs): 4.5
1/4 Mile Time (secs): 12.8
Top Speed (mph): 168
City/Hwy/Combined MPG: 16/24/19
Curb Weight (lb): 4,034
Wheelbase (in): 112.2
Total Length (in): 193.5
Width (in): 82.1 (w/mirrors)
Base Price (USD): $84,400
Price as Tested (USD): $86,760
One of the cars I've really been looking forward too since it was first announced has been the new Lexus GS F. After the good times I had in the Lexus RC F last year, I was wondering how well the performance pedigree would hold up on a larger, 4-door sedan. Well, I'm happy to report it does just that – and more. In fact, as much as I like the RC F, I like the GS F even better. Read on, and you'll find out why.
Lexus brought a handful of journalists out to Palm Springs, California to put the new GS F through its paces, with a variety of street routes and track performance driving at the Chuckwalla Raceway, about an hour away.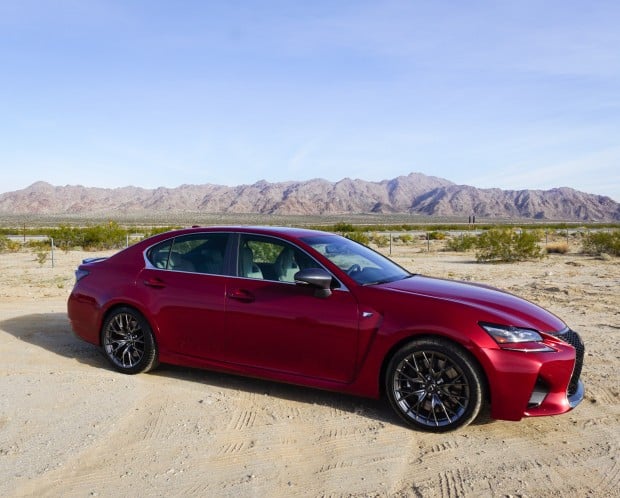 At its core, the Lexus GS is a heavily upgraded version of its popular GS sedan. But having driven the GS 450 hybrid less than a day before driving the GS F, it quickly became apparent that they're very different cars. The regular GS line may have similar looks – especially in its F-Sport variant, but at its core, it's a comfortable luxury sedan with reasonable power, a relatively soft ride, and light steering. On the other hand, the GS F offers thrills under the hood, in its steering, and its suspension, while still maintaining all the creature comforts you'd expect from a Lexus.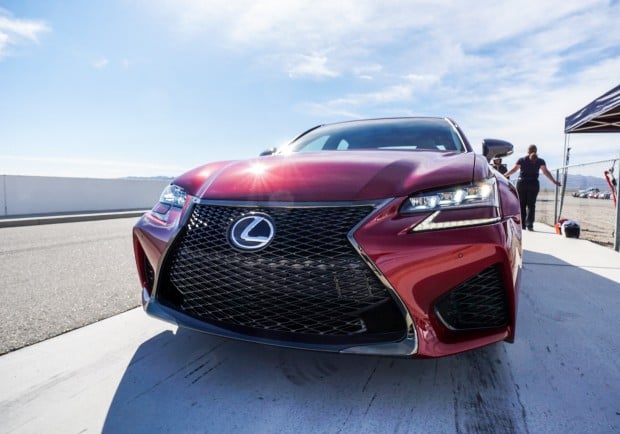 From the exterior, the GS F looks more athletic than its tamer brethren, with a much wider and more dramatic version of Lexus trademark spindle grille up front, along with a slightly tweaked hoodline to make way for the 5.0-liter V8 burbling beneath. The triple stacked LED headlights look great too. Large, functional vents flank the grille to provide air to the oil and transmission coolers, and air vents behind the front wheels help keep those big brakes up front nice and cool.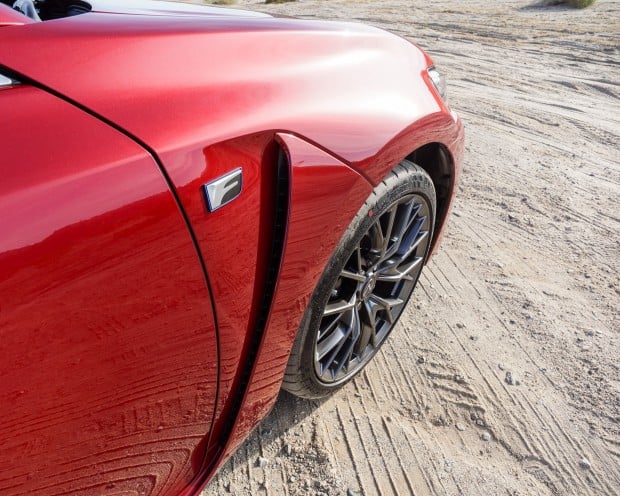 Around back you'll find a fixed carbon fiber reinforced plastic (CFRP) wing to help improve downforce at speed.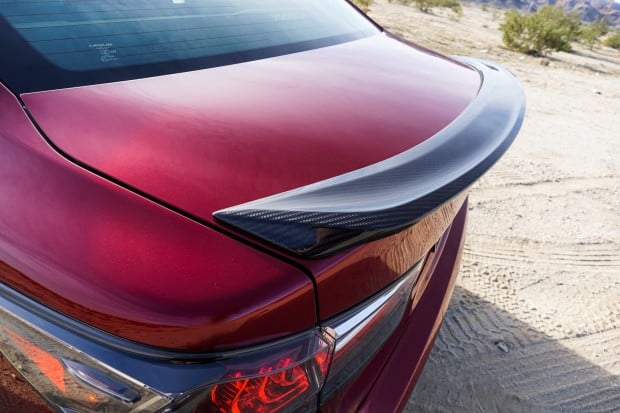 The naturally-aspirated V8 is the same excellent engine found in the RC F, pushing 467 hp (at 7,100 RPM) and 389 lb-ft. of torque to the rear wheels. The engine dispenses immediate and incredible power the second you put your foot on the pedal, launching the GS F from a standstill to 60 MPH in just 4.5 seconds. That's only 0.1 second slower than the 2-door RC F, and I defy anyone other than a stats junkie to tell the difference. Top speed is the same at 168 mph – though I didn't get to test this limit. In other words, this bad boy is fast.
The engine has a lovely deep exhaust note, enhanced by quad pipes, and further amplified through a pair of dedicated speakers, via "Active Sound Control." For purists out there, you can disable this feature, and the exhaust note is still impressive. But the overall effect with Active Sound on is pretty darned satisfying.
Of particular note is the GS F's very good electric power steering, which dynamically adjusts based on driving mode and speed, providing tight and direct response in Sport and Sport+ modes, while still allowing for easy and comfortable parking and movement in tight spaces. Braking is excellent, thanks to jumbo Brembos – 14.96″ discs up front, and 13.58″ discs in the rear, and the sticky Michelin Pilot Super Sport tires are great on the track.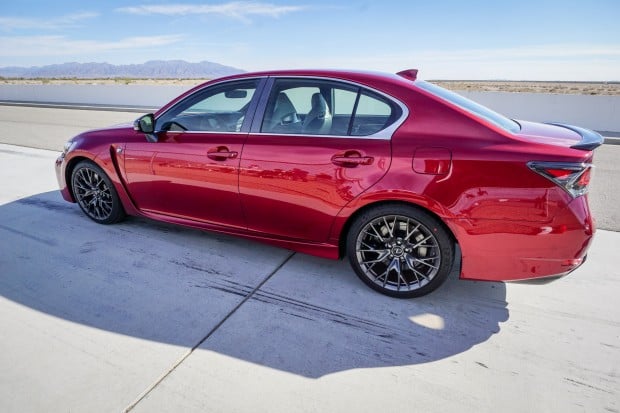 I had the opportunity to put the GS F through its paces on the track, and it was shockingly adept in the corners. It's far less likely to oversteer than the RC F, making it easier to handle, and less likely to put you in the gravel. I'm certain the five extra inches of wheelbase, and 53/47 weight distribution have a lot to do with it. The GS F comes standard with Lexus' torque-vectoring differential (an option on the RC F) which makes cornering even more compliant and predictable.
But don't just take my word for it. Check out the footage from a couple of hot laps I took in the GS F with pro race driver Scott Pruett, as he gave the car a little workout around the track.
Not bad, eh? Keep in mind that this was not only within the first hour that Scott ever drove the GS F, but the first day that he ever drove this track. The man knows what he's doing.
I could stop there, and the Lexus GS F would be a fine car. But there's so much more. The interior offers a great blend of luxury and sporty attitude, with heated and ventilated leather seats that are both body hugging for the track, and comfortable for long drives. There's alcantara trim on the dash, center armrest, and doors, which not only looks and feels upscale, but minimizes reflections.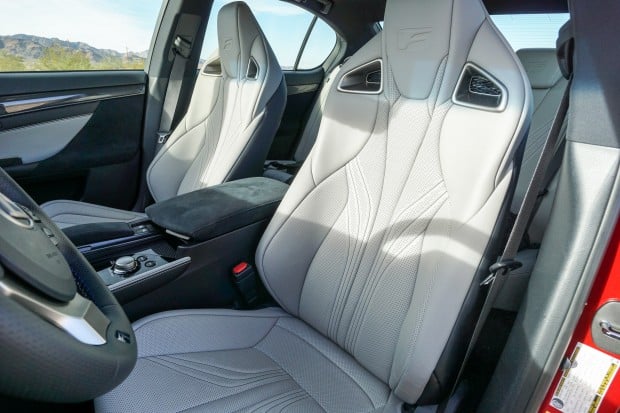 As an added bonus, you get the benefit of a full four-seat cabin, with plentiful room for rear seat passengers. In fact, my hot laps at the racetrack were enjoyed from the back seat. That's the first time I've experienced a track drive from that vantage point. Of course, as much as I enjoyed the drive with Scott Pruett, I preferred to sit behind the wheel.
Like every car in the Lexus line, the GS F is packed with technology. It features a large and easy to read 12.3″ infotainment display, that serves as the primary interface to music, navigation, climate, and phone features, as well as apps. The optional 17-speaker Mark Levinson audio system is sublime, offering a huge soundstage, and excellent overall sound quality. In addition, every GS F includes a myriad of safety features, including pre-collision warning and braking, dynamic radar cruise control, lane departure alert, and automatic high beams. Blind spot monitor, rear cross-traffic alert and a rear-view monitor system are also available, and well worth it for the peace of mind on a car this indulgent.
So what can I say? As much as I enjoyed my time in the Lexus RC F, I thought it was better as a track day car than as a daily driver, due in part to its space constraints. Despite being every bit as fun to drive around the track, the GS F is also quite practical, with a large and comfortable cabin for four adults (five in a pinch), and even better handling at speed. It's also quite a bit more expensive than the RC F, so there is that. But if you've been thinking about a BMW M5, a Mercedes-AMG E63, or an Audi S5, you owe it to yourself to check out the GS F. It's a truly special car that truly delivers on Lexus' promise of both luxury and performance.