Sponsored Video: Castrol EDGE Titanium Strong Virtual Racers
stunts | virtual reality | December 17, 2015
Take an awesome ride through a virtual reality race course with stunt driver Ben Collins (formerly Top Gear's The Stig), and Formula Drift pro Matt Powers, in this cool stunt they performed for Castrol EDGE.
For the Castrol EDGE Titanium Strong Virtual Racers video, each of the drivers donned an Oculus Rift virtual reality headset as they raced through two separate courses. They were blinded to the real world, instead seeing in their head-mounted displays a world filled with daunting and surreal obstacles. Amazingly, they were able to race against the other driver's car, despite not being on the same track. A combination of custom software and hardware monitored the movements of each of the cars, and combined the data in real time so the other driver's car could be seen through their opponent's headset.
It's a really cool effect, but I'm wondering how disorienting it must have been for the drivers to only be able to see what was in their virtual reality headsets, and not see the outside world. I've worn an Oculus Rift while sitting in a swivel chair, and I found it to be pretty challenging, so I can only imagine what it's like to wear one in a moving vehicle – while racing, no less. Still, this looks like it could make for an awesome amusement park ride – if I weren't worried I'd crash into something.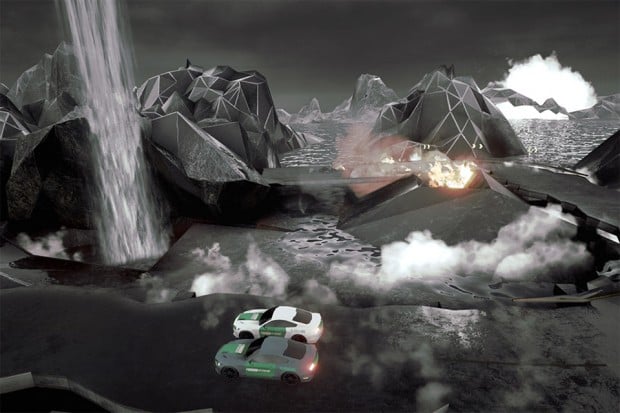 Be sure to watch the behind-the-scenes video below to learn more about how the team pulled off this impressive stunt:
Post sponsored by Castrol