Review: 2016 Subaru Forester 2.0XT Touring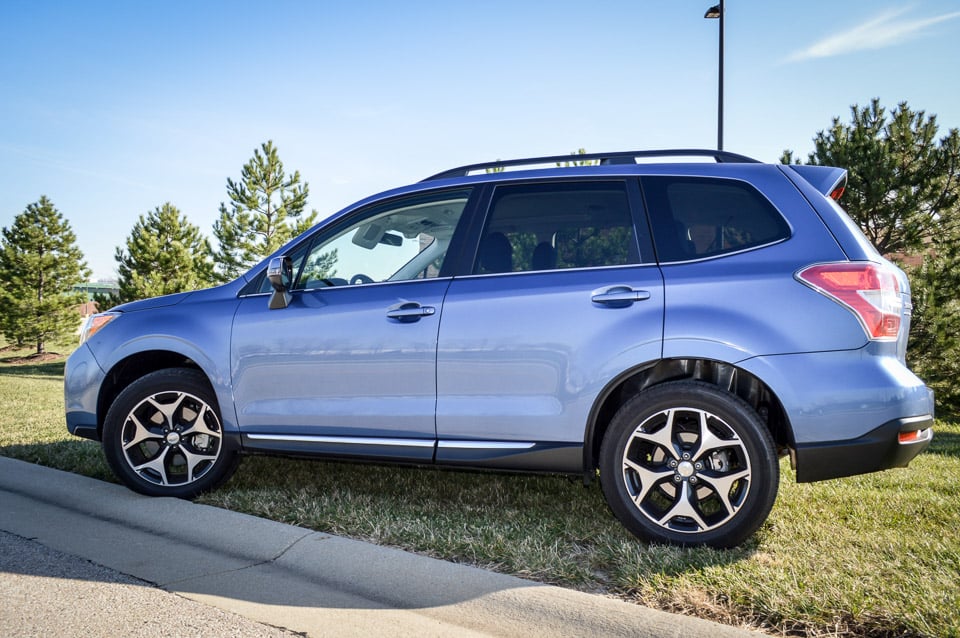 2016 Subaru Forester 2.0XT Touring

Engine: 2.0-liter twin-scroll turbocharged Di-Boxer 4-cylinder
Horsepower: 250
Torque (lb-ft.): 258
Transmission: CVT
Drive Configuration: AWD
City/Hwy/Combined MPG: 23/28/25
Curb Weight (lb): 3,450
Wheelbase (in): 103.9
Total Length (in): 180.9
Width (in): 70.7
Base Price (USD): $33,795
Price as Tested (USD): $36,040
To discuss my tester for this week, I turned to Old Man Webster's famous book and I looked up the word "evolution." The first definition really helped me talk about my tester. Ev-uh-loo-shun: any process of formation or growth; development.
So why go into the definition of evolution? Are we discussing something Darwinian or talking about opposable thumbs? Hardly. The word evolution kept coming into my head as I was driving around in the 2016 Subaru Forester. Now in its fourth generation, I wasn't always a fan of the Forester. In fact, the Subaru brand was one I dismissed as only appealing to the granola crowd, and missing the mainstream. But spend time driving the Forester, and enjoying its widely improved interior and you realize there is a slow, but noticeable evolution going on with it. Whereas the Forester was once just a crossover with off-road abilities, now it has a lot more refinement and still has amazing off-road abilities. Isn't evolution great?
The looks of the Forester remain mostly intact, with a rugged, station-wagon-like exterior. It's not long like a station, or even like the Outback, but it does share that same overall look as the Outback. A small, simple grille is the focus of a simple, plain Jane front end. On profile, the Forester gets a little more of a standard crossover look to it. It sits higher off the ground, hinting at its off-road readiness. On the other hand, its back end is pretty bland with outdated looking tail lights.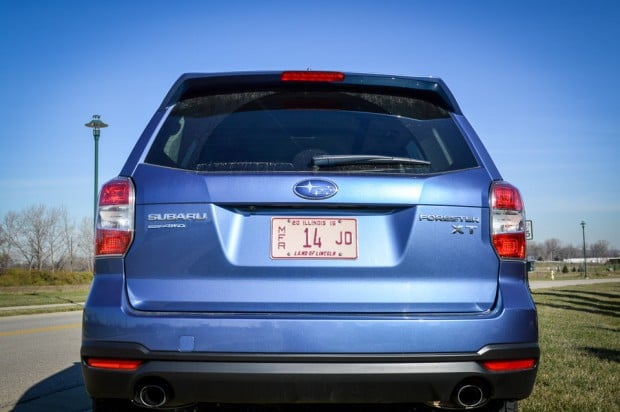 As the Forester continues to evolve, I can hope the next generation pays a little more attention to the exterior styling and injects a little excitement into it.
For this model year, there are two engine options. Standard on the 2.5i Limited, 2.5i Touring and 2.5i Premium is a 2.5-liter, 4-cylinder engine that makes 170 horsepower. That engine was in the last Forester I drove, which left me underwhelmed. The one I reviewed here is the new 2.0 XT Touring, which comes with a much more exciting turbocharged 2.0-liter, 4-cylinder engine. Output numbers for this engine are impressive with 250 horsepower and 258 lb.-ft. of torque. Edmunds testing had the 2.0 with a 0-60 time of 6.3 seconds. This is incredibly fast for a crossover and the difference between the turbo and non-turbo is significant.
Both engines come with all-wheel drive (as Subaru is known for) and also comes with a continuously variable transmission. There is usually noticeable turbo lag with CVT transmissions, but on the Forester there was none that I noticed. In fact, the CVT worked better with the smaller engine than it did with the 2.5-liter engine. My disdain for CVTs hasn't changed, but this one is better than others. The Forester does come with paddle shifters to inject some shifting excitement, though there still aren't any actual gears being shifted.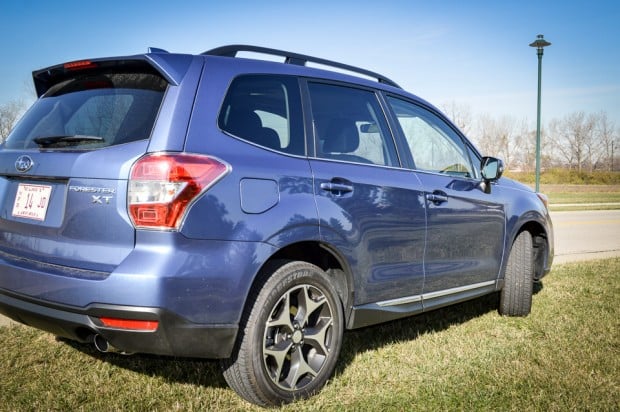 With the smaller engine, the Forester sees an improvement in fuel economy. The 2.5-liter engine has an EPA rating of 24 mpg/city and 32 mpg/highway. For any crossover to hit that 30 mpg mark is significant. The 2.0-liter turbo falls a little short of that threshold with an EPA rating of 23 city and 28 highway. In a week's worth of driving, I was closer to the city number than the highway number with an average of 24.5 mpg. It should be noted that I was pushing the turbo a lot, as I was so pleasantly taken aback by the power and performance that I just got carried away with how fun the Forester was.
The squatty way it held its own in tight corners was fun. The off-the-line acceleration was great and made me ignore the road and engine noise that was quite obvious. Based on past experience, I know the Forester is quite capable off the road, even though I didn't get to take it off asphalt. It is certainly a crossover that is truly ready to get mud on the tires.
Inside, the Forester's evolution is more like a revolution. Vast improvements to the interior are not only noticeable, but greatly appreciated. In the past, Subaru interiors were full of uncomfortable cloth seats, hard plastic touch points and antiquated infotainment systems. From a consumer standpoint, I didn't find the interiors met the standard of their competition or were competitive considering the price tag.
But the 2016 Forester's interior is as good as any I've seen in a Forester. Of course, my tester was the top-of-the-line Touring trim, which does bring with it a leather-wrapped steering wheel and seats that are both supportive and angled in great way for driving. Seeing the road is easy in the Forester, and the seats remain comfortable but also functional, giving plenty of headroom and shoulder room. This is a bonus for a smaller crossover, as many of the Forester's competitors offered cramped seating arrangements and limited cargo area.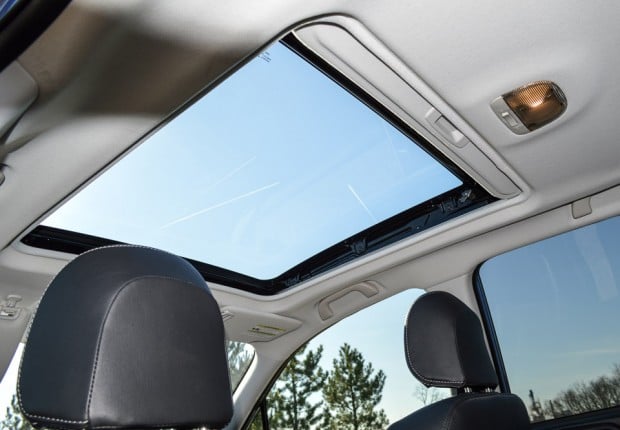 The Forester has a comfortable back seat, with room for three. Although three adults may find themselves in close quarters, but two adults and a child would be perfectly fine in the comfortable back seat, and all would have ample leg room.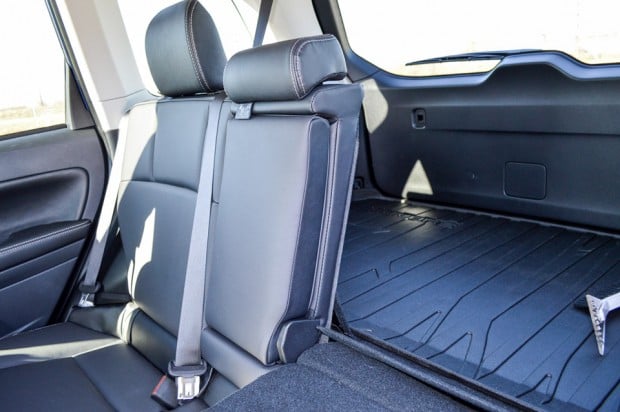 Behind the 60/40 split folding seats is a segment-leading 34.6 cubic feet of space. This is where, once again, the Forester's station wagon-like design is exploited. Lift up the rear hatch and you have a useful amount of space. Fold the second-row flat and you get 68.5 cubic feet of cargo space.
In-cabin technology is an area that Subaru has largely downplayed in the past. This model year, the Forester gets a 6.2-inch touchscreen system that uses Subaru's Starlink infotainment system. While this is not my favorite system, it's vastly better than the antiquated system in the previous Forester I drove, and that you've likely experienced in any rental car Subaru. With Starlink, there are enough smartphone apps to integrate with the system and enhance the overall experience. There is a USB port, which seems odd to note, but is not something Subaru has offered regularly in the past. Now, just gives us at least one more USB port, and we'll be happy!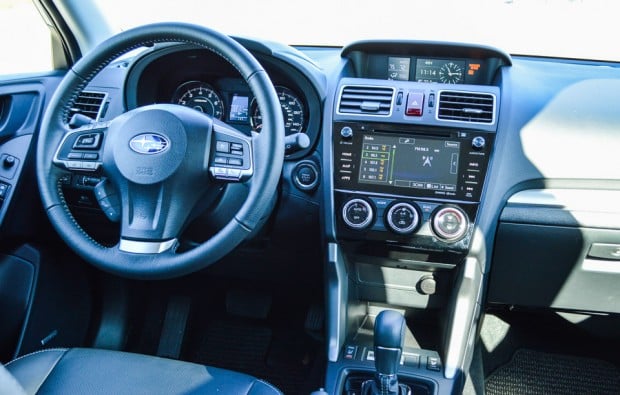 The 8-speaker sound system is much improved, but it should be noted that it is part of the Touring trim which has an upgraded Harman Kardon sound system. The standard audio system on the Forester is pretty pedestrian and barely conceals the engine noise from the CVT and the turbo engine.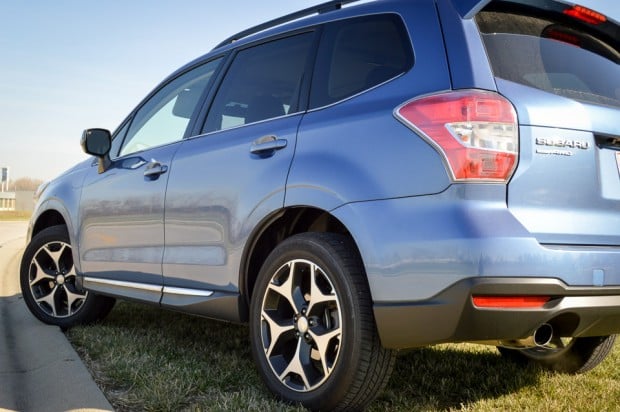 My tester came with two very useful options including the EyeSight Driver's Assist Technology package. Lane departure warning, forward collision warning and an accident avoidance system are all part of this safety package. The navigation package has live updates on traffic and road conditions, through the StarLink system, but otherwise isn't anything spectacular. But kudos to Subaru for making vast improvements to the navigation, center stack and overall technology within the Forester.
The Subaru Forester continues to improve and evolve making itself more attractive to a wider consumer base. It's no longer an off-road ready crossover for the hippie crowd, rather the Forester has evolved into a mainstream, all-wheel drive, ready-for-all conditions family crossover.