Review: 2016 Toyota Camry XSE
toyota | toyota camry | December 30, 2015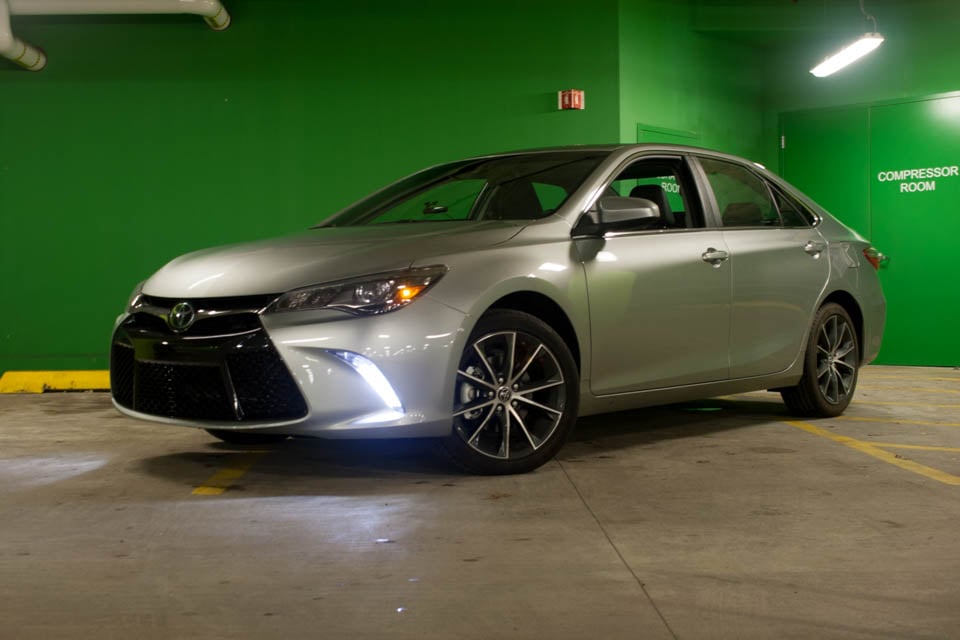 2016 Toyota Camry XSE

Engine: 3.5L V6
Horsepower: 268
Torque (lb-ft.): 248
Transmission: 6-speed automatic
Drive Configuration: FWD
City/Hwy/Combined MPG: 21/31/25
Curb Weight (lb): 3,480
Wheelbase (in): 109.3
Total Length (in): 190.9
Width (in): 71.7
Base Price (USD): $31,370
Price as Tested (USD): $34,260
Loading myself into a Toyota Camry is not the sort of thing I had imagined when taking on the glamorous occupation of being an auto journalist, but, even non-car enthusiasts buy cars. When they do, this one seems like a popular choice. I might as well find out why.
The XSE trim level, which came out in 2015 remains largely unchanged for the 2016 model year, but still makes an effort to put all of the luxury and sport options into one package deal. On the sporty side of things you'll get a 3.5 liter V6 motor that's good for 268 horsepower, and also a manual-select 6-speed automatic gearbox. This all sits on 18 inch rims that ride on sport suspension. On the luxury side, you get a delightful JBL audio system (Toyotas always seem to delight my inner audiophile) suede insert trimmed leather seats, of which the front ones are heated, and even a built-in wireless phone charger which sits just in the front of the center console. I wasn't able to utilize that last feature as my phone isn't capable of it.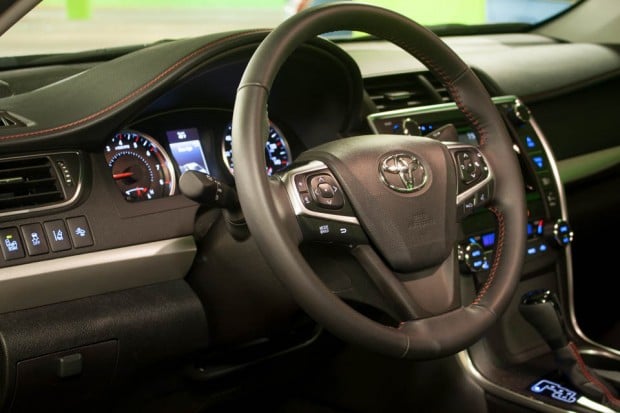 "During my time with the car, a round trip from Chicago to Indianapolis was smooth and easy."
The drive itself if smooth rather than sporty, despite what the window sticker tells you, but that's not a complaint either. During my time with the car, a round trip from Chicago to Indianapolis was smooth and easy. While handling is still competent, its bias is still clearly to cover big chunks of Indiana highway rather than loading up with lateral g-forces. Pushing the car in corners will expose the fact that it's not really meant for heavy-footed journalists.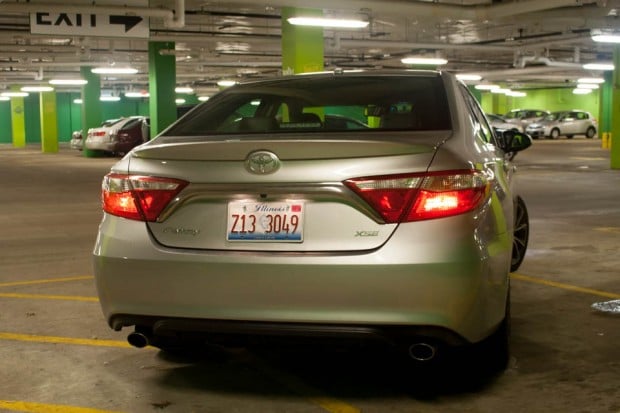 Outside, you won't be able to tell much difference between the 2015 and 2016 model. The front end features a wide, aggressive grille, which also houses anti-collision technology behind the Toyota badge. Rims are 18 inches in size and compliment the sporty nature of the car nicely. Out back, dual exhaust pipes and rear bumper applique add some good visual appeal.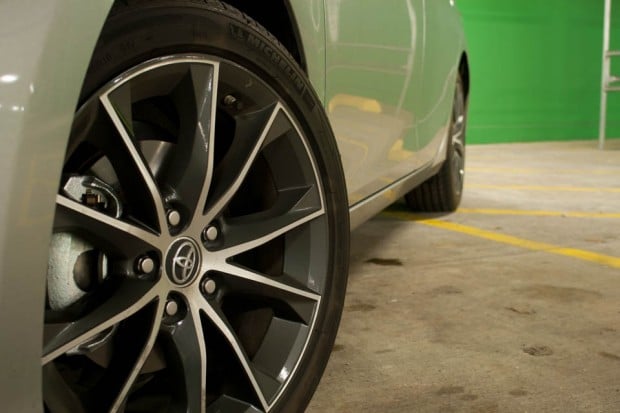 Inside, the Camry XSE demonstrates its goal is savvy, not sexy, though not completely awash in grey buttons. Seats, as mentioned, are leather and suede insert with smart red stitching to compliment the threading you'll also find on the steering wheel. Black suede and red stitching is a theme you'll also find on the shifter, as well as the doors. Overall, it does present itself with a more sporty overtone.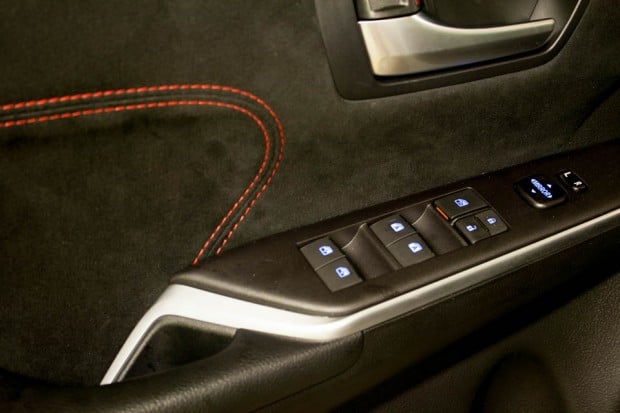 "Overall, it does present its self with a more sporty overtone."
The entertainment system in this Camry is quite easy to use. Occasionally there's a car that comes along where over complication seems to be a goal for the designers, but here the large touch screen, all 7 inches of it, is intuitive and quite easy to use. The "Home" button will bring you a split display with half showing current weather, by The Weather Channel no less, and the other half is your current navigation map. Simply tap the map side and it'll go full screen.
One note: the buttons on the steering wheel, in my opinion, would be better suited if their respective places on the wheel were swapped. Buttons on the right side control items in the screen between the gauges, but buttons on the left side control audio and other infotainment settings. I found myself occasionally changing songs while simply trying to look at a different screen for trip information. You acclimate yourself to this quite quickly though.
In terms of fuel consumption, the V6 showed a little bit of thirst, averaging about 26 mpg, with most of those miles being highway. I am surprised that there are some eco-friendly things lacking from the Toyota though. Sure, the engine will nudge at 30 mpg on the highway, but there's no engine start/stop unit in this one, which would make a lot of sense to keep 3.5 liters of engine from uselessly chugging away at a stop light.
And although it's a big improvement in terms of how exciting the car is, competition is fierce in this segment. Where does it find itself in the mid-size sedan market? Well, right about in the middle. With an as-tested price of $34,260, it sit's a cool $1,000 over the Kia Optima SX Turbo, which is all new for 2016. In terms of dynamics, I really quite liked the Kia, but the grunt from Toyota's V6 engine has the edge in terms of acceleration, and its transmission is just a bit smoother as well.
Credit where it's due, Toyota made the Camry interesting again – especially in its XSE packaging, although the lesser-powered versions will be more popular in terms of sales numbers.