Is The Tundra TRD Pro a Better Raptor Alternative?
ford raptor | off-road | toyota tundra | tundra trd pro
Many of us are pretty excited about the new 2017 Ford Raptor that will be on sale by the end of the year. It'll have a turbocharged engine making around 450 horsepower. It's a truck you could drive off the lot and then immediately take on the Baja 1000. But the new truck doesn't have a V8, and will probably be pretty pricey. Is the 2016 Toyota Tundra TRD a better alternative?
First, let's look at the powerplant. Powering the Tundra TRD Pro is a 5.7L i-Force V8 making 381 horsepower. While that's nowhere near what the new Raptor will make, the Tundra has something that the Raptor won't; a V8 engine. Fitted with the factory TRD exhaust, the TRD Pro Tundra sounds like a proper trophy truck. While you can make a V6 sound like a lot of things, you can't make a V6 sound like a V8.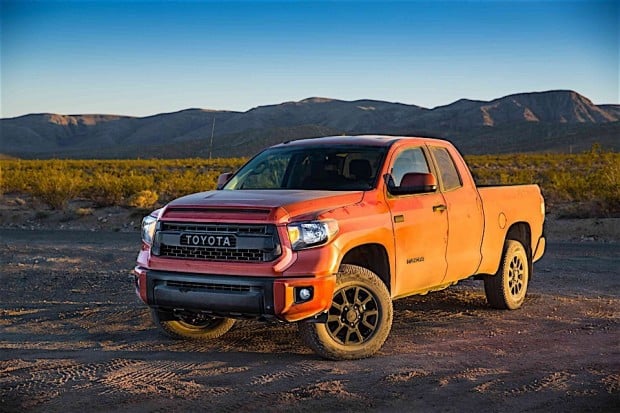 Now, let's look at the price. The TRD Pro has everything you'd expect from an off-road truck, including special off-road suspension with external reservoirs, plus chunky off-road tires. Skidplates protect the vital internals, and even the front bumper is a 3-piece unit to facilitate easier repairs.
But, the price of the TRD Pro starts at $42,445. While we aren't sure how much the new Raptor is going to start at, I have a pretty solid feeling that it's going to be more than that.
While neither truck will be cheap, I'd feel more comfortable damaging a $40,000 truck over a $60,000 one. I'm still a Raptor fan, but if you're missing the V8, the TRD Pro might just be a viable substitute.