2016 BMW 330e Plug-in Hybrid Power Specs Revealed
bmw | bmw 3-series | bmw 330e | EV | hybrid | February 1, 2016
BMW has announced some new details on the coming 2016 330e plug-in hybrid. The car will launch in the US with a 2.0-liter turbo four-engine making 184 hp and 214 lb-ft. of torque. That gas engine will be paired with an electric motor making another 88 hp and 184 lb-ft. of torque on its own.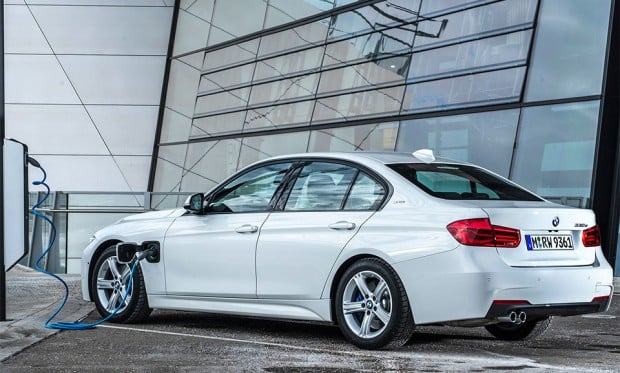 The combined power output is 252 hp and 310 lb-ft. of torque. There must be some sort of torque limiting hardware inside, since the amounts don't add up or perhaps peak torque is only in short bursts. The only available transmission is an 8-speed auto. BMW promises a 0-62 mph time of 6.1 seconds, and a top speed of 140 mph.
The car is able to travel 25 miles on electricity alone. There are three driving modes including Auto eDrive which combines gas and electric power, with the car on electricity only up to 50 mph. Max eDrive mode puts the car on electricity at speeds up to 75 mph. Save Battery mode keeps battery power at 50% and recharges it if it drops. BMW also includes something it calls its "Proactive Driving Assistant," which helps maximize fuel efficiency by adjusting your route to keep you on electric power as much as possible – though these routes generally avoid highways.