World's Fastest Mobility Scooter Goes 107.6mph
scooter | world record | February 9, 2016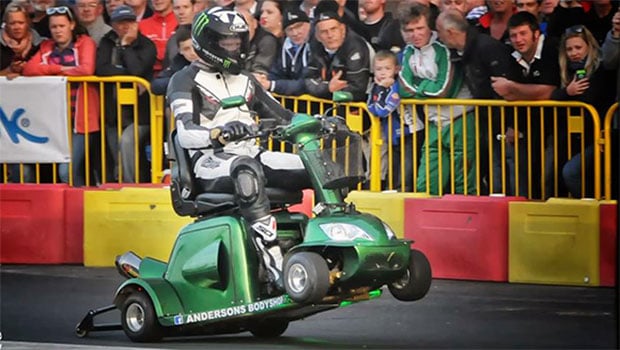 If you have ever spent time around an elderly person who relies on a scooter to get around, you know how slow those things are. If they can reach the speed of a slow jog or fast walk, you are doing good. Isle of Man mechanics David Anderson and Mathew Hine spent six months building a scooter that will get grandma to the store a little more quickly.
The beast is now officially the world's fastest mobility scooter, having set a Guinness World Record of 107.6 mph. That speed was measured as an average over 1/4 mile run. That makes this scooter faster in a quarter mile than most cars.
The scooter was based on an existing mobility aid and looks like a normal scooter on the outside, other than the wheelie bars on back. The engine is from a 600cc Suzuki Bandit motorcycle and the tires are from a racing go-kart. Check out the video to see the record setting run of this insane little vehicle.