Speed Versus More Speed as F1 Car Battles Superbike
f1 | motorcycles | race | superbike | April 4, 2016
Off the line, a superbike will pull away from an F1 car, but the motorcycle rider better enjoy it while it lasts. As this excerpt from UK TV show Speed with Guy Martin attests, an F1 car has the upper hand in a race against even the best superbike racer. Martin and his TYCO BMW bike take on David Coulthard in the Red Bull Formula 1 machine over the 3.66 mile track at Silverstone. But to make the contest competitive, Martin only has to complete three laps to Coulthard's four. The race is on.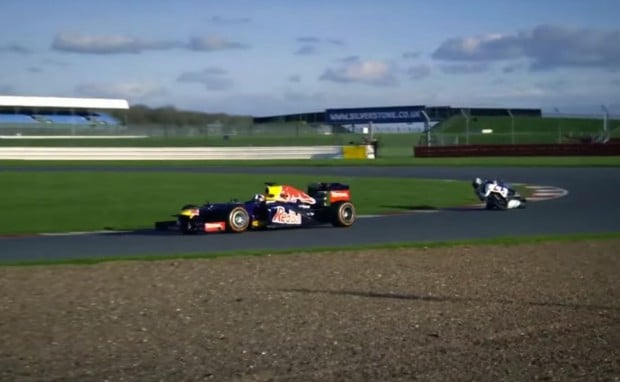 Martin takes a short-lived lead. "I lost quite a bit of time to Guy off the start," says Coulthard. "Which, to be honest, pissed me off a little bit." The F1 car's superior aerodynamics and downforce quickly turn the tables. Coulthard is able to take some corners at a whopping 40 miles an hour faster than Martin on his BMW, while in the straights, the bike's 170 miles per hour top speed creeps to within 10 miles per hour of the faster F1 car. Overall, the F1 car averages about 30 seconds quicker around the course, setting up a sprint to the finish.
"He came around the outside in the first corner, and he looked so steady," Martin says. "Yet, going at warp speed."  Who wins or loses is really unimportant—both racers display world-class skills in their different disciplines on a perfect day at a beautiful race course.