First Drive Review: 2017 Jaguar XE
jaguar | jaguar xe | April 19, 2016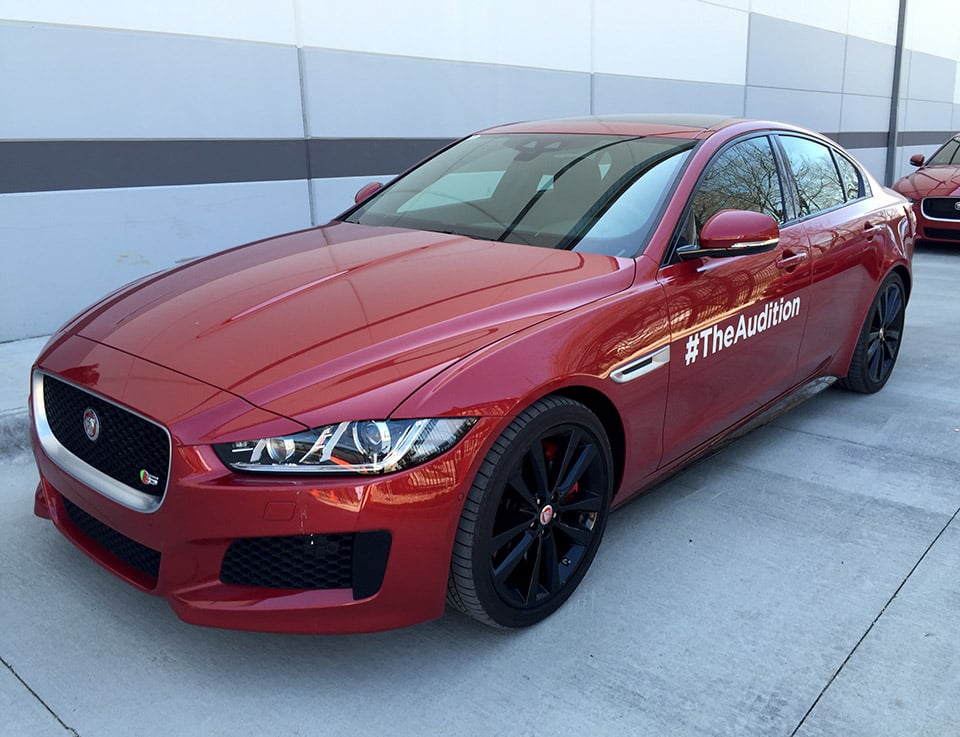 Of all of the new cars I've been excited to drive this year, Jaguar's new XE and F-PACE have been high on my list. Recently, I had a chance to take a brief spin the the XE, Jaguar's new mid-size sport sedan.
The first thing you'll notice about the XE is that it looks fantastic. After all, it was designed under the masterful leadership of Sir Ian Callum, the man behind the drop-dead gorgeous F-TYPE. The exterior looks substantial and dynamic – especially in its sportiest variant – the 35t R-Sport. If you see that imposing front end in your rearview mirror, you'll get out of the way. The same basic model is being sold as the XE S in Europe, hence the "S" badging in these photos.
Inside, it's refined and luxurious, with comfort in mind, offering the sort of premium materials and excellent fit and finish that Jaguar does so well.
The entry level 25t has a 2.0-liter turbo inline-4 with 240 hp and 250 lb-ft. of torque, while the 20d has a 2.0-liter diesel with 180hp and 318 lb-ft., and the 35t rocks a supercharged 3.0-liter V6 that produces 340 hp and 332 lb-ft. All that power heads to the rear wheels via the well-respected ZF 8-speed automatic that shifts about as fast as you could ever want. There's also an all-wheel drive variant available, though I didn't get a chance to drive that model.
First, I took the V6-powered XE on a short route on the potholed and traffic-filled streets of Chicago's South side, and it soaked up the bumps like a champ, its premium interior providing a great respite from the urban chaos going on outside its windows. I then turned my attention to a short autocross course to see how the XE handled with some speed and intensity behind the wheel.
While the test track wasn't long, it was immediately clear that the XE is extraordinarily nimble, dodging and darting its way through twisty turnys with aplomb. Its lightweight, aluminum-intensive unibody is nice and rigid, offering great control and stability through the corners. On the straights, it's got some serious muscle, launching its occupants up to speed like its namesake feline can, accompanied by a throaty exhaust note that offers great auditory feedback as you push the revs toward the redline. 0-to-60 time for the V6 variant is rated at an impressive 5.1 seconds, with a top speed of 155 mph.
The XE does all of those things that Jaguar does so well – it's refined, yet sporty. It'll give you a smooth and comfortable ride on a long road trip, but you can push your foot down, and it gets kind of thrilling. Jaguar has its eyes set keenly on stealing away some of BMW's 3-series customers with the XE, and I think they've got a great shot at it.
If you want a chance to test drive the new XE for yourself, Jaguar has been touring the country, offering prospective customers an opportunity to get behind the wheel of this impressive new sports coupe. Be sure to register your interest at The Art of Performance website for more information.