Review: 2017 Audi Q7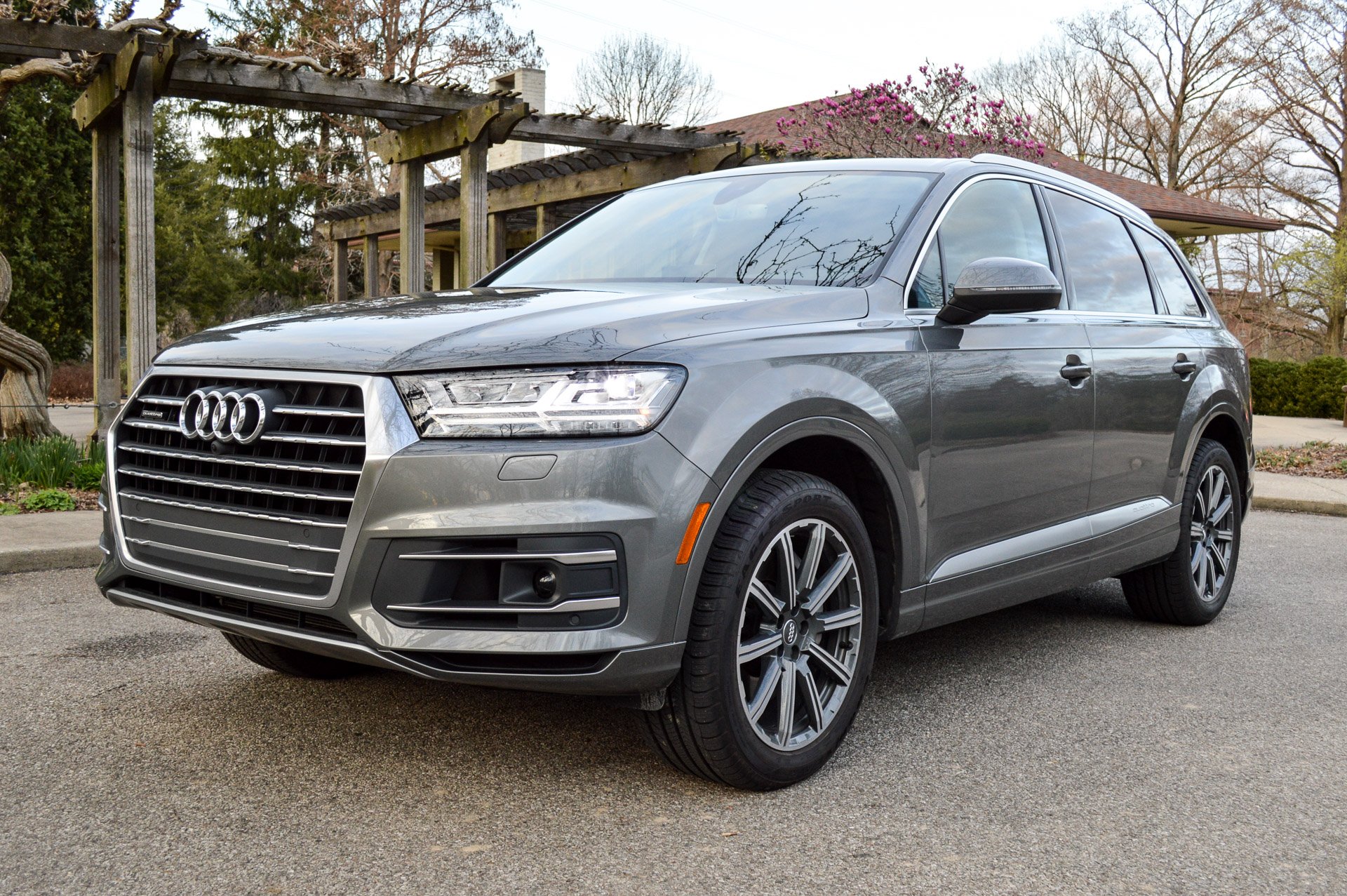 2017 Audi Q7

Engine: 3.0-liter turbocharged V6
Horsepower: 333
Torque (lb-ft.): 325
Transmission: 8-speed automatic
Top Speed (mph): 130
City/Hwy/Combined MPG: 19/25/21
Curb Weight (lb): 4,938
Wheelbase (in): 117.9
Total Length (in): 199.6
Width (in): 87.1
Base Price (USD): $54,800
Price as Tested (USD): $68,925
It's about freakin' time! That's what I have to say about my tester this week. The Audi Q7 returns, after taking a year off and does so in grand fashion. Having gone almost a decade with the same exterior, and essentially just an occasional refresh, this seven-passenger luxury SUV was looking a little long in the tooth. When it disappeared in model year 2016, I was worried this SUV was leaving the lineup. However, it was just under construction, so to speak, and as one of the first 2017 model year vehicles already released, it makes a grand re-entry. Indeed, the Q7's resurrection is spectacular and worth the wait.
Perhaps what's old is new again as the Q7 shows off a bit of a throwback, station-wagon-like exterior. Upon first glance it almost looks like a crossover. The new styling helps to diminish the previously bulky appearance of the Q7. Regardless, it's still a large SUV with a curb weight of almost 5,000 pounds and length of almost 200 inches.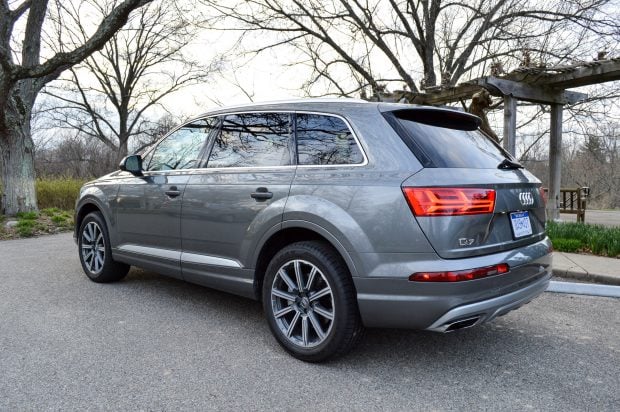 From the front, the Q7 is still all Audi. That means it has an aggressive grille and distinctive styling. The new arrow-looking LED running lights really jazz up the front end even more. Those same arrow-like lights are found on the back end, along with a rear spoiler. The total makeover of the Q7 makes this SUV absolutely stunning and thoroughly modern.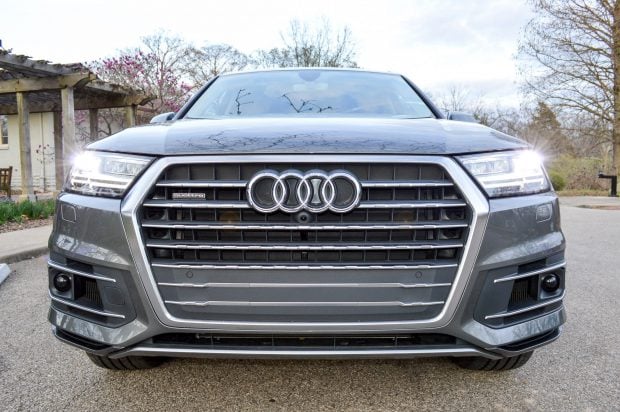 A full-size SUV that weighs this much should not be overly spry and quick. But the Q7 defies that logic. With a turbocharged 3.0-liter V6 engine, the Q7 makes 333 horsepower and 325 lb-ft. of torque.  An eight-speed automatic transmission is standard as is Audi's Quattro all-wheel drive system. The Q7 drives smoothly with surprising agility and off-the-line speed. It's not sports-car fast like some of other Audis, but it's one of the most dynamic driving SUVs on the road.
A drive select mode adds to the dynamics. Choose between comfort, auto, dynamic, off-road and a few custom settings to change how the Q7 performs and how the suspension and steering respond. For a luxury vehicle, the Q7 is ready and willing to get muddy with the off-road feature. In this mode, the Q7 raises the suspension height to prepare for mud, rocks and fun. To be clear this isn't a Jeep, or even a Range Rover, but it's certainly more capable than some competitors.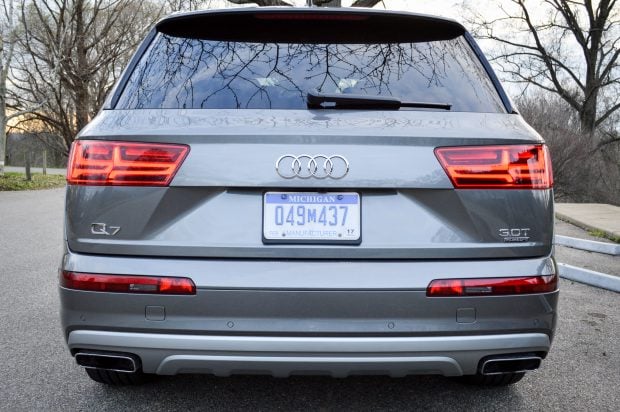 You can't discuss the 2017 Audi Q7 without talking about the self-driving features found throughout this SUV. The autonomous driving future is here my friends, and this SUV is loaded with such features. It's not quite Tesla's famed auto-pilot mode, but the Q7, using sensors and cameras, offers the driver a break at times and will take over such tasks as maintaining speed and safe distance, staying in the lane and even slowing down and recognizing speed limits. This feature is impressive. It is similar to that found in the Volvo XC90 (which has even a few more autonomous features).
With how smooth and wonderful the Q7 is to drive, why let the machine do the work? Though it's nice to have the autonomous features there at your fingertips if you need them.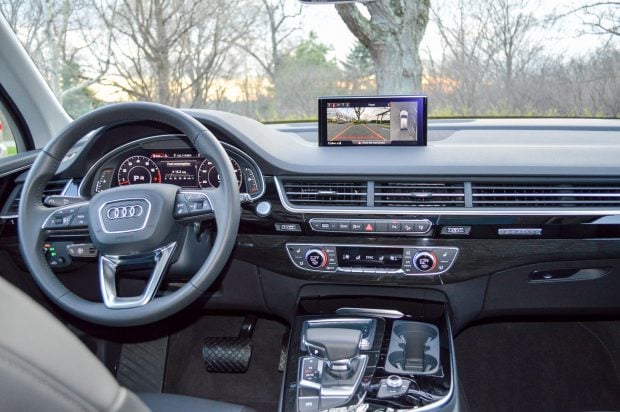 The interior of the Q7 is exactly what you come to expect from Audi. It's modern, comfortable, luxurious but not overly-garish. Sleek small touches add to the appeal as well like the high-tech ambient lighting which makes the Q7 look amazing at night. What also adds to the elegance is its double-panel panoramic sunroof. Front passengers can enjoy heated and cooled massaging seats. Imagine taking a quick break from driving, letting the autonomous feature kick in while you get a relaxing massage.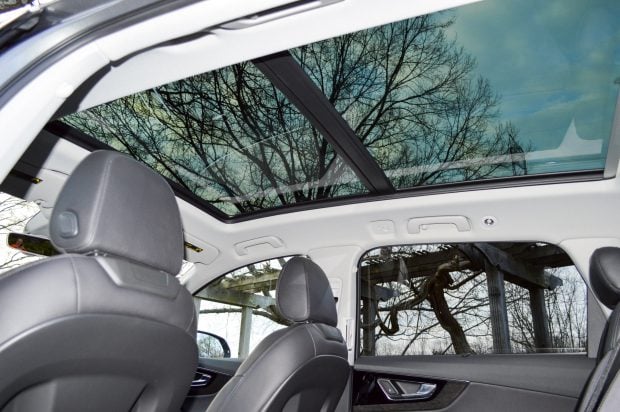 Second row seats provide plenty of leg and shoulder room, but the third row seat is restricted to smaller passengers. No way you'd want adults sitting back there for any amount of time. Both second and third row seats fold flat to maximize cargo room.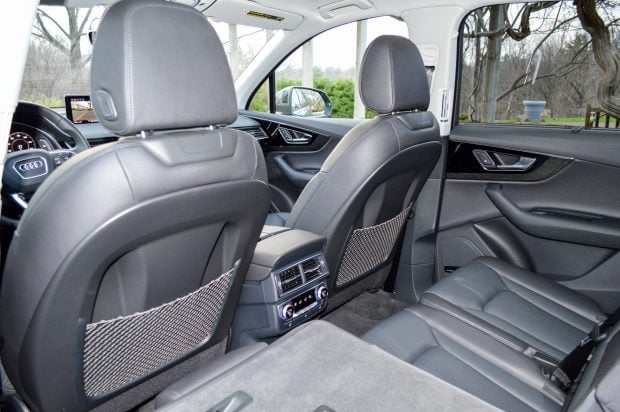 Behind the third row is a mere 14.7 cubic feet of space. It feels quite small and inadequate with all seats up. With the third row folded flat there is 37.5 cubic feet of space. Fold the second row flat too and the cargo room is 71.6 cubic feet. In this capacity, the Q7 is quite useful, but otherwise, the standard cargo area is small.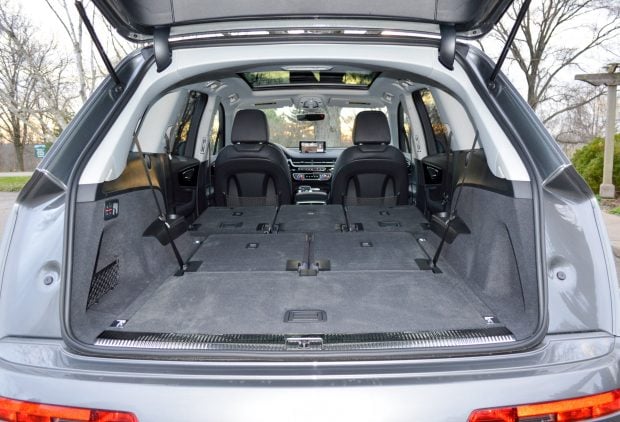 I previously mentioned the autonomous technology found in the Q7, but there are plenty of other cool tech features. Audi is good like that. Thankfully, the Q7 gets Audi's redesigned MMI system which is much more intuitive, and still utilizes beautiful graphics and cutting edge technology. The handwriting software for the touchpad control is much improved and makes plugging in an address on the Google Earth based navigation much better. The Q7 also comes standard with a 4G LTE Wi-Fi hotspot which allows for easy connectivity of devices and incorporates Apple CarPlay too.
Without a doubt the coolest interior feature is the Virtual Cockpit. This displays relevant information, including navigation or any number of items from the infotainment system, onto the driver's instrument panel. It's spread out in a full-color display that keeps eyes on the road ahead, but is so easy to read and also has a major wow factor to it. Seeing this feature up close is worth a test drive alone because it's something I'm sure more carmakers will incorporate in years to come.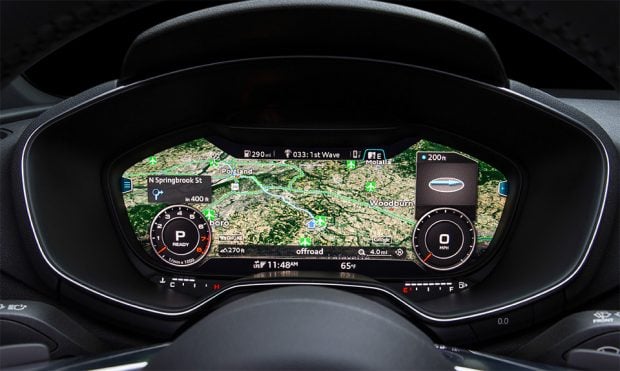 In addition to the design and tech improvements, its smaller size and slightly reduced body weight has helped improve the Q7's fuel economy slightly. The Q7 now has an EPA rating of 19 mpg/city and 25 mpg/highway. In a week's worth of driving I averaged 21 mpg, using some of the (more efficient) self-driving features.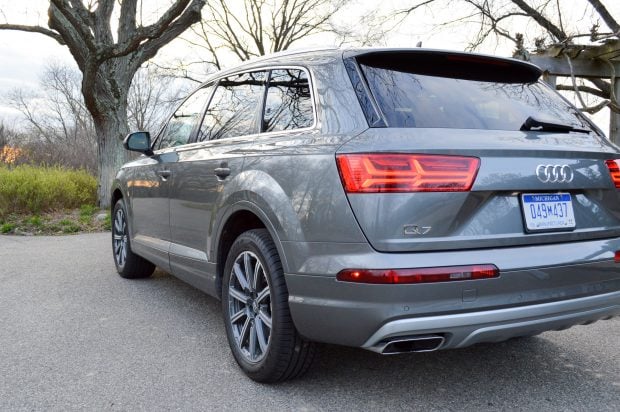 The Audi Q7's new look, high-tech features and just-right luxury make it a major contender in the luxury SUV segment.
Starting price for the Q7 is $54,800. My tester had a final MSRP of $68,925 with all the options and trims. There are three trim levels for the Q7: Premium, Premium Plus and Prestige. The autonomous features are not part of the Premium package but are included in the other two trims. My tester was the Premium Plus which includes a hands-free tailgate entry, side and rear window shades and a Bang & Olufsen 23-speaker sound system.