Review: 2017 Kia Sportage SX Turbo
kia | kia sportage | May 15, 2016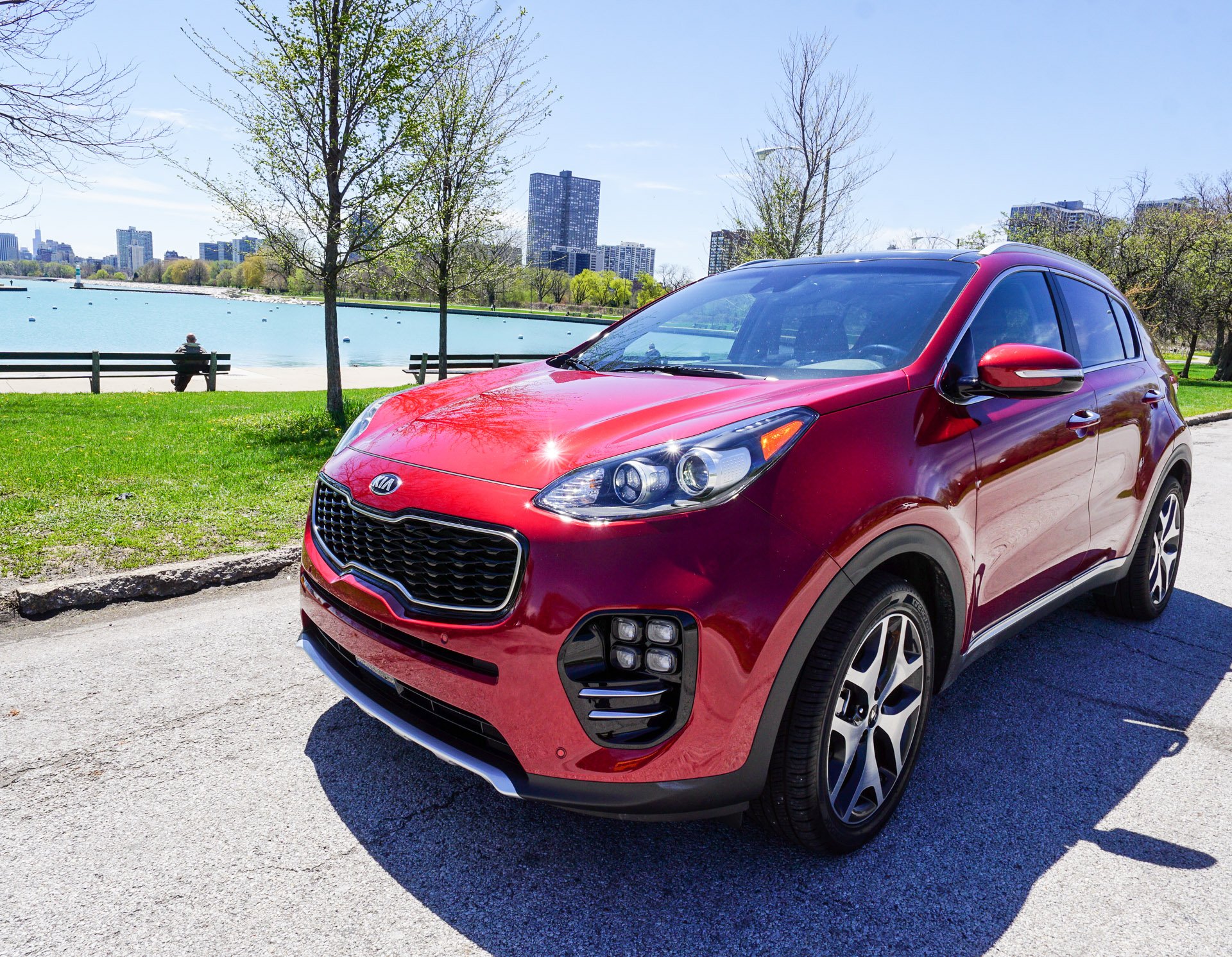 2017 Kia Sportage SX

Engine: 2.0L turbocharged 4-cylinder
Horsepower: 240 (FWD) 237 (AWD)
Torque (lb-ft.): 260
Transmission: 6-speed automatic
Drive Configuration: FWD or AWD
City/Hwy/Combined MPG: 21/26/23 (FWD) 20/23/21 (AWD)
Curb Weight (lb): 3666 (FWD Min.) to 3997 (AWD Max.)
Wheelbase (in): 105.1
Total Length (in): 176.4
Width (in): 73.0
Base Price (USD): $33,395
Price as Tested (USD): $33,395
There's a huge market out there for small SUVs and crossovers, so it only stands to reason that just about every automaker has an entry in this space these days. While I haven't driven every SUV for the latest model year, the 2017 Kia Sportage SX Turbo is my favorite so far. Especially in its top-of-the line SX package, Kia has done an outstanding job combining style, comfort, performance, utility and technology in a single, well priced package.
In its latest iteration, the Sportage has received a major overhaul of its front end, adopting the same tiger nose grille and quad ice cube fog lamps found on the Sorento (and previously on the Optima). This gives the new Sportage a much more modern and spirited look.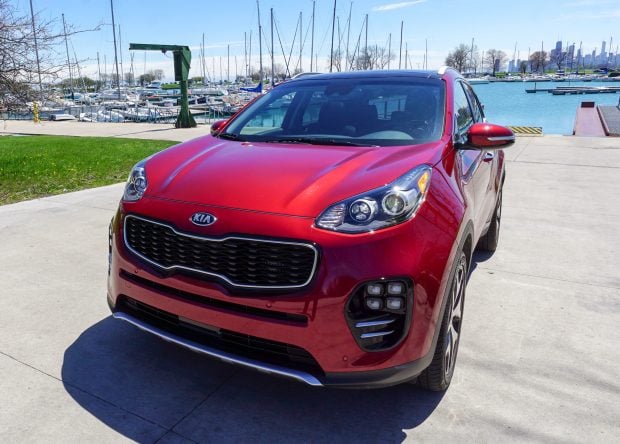 Kia also stretched the wheelbase of the Sportage by 1.2 inches, and increased its overall length by 1.6 inches. These changes make the new Sportage more spacious inside, as well as give it a more substantial overall look from the side.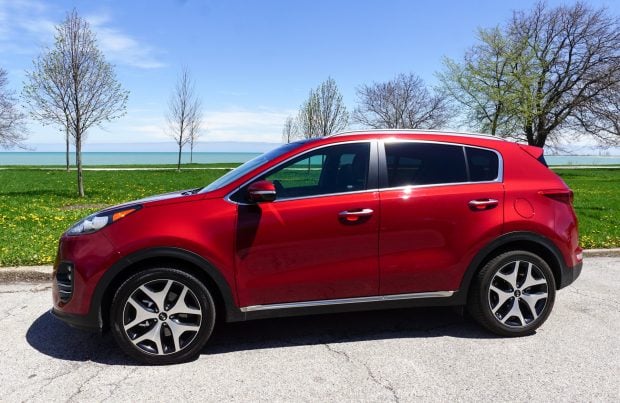 In its SX Turbo trim, it's powered by a 2.0-liter turbocharged 4-cylinder engine, which produces 240 hp and 260 lb-ft. of torque. This gives the Sportage a tremendous amount of get up and go, especially compared to its most direct competition, the Mazda CX-5, Toyota RAV4 and Nissan Rogue, all of which offer only sub 200 hp drivetrains. In fact, I think the closest real competitor to the Sportage SX is the Range Rover Evoque, which also packs a 240 hp engine, and similar amenities.
The Sportage I drove came in the front-wheel drive configuration, which does weigh about 100 lb less than the AWD, so I imagine there's a small tradeoff in performance if you go for that model.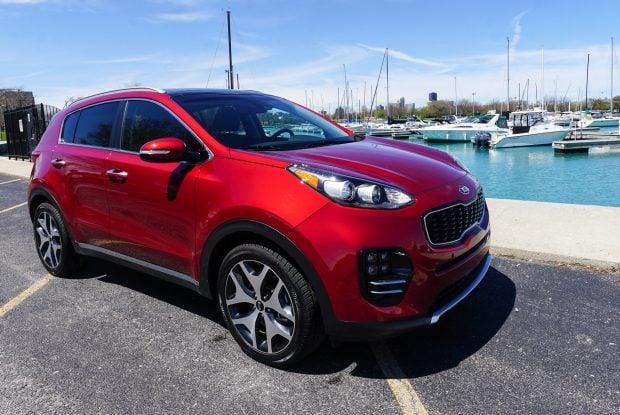 Beyond its impressive acceleration, the first thing I noticed when driving the Sportage SX was how much it drove like a car. Kia made some dramatic changes to its body structure this year, using much more advanced high-strength steel. The result is a much stiffer overall ride. Body roll is minimal, and it soaks up bumpy roads and potholes like a champ thanks to MacPherson struts up front, and independent multi-link dampers and a stabilizer bar in back. Steering is a touch light for my tastes, but still offers enough feedback to offer an engaging drive. I'd also like to see wider and or stickier tires – I was able to chirp them pretty consistently when pushing the pedal down to full throttle, which means that not all of that power is going to the ground.
Cabin noise and vibration levels are well controlled for the most part, though I did notice some pretty bad buffeting if you opened the rear windows without also opening the front windows at the same time.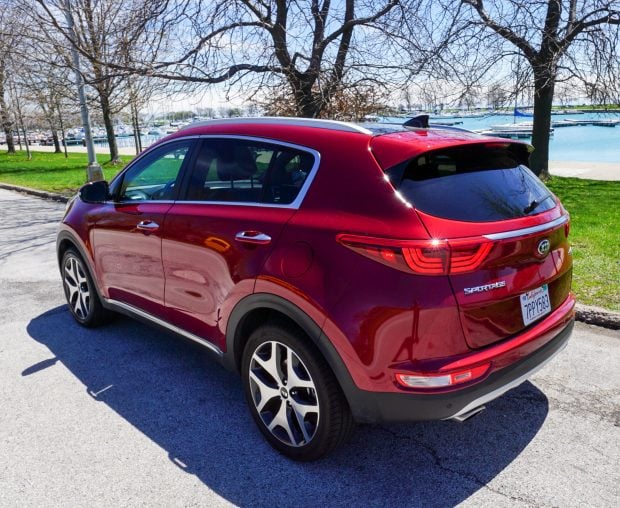 When it comes to amenities, Kia has done a tremendous job creating a vehicle that looks and feels like a $50,000 car inside, but that sells for substantially less than that. The cabin is comfy and packs upscale features like perforated leather seats, soft-touch dash surfaces with stitched detailing, LED lighting, and sporty touches like a D-shaped leather-wrapped steering wheel and aluminum pedals.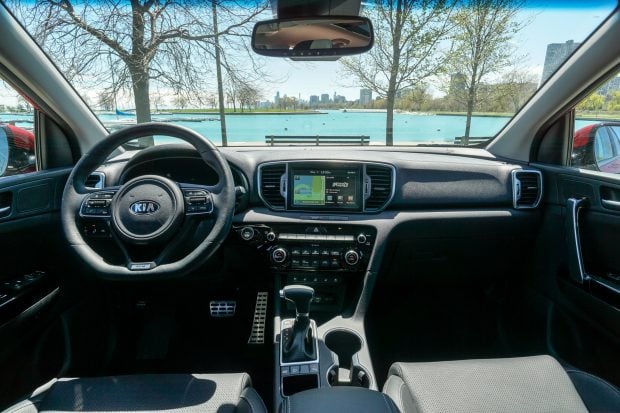 Given its size, there's plenty of room inside the Sportage, offering enough space for five adults, and good leg and knee room for those seated behind the front seats thanks to knee cuts in the seat backs. Headroom is good – I had a couple of spare inches above my head – and the panoramic sunroof adds a tremendous sense of lightness and space. I also appreciate that the front half can actually be opened so you can take in some extra fresh air and sun when the weather is nice out.
Comfort features are plentiful. The D-shaped steering wheel is heated for cold winter days, as are the front seats, which are also ventilated for hot days. There's a keyless ignition as well as an 8″ touchscreen infotainment system, which offers the same intuitive user interface that I've come to really like in modern Kia and Hyundai cars. The center stack is packed with buttons and knobs, which make it a little busy, but also incredibly intuitive compared to burying features in touchscreen menus like so many cars are doing these days. The Harmon Kardon premium audio system offers up big and clean sound, and there's Android Auto support as well. Kia expects to offer Apple CarPlay support as a downloadable upgrade in the next month or so.
There are tons of safety features included in the Sportage SX package, including a backup camera with wheel angle markers, lane departure warning, blind spot monitoring, rear cross-traffic alert, front/rear parking sensors, dynamic bending lights, high beam assist, and autonomous emergency braking. If there's any feature I'd like to see added, I'd prefer adaptive cruise instead of the basic cruise control system.
Storage space is very good, offering in impressive 30.7 cubic feet behind the second row, which folds in a 60/40 split for extra capacity. The rear power liftgate also has a nifty feature which automatically opens it if you stand there for a few seconds with your keys in your pocket. This is great if your hands are filled with grocery bags.
I really love where Kia has been going in the last decade. Every year, their vehicles improve in appearance, quality, and practicality, while at the same time improving performance and dynamics. This has made Kias truly desirable and compelling cars to drive. The 2017 Sportage SX stands tall at the top of my current list of small SUVs.