Review: 2016 Kia Sorento SX V6
kia | kia sorento | June 13, 2016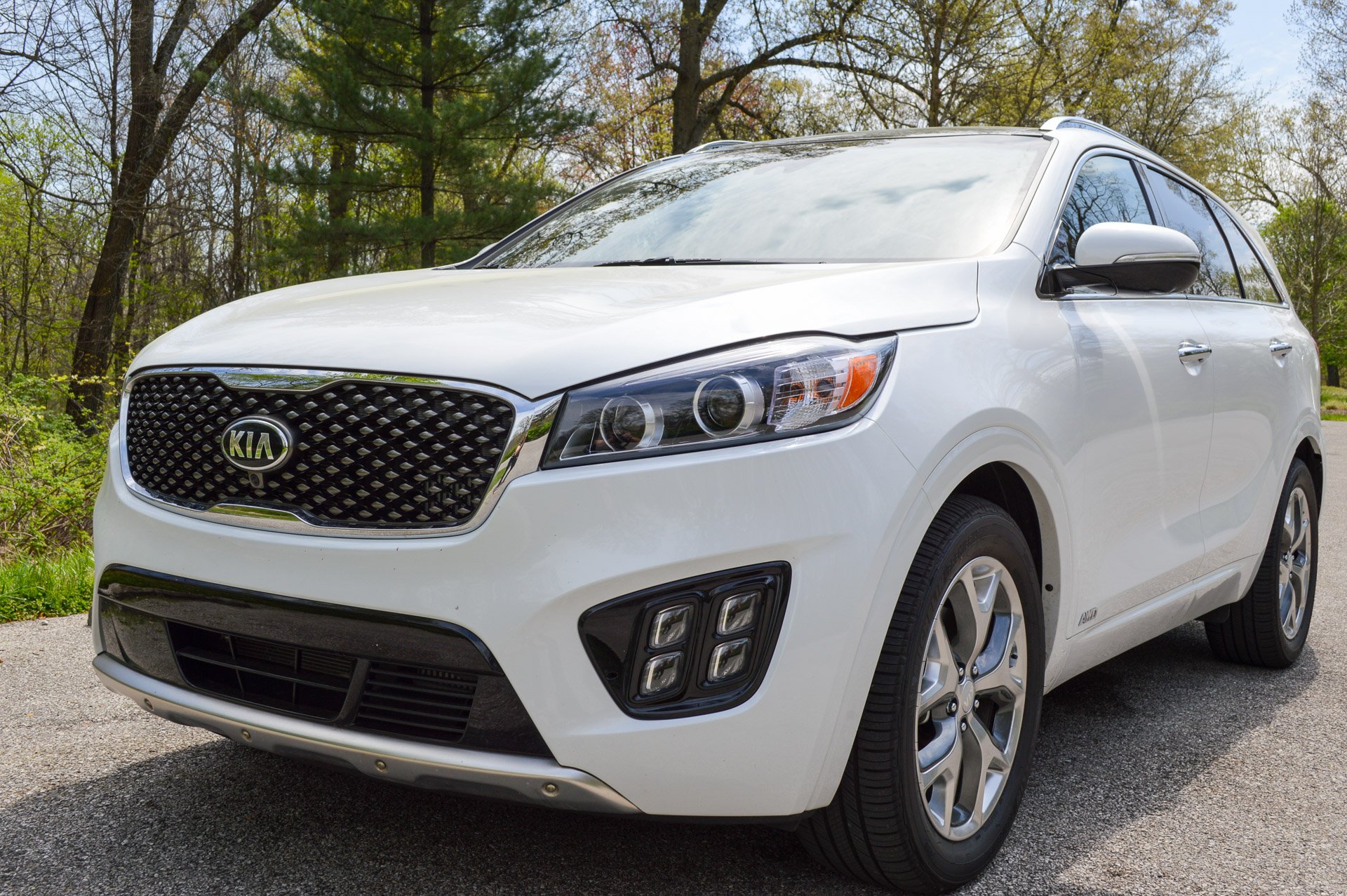 2016 Kia Sorento SX V6

Engine: 3.3-liter V6
Horsepower: 290
Torque (lb-ft.): 252
Transmission: Six-speed automatic
Drive Configuration: AWD or FWD
Top Speed (mph): 125
City/Hwy/Combined MPG: 17/23/19 (AWD), 18/26/21 (FWD)
Curb Weight (lb): 3704
Wheelbase (in): 109.4
Total Length (in): 187.4
Width (in): 74.4
Base Price (USD): $39,700
Price as Tested (USD): $43,100
They grow up so quickly, don't they? Sure, this could apply to anyone (like me) who has children as they grow and mature in the blink of an eye. Why am I waxing so sentimental? Well other than the fact that my daughter is about to start to high school, my tester this week has been growing up and maturing.
The 2016 Kia Sorento has been completely remodeled for this model year, and is bigger than ever. It's not a compact SUV any longer. Rather it's much closer in size to a mid-size SUV. However, the added size is not all that impacts the Sorento. There's a new engine, a redesigned interior and totally new look to the outside. In short, the 2016 Kia Sorento is basically a new vehicle. So the analogy that it's like watching your kid grow up before your eyes definitely applies.
The new-look Sorento is more refined than ever. And you can certainly see the added size from its bigger, bolder exterior. Four-panel LED lights help accentuate the attractive front end and impressive grille. The side profile looks elongated thanks to styling on the side panels along with chrome-like accents near the bottom. A rear spoiler brings some sportiness to the Sorento, and the LED tail lights are thin and stylish. Far too many vehicles lose styling toward the back end, but with the redesign, the Sorento looks modern and updated from all sides.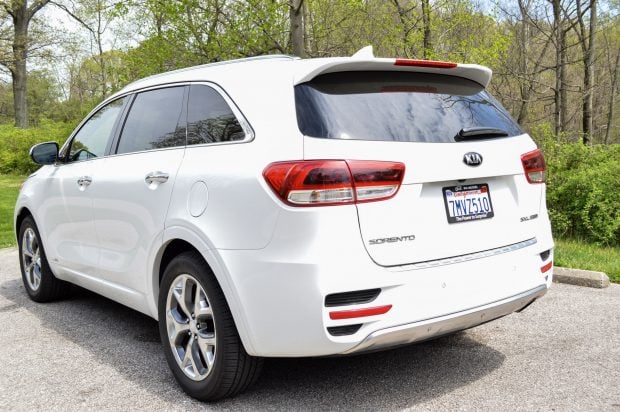 The powertrain has also been totally redesigned. There's still a V6 engine that is well powered, but now there's an addition of two different 4-cylinder engines. A 2.4-liter 4-cylinder engine is standard and produces 185 horsepower. There's also a turbocharged 2.0-liter 4-cylinder with 240 horsepower. This bewildering trend in the auto industry seems confusing to me. Why opt for an underpowered, naturally-aspirated 4-cylinder engine when the turbocharged one is almost as fuel efficient, and certainly more powerful?
My tester had the capable 3.3-liter V6 gasoline-direct injected engine which makes 290 horsepower. This engine is powerful, but not in a boastful way. I would be interested to compare how it feels versus the smaller turbocharged 4-cylinder. A six-speed automatic transmission is the only option for all three engines. Considering all the other drastic changes, the Sorento has gone through, it seemed curious to not also add more gears with the likes of a seven or eight speed transmission.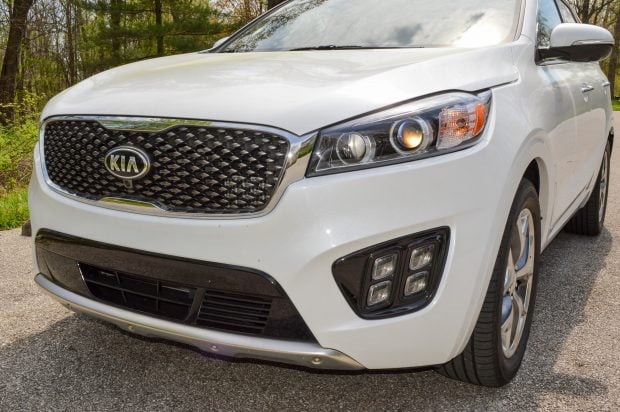 From a driving perspective, the V6 is capable, strong and peppy. There's a driver-select mode that lets you choose from normal, eco or sport mode. I actually found the sport mode to be too rigid in the steering and found normal mode to be the optimal mode. Front-wheel drive is standard, but all-wheel drive an option. As I always recommend for those of us in the Midwest, opt for the AWD version and feel more confident during less-than-ideal road conditions.
The Sorento's makeover doesn't stop at the outside or at the engine. The metamorphosis is drastic inside too. The materials used on the dashboard and door panels are much better than the previous generation.  There's an 8-inch color touchscreen that controls the infotainment system in the Sorento. This isn't the most technologically impressive system around, but it's simple layout and intuitive nature are noteworthy. The navigation system is clear, responsive and even gives live traffic updates. Kudos to Kia for offering three USB ports too.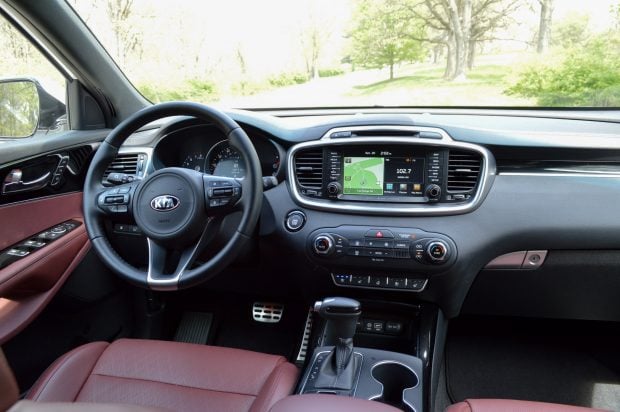 Cosmetic improvements aside, the interior space is noticeably more comfortable. Rear passengers net more than inch extra of legroom without any sacrifice to headroom. The second row seats can be slid fore and aft, and even recline for more comfort. Third row seating is still best for smaller passengers, although accessing the third row is much simpler now with a new seat mechanism.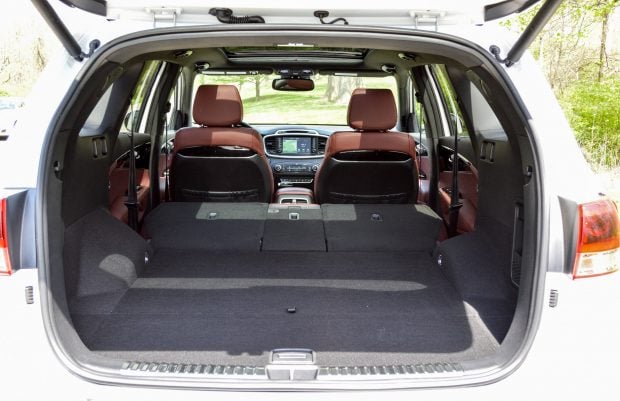 Kia got a little creative on cargo room. Despite the increase in overall length, the 2016 Sorento did not gain any cargo room behind the third row seat. There is 11 cubic feet of space with all seats upright. However, underneath is an area that can be hoisted up which contains another smallish cargo bay area. Also, with second and third row seats folded flat there is 73.5 cubic feet of space.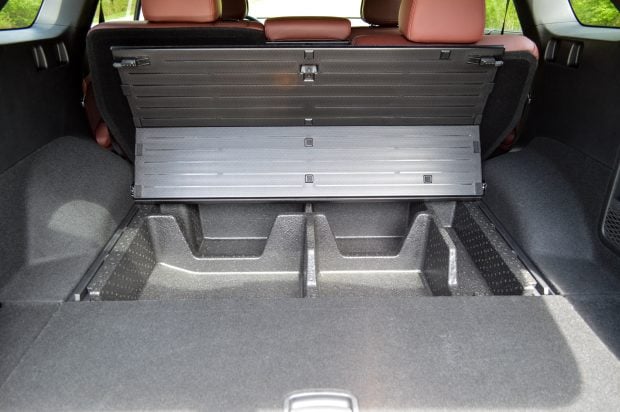 I realize that third-row SUVs are attractive to consumers with big families, but I think the Sorento would probably be ideal without the third row, which would add even more legroom and cargo space. Fortunately, eliminating the third row is an available option, offering both 5-passenger and 7-passenger configurations.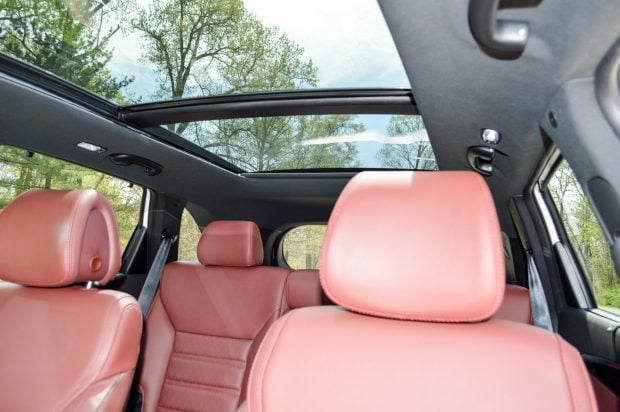 With three different engines, fuel economy varies for the Sorento. The 2.4-liter 4-cylinder engine shows its merit with an EPA rating of 21 mpg/city and 29 mpg/highway. The turbocharged 4-cylinder gets slightly less with a rating of 20/27. My tester was the least efficient. The V6 has an EPA rating of only 17 mpg/city and 23 mpg/highway. This is a disappointing number and backs up my assertion that the turbocharged 4-cylinder would likely be the ideal powertrain for the Sorento.
The Sorento has five different trims to go along with the three different engines. The five trims are L, LX, EX, SX and SX Limited. My tester was the SX which came with 19-inch wheels, heated and cooled front seats and an auto dimming rearview mirror. The Technology Package adds sensor-based safety features like forward collision warning, lane departure warning, blind spot monitoring and adaptive cruise control.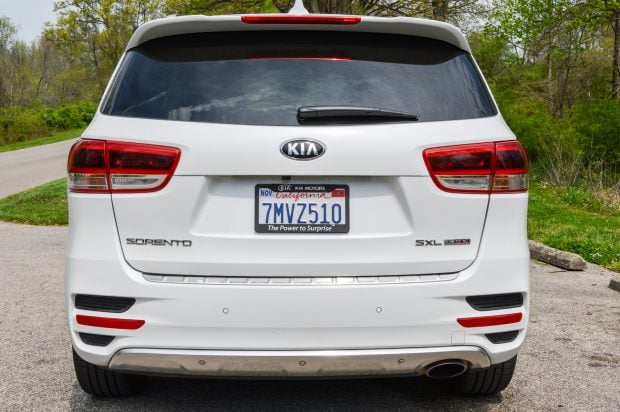 Base price for the five-passenger Sorento L starts at $25,795 making it competitively priced within the segment. My tricked-out tester had an MSRP of $43,100. That's a huge swing in pricing and can cause confusion for the consumer when looking to purchase a Sorento. That's one of the downfalls to the Sorento's versatile nature. So many engine options, so many trims, and even different passenger capabilities. But this new generation Sorento is still far superior to the last one.
It's longer with more passenger room and the engines are better. And of course it looks more modern and attractive. And regardless of my concerns about price range, I think having versatility and so many configurations is a plus, not a detriment.