A 1991 BMW E30 Brings out All the Auto Lover Feels
Petrolicious does it again with this fantastic story of Delia Wolfe and her 1991 BMW 318IS. Still looking immaculate in Brilliantrot Bright Red with 320,000-plus miles on the odometer, the 318IS was expertly restored by Delia herself, a BMW mechanic who lives in Marin County, California.
No one could tell this particular car's tale better than its owner, who lovingly relates the joys of ownership since 2008. "[The 318IS] was the spiritual successor of the 2002," Wolfe says. "It has everything you'd want in a 2002. Full size spare, 15-inch wheels, power steering, windows that roll up and don't make noise. Five speed. Air-conditioning that cools more than your right elbow. It also has a blower motor that you can fix in about 20 minutes instead of about 20 weeks. I found it to be a much more practical vehicle.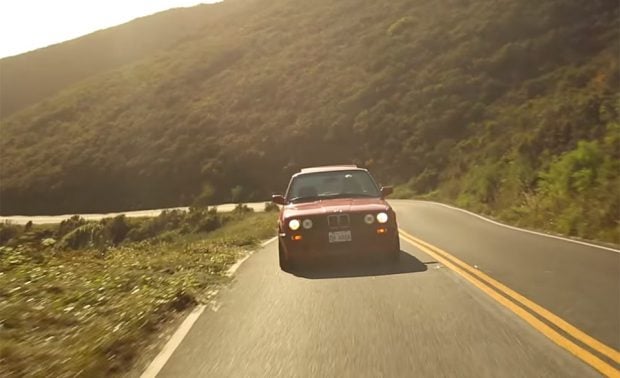 Wolfe's narration throughout the video resonates with her passion for this car, and automobiles in general. "I found it down in Aptos, near Santa Cruz, somewhat sad and neglected," Wolfe says. "But I truly fell in love, because it reminded me about my 2002, and my Tii. And those cars were the cars I grew up on. Those were the cars I loved first."
Wolfe knows whereof she speaks. She grew up restoring project cars with her dad and her friends, and she now works part-time in a San Rafael auto shop, fixing up BMW 2002s daily. "Honestly, when the day is done, I want to get in my E30 and I want to drive," Wolfe says. "I had a Scirocco, Firebird Trans Am, and a Toyota Corolla GTS. And I still remain enthusiastic about the E30. I get the right amount of satisfaction from taking it out onto a back road and throwing it into a corner."
Let's hope we're all lucky enough to own at least one car that we're as passionate about as Wolfe is about this E30.