Alfa Romeo 4C Spider Review: A Tiny Monster
alfa romeo | alfa romeo 4c | June 19, 2016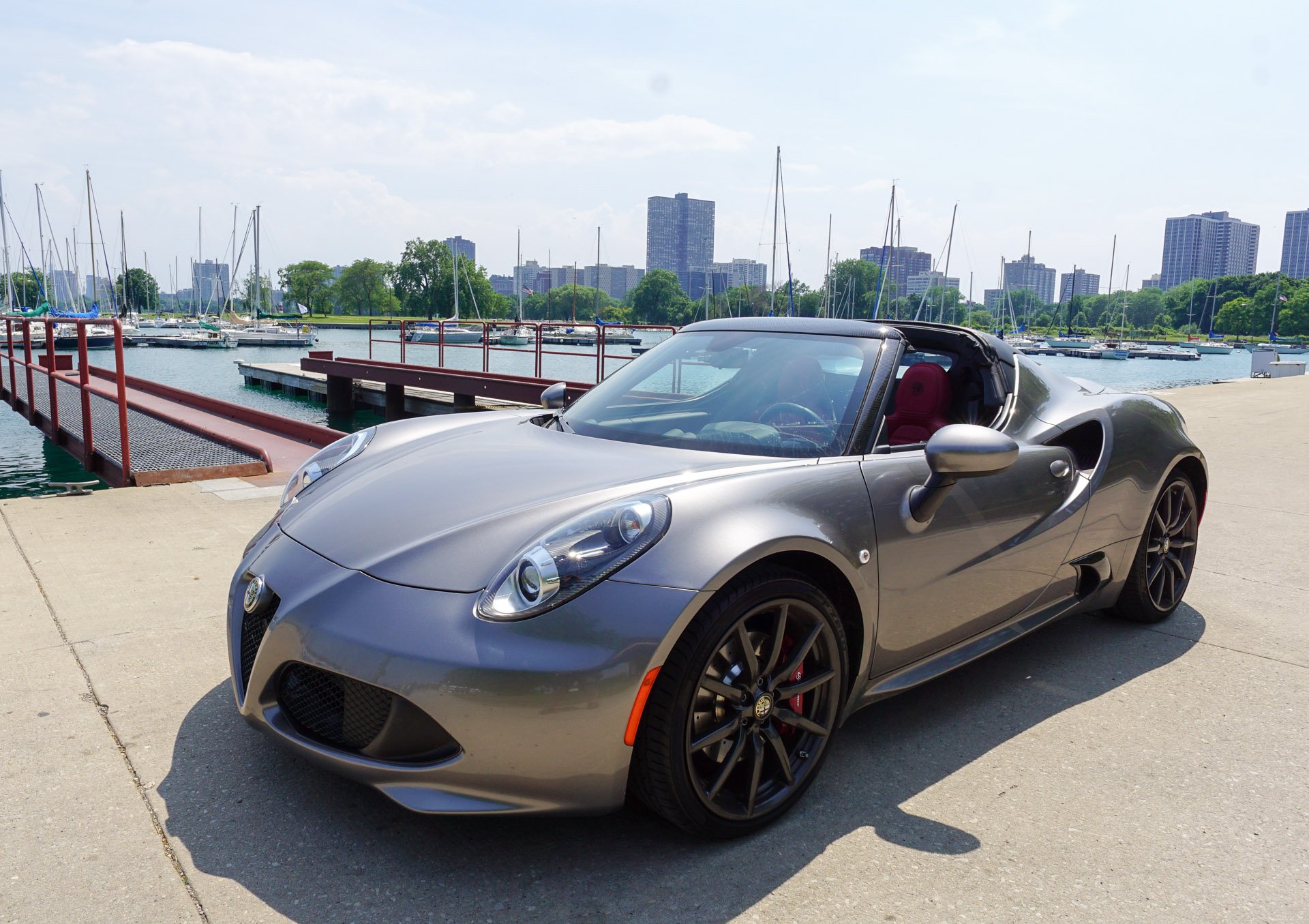 Alfa Romeo 4C Spider Review

Horsepower: 237
Torque (lb-ft.): 258
Transmission: 6-speed twin-clutch automatic/manual
Drive Configuration: RWD
0-to-60 Time (secs): 4.1
Top Speed (mph): 160
City/Hwy/Combined MPG: 24/34/28
Wheelbase (in): 93.7
Total Length (in): 157
Width (in): 82.3
Base Price (USD): $65,900
Price as Tested (USD): $74,895
There's no question that the Alfa Romeo 4C and its open-top Spider version are two of the most beautiful cars designed in the last decade. It's no wonder, with Pininfarina's Lorenzo Ramaciotti having penned its design. This is the same man behind such cars as the Ferrari F430 and 360, and the Maserati GranTurismo.
It's low to the ground, curvaceous, and has big air intakes in all the right places. It echoes classic Alfa style while at the same time blazing its own trail, and looks fantastic from any angle. I can't decide my favorite view, but I'm thinking it's looking down and across from the rear of the car.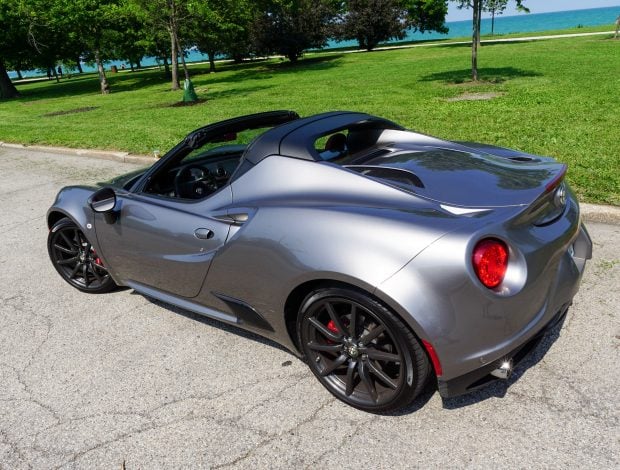 The 4C is ridiculously eyecatching. In fact, I don't remember a car that I've driven that drew as many stares and compliments from onlookers. The 4C Spider is largely the same car as the coupe version, except for its removable top. In fact, Alfa managed to keep the same rigidity and sharp riding characteristics despite a chunk of its roof being removed.
In part, Alfa achieved this through the use of a carbon fiber structure around the windshield, along with some other bits of stiffening material that added only 22 pounds to the model here in the U.S., bringing its curb weight up to just 2465 pounds. The Spider's overall height is 0.1″ taller than the coupe, and ground clearance is 0.1″ lower, but that's about it.
Thanks to these minimal changes, the 4C Spider can still get from 0 to 60 mph in a lightning fast 4.1 seconds. The car owes much of its light weight to its carbon fiber monocoque chassis, wrapped in molded compound body panels. Only small subframes at the front and rear of the car are made of metal, and those are built from aluminum.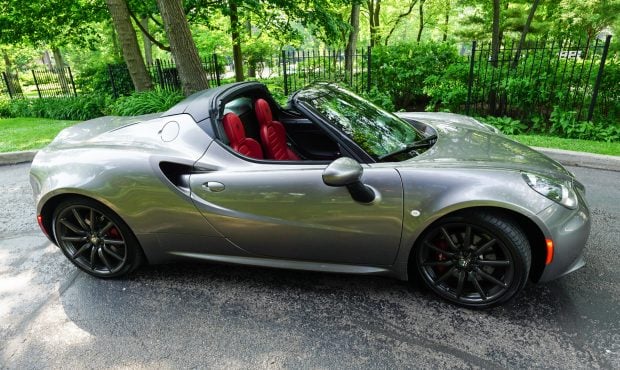 Getting in and out of the 4C is a bit of a contortion act, and if you've got long legs, you'll need to be pretty flexible to get your leg over the carbon fiber tub without putting your footprint on the door. But once you're seated inside, it's worth the effort. Despite having a diminutive 1.7-liter turbocharged engine, the 4C Spider packs a massive punch. The turbo drinks in air like mad and pushes out an impressive 237 hp and 258 lb-ft. of torque. It's also shockingly fuel efficient. I consistently got around 30 mpg during my time with the 4C. Something this much fun shouldn't get such good gas mileage.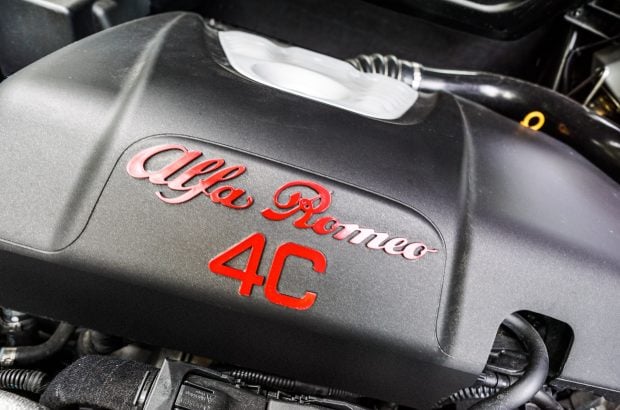 Perhaps the most distinctive thing about the Alfa Romeo 4C Spider is its incredible exhaust note. It's loud and proud. My loaner was equipped with upgraded sport-tuned dual exhaust, and from startup through every single shift, it sounds more like a race car than anything you'd think you could drive on public streets. If you don't believe me, have a listen:
Didn't that sound amazing? I'll let you in on a secret – I didn't exceed 65 mph during the recording of that audio track. It only gets better at track speeds. And yes, this is a car you'll most definitely want to take to a track.
With the help of sticky Pirelli P Zero AR rubber, it grips and turns like nobody's business, and cornering is so flat that you'll want to take corners faster than you might typically feel comfortable. Steering is as direct as it gets, with no power assistance. This makes for a great sense of control, but can make tasks like parallel parking a bit of a chore.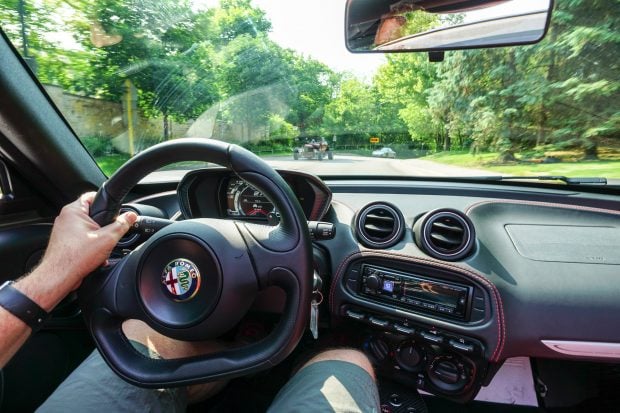 Some out there have expressed concerns about the 4C not offering a stick shift, but the paddle-shifted dual-clutch 6-speed is so satisfying, all but the staunchest manual fans will be quickly won over by its silly fast shifts, each accompanied by a satisfying "WHUMP!" Despite having no third pedal, its behavior is very reminiscent of a manual. In fact, there's no "Drive" or "Park" settings, just a cluster of buttons to put you into 1st gear, Neutral, or Reverse, and an old fashioned parking brake. The car even rolls backwards at hill stops unless you're careful to manage your gas and brake.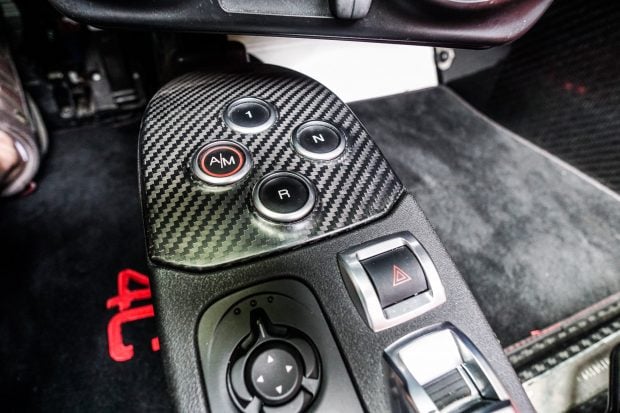 While the 4C Spider is anything but loaded with interior bells and whistles, its smartly designed digital instrument panel makes it easy to watch your revs, current gear, and speed at the same time, and the tachometer changes color to indicate when you're getting close to the redline. In Race mode, it also shows your G-forces.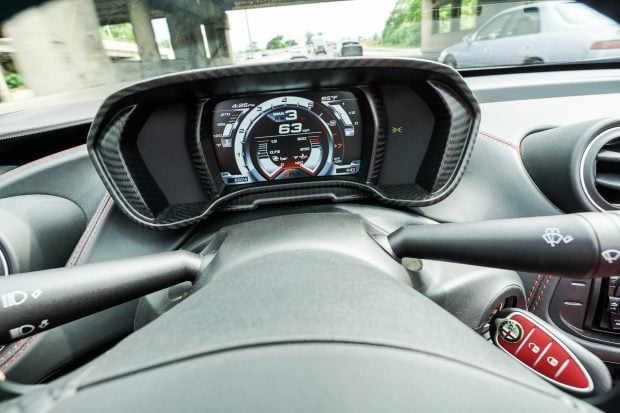 Despite some nice details like stitching on the dash, and more exposed carbon fiber than you thought was possible, the interior is devoid of modern conveniences like a nav system, backup camera, or even a glovebox. But that's not what this car is about. Both passenger and driver are here to be entertained by the car's driving abilities, the sound of an engine precariously placed behind their heads, and the wind in their hair. Still, there are reasonably comfortable, body hugging leather seats (or available cloth sports performance seats), air conditioning, and an AM/FM Radio with Bluetooth. The Alpine-made radio feels like it was an afterthought for the U.S. market, but it's serviceable, and actually sounds quite good. I just wish it were more nicely integrated into the dash. Still, we're not here for the tunes.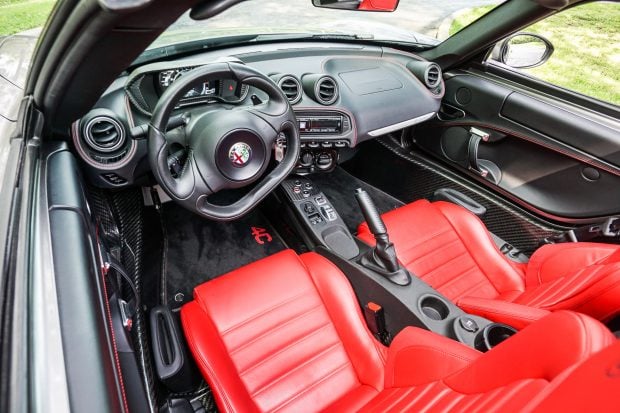 Removing the soft top from the 4C Spider is actually quite simple once you get a hang of it. There are two knobs above the windshield, and four levers you depress around the edges to disengage its locking pins. The whole process took me less than a minute once I got the hang of it, and I was able to even do it from inside the car. That said, it's not something you can do while the car is moving, so if it starts raining, you'll need to pull over and grab the roof, which folds up and stows in the tiny trunk that sits behind the engine. Alfa also offers an optional carbon fiber hardtop, but I doubt you could store it in the trunk.
The space behind the engine is actually the ONLY storage in the 4C, and holds just 3.7 liters of cargo, so don't plan on carrying much more than a backpack or your girlfriend's purse in this car. And before you assume there's storage space under the hood, there isn't any. In fact, the hood can't be opened by anyone but a mechanic, since parts of the 4C's cooling and HVAC systems are still located at the front of the car. Putting in washer or brake fluid is actually performed through a tube that you funnel into by the base of the windshield.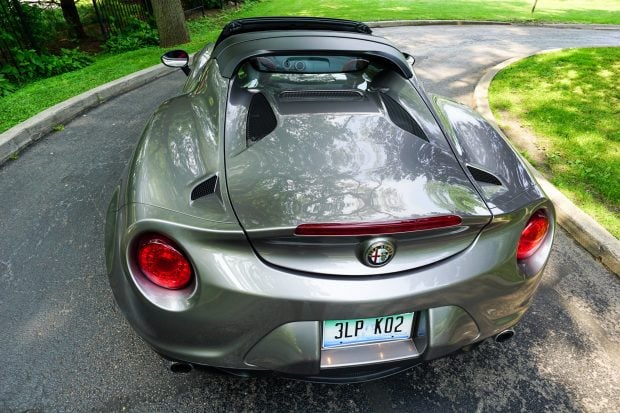 What's clear about all of its quirks is that the Alfa 4C's designers refused to make compromises in their vision for style and performance to be bothered by things like practicality and convenience. It's not something we're used to these days, but I admire them for keeping the car as pure as it is.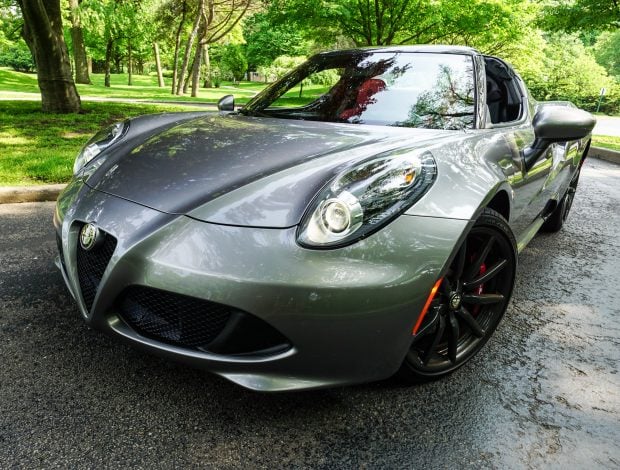 In the end, the Alfa Romeo 4C Spider is fast, loud, impractical, and wonderful. It's raucous, and a bit crazy. It also drives amazingly well, with an impressively engineered, yet tiny engine, a satisfying gearbox, great cornering, and the most direct road feedback you can get in a production car. Will it be the only car in your garage? Not unless you're a masochist, you live in a place where it's sunny and warm 365 days a year, and you love listening to loud exhaust notes 100% of the time. But if you've got the budget to own several cars, the 4C Spider deserves to be in your collection. It's a hoot to drive, looks spectacular, and is everything you want and expect from an Italian sportscar.