The RAV4 Proves It's More Than a Grocery Getter
toyota | toyota rav4 | June 26, 2016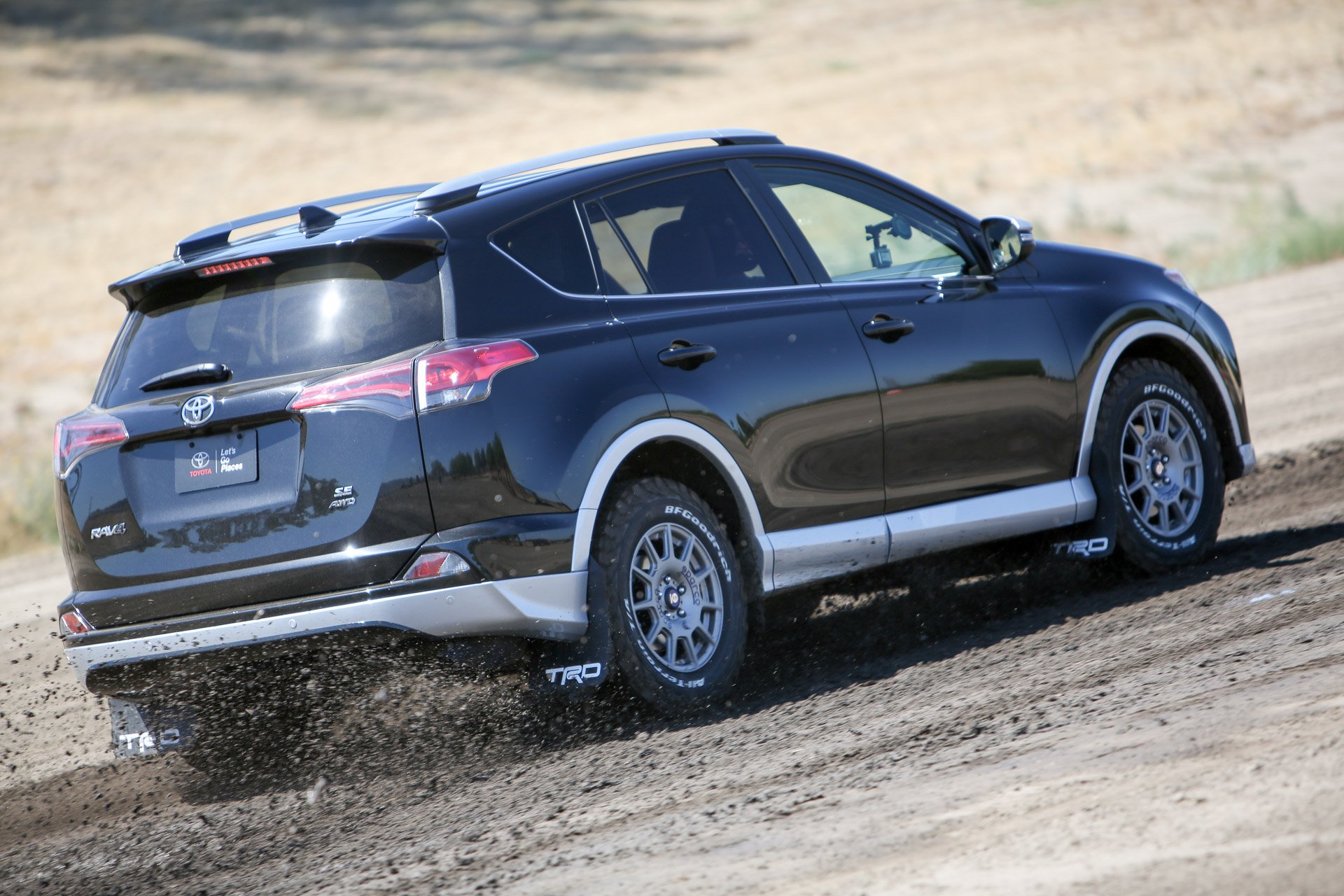 Last year, I spent some time in Oregon with Ryan Millen, Christina Fate, and their surprisingly awesome Rally RAV4. While I got to watch them tear through the rocky forest course from outside their SUV, and got plenty of time driving stock RAV4s on the road, I didn't get to experience their rally capabilities myself. Fortunately, Toyota asked me out to a custom-made dirt track in Temecula, California this past week to do just that.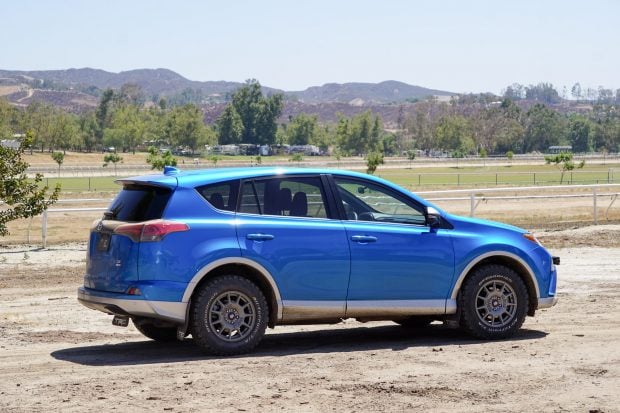 After my previous experience, I already felt pretty good about the RAV4's abilities as a daily driver – it offers one of the more engaging drives of the many small SUVs on the market these days, it's comfortable and spacious, and since its recent redesign, I also find it more visually appealing than ever. Now, I have a much better sense of whether Toyota was exaggerating when it said that Ryan's rally-modded RAV4 wasn't that different from a stock vehicle. While his RAV has a stock engine, gearbox and brakes, it has beefed up tires, wheels, shocks and exhaust, as well as racing bits like a rollcage and proper handbrake.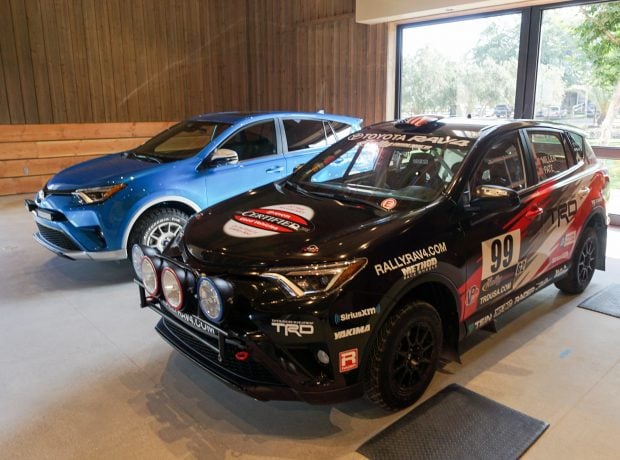 On the other hand, the 2016 RAV4's we'd be driving by ourselves would be stock, other than tires, some mudflaps, a LED foglights, and a skid plate for protection. Just like Ryan's RAV4, we'd have stock drivetrain. Would this heretofore tame everyday SUV also be able to tear through loose dirt and mud, or would it disappoint?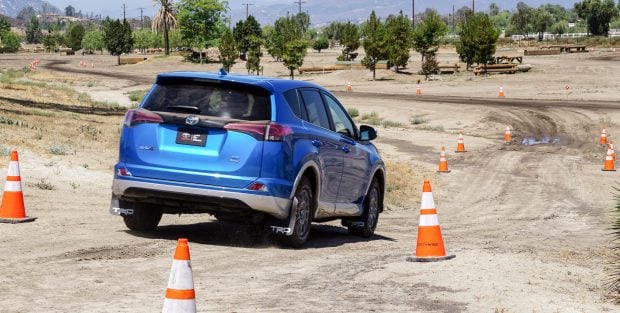 As I took to the 3-stage, 2.7 mile course carved from dirt and gravel at Galway Downs horse track, the RAV4 quickly dug in and offered up a thrilling ride. BFGoodrich All-Terrain T/A tires helped provide much-needed traction to get going, while still allowing for a little fun slip-and-slide action through the wet and muddy bits.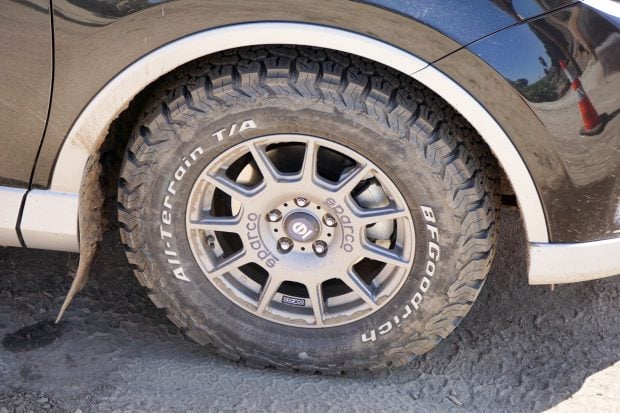 Because of the conditions, and our relative lack of experience in rally driving, we were only allowed to go 50 mph, but that sure felt fast, racing through loose dirt and mud. I've been off-roading plenty, but I'm usually in a big 4×4, slowly crawling through the trails.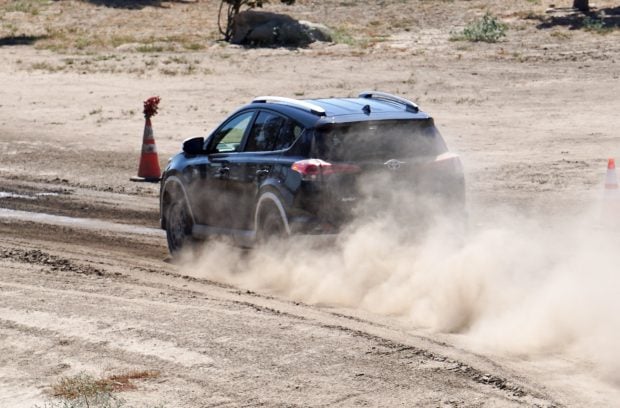 I had the opportunity to drive a few different all-wheel drive RAV4s on the dirt track, but the most satisfying was the RAV4 SE, which has the stiffest suspension, and therefore felt more planted had less noticeable body roll at speed. I had fun in all of the RAV4s I drove, but the SE was my favorite.
Powersliding through muddy turns never gets old, and I had surprisingly little trouble gliding through the corners while still maintaining control of the little SUV. One particular hairpin was especially treacherous, but I always managed to save things before running off the track. Seriously, I could do this sort of thing every day if given the chance.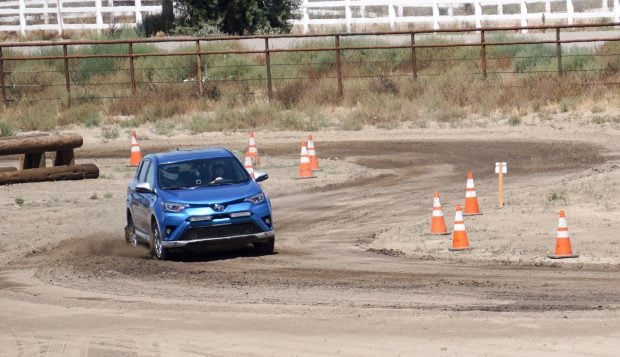 After I had my time behind the wheel of the stock RAV4s, I got to do what I've been dying to do ever since last Fall, and got to go for a hot lap with Ryan at the wheel of his tricked-out Rally RAV4. The experience did not disappoint.
Despite being only a front-wheel drive model, with the same 176 hp engine and 6-speed automatic gearbox you or I could buy, Ryan sped through the course at what seemed like twice the speed that I could muster, and took corners at speeds at which lesser drivers would have surely lost control.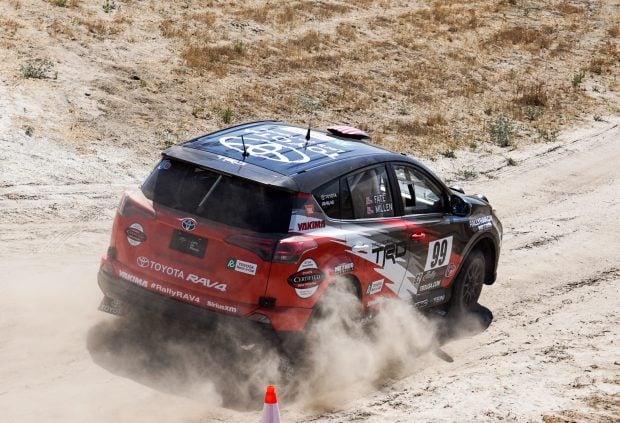 I'm not sure if Ryan's RAV4 is that much better than the production models, or if it's just that Ryan is such an amazing driver. Regardless, the production RAV4s handled much better than I thought they would on such a dirty and sloppy course, and offered way more thrills than I ever expected.
While most RAV4 owners are unlikely to leave the pavement, the experience drives home the point that the RAV4 is way more fun than its reputation might lead you to believe. It offers a great connection to the road, and an engaging driving experience that complements its ability to carry passengers and their cargo through life's adventures.