Review: 2016 Lexus RC 200t F Sport
lexus | lexus rc | July 6, 2016
---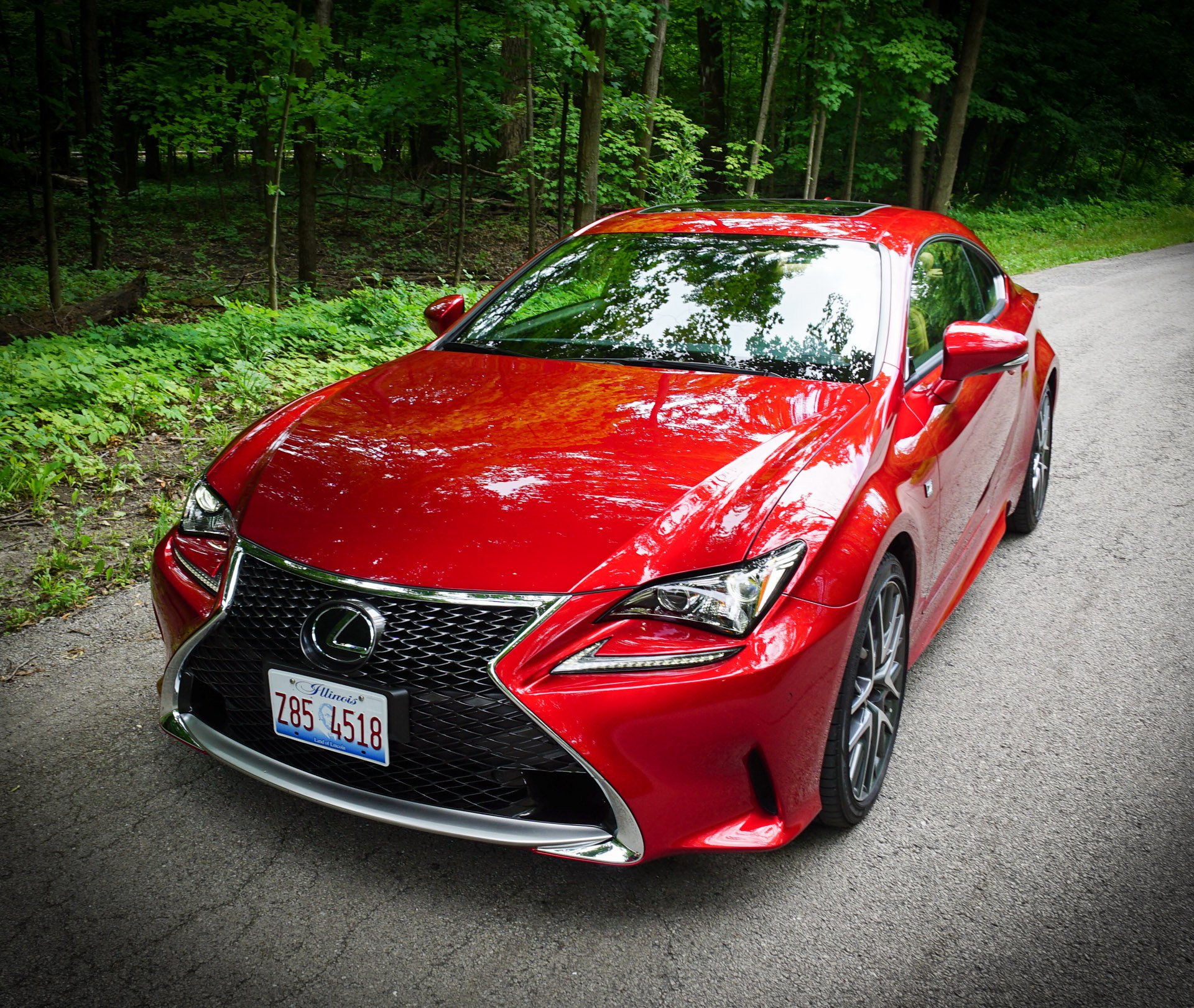 2016 Lexus RC200t

Engine: 2.0L 4-cyl. turbocharged w/Dual VVT-IW
Horsepower: 241
Torque (lb-ft.): 258
Transmission: 8-speed automatic w/paddles
0-to-60 Time (secs): 7.3
Top Speed (mph): 143
City/Hwy/Combined MPG: 22/32/26
Curb Weight (lb): 3737
Wheelbase (in): 107.5
Total Length (in): 184.8
Width (in): 72.4
Base Price (USD): $44,410
Price as Tested (USD): $50,345
When Lexus introduced its RC luxury sports coupe a couple of years ago, there were two cars which looked very similar on the outside, but had very different personalities in terms of performance and ride. Now, the muscular RC F, sporty RC 350, and winter-friendly RC 300 AWD are joined by another brother – the RC 200t, a car that is visually and functionally very similar to the RC 300 and 350 – though with a smaller, lighter engine, focused more on fuel economy. In this case, I'll be looking at the F Sport trim package, which combines aesthetic and handling upgrades from the base model.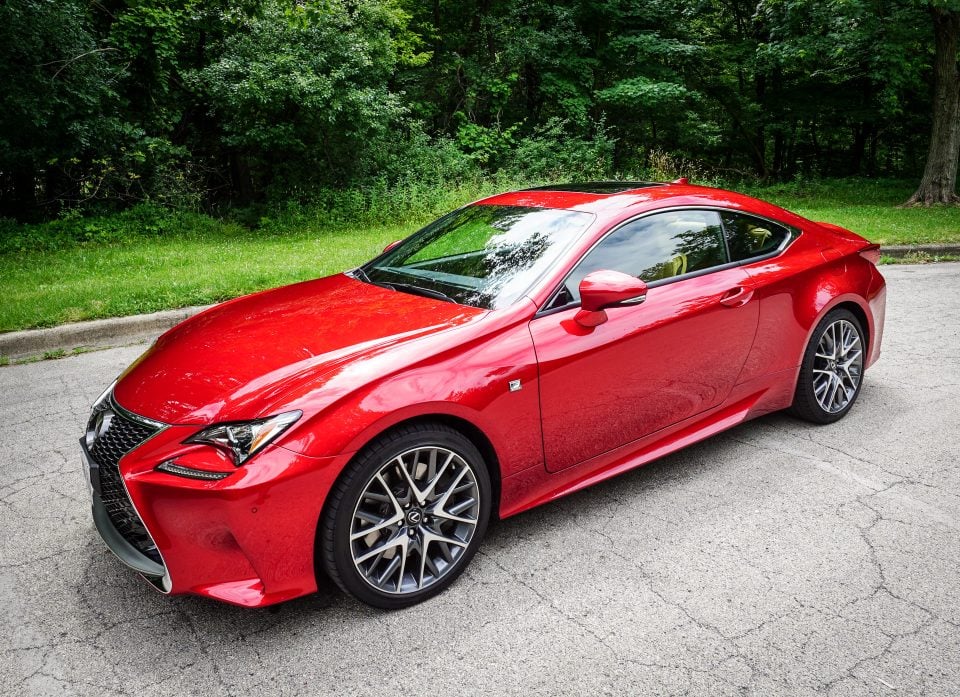 Unlike the beefy 5.0-liter V8 in the RC F or the 3.5-liter V6 in the RC 350, the RC 200t gets a comparatively tiny 2.0-liter turbocharged inline 4-cylinder engine. It seems like you can't throw a rock these days without hitting such an engine – everything from the Hyundai Santa Fe Sport to the Land Rover Evoque to the Chevy Camaro are offering 2.0-liter turbos in their lineups, all producing similar amounts of horsepower and torque. In Lexus' case, we get 241 hp and 258 lb-ft. of torque – just a hair more horsepower, and the same torque as the engine in the NX 200t compact crossover.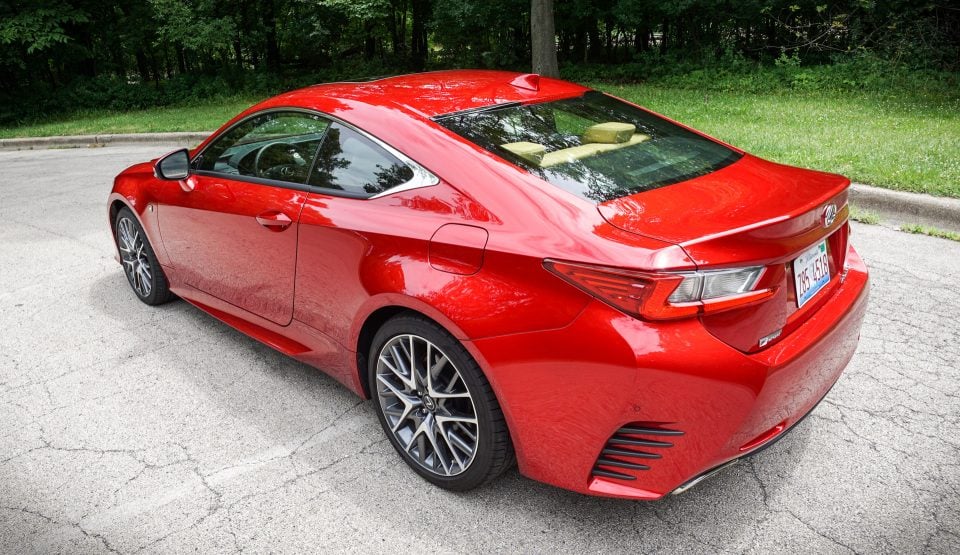 This small engine is sufficient, but isn't exactly thrilling when compared to the power plants in other RC models. Its inline-4 provides enough power to take it from a dead stop to 60 mph in about 7.3 seconds. That makes the RC 200t quite a bit slower than other cars in its class – the 2016 Cadillac ATS 2.0t does the same job in 5.4 seconds, and the 2016 Mercedes-Benz C-Class Coupe does it in 5.9 seconds. I can only imagine this is attributable to the 200 to 300 pounds of extra bulk the RC needs to carry around. Weight seems to be a challenge across the entire RC line, but here it has the greatest impact. On the plus side, the RC 200t gains a few MPG, with a combined fuel efficiency of 26 mpg. If performance is more important to you, the RC 350 RWD can do 0-to-60 in 5.6 seconds.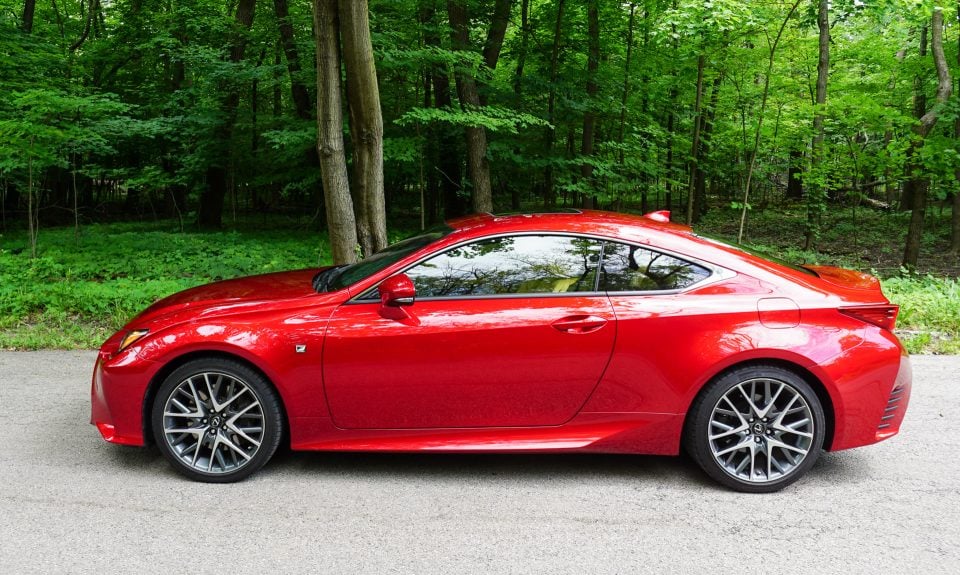 I won't spend too much time talking about the RC 200t's styling, as I've covered that extensively in my prior RC reviews. That said, the RC 200t has some of the best looks in its segment. In each of the three different RCs I've driven, I've gotten compliments from other drivers and passersby, and the RC 200t was no exception, with its long and lean lines, dramatic floating roofline, and coated with a beautiful glossy candy apple red that goes by the moniker "Infrared." I'm also a big fan of the two-tone overlayed 10-spoke design on the 19″ aluminum wheels.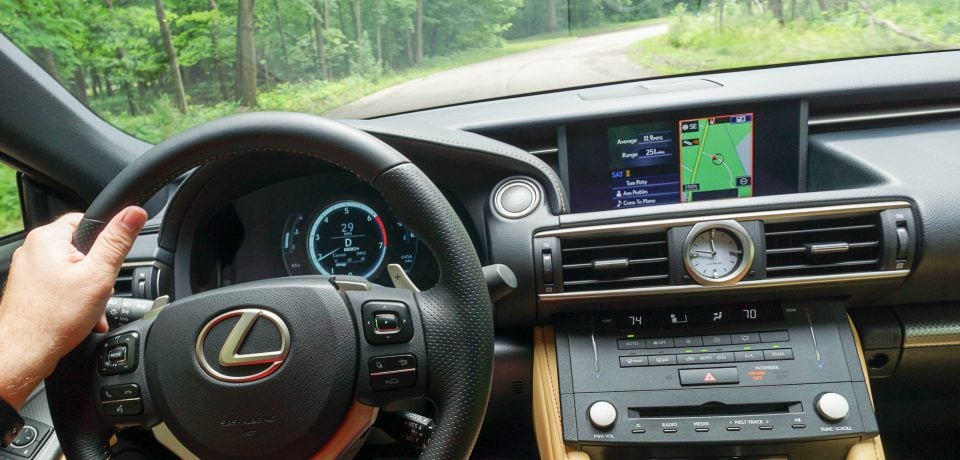 The RC 200t comes only in a rear-wheel drive configuration, which helps keep the ride fun and dynamic in the corners, and since the torque isn't too crazy, it's not tail happy in the least. An exceptional suspension helps keep the car planted and balanced. There's a double wishbone setup up front and independent multilink setup in rear. In F Sport trim, it benefits from a sport-tuned adaptive variable suspension, which deftly transitions from soaking up bumps (as any good Lexus should do) to instantly providing road feedback and firmness when you need it.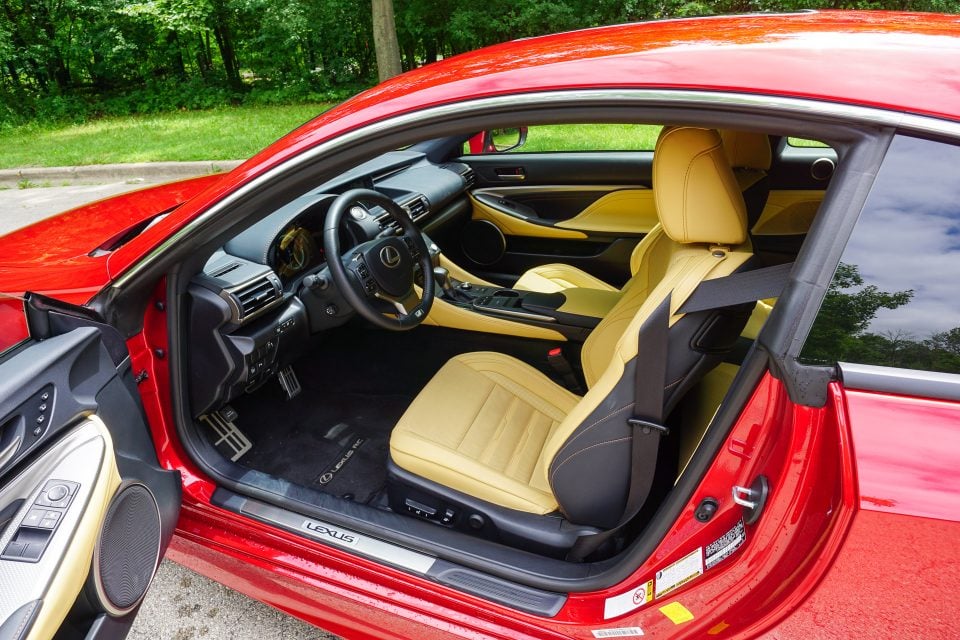 As we move from exterior to interior, the RC really shines, with an elegant, yet sporty mix of comfortable and premium materials like leather and aluminum. The heated and ventilated F Sport seats provide great support and are up to the challenge of long drives without fatigue. Like all RC models, there are rear seats, but legroom is extremely tight, so don't expect to be carrying around adults back there except in a pinch.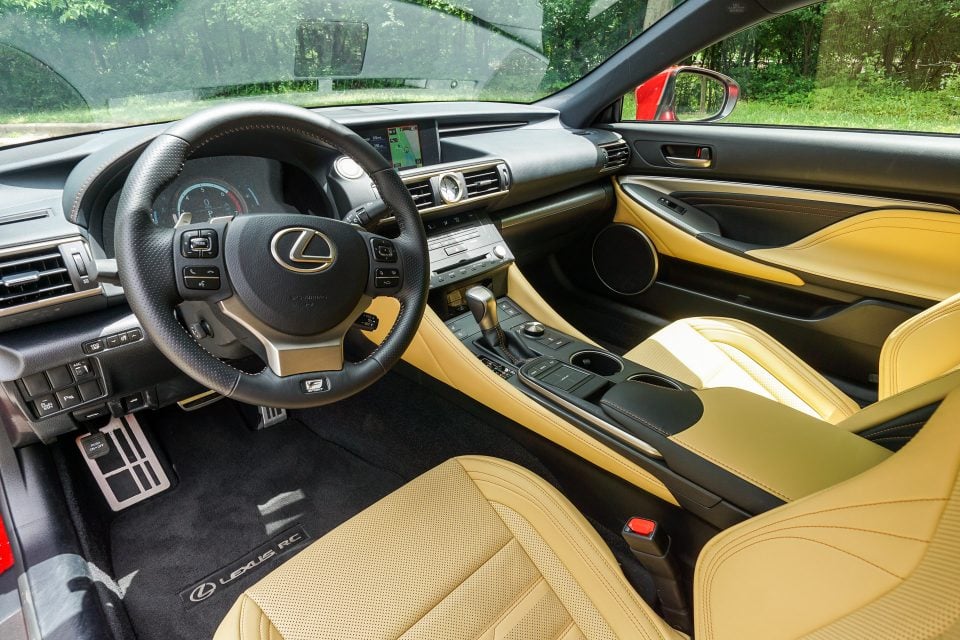 My car was loaded with safety and convenience tech like dynamic radar cruise control, blind spot monitor with rear cross-traffic alert, intuitive parking assist, navigation, a power moonroof, and the consistently excellent and powerful Mark Levinson surround sound system that's been available in Lexus models for a while. There's no question you're in a luxury car when you're in this cabin.
In the end, the Lexus RC 200t F Sport is a great looking car, perfect for the buyer who wants the styling and luxury of the RC series, but is more concerned with fuel efficiency than speed. It's got pretty much the same the bells and whistles you get in the RC 350, other than its power and lack of an AWD option. Given the fact that the RC 350 F Sport is only about $2,000 more, I'd recommend that model unless you're a die-hard fuel watcher.