Review: 2016 Lincoln MKX 2.7 AWD
crossovers | lincoln | lincoln mkx | July 22, 2016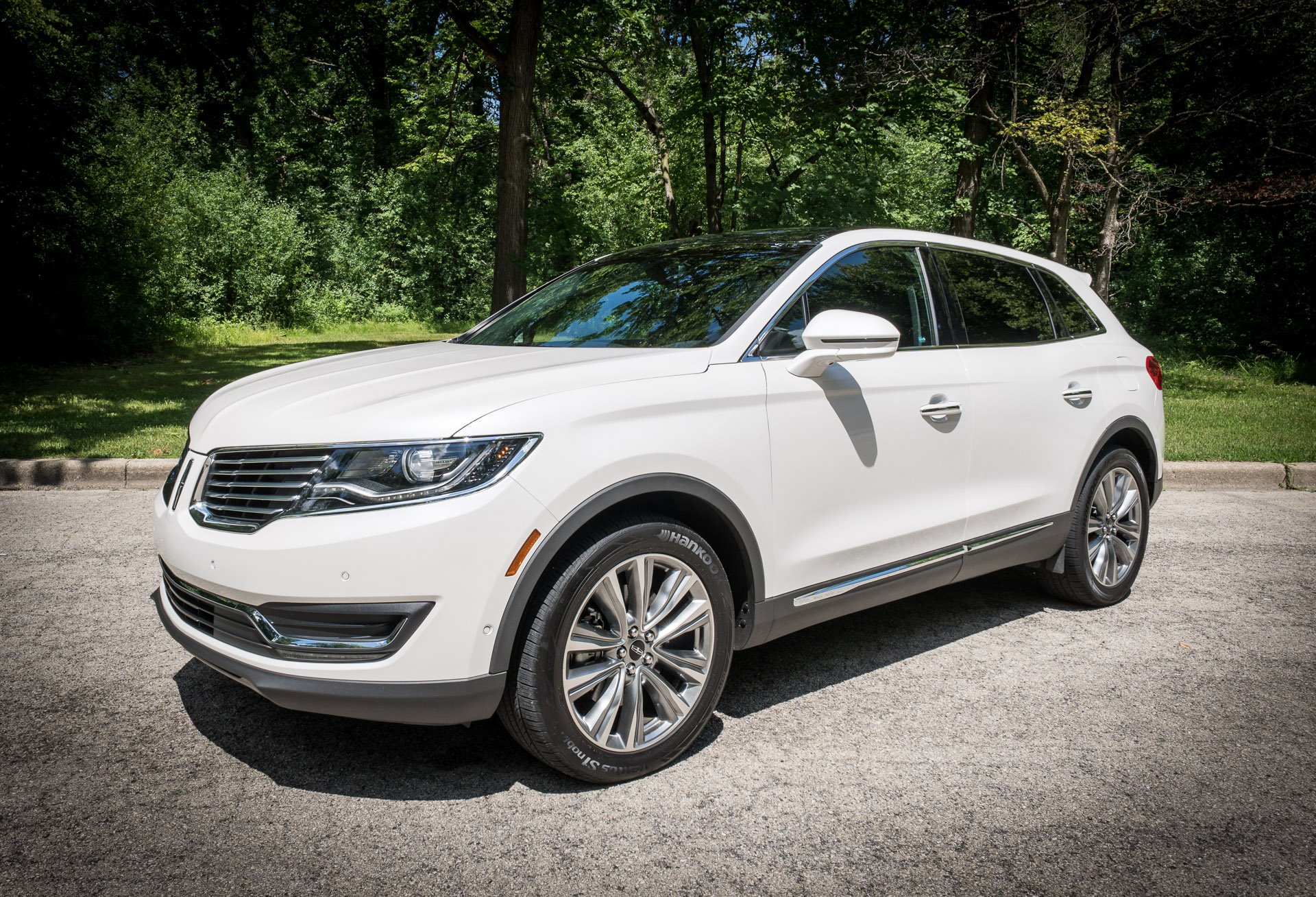 2016 Lincoln MKX 2.7 AWD

Engine: 2.7L V6
Horsepower: 335
Torque (lb-ft.): 380
Transmission: 6-speed automatic
Drive Configuration: AWD
0-to-60 Time (secs): ~6.0
City/Hwy/Combined MPG: 17/24/19
Curb Weight (lb): 4,447
Wheelbase (in): 112.2
Total Length (in): 190
Width (in): 76.1 (w/o mirrors)
Base Price (USD): $47,650
Price as Tested (USD): $57,710
Over the last several years, Lincoln has worked diligently to become relevant to today's buyers, bringing to market a series of cars which have finally started to differentiate themselves from their Ford counterparts, and to compete with European and Japanese luxury car makers. Its current core lineup is quite strong, with recent additions like the MKZ sedan, and the MKC crossover. The MKX badge is one of the older among the Lincoln lineup, making its first appearance 10 years back.
The MKX received a complete revamp for the 2016 model year, with big upgrades to its available engines, chassis, and overall appearance. The latest iteration is designed to be modern, comfortable, luxurious, quiet, and spacious – everything you want in a mid-size luxury crossover.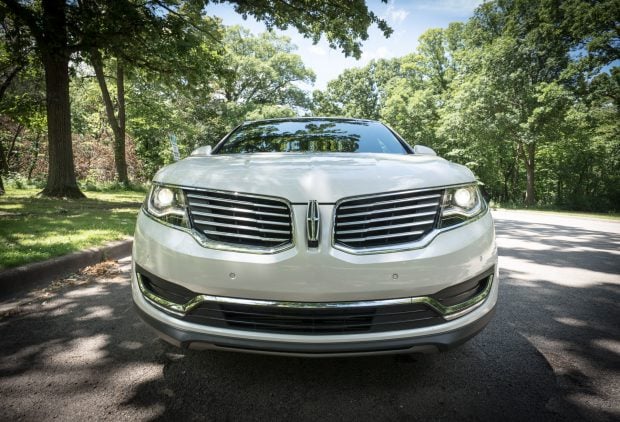 While the "angel wing" grille might be on its way out at Lincoln, everything else about the new MKX fees fresh and new. The body has a premium, sculpted look to it, and whether you go with the 18″, 20″ or massive 21″ aluminum wheels, the design feels substantial and urbane. Flanking the grille are adaptive HID headlamps, with LED accent lighting.
The MKX can be had with one of two different power plants, either a 3.7-liter Cyclone V6 that makes 303 hp and 278 lb-ft. of torque, or a highly appealing 2.7-liter EcoBoost that produces 335 hp and a whopping 380 lb-ft. of torque. My loaner was equipped with the latter engine, with a 6-speed automatic gearbox and all-wheel drive.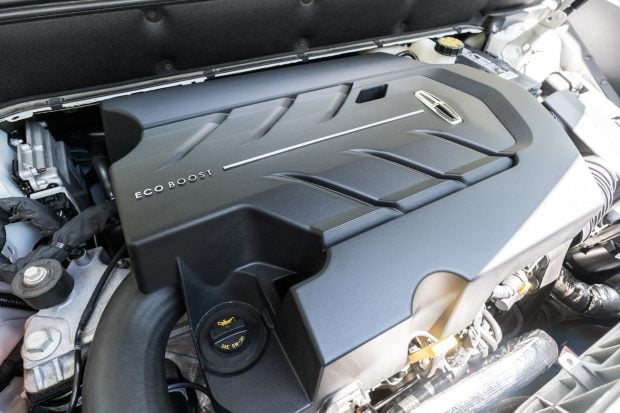 Despite the fully tricked-out AWD MKX weighing over 4,400 pounds, the 2.7-liter turbo is impressively quick, smoothly launching this comfy five-passenger cruiser to 60 mph in just about 6 seconds flat. That puts it right in the same zone as competitors like the Infiniti QX70, Audi Q5 3.0T, and Volvo XC60, and about a second faster than the new Cadillac XT5. Turbo lag is well managed, and most people won't notice the tiny fraction of a second it takes for things to spool up.
The ride is soft and comfortable for long country road trips or traversing the speed bumps and potholes of the big city, and the interior is whisper quiet. In terms of handling, I found body roll to be well controlled, allowing for faster and smoother cornering than some other SUVs I've driven. However, the electric power steering is too light for my tastes, offering virtually no road feedback. I suppose there's an audience for that kind of thing, but it's not me. I prefer more of a dynamic and direct feel to my steering. There is an available adaptive steering system, which offers a sport mode, but my review vehicle wasn't equipped with it. One nifty feature that Lincoln included is Auto Hold, which allows you to let your foot off the brake pedal once you come to a complete stop – a welcome comfort in busy stop/start traffic.
The 2.7L AWD is rated at 17 mpg in the city and 24 on the highway, but all I could muster in Chicago's busy streets was about 12 mpg. On the other hand, I managed 26 in my highway driving, and a combined mpg of about 17 mpg for the week, using a mix of regular and sport shifting modes. I'd like to see Lincoln upgrade to an 8-, 9- or 10-speed gearbox down the road to improve fuel economy further.
Inside, the MKX is luxuriously appointed, with soft-touch, stitched surfaces across the dash, door panels, armrests, and seats. The center console offers an intuitive control layout, and provides plenty of storage. The front seats are offered with both heat and cooling, while the rears get heat too. Other premium touches include metal trim, a heated steering wheel, and a fantastic sounding Revel audio system that'll give just about any car stereo a run for its money. A large panoramic sunroof floats overhead, and the front half can be opened.
One disappointment is Lincoln's decision to leave the old SYNC with MyLincoln Touch system in this model year's vehicle, even as much less spendy cars like the Fiesta are being delivered with the much better, faster, and more capable SYNC 3 system. This older infotainment system gets the job done with navigation, media and climate controls, but it's not exactly intuitive, and still has annoying quirks like not switching from Bluetooth media to AM radio every time I started up the car. According to the Lincoln website, the 2016 MKX is compatible with SYNC 3 as well, though it's unclear if cars rolling off the lots today are getting the upgrade, or if you'll have to do it at a later date.
On the flip side, there are plenty of modern safety and convenience technologies available in the MKX, including parallel and perpendicular park assist, blind spot monitoring, rear cross-traffic alert, front/rear/side parking sensors, lane-keep assist, active emergency braking, and adaptive cruise control. This system uses radar to maintain a safe distance from other vehicles, even as speeds change, and works down to 12 mph.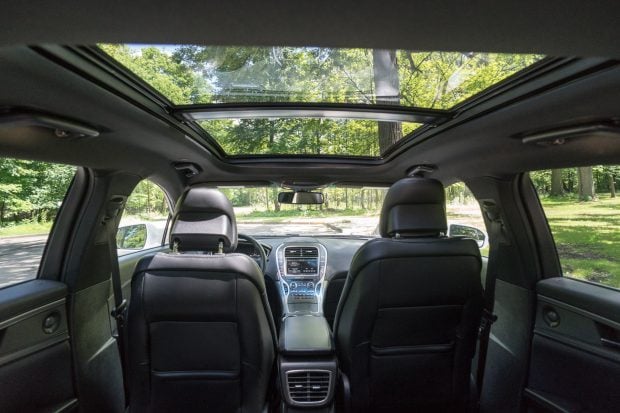 The interior is quite inviting, with comfy, yet supportive seating for five, and a wonderfully ample amount of rear seat legroom. Storage space behind the split-folding rear seat is quite good, at 37.2 cubic feet with the seats in use, and 68.8 cubic feet with the seat down, both figures significantly besting all four of the aforementioned competitors from Infiniti, Audi, Volvo and Cadillac. When equipped with the optional towing package, you can also tow up to 3500 pounds of gear.
Overall, my experience with the Lincoln MKX was quite pleasant. The interior is a welcome escape, offering tranquility, good noise and vibration control, and plenty of creature comforts. Plus, its engine provides a surprising amount of kick and is quite satisfying. It's not a car for those looking for a sporty feel though. It's much more about sophistication than excitement, for which there is certainly a very large market.