Review: 2016 Lexus GX 460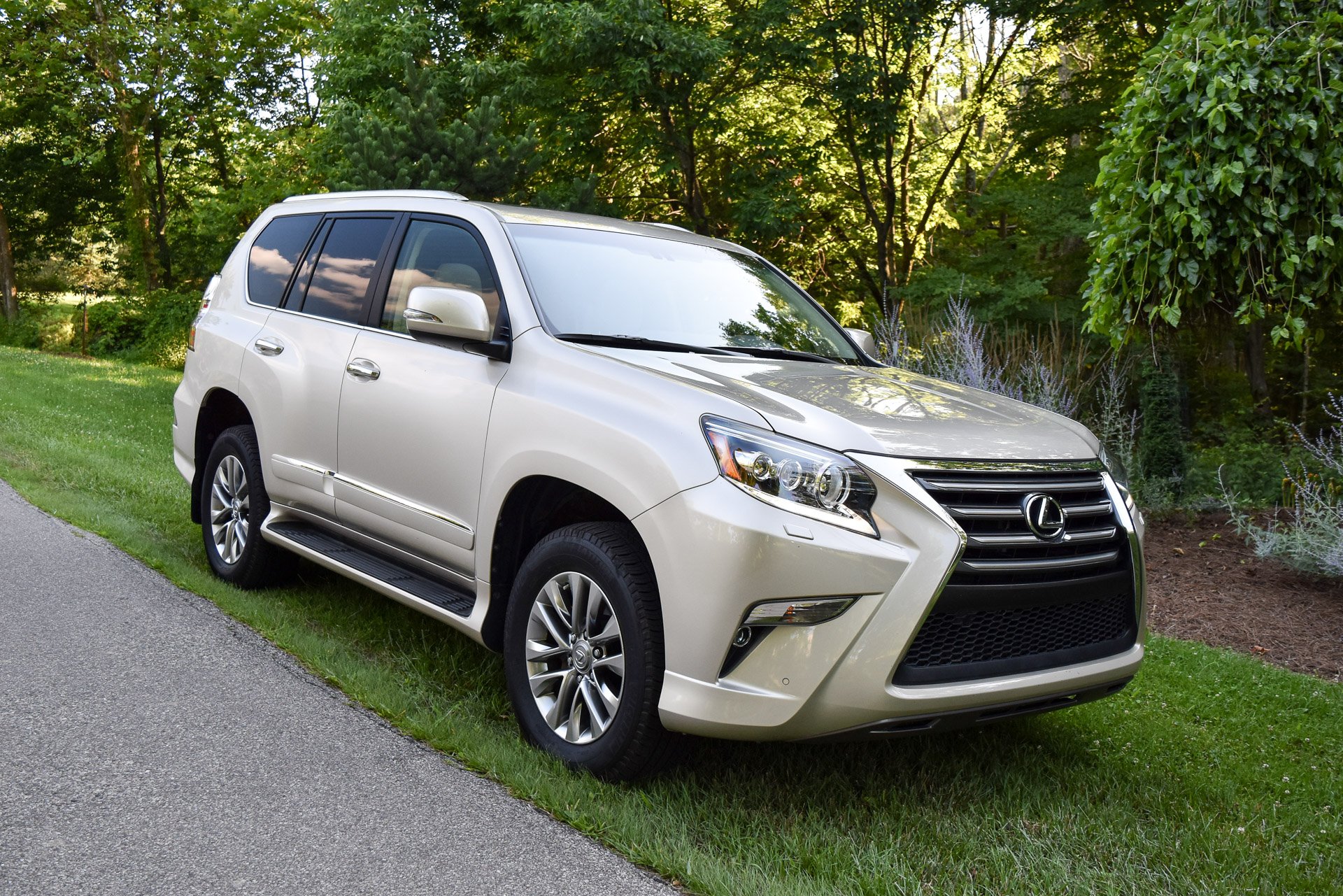 2016 Lexus GX460 Luxury

Engine: 4.6L V8
Horsepower: 301
Torque (lb-ft.): 329
Transmission: 6-speed automatic
Drive Configuration: Full-time 4WD
0-to-60 Time (secs): 7.8
Top Speed (mph): 110
City/Hwy/Combined MPG: 15/20/17
Wheelbase (in): 109.8
Total Length (in): 192.1
Width (in): 74.2
Base Price (USD): $61,515
Price as Tested (USD): $65,570
Lexus has a history of being a conservative luxury brand that often gets criticized for making vehicles that lack excitement. Well, my tester this week breaks the Lexus mold, and drags it through the mud. The 2016 Lexus GX460 is not the same old conservative Lexus. Rather it's a rugged, stout off-road ready SUV.
There aren't many vehicles that are equally refined, but also rugged, but the GX can go toe-to-toe in this niche with Land Rover. And while it excels in this niche, that can also be one of the critical points of this midsize SUV. The front end is still very much a Lexus, mirroring closely its other steady eddy SUVs in both grille and styling. It's classic and timeless. But, on profile, the GX clearly is more stout.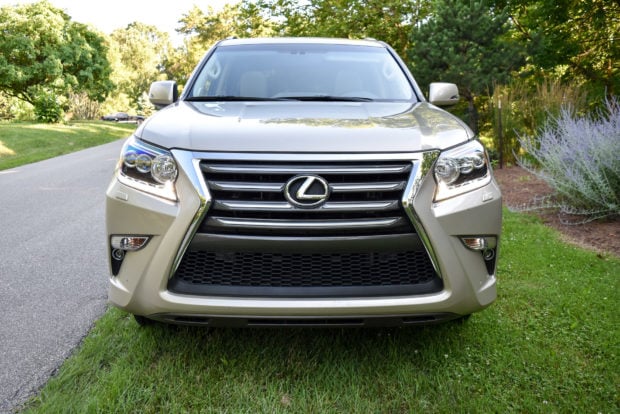 Most consumers are used to Lexus SUVs being comfortable and refined. The GX is the anti-Lexus in this regard. Sure it still maintains an air of refinement in its styling, but it's not overly comfortable and has some peculiarities you're not accustomed to with Lexus. For instance, there's a big swing-out back door. It's awkward and inconvenient.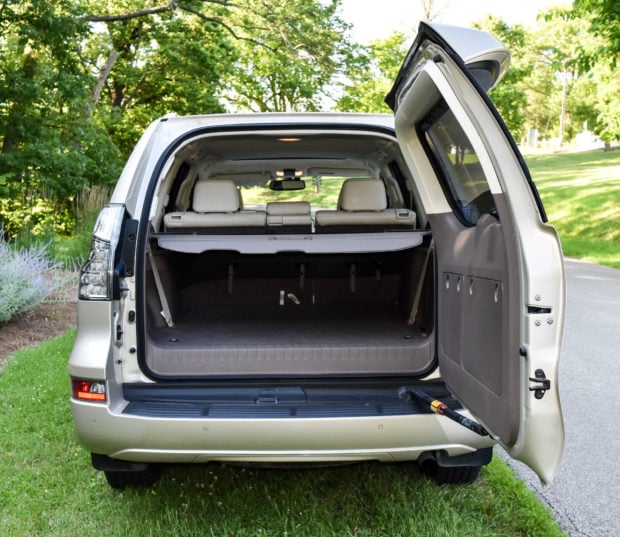 The back end is nearly squared off and upright, which is good for interior head room, but makes the GX look bulky. Tail lights are more accurately called side lights as they sit on the back end of the side panels and not on the actual rear of the SUV. The GX's back end lacks much in the way of styling, and is quite unspectacular.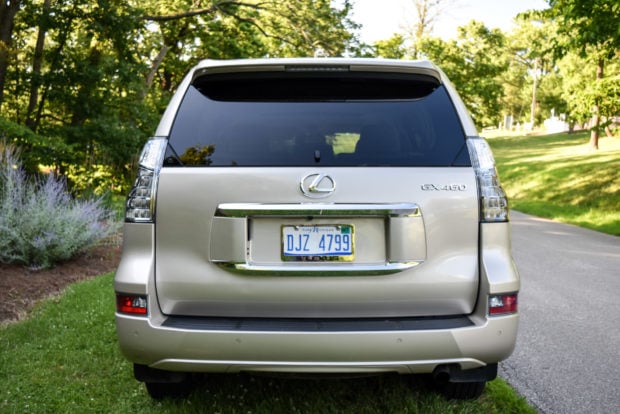 The GX is powered by a big 4.6-liter V8 engine. That should translate to enormous power, but overall performance is quite lumbering. There's 301 horsepower for this engine, and mated with a six-speed automatic transmission, the GX has just adequate power and performance. To its credit it is a quite capable worker with 6,500 pounds of towing capacity. Remember, this isn't the soft and comfy Lexus you're used to from Toyota's luxury brand.
It won't smoke tires off the line, but it will perform adequately on the highway and in the city. Its clunky shape and size does make it a bit of a challenge to park in a tight space.  The GX has full-time four-wheel drive which serves it well in off-road conditions as well as in challenging weather conditions. There is likely no road condition this SUV isn't prepared for. Again, that's what makes it different than other Lexus SUVs.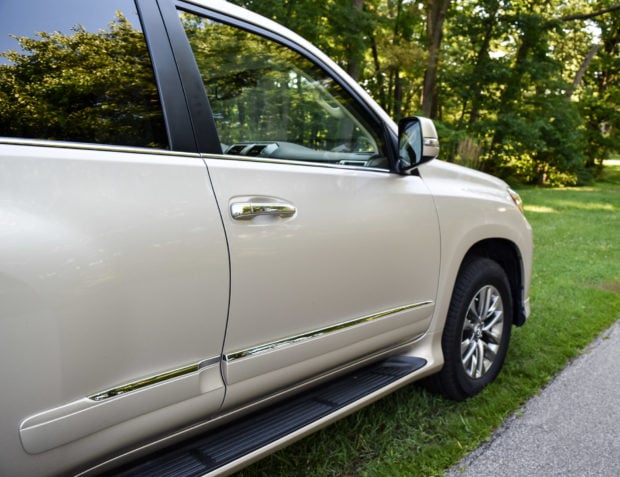 The GX is a three-row SUV, which are quite common these days, and like most, the GX's third row is essentially useless for adults. It's fine for smaller passengers, but no way an adult could even comfortably sit back there for any amount of time. I'd rather see the cargo area increase with the exclusion of the third row. Also, it would help make the seating position and contour of the second seat better than what it currently is. As is, the second row, while covered in leather, has a very high-in-the-saddle seating position that is not very adjustable. It's too firm and too upright.
The front seats are soft and luxurious, with wood trim and accents to add to the lavish feel. The mahogany steering wheel and shifter is an elegant touch. Illuminated running boards and scuff plates are also classy. Undoubtedly, the interior of the GX is a Lexus through and through. It won't disappoint those looking for luxury. While it's not as over-the-top as a loaded Land Rover, it's also considerably less expensive.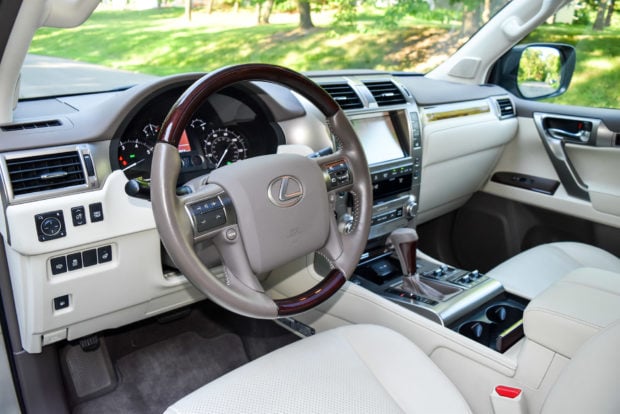 The technology in the GX is adequate, but it lacks some of the upgrades and improvements of other Lexus vehicles. The infotainment system is intuitive and the combination of touchscreen and knobs is pleasing and well planned.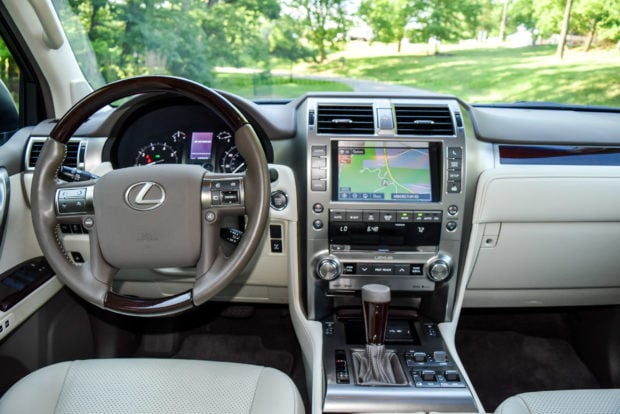 My tester came with a Mark Levinson premium sound system as well as a rear entertainment system with a dual-screen DVD system. This would help make this SUV more family-friendly, despite the less-than-desirable back seats. Rear head and leg room is good, it's just the angle and firmness, that would concern me for longer road trips.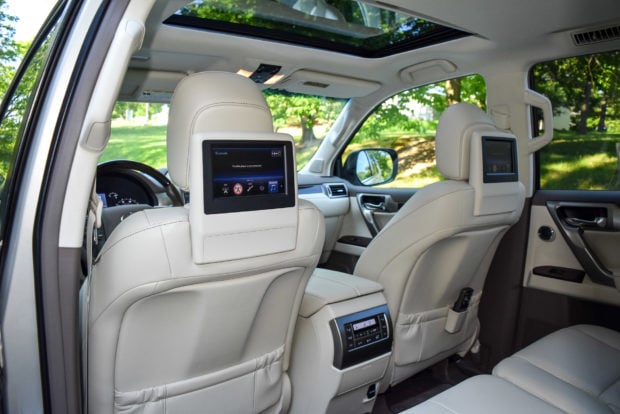 Lexus keeps things simple with three trims, and the GX 460 is offered in Base, Premium, and Luxury. My tester was the Luxury trim which features headlight washers, blind spot monitors, a heated steering wheel, and power-folding third-row seats. Base price for the GX460 Luxury is $61,515. With the advanced sound system and rear entertainment system, my tester had a final price of $65,570.
With full-time four-wheel drive, the GX loses fuel efficiency. It has an EPA rating of 15 mpg/city and 20 mpg/highway. In a week's worth of mostly suburban driving, I averaged only 17 mpg. This is sub-par fuel economy, even for a vehicle of its size and girth.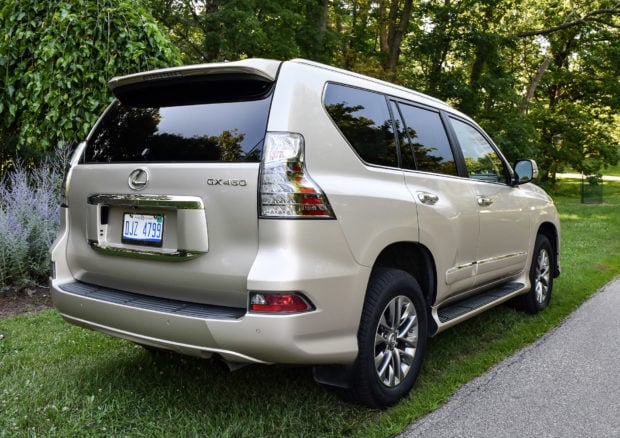 When it comes to luxury SUVs there are plenty of options. Those options get more limited when you expect an SUV to handle itself well off the road, but still offer plenty of amenities. That's where the Lexus GS460 excels. You'll have to put aside some of your expectations and predispositions you have for the Lexus brand and accept this SUV for what it is, and not for what it isn't. Forego some luxury and amenities and even performance, in favor of something a little different and a little more rugged. It's not your cookie-cutter, Stepford Wives luxury SUV. For that it's to be admired and appreciated.