Review: 2017 Honda Ridgeline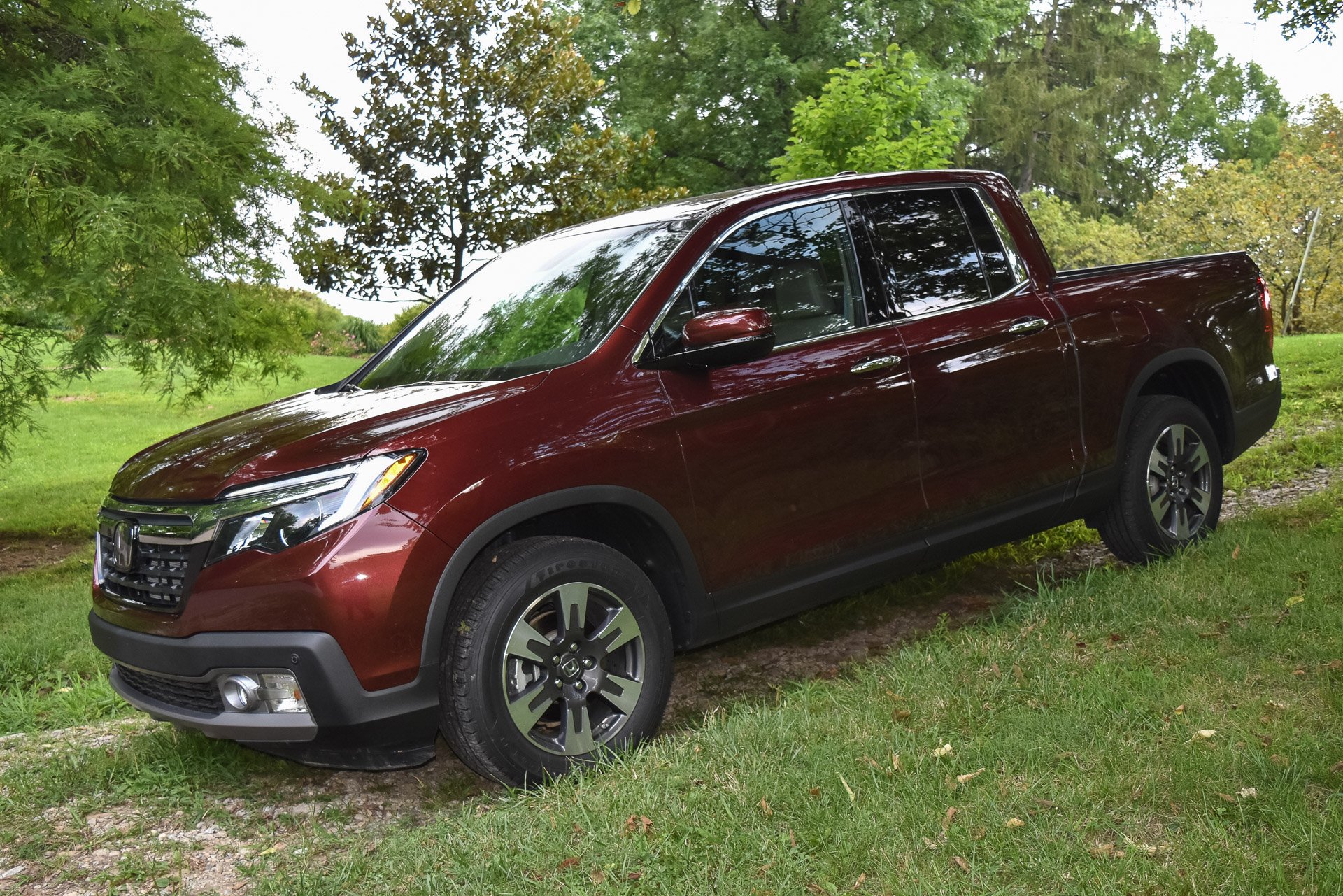 2017 Honda Ridgeline RTL-E

Engine: 3.5-liter V6
Horsepower: 280
Torque (lb-ft.): 262
Transmission: 6-speed automatic
Top Speed (mph): 112
City/Hwy/Combined MPG: 18/25
Curb Weight (lb): 4,200
Wheelbase (in): 125.2
Total Length (in): 210
Width (in): 78.6
Base Price (USD): $42,270
Price as Tested (USD): $42,270
Small trucks are trendy again. So it's not surprising that Honda brought back the Ridgeline after a two-year hiatus. The Ridgeline has always been the outcast of the truck world. It never quite fit in with its weird design, car-like performance, and well-mannered nature.
Now with a competitive segment occupied by brands that know how to make TRUCKS (all caps for a reason), Honda wants to bring the Ridgeline back into the arena against the likes of GM and Toyota. Will the Ridgeline get bullied around? Will it be treated like the other reindeer treated Rudolph? Can the Ridgeline play in the reindeer (truck) games?
These are the questions I had, and I had one week with the Ridgeline to get them answered.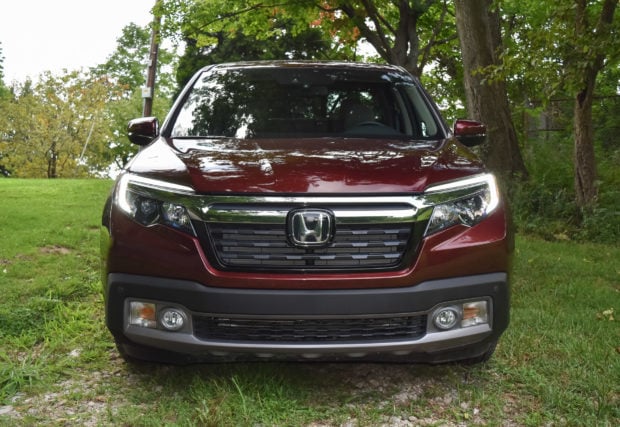 First impression of the Ridgeline is wow… what a big difference. Gone is that quirky high-walled short bed. I flat out hated the look of the old Ridgeline. I like distinction, but that thing was downright ugly. Now for 2017, the Ridgeline is more streamlined but still has personality.
It still has a compact look to it. While the Chevy Colorado doesn't look much smaller than a Silverado, the Ridgeline is definitely smaller than other trucks. In fact, it's about 14 inches shorter than a Silverado, and has one inch less in width than an F-150. The Ridgeline shares a lot with the Honda Pilot, which is both a good thing and a bad thing. On profile, the front two-thirds of the Ridgeline look like a modern SUV. The stout front end and long middle flow well together and only the back end breaks out as a truck, with its 5.4-foot bed. It's still stubby in the back. When put together, the Ridgeline still has enough distinction to stand out from other mid-size trucks.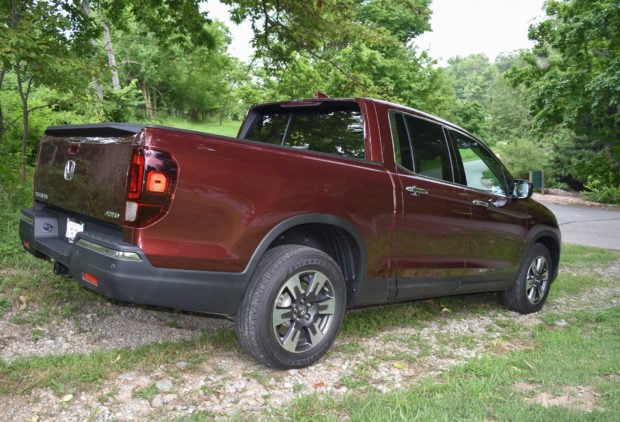 Honda makes plenty of use out of the truck bed. There is 33.9 cubic feet of space up top, plus another 7.3 cubic feet hidden within the bed. You may have seen the commercials which show this as a good spot for tools or even as a cooler for weekend tailgating. The rear gate even swings both down and out. Indeed, the Ridgeline's truck bed is spiffy, and has a leg up on the competition in this regard.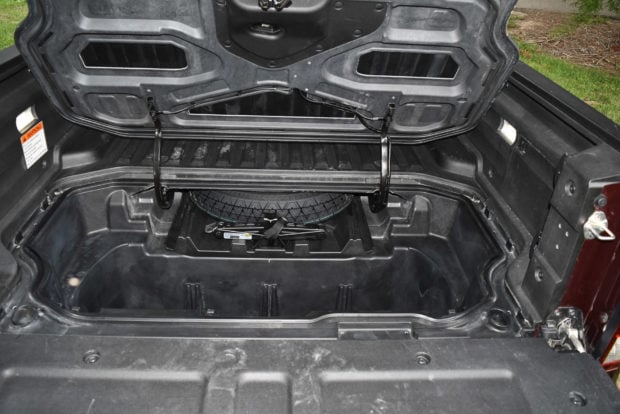 Honda keeps things simple for the Ridgeline's engine. Instead of offering a 4-cylinder variant, there's only one 3.5-liter V6 engine available. This goes against the current trend within the truck segment, but also allows Honda to revisit this during future model years. As such, the Ridgeline makes 280 horsepower and 262 lb-ft. of torque. Front-wheel drive is standard as is a six-speed automatic transmission. My tester had all-wheel drive. The shifts were smooth and it honestly drove a whole lot like the Honda Pilot.
The all-wheel drive Ridgeline has an EPA rating of 18 mpg/city and 25 mpg/highway. The front-wheel drive version gets 19/26, which is better than other V6-powered midsize trucks, but not as good as some of its turbo 4-cylinder or diesel-powered rivals. In a week's worth of driving, I averaged 21.8 mpg.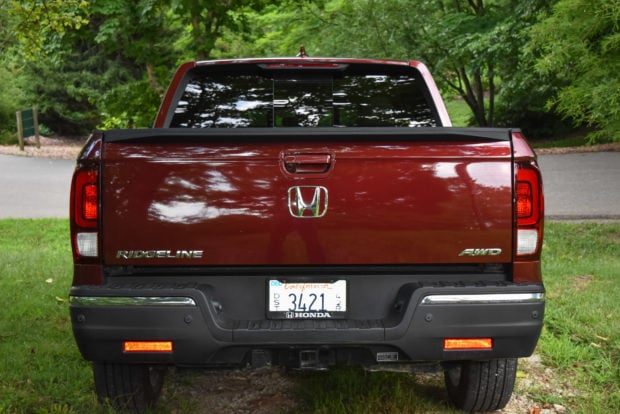 If you're expecting the Ridgeline to drive and perform like a rugged truck, you will be disappointed. However, its refinement and SUV-like performance is not a bad thing, nor does it keep the Ridgeline from being capable. In fact, similar to the Pilot, the Ridgeline can tow up to 5,000 pounds, and has an impressive payload of 1,584 pounds. Both of those numbers are better than what a Toyota Tacoma can handle.
Inside, the Ridgeline follows Honda's conservative approach. Squint your eyes and it's almost like you're inside an Accord. Again that's not a bad thing, but it may rub some truck enthusiasts the wrong way. While most trucks have a manly, rugged vibe, the Ridgeline lacks personality altogether inside. It's comfortable, and well appointed, but uneventful. The leather seats are nice and there are soft materials used on the dashboard.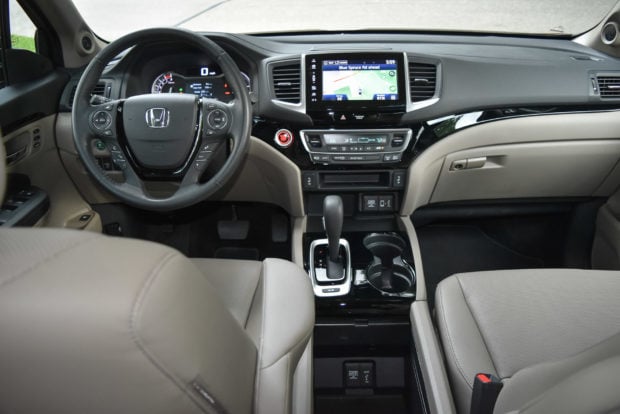 The back seat has ample leg room, and flips up and reveals additional cargo room. Honda claims there's enough space in this compartment for a bicycle or golf bag. Kudos to Honda's engineers for making full use of all the available space. The cargo in the Ridgeline shows creativity as well as versatility.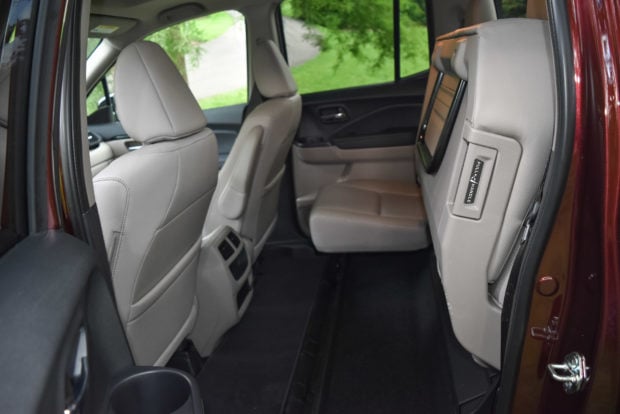 Honda's infotainment system is intuitive, although the 8-inch touchscreen is slow to respond to touches. It was frustrating to touch certain parts of the menu for it to not respond, or take seconds to respond. This is also a safety issue as you're taking your eyes off the road while doing this. But, from an interface standpoint, it's well-organized and easy to operate. Smartphone integration is a breeze. It has a seven-speaker audio system and a USB connection for charging and accessing media. There's also an audio adapter in the truck bed which brings the Ridgeline's music outside. The new technology is a production first for any truck, and features waterproof speakers. There's also a power outlet built into the truck bed giving it more versatility and utility. With the built-in cooler and the outdoor sound, the Ridgeline is ideal for tailgating.
The Ridgeline has four trims starting with the base RT which comes without most of the "cool" features mentioned here, although it's starting price is under $30,000. Leather upholstery starts on the RTL trim. Most of the technology features like the 8-inch touchscreen, Apple CarPlay and smartphone integration doesn't start until the RTL-T trim. Starting price for this trim is $35,900. My tester was the RTL-E, which has all the bells and whistles, including a moonroof, power sliding rear window, the aforementioned in-bed audio system and sensor-based features like adaptive cruise control, collision alert and lane departure warning. This top-of-the-line Ridgeline sells for $42,270 which makes it in the same price as some full-size pickup trucks.
Let's circle back around and answer some of the questions and concerns I had, and that I had heard from truck enthusiasts. Will the Ridgeline get pushed around by other more capable midsize trucks? No, in fact, the Ridgeline has more towing capacity than some of its competition and has segment-leading payload. Can the Ridgeline win over truck enthusiasts? That's to be determined. It has little street cred within the truck world, and doesn't feel particularly rugged, but it's much more than just a quirky truck wannabe. It's a truck by all accounts, even with some of its differences.