Porsche 550 RS Spyder Takes a Bite out of Someone's Wallet
auctions | porsche | Porsche 550 | September 27, 2016
A matte grey, never restored, yet still mint Porsche 550 RS Spyder sold this weekend for a record £4,593,500 at the Goodwood Revival's Bonhams auction. For those of you, like me, who don't readily convert pounds to dollars in their heads, that currently adds up to $5,956,621.13 in U.S. dollars. The folks at Goodwood Road & Racing shared an overview video of this rare beauty for us to enjoy.
First launched in 1953, the Porsche 550 Spyder was Porsche's first racing car design. It went on to notch historic race wins for Porsche, including the 1956 Targa Florio, and most famously was the Porsche model in which James Dean died in a 1955 accident.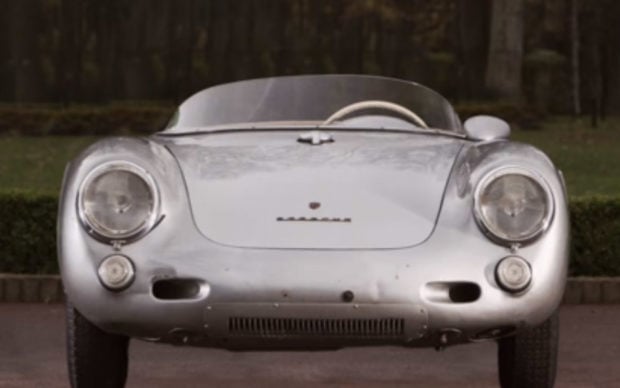 The version sold to an unnamed buyer at Goodwood is a 1956 RS Spyder, with a 4-cam, 4-cylinder air-cooled 1.5 liter engine. The original owner was television executive Willett Brown, onetime president of CBS. He sold it after putting only 634 miles on the car, and it exchanged hands of multiple lucky owners before ending up in the collection of noted U.S. car collector George Reilly. Let's wish the new owner has more luck with his 550 Spyder than the star of Rebel Without a Cause.