First Drive Review: 2017 Infiniti Q60 Red Sport 400
infiniti | Infiniti Q60 | sports coupe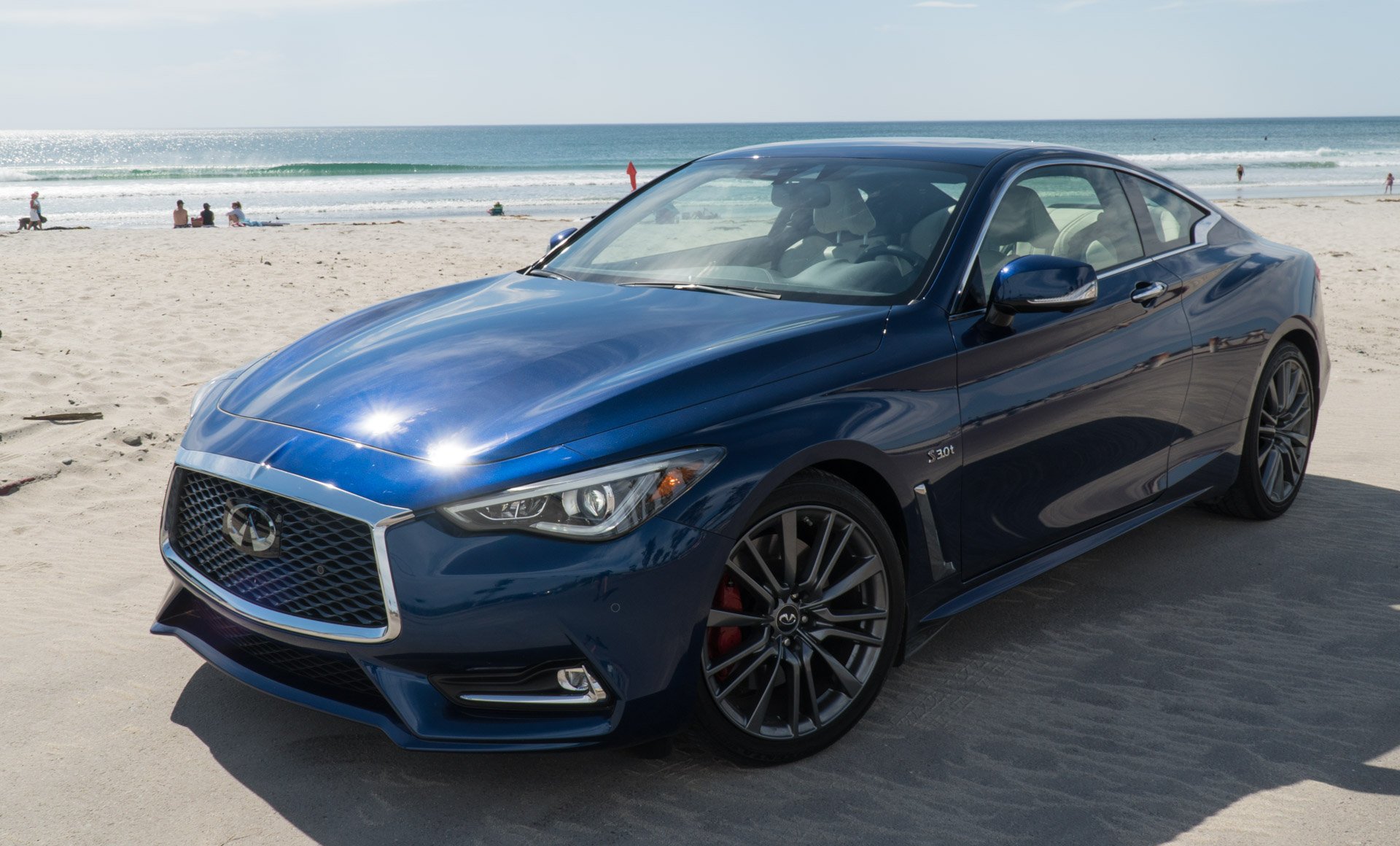 2017 Infiniti Q60 Red Sport 400

Engine: 3.0-liter, twin-turbo V6
Horsepower: 400
Torque (lb-ft.): 350
Transmission: 7-speed automatic w/paddle shifters
Drive Configuration: RWD or AWD
0-to-60 Time (secs): ~4.8
Top Speed (mph): 155
City/Hwy/Combined MPG: 20/27/22
Curb Weight (lb): 3862 (RWD) / 4023 (AWD)
Wheelbase (in): 112.2
Total Length (in): 184.65
Width (in): 72.83
Base Price (USD): $51,300
Price as Tested (USD): $59,555
I always was a big fan of Infiniti's prior generation G35 and G37 coupes. They offered great performance and luxury, and eventually ended up being very popular with the tuning community. The Q60 has some big shoes to fill, and overall, Infiniti did a fine job doing so. For starters, the new Q60 looks fantastic, and I personally think it's the best looking Infiniti model yet. It can also be had with a 400 hp engine, about 20% more powerful than the old G37's top performer.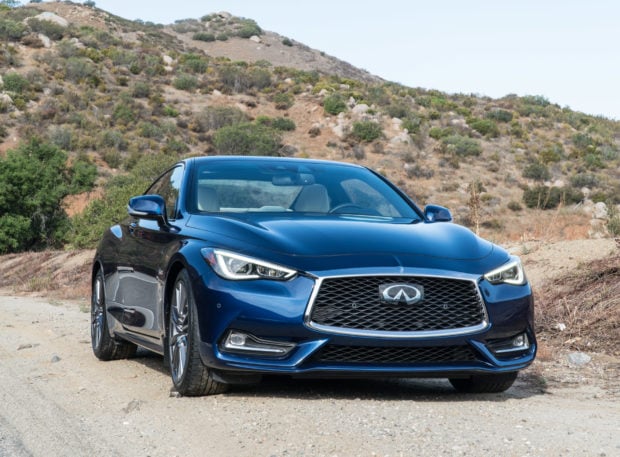 From its muscular stance, to its curvaceous body lines, widemouth double-arch grille, and expressive "human eye" LED headlamps, the Q60 is quite stunning from every angle. I especially like how it looks on profile, with sporty fastback styling that's more than a bit reminiscent of the current-generation Mustang. That said, the Infiniti's design (and ride) is far more refined and sophisticated than Ford's muscle car.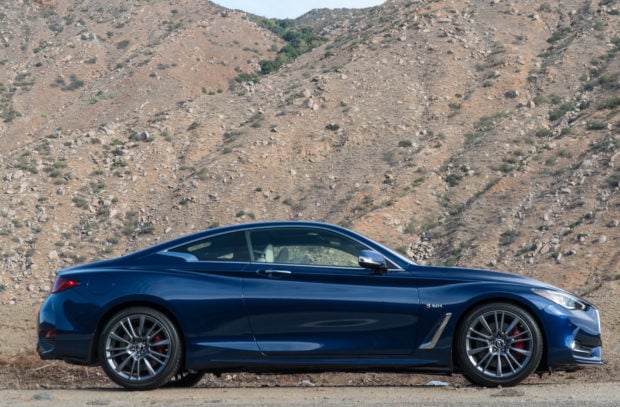 Buyers can choose from three different engines and two drivetrains for the Q60. The base model has a 208 hp 2.0-liter turbo-4, while the performance-oriented models get either a 300 hp and 400 hp 3.0-liter twin-turbo V6 engines. If you're 100% sold on the Q60's style, and don't care about acceleration, the 4-cylinder might be all you need, but for most of us in the market for a sport coupe, we crave a bit more get up and go.
I spent my time behind the wheel of the most powerful and performance-oriented model, the rear-wheel drive Red Sport 400. All-wheel drive is available as an option, but loses out on the staggered 19″ wheel setup found in the RWD model, and adds about 161 pounds to the Q60's already somewhat hefty weight. Personally, I'd go for the RWD model, and just buy some good snow tires for winter driving.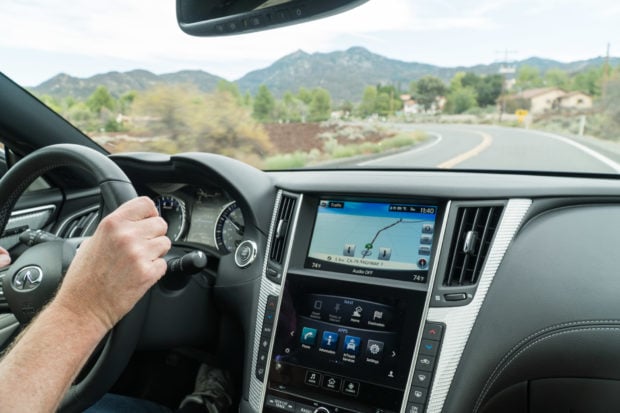 When fully tricked out, the Q60 gets some high-tech performance dynamics systems which really do add to its driving abilities. For starters, Infiniti has updated its Direct Adaptive Steering system to be far more responsive and natural feeling than the version I first tested a couple of years back in the Q50. I was particularly happy with the weight and direct feel I got in both Sport and Sport + driving modes. The "drive-by-wire" system allows for much finer-grained control of steering weight and feel, eliminates unwanted road vibrations, and even allows for the gear ratio to be varied.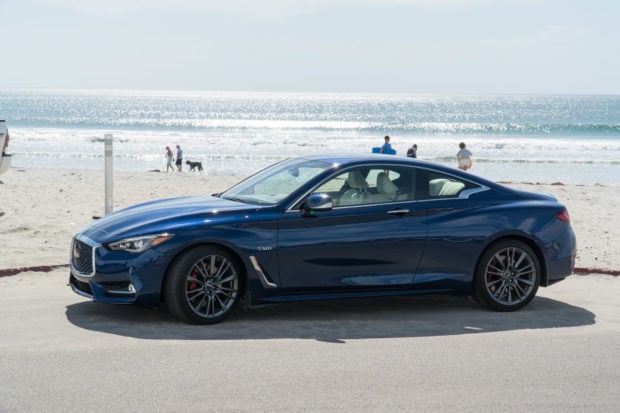 The Red Sport 400 also benefits from Infiniti's Dynamic Digital Suspension system, which is just a fancy brand name for adaptive dampers. This system works great to smooth out bumps and enhance ride comfort, while also improving stiffness while cornering at speed. It's not as seamless as some magnetic-based systems, but still a welcome capability.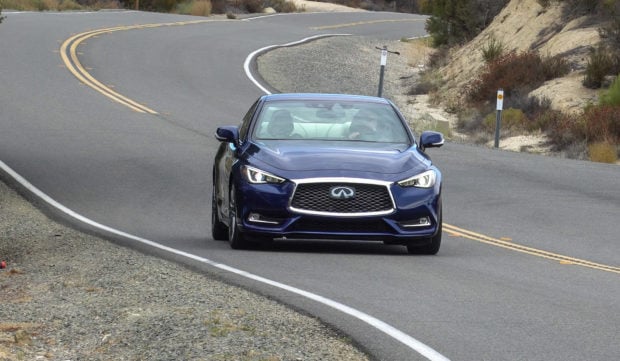 Since the Q60 is designed to be a true luxury sports coupe, its ride is definitely that of a comfortable but fast grand tourer, and not a track car. Personally, I think that's great, since so many sports coupes were designed with the Nürburgring in mind, rather than the 95% of the time that most of us will spend on public roads.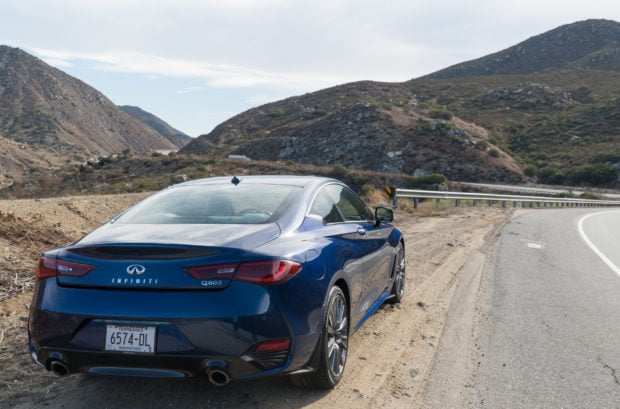 The all-new VR-series V6 engine offers smooth and consistent torque as you get on the gas, zipping the Red Sport 400 model to 60 mph in 5.0 seconds flat. Turbo lag is virtually non-existent, thanks in part to water-cooled charge coolers which have a very short flow path. Those looking for a big exhaust note won't find it here though. The 7-speed automatic does a great job moving through gears all on its own, though I wasn't as thrilled with the paddle shifters. From time to time, there was a brief hiccup between when I flicked the upshift paddle until the gearbox complied with my request. Downshifts, on the other hand, felt perfect.
Infiniti's designers definitely hit the nail on the head when it came to the interior of the Q60. Our tester had light and classy white leather seats and door trim, along with scads of a nifty metallic weave material called "Silver Optic Fiber." If you prefer a dark interior, real carbon fiber and dark maple wood are also available. Soft-touch surfaces abound, and the dash and center console are well organized and user-friendly – though I'd like a place I could store my phone while driving – other than the cup holders or the storage bin.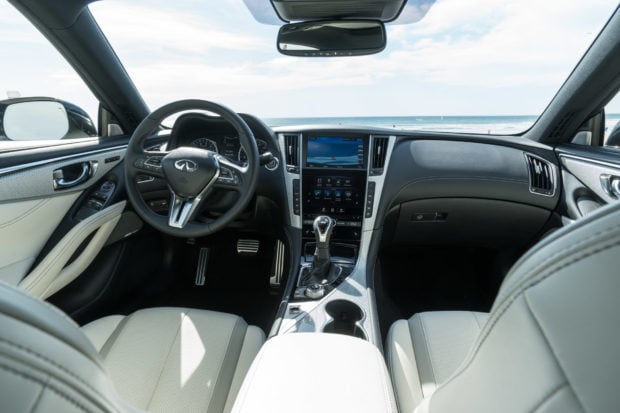 The center stack has high-tech looks, but I'm not a huge fan of the dual display system which first showed up in the Q50. The top screen controls and displays navigation, while the bottom screen offers media, app, climate, and system controls. The systems don't feel particularly well integrated, and they even have different display finishes – one matte, the other glossy. I'm hopeful that Infiniti someday resolves this with a single large screen rather than these clearly disparate systems. The systems are serviceable as is, but I'd love to see the same degree of refinement found in every other inch of an otherwise excellent design.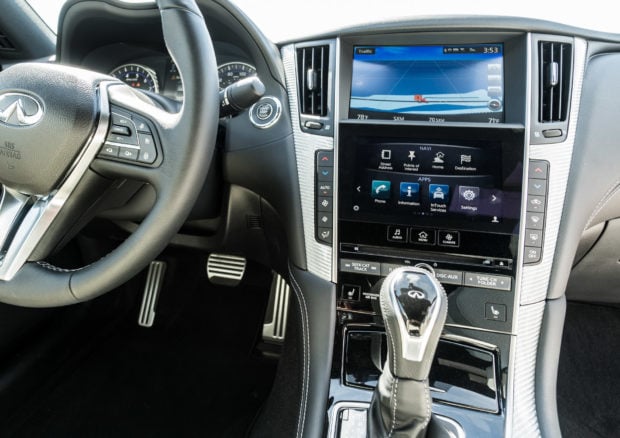 Audio is provided by a 13-speaker Bose Performance audio system, which outputs ample volume, and very clean sound which doesn't overly emphasize bass like some systems do. Technophiles will also appreciate features like full-speed range adaptive cruise control, blind spot monitoring with braking intervention, lane departure warning and prevention, and adaptive front headlights. Parking is made much easier thanks to front and rear parking sensors, rear cross-traffic alert, and a great around-view camera system which lets you see the entire perimeter of the car.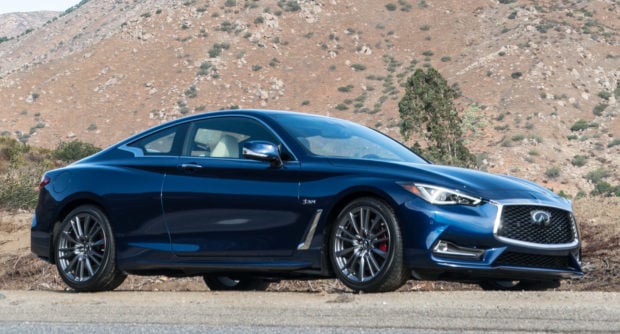 Infiniti calls the Q60 a "brand shaper," and its styling is meant to lay the groundwork and design direction for the brand as a whole. If future Infinitis embrace the design aesthetic and performance-oriented luxury ethos of the Q60, I think that would be fabulous. In the meantime, if you've been considering a luxury sports coupe for yourself, you should most definitely put the Q60 on your test drive list.