Off-Road in Hawaii with the 2017 Toyota Tacoma TRD Pro
toyota | toyota tacoma | toyota tacoma trd off-road | October 22, 2016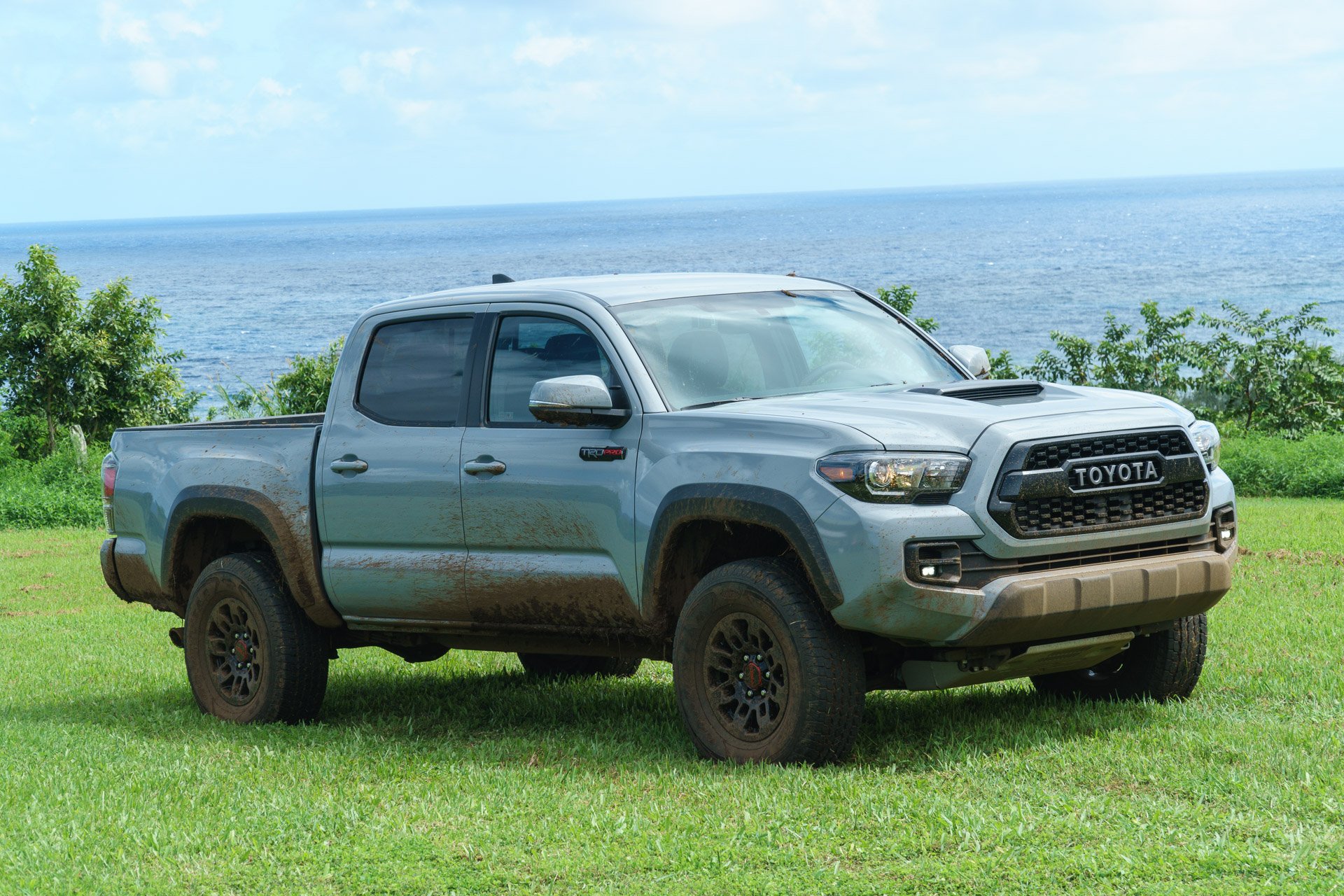 After taking a year off from the lineup, Toyota's most rugged mid-size pickup is back for 2017, and better than ever. The new 2017 Tacoma TRD Pro not only looks amazing, with its muscular body, blacked out heritage grille, hood scoop and fender flares, but it's got the driving chops to go with.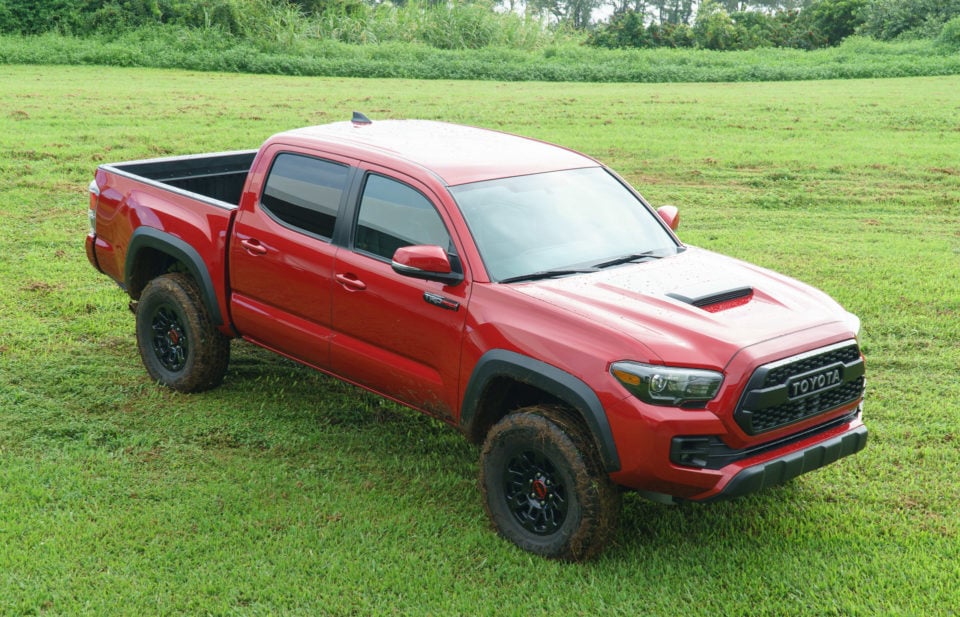 I recently had the opportunity to take the new truck way, way off road in the rough and muddy countryside of Hana, on the island of Maui. While we could have taken the twisty and treacherous road that runs along the coast up to the Hawaiian cowtown, Toyota decided we'd be better off spending our time enjoying their trucks than sitting behind some granny riding the brake of their rental car the whole way. So we shaved about two hours off our travel time, and arrived by helicopter.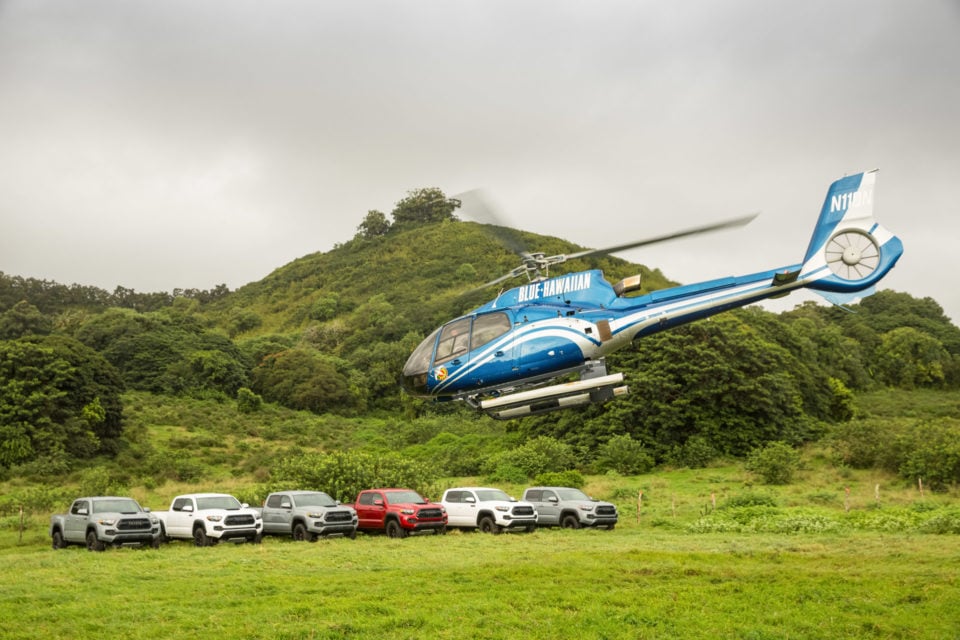 This time out, rather than Bilsteins, the TRD Pro rides on oversize 2.5″ FOX internal bypass shocks – with coilovers and rear remote reservoirs. These rugged shocks soak up even the biggest bumps, letting you tear your way through open fields at breakneck speeds, while providing just the right amount of feedback on rocky paths. More importantly, they won't fade under duress. As the TRD Pro was designed to handle speed, it's got a bit more body roll and better damping than the TRD Off-Road, making it a bit less jarring than its sibling.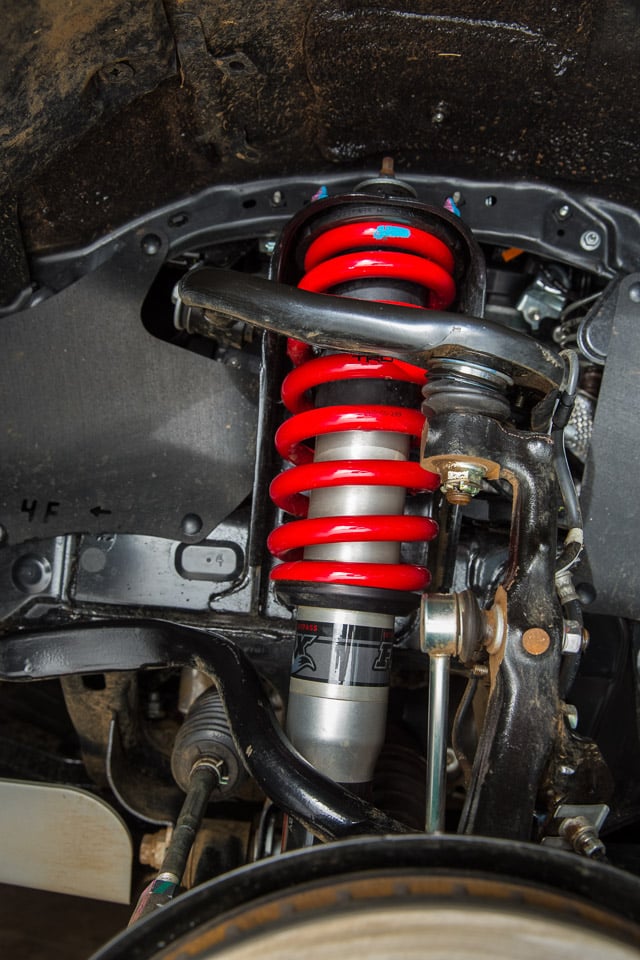 To help with stability and terrain negotiation, the TRD Pro is 1″ taller, and has a 1″ wider track width than the Tacoma TRD Off-Road, and its front approach angle is an impressive 35 degrees. There's a 1/4″ thick TRD Pro Skid Plate up front to protect all the truck's mechanical bits – Chief Engineer Mike Sweers told us they listened to owner feedback and made the oil pan much easier to access than before.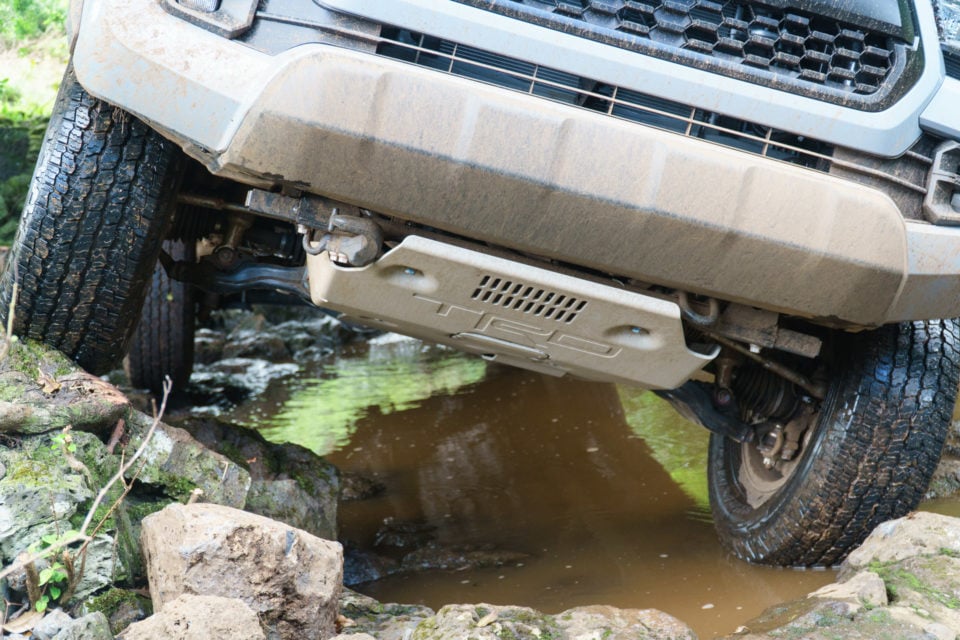 The 16-inch TRD Pro black aluminum alloy wheels are wrapped in Kevlar-reinforced Goodyear Wranglers, providing great confidence that you won't tear up your tires on rocky paths. Of course, I made quick work of the black and replaced it all with muddy brown.
Toyota kept its formidable 3.5 liter V6 under the hood, which pushes out 278 hp, and 265 lb-ft. of torque. It can split that power across all four wheels as needed, and there's also a locking rear diff for improving traction if needed. With a stainless steel cat-back exhaust system, the engine sounds great under acceleration too.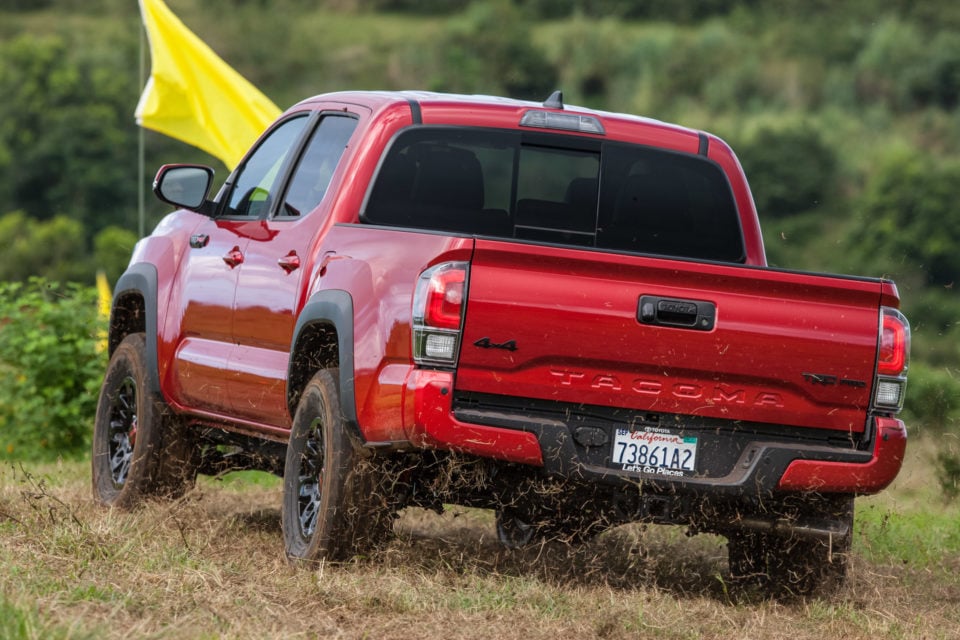 The 6-speed automatic transmission lets you focus on challenging terrain rather than shifting, but off-road traditionalists will be happy to know that they can get the truck with a 6-speed manual gearbox too. For those who like to tow, the TRD Pro includes a Class IV towing receiver, an engine oil cooler, power steering cooler, transmission cooler (on the automatic), an upgraded 130-amp alternator, and trailer-sway control. Maximum towing weight is 6,400 lbs.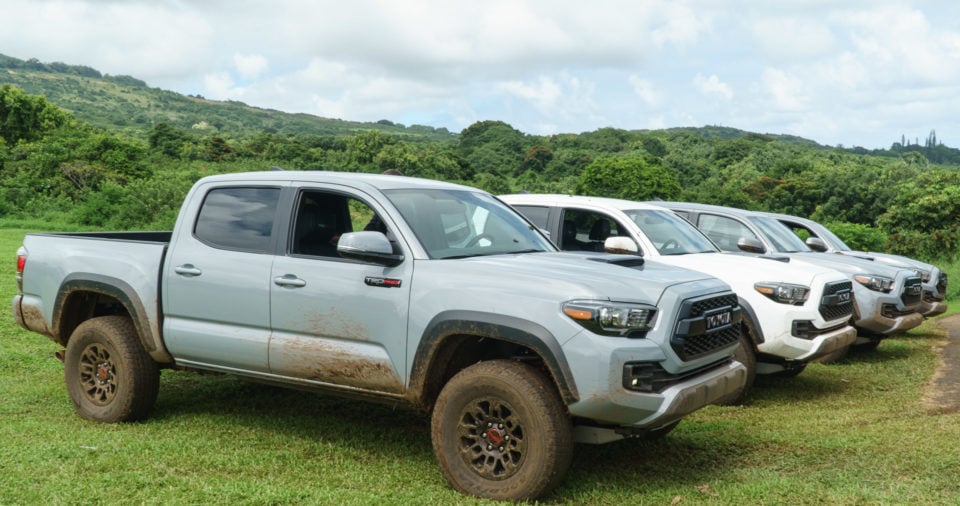 The automatic's Crawl Control system lets you concentrate on steering, automatically managing throttle and brake input. This was especially impressive as I used it to safely negotiate down a steep 41 degree slope, made up of crushed lava stone, coated in ample amounts of rainwater. The multi-terrain control system on the automatic helps manage traction in everything from loose sand and rock, to giant boulders and logs.
Digital inclinometer, roll and pitch gauges are helpful for steep and angular terrain, while custom integrated split-optic LED fog lamps from Rigid Industries are super bright for dark country trails. While I didn't get a chance to put these to the test, they're said to produce an enormous 15 x 20 meter light field, so you'll probably want to save these for off-road driving, and not blind people on the highway with them.
Like all Tacomas, the inside of the truck is fairly spartan and utilitarian, but I appreciate that Toyota went with leather seats, which clean up easily from mud and dirt. I also dig the embossed TRD Pro badging on the headrests, and subtle red accents around the cabin.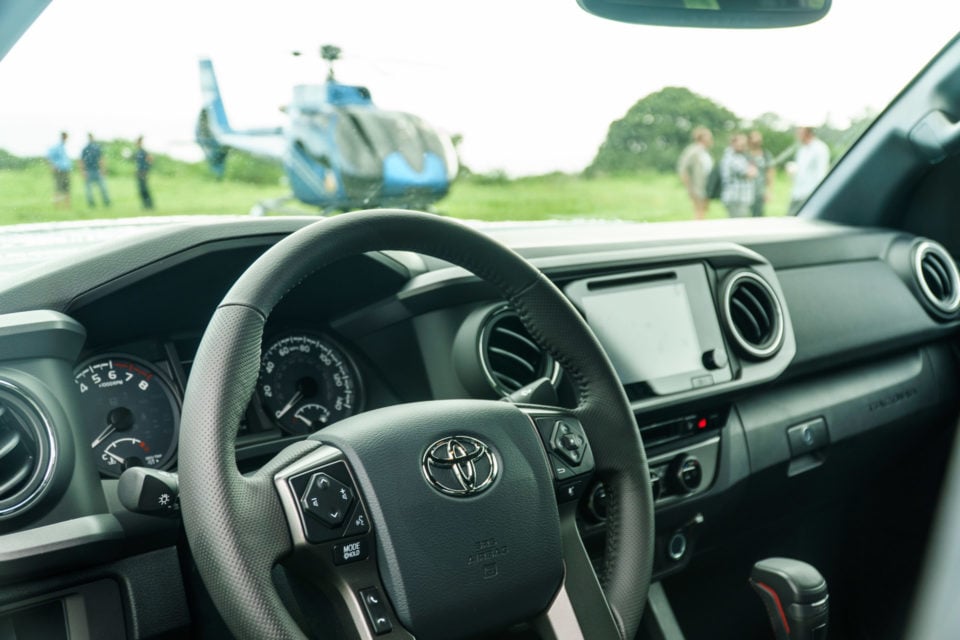 For those contemplating the Tacoma TRD Pro, it comes in just three colors at this point – metallic Barcelona Red, Super White, and my personal favorite, a glossy grey called "Cement." This will surely open up opportunities for Toyota to offer colorful special editions down the road, or maybe show up with some crazy colors at SEMA.
For a truck that can handle just about any terrain on the planet, the Tacoma TRD Pro is definitely at the top of my list. Off-road fanatics won't be disappointed. Retail price for the Tacoma TRD Pro starts at $40,760(USD) for the manual, and $42,760 for the automatic.