2016 Mazda CX-9 Grand Touring AWD: Driving Really Does Matter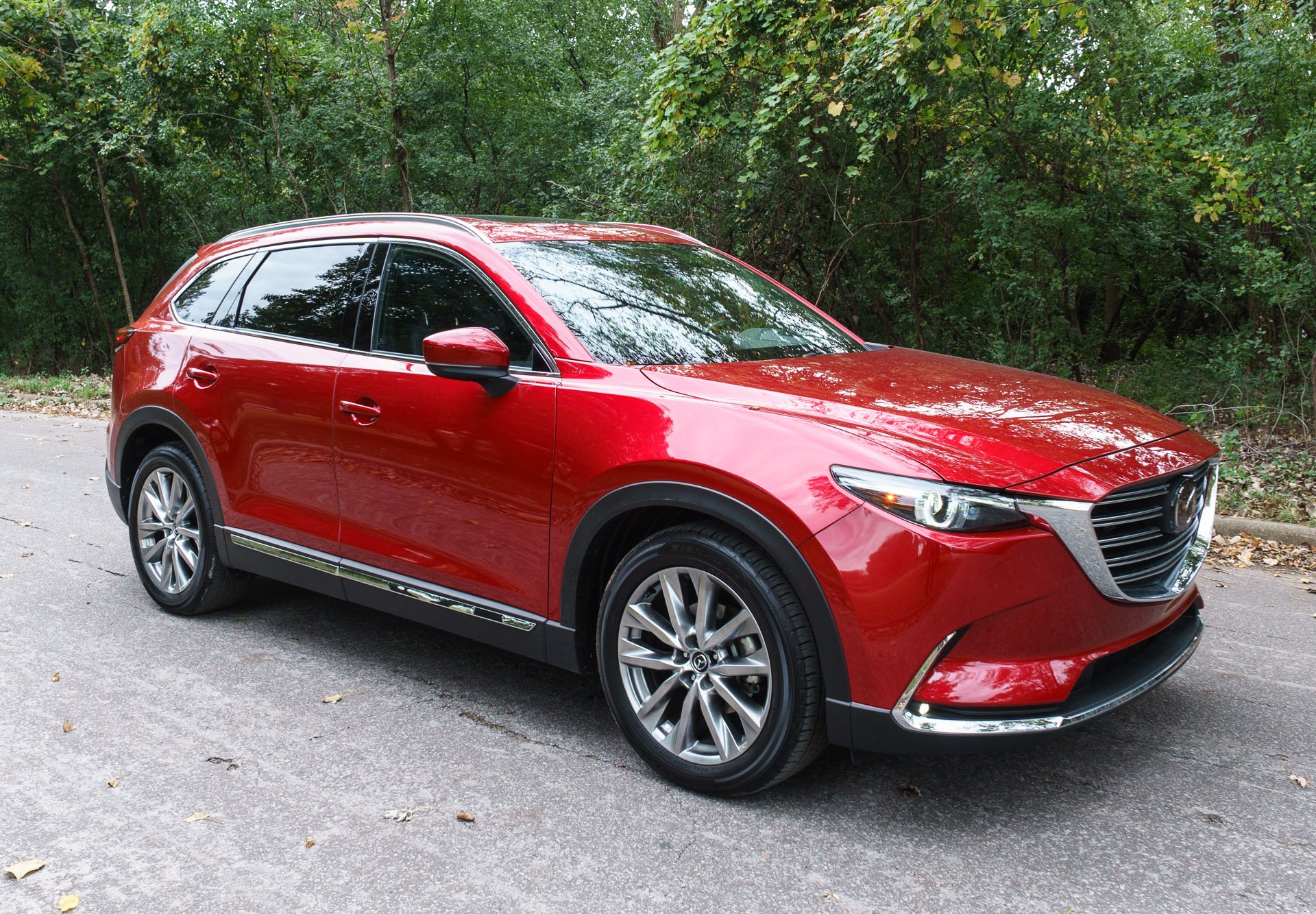 A little more than a year ago, I drove the last generation Mazda CX-9, and I rather enjoyed it. But with the completely redesigned 2016 model, the CX-9 has gotten even better – especially when it comes to styling and driving characteristics. Now I thought the old CX-9 felt smaller and more manageable than its dimensions would indicate, but if the old model drove like a crossover, the new model drives like a lively sedan. Mazda also pushed the design of the new model to be bolder and more distinctive than ever before.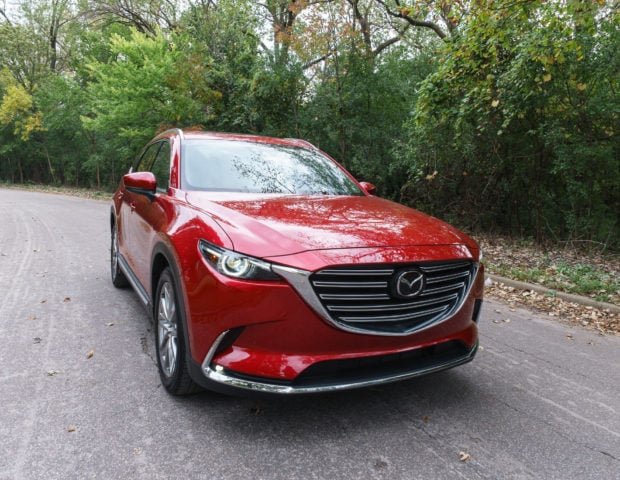 The new design fully embraces Mazda's "KODO Soul of Motion" aesthetic, with a dramatic grille that nearly consumes the whole front end, a sharp and angular bumper and front splitter. Its new profile seems much more long and lean than before, with a more sloped roofline, a higher, flatter hood, and shorter front and rear overhangs. With a 2.2″ increase in wheelbase, and a 1″ decrease in overall length, the result is a more sporty and aggressive look, and one that feels at home along the rest of Mazda's current lineup.
Mazda managed to trim almost 300 lbs of the curb weight this time around, making for a 7-passenger vehicle that weighs about the same as many 5-passenger models on the market. Its new turbo-4 engine significantly improves fuel efficiency, gaining 5 mpg across the board over last year's model.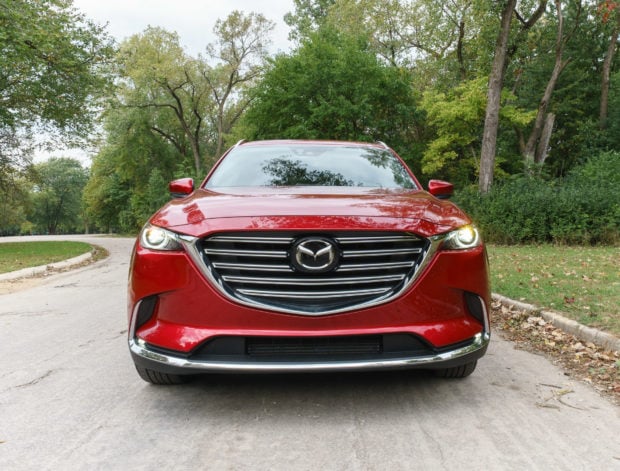 At 250 horsepower (on 93 octane gas), the turbo-4 makes 23 fewer horses than the old V6. Now you'd think that with a significant drop in horsepower, the CX-9 would feel more sluggish than before, but it actually feels much more responsive, thanks to a meaningful improvement in torque, up from 270 lb-ft. to 310 lb-ft. If ever there was an argument that torque matters more than horsepower in real world driving, it would be the CX-9. The turbo spools up instantly, offering immediate power even at low revs.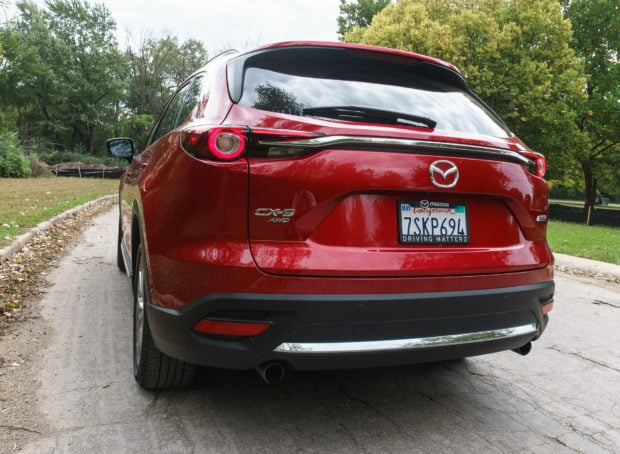 Thanks to refinements throughout the chassis, this CX-9 handles fantastically for its size. It feels shockingly light and agile for its size, and never feels top-heavy – an impressive achievement for a big SUV with more ground clearance than a Jeep Cherokee. Cornering is direct and responsive, and the suspension system soaks up bumps without feeling soft or springy.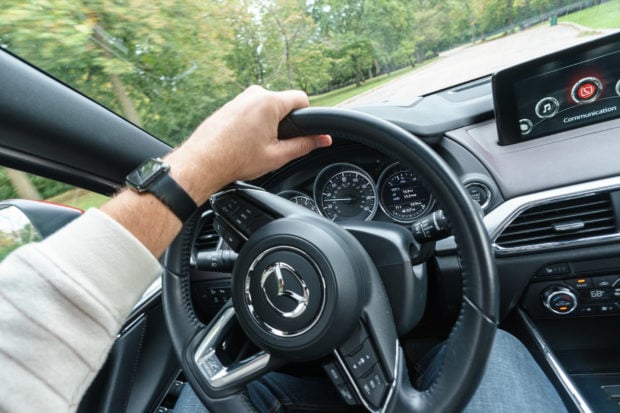 One challenge with the outgoing model was road and wind noise. Major improvements in insulation have made this a thing of the past, with the new CX-9 being whisper quiet inside – the only noise evident being the engine as it revs up. For me, hearing your engine working is a pleasant and rewarding sound, but I know that's not the case for everyone.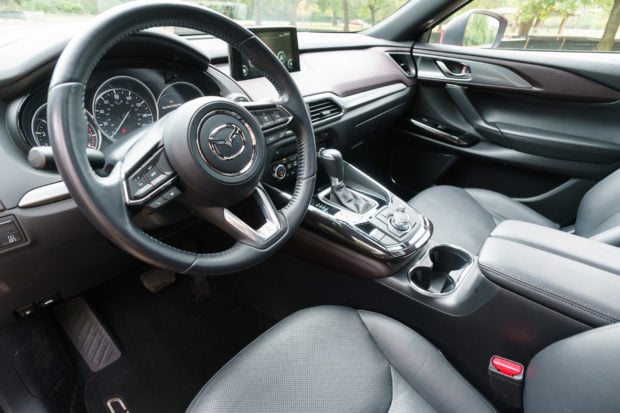 The interior of the CX-9 has been upgraded top to bottom as well, with a dramatically more streamlined and modern look than before. The dash and door panels flow seamlessly into each other with real aluminum trim, and there's a much improved 8″ color touchscreen, running Mazda's latest, though not completely feature-packed infotainment system. I find the combination of scroll wheel and touchscreen to be easy to use, and everything is intuitively placed in the interface. However, a few key tech features are missing at this point – a 4G hotspot, Apple CarPlay, and Android Auto, which have become fairly ubiquitous in the industry in the last year or so. Hopefully, these will arrive for the 2018 model year.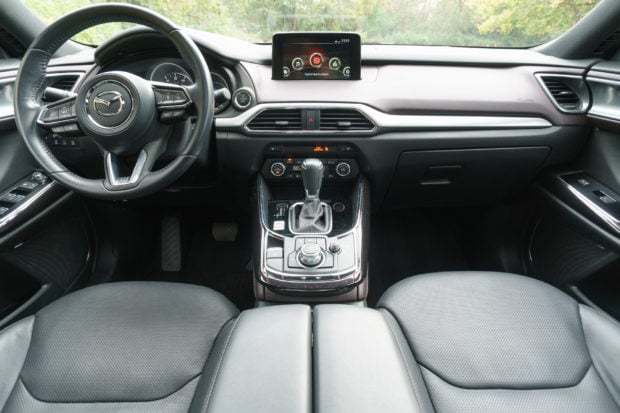 There's plenty to like about Mazda's safety and convenience tech, which includes blind spot monitors, radar adaptive cruise control, lane keep assist, a rear parking camera and sensors, and emergency brake assist. There's also an excellent, bright heads-up display which not only displays speed, tachometer, and navigation info, but has a simple, yet brilliant feature showing blind spot monitor status without having to glance over at your mirrors. Absent are front parking sensors, or around-view cameras though. While the cabin does gain a little light from a standard power moonroof, I would have preferred to see at least the option of a panoramic sunroof like so many other SUVs offer these days.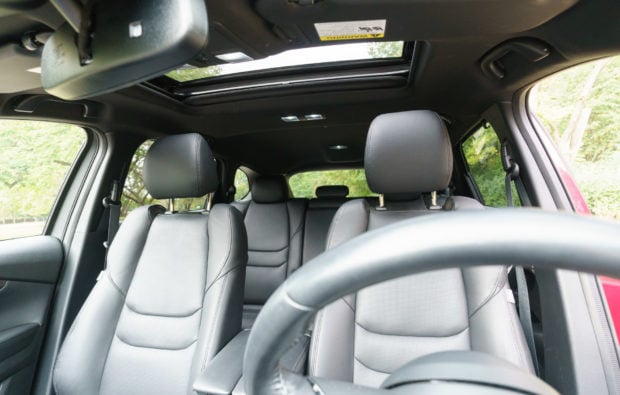 The 12-speaker sound system from Bose is one of the best I've heard from the company, with clean and natural sound, and plenty of volume to fill the cavernous cabin. The leather seats are comfortable and supportive, though I found the side bolsters to be a little more narrow than I like. They offer heat up front – and that's it. No cooling, and no rear seat heat. Middle seat passengers will be treated to expansive legroom and very good headroom, and the seats have 60/40 split tracks so the left and right sides can independently move forward to adjust legroom and provide access to row three. They also both recline.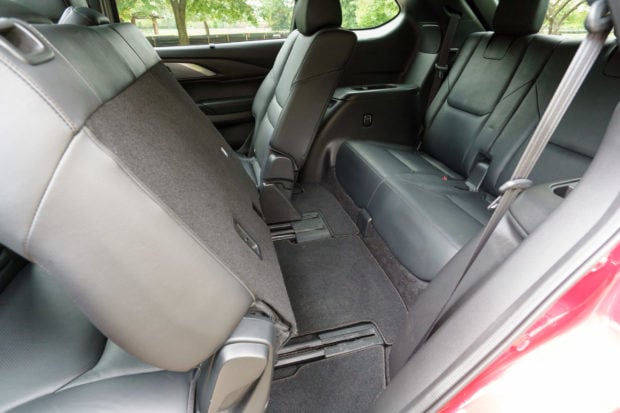 Speaking of the third row, it folds flat into the cargo area for those times that you don't need them, and can actually hold adult passengers in a pinch. I'm 6-feet-tall, and I managed to get back there with the middle row only pulled about 1/2-way forward. Legroom was workable, though headroom was just barely enough. The biggest challenge for me was the very small amount of space for my big size 13 feet to fit under the middle row. For kids or smaller adults, the third row will prove far more valuable than for those of us larger folks.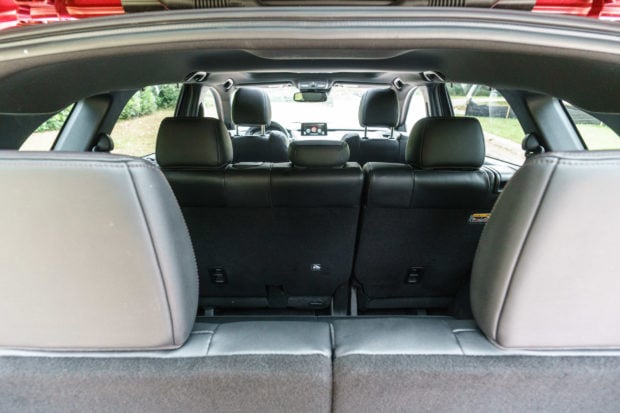 Cargo space did take a hit from the prior generation, but is still ample, with 14.4 cubic feet behind row three, 38.2 cubic feet behind the second row, and 71.2 cubic feet with both rows folded. The third row folds completely flat, while row two gets close enough to flat to allow you to load large flat objects. The CX-9 can also tow up to 3,500 lbs.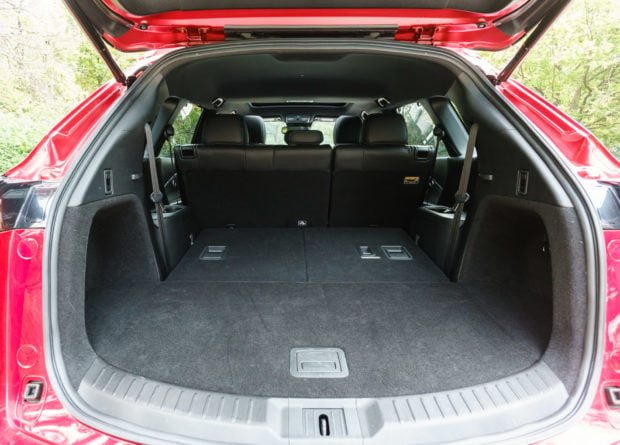 It's eminently clear to me that Mazda's engineers want people to not just get utility from their vehicles, but to actually derive pleasure from driving them. I guess there's a reason that "Driving Matters" is their slogan. The CX-9 drives phenomenally well for its size, and offers all of the utility and versatility that you'd expect from such a vehicle. There are a few competitive bells and whistles that Mazda doesn't offer, but they're not significant enough to dissuade me from saying this is my favorite 7-seater on the market.