2017 Chevrolet Cruze Hatchback: Hatching Fun
chevrolet | chevrolet cruze | hatchbacks | October 24, 2016
When I think of hatchback cars, I think of getting rides home from school in the old AMC Pacer that my friend's mom drove. On the coldest days, sitting in the back seat while the car was getting pelted with snowballs by the older kids, I thought to myself, "WE don't have a hatchback… I would never be able to see these snowballs coming without this big window back here." And I settled into the back seat, taking cover, with a big grin on my face.
That grin returned when I was invited to Detroit by Chevrolet to test drive the 2017 Cruze Hatchback. After all, it's not every day that we get to relive our childhoods, is it? The beloved Cruze is Chevy's best selling car worldwide, and as they enter the slightly older, more affluent and above all smaller hatchback market, it made me wonder if I'd get a sentimental feel from the newest addition to the lineup. What I ended up experiencing was definitely not the hatchback of my youth. It more fun, more versatile, and more stylish than its predecessors. But first, the details.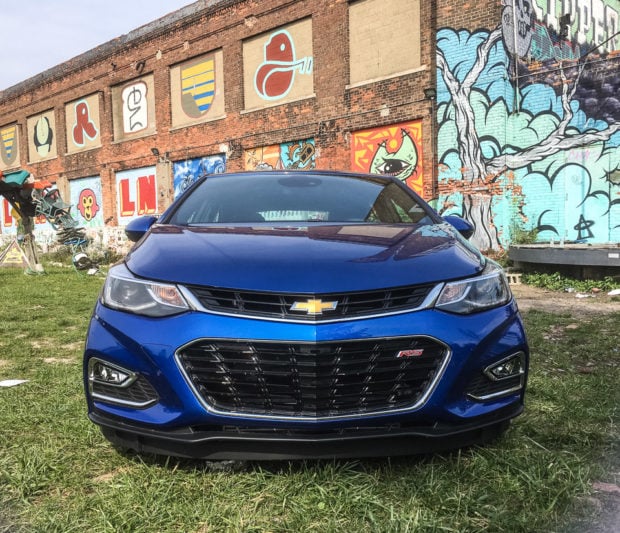 The Premier 1SF model has a 1.4L I-4 DOHC VVT variable turbo engine with direct injection, offered with either an M32 six speed manual, or a Hydra-Matic 6T35 six speed automatic. They're building out their lineup by releasing a diesel model too. The front-wheel drive hatch has 153 horses @5600 rpm and 177 lb-ft. of torque at 2000-4000 rpm. You get to 60 mph in 7.7 seconds, but since it's a compact car, the vroom-vroom factor is quite alive here.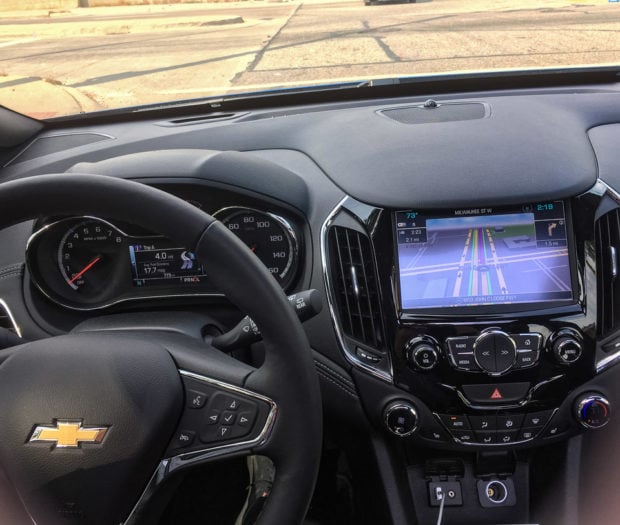 The RS designation gives you a hot hatch, with a rear spoiler, 18″ aluminum wheels, front fog lamps, and a sport body kit. Although it's stylish, the Cruze Hatchback is not an aggressively styled car. There's minimal monochromatic sculpting on the swooping snout and the sturdy back end. It's softly sculpted and has an approachable feel to it – a car that will faithfully and efficiently get you where you need to go, with all your gear in tow. The spacious cargo area is a big talking point for the this model, and with good reason. There's 22.7 cubic feet behind the back seat, and 47.2 cubic feet of storage with the seats dropped., There's plenty of room for all your fun stuff and your passengers; my golf clubs fit easily by dropping the 60/40 rear seat, with backpacks and bags accompanying them.
The interior is modern and minimal, with simple, organically styled curves on the dash. There's an 8 way driver power seat, keyless remote, leather wrapped steering wheel, heated front seats and a sweet six speaker audio system on the standard model. A nine speaker Bose upgrade is available. And of course there's the Apple Car Play and Android Auto capability; XM radio, 4G LTE and OnStar are also integrated into the system (which can be subscribed to after the designated trial periods). Plus, plenty of USB ports to keep everyone's devices humming. The best part is that everything feels intuitive. There aren't strange buttons and knobs that mislead or confuse; it is an intelligent, mise en place approach to an interior cabin. I actually think for young and new drivers it is a perfectly designed dashboard system, with all the modern comforts, luxuries and conveniences of home.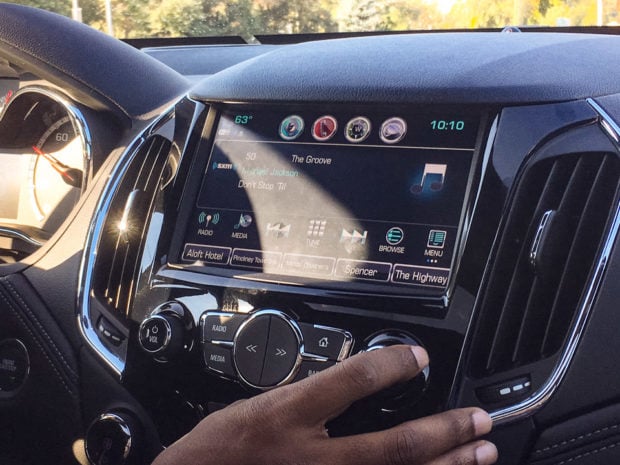 The Cruze Hatchback doesn't just offer appeal through familiarity; it's also safe. It is outfitted with Stabilitrak stability and traction control and a rear vision camera. Invest in the two additional Driver Confidence options and you'll get a rear park assist, Intellibeam high beam controls, and Lane Keep assist, among other benefits. There's also a Teen Driver feature, which allows parents to set controls and review driving habits even if they aren't riding shotgun.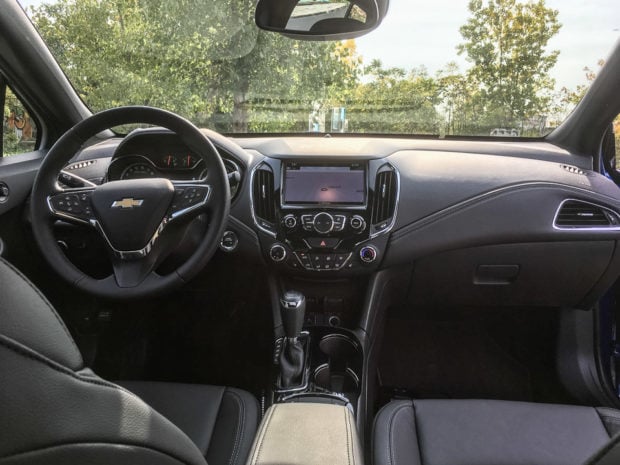 As far as the ride goes, what was promised was fun. And that is what I got. Once seated inside I was immediately comfortable. The RS package gives some urban edge to the car, and offers smooth shifting and sporty handling. Braking is responsive and turning is tight on its compact 106.3″ wheelbase. In other words, you can chill out, drop that (optional) sunroof and crank your tunes while feeling connected to the road. The only minor issue for me was the fact that you do not have an option to turn the engine Eco control off, so you'll get that initial lurch when you begin to accelerate from the braking position. But how can that possibly be a complaint on a compact car that gets 28 miles per gallon in the city and 37 on the highway?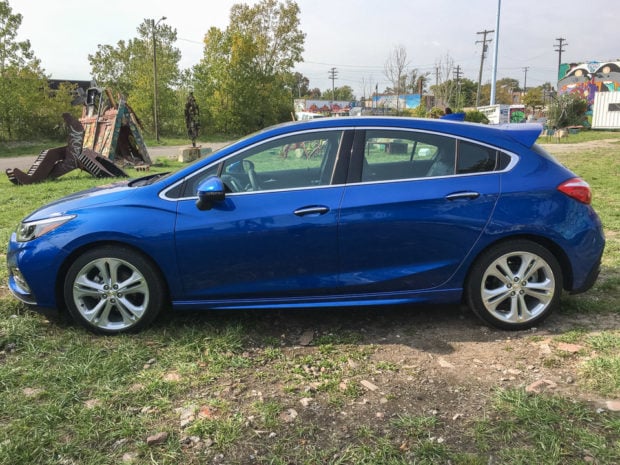 If you're looking for a solid ride with sporty versatility for your weekend adventures, getting ready to splurge or your first car, or have a younger driver in the household who has the same appreciation as you do for fuel efficient, safe wheels, you should put the Chevy Cruze Hatchback on your list. Pricing for the 2017 Chevrolet Cruze Hatchback starts at $22,115 (USD) for the LT manual, $22,795 for the LT automatic, and $24,820 for the Premier Automatic.