Review: 2017 Volvo S90 T6 AWD Inscription
volvo | volvo s90 | November 2, 2016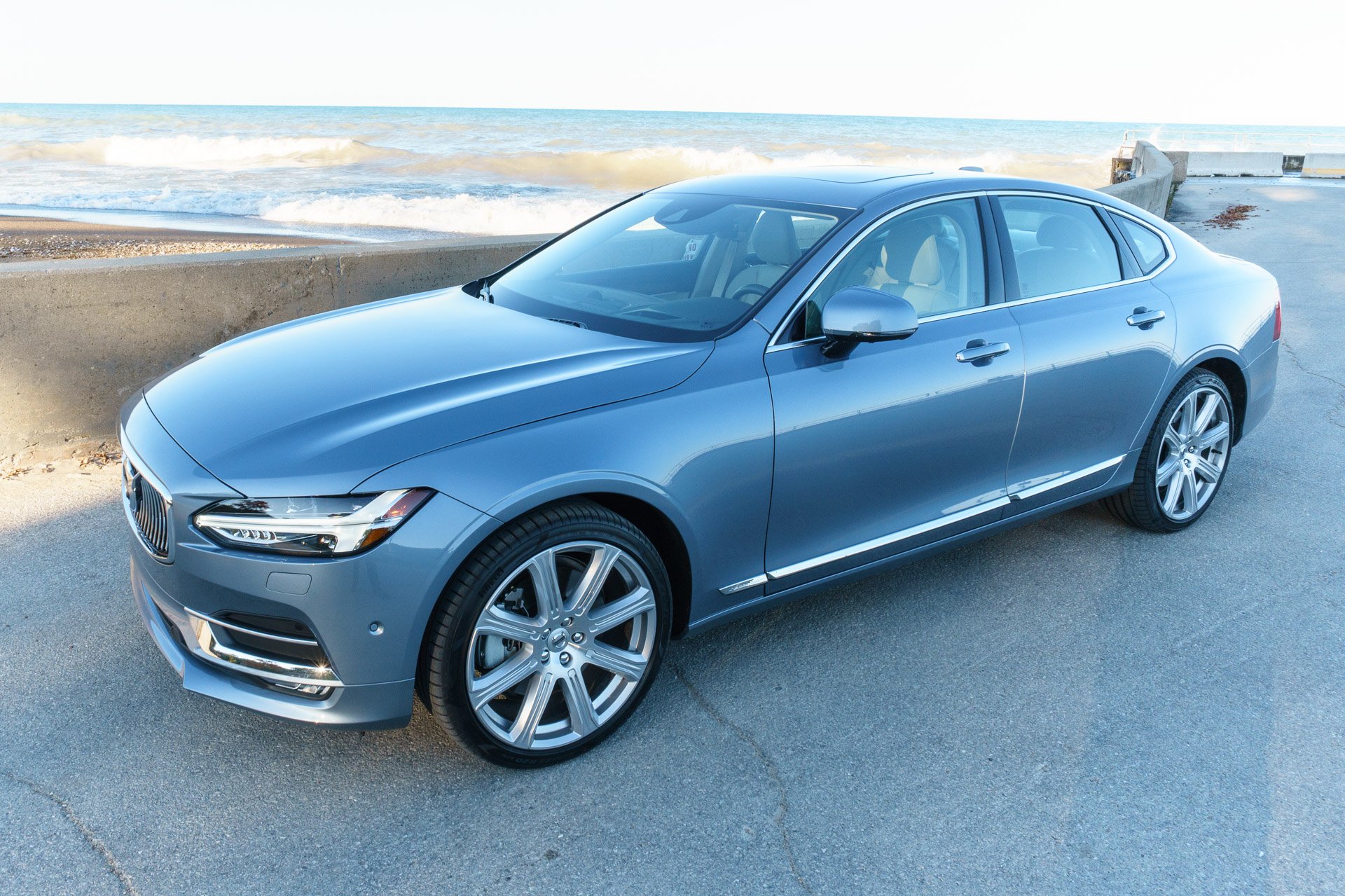 2017 Volvo S90 T6 AWD Inscription

Engine: 2.0-liter, turbo and supercharged 4-cylinder
Horsepower: 316
Torque (lb-ft.): 295
Transmission: 8-speed automatic
Drive Configuration: FWD or AWD
0-to-60 Time (secs): 5.7
City/Hwy/Combined MPG: 22/31/25
Curb Weight (lb): 4,222
Wheelbase (in): 115.8
Total Length (in): 195.4
Width (in): 79.5
Base Price (USD): $52,950
Price as Tested (USD): $66,105
For many years, Volvo has made vehicles which are well built, and extremely safe. However, while they excel at practicality and safety, they haven't really been objects of desire. That's all changed in the last couple of years, with beautifully designed and luxurious rides like the award-winning XC90, and now the new 2017 S90.
The S90 is Volvo's executive sedan, and this time around it truly is fit for an exec – especially when equipped with the premium Inscription package. The car is simply stunning, especially from the front or rear. It's outfitted with premium materials, offers great comfort and performance, and is packed with cutting-edge tech. Viewed from the front, the S90 looks like it means serious business, with one of the boldest and most eye-catching grilles on the market, a modern, concave take on the classic Volvo look, flanked by modern LED headlamps and dramatic "Thor's Hammer" T-shaped accent lights.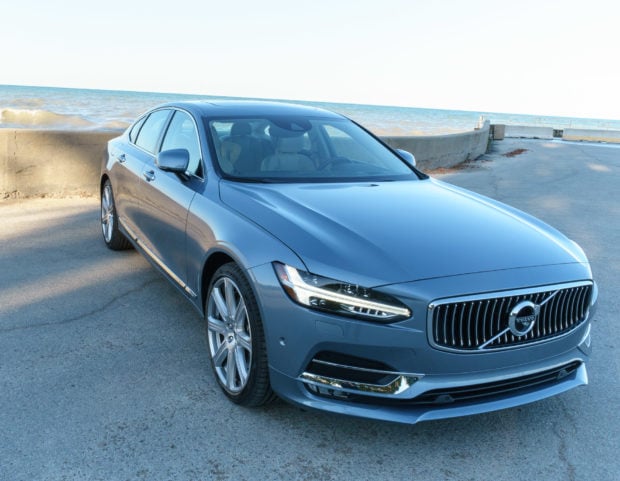 Around back, the S90 is similarly dramatic, with large C-shaped taillamps blending seamlessly from the rear quarter panels into the trunk lid, and grounded by dual wide-mouthed trapezoidal exhaust pipes. On profile, it's more traditionally sophisticated, reminding me more than a little bit of the similarly-sized Audi A6.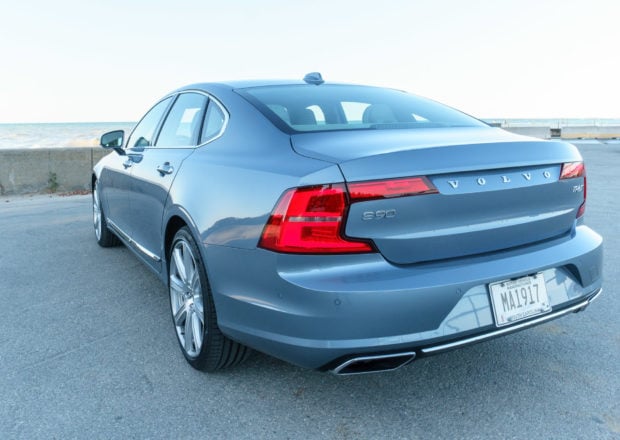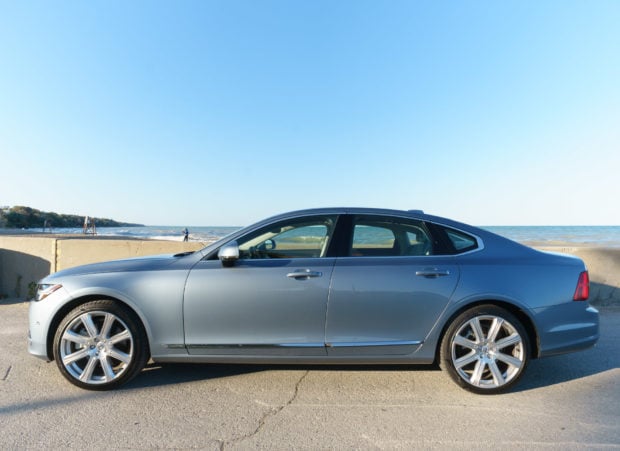 Under the hood, the S90 is currently available with two engine options – both based on a 2.0-liter 4-cylinder, with the T5 getting a 250hp turbocharged variant with 258 lb-ft. of torque, or the more powerful T6 variant I drove, which gets both turbocharging and supercharging to boost the engine to 316 hp and 295 lb-ft. of torque. An even more powerful hybrid edition arrives next year. Combined with a quick-shifting 8-speed automatic transmission, the S90 T6 gets off the line fast, offering very satisfying acceleration and passing performance. It also gets great mileage for its size, offering 31 mpg highway, 22 in the city and 25 combined.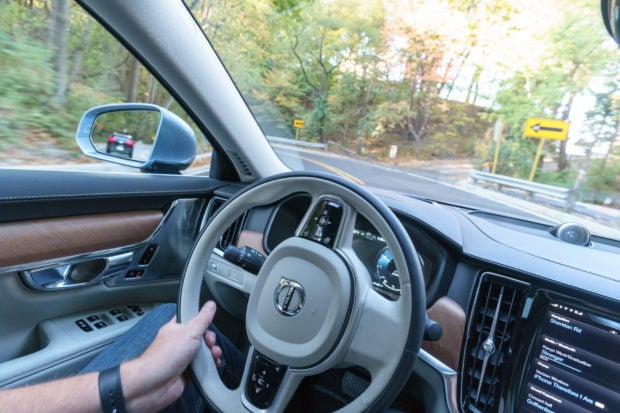 The car has multiple drive modes, including Eco mode which upshifts earlier to save fuel, Comfort mode for everyday driving, and Dynamic mode which not only makes for more aggressive shifting, but increases steering weight, and tightens up suspension and braking dynamics. Both Eco and Comfort modes default to using start/stop technology to save fuel at traffic lights. There's also an Individual mode, where you can adjust each of these parameters independently and save them. This is a feature usually found in exotic sportscars, not luxury sedans.
This is one common thread throughout Volvo's technology package – almost everything can be customized to your personal tastes.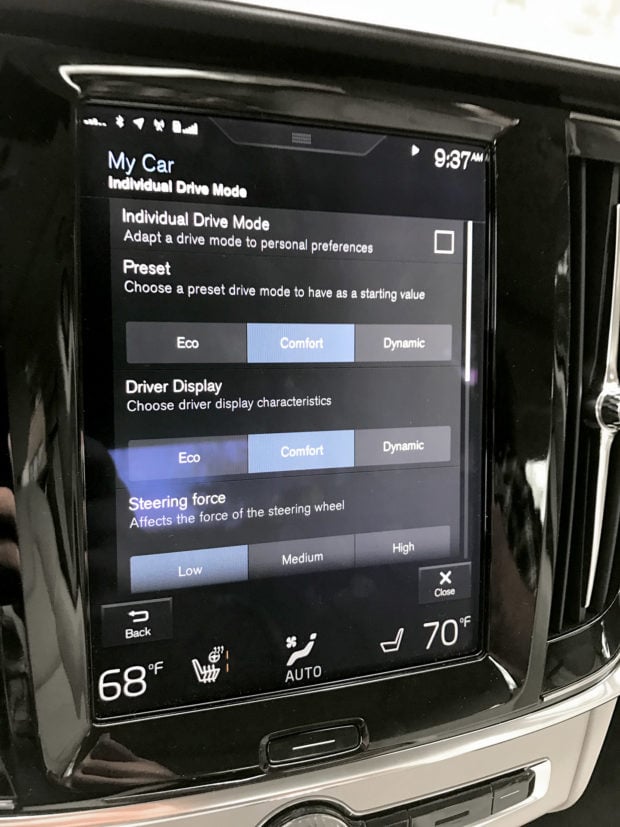 Even riding on big 19″ wheels wrapped in Pirelli P-Zero tires, the S90's ride is quiet and comfortable. Overall, its ride is oriented towards comfort, absorbing whatever bumps the road throws its way. It rolls softly through the corners but without feeling mushy or uncontrolled. It's a true pleasure to drive, with plentiful power, great ride comfort, and a quiet cabin. And what a cabin it is.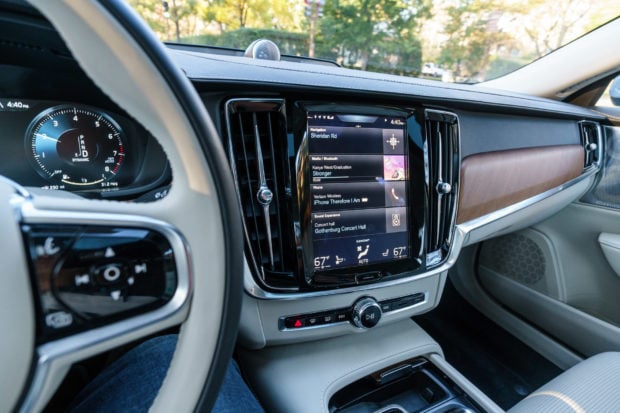 Volvo went the extra mile to make its interior as good or better than any of its European and Japanese luxury competitors. Its design aesthetic is one of Swedish minimalism, both in terms of layout and materials. The dash and center stack are well organized, and buttons and knobs are used very sparingly. Of particular note are the matte-finish walnut wood inlays, aluminum trim, and two-toned leather found throughout the cabin. I particularly appreciate the way the grey and almond leathers come together to wrap the steering wheel. I also like how all of the bright LED lighting matches throughout the cabin. All too often this little detail is overlooked, and the mirror lights or the overheads are old incandescents. Not so in the S90.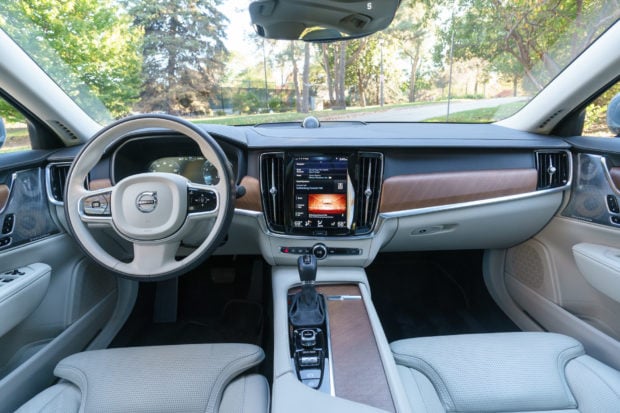 Build quality is excellent throughout the cabin, without a stitch out of place, or the slightest creak or rattle while driving. Now keep in mind that the current S90 is built in Volvo's factory in Sweden, and the company just announced plans to move S90 production to China at some point, so there could be quality differences down the road. Hopefully not.
The front seats are extremely comfortable, offering 10-way power adjustments, heating and cooling, and there's heated seats for the rear passengers. Legroom and headroom is great throughout, offering plenty of space for five full-size adults, though I wish the rear seats would fold to increase cargo space. As it is, there's just a pass-through for skis or longer items. The trunk offers just 13.5 cubic feet of storage, though it seems bigger than that thanks to its depth.
The S90's ride and design is among the best, but it shines even more when it comes to technology. At the heart of things is a 9″ portrait-mode touchscreen, which provides access to all of the car's settings, media, navigation, telephony, and other features from a single interface. Besides being a crystal clear display, it also gradually dims and brightens based on ambient light, rather than just simply flipping between a day or night mode like most cars.
I've driven a whole lot of cars, and I've seen no other user interface that's this smartly and consistently designed. There are three key panels – one for vehicle settings, one for the home screen, and another for applications. A simple swipe across the screen moves you between them, just like using an iPad. Swipe down for quick access to a digital owner's manual or an overview of all settings.
When using a feature like nav or the radio, it goes front and center on the home screen. The other key functions are still accessible, but collapse to get out of your way. And if you ever get lost, there's single button at the bottom of the screen that takes you back to the home screen. I'm usually pretty evangelical about including tactile controls for climate control, but I really didn't miss them here.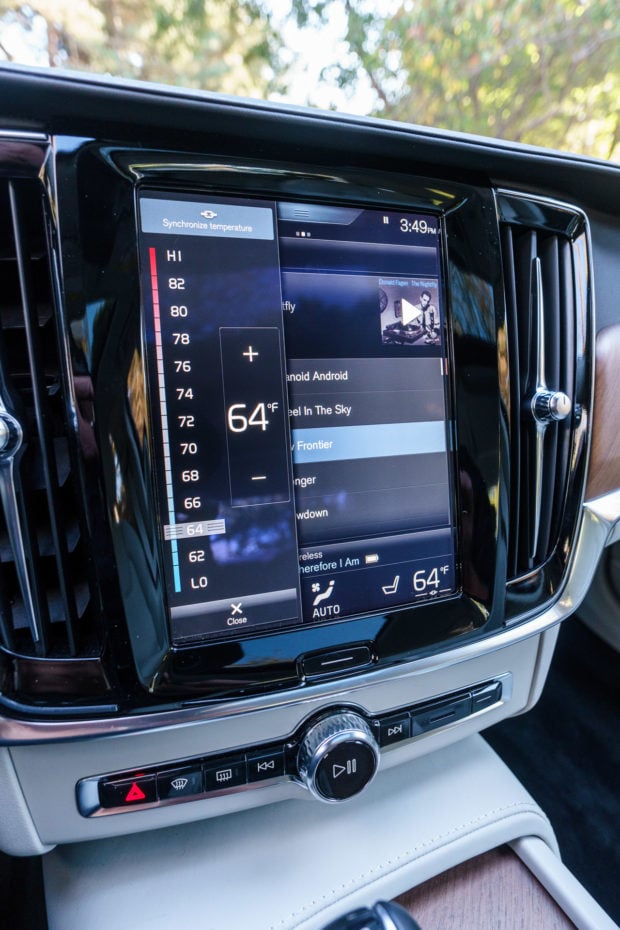 In addition to the center stack display, there's also a 12.3″ digital dashboard, which can show not only speedometer and tachometer, but navigation turn instructions and other supplemental information in the center. It can even be customized with different visual themes.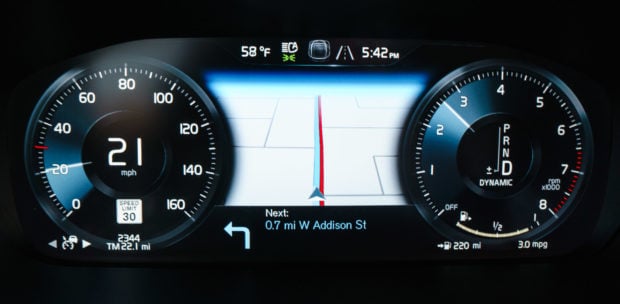 The available safety, tech, and convenience features are too numerous to list them all here, but some of the highlights include road sign detection, blind spot monitors, auto-hold brakes, city collision warning, the sharpest backup camera I've ever seen, 360º surround cameras, parking assist for both entering and exiting parking spaces, a heads-up display, front and rear parking sensors, active bending headlamps, four-zone climate control (for front/rear passengers), and a Wi-Fi hotspot among others. Apple CarPlay is also nicely integrated into the UI, though Android Auto isn't available at this time.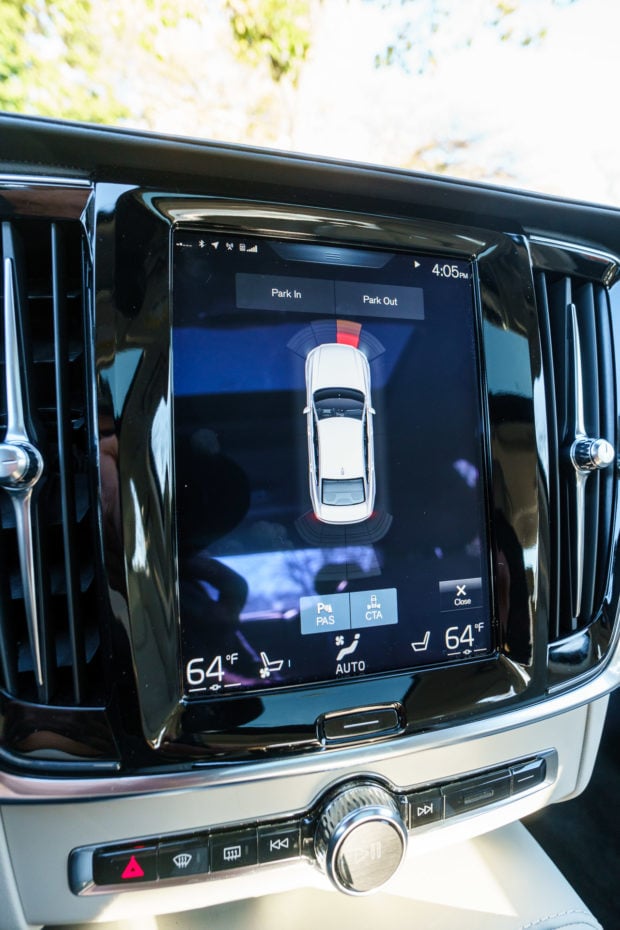 Volvo's cruise control and lane-keeping assist features are some of the most sophisticated on the market, offering several different modes which provide varying degrees of autonomy. You can go with a traditional cruise control mode, full-speed adaptive cruise, or a mode called Pilot Assist 2. This mode is designed to combine the adaptive cruise with a degree of steering assistance. Basically, it helps you steer on the highway, letting you provide just a bare minimum of steering input. I personally found this feature a little strange – making lots of little corrections as I moved into long sweeping curves where I normally would have just made one gradual turn. I know that full autonomy isn't too far away, and would rather wait for that. In its current execution, it's a bit of a half-measure. On the other hand, the adaptive cruise is brilliant, and definitely will help with driver fatigue on long road trips.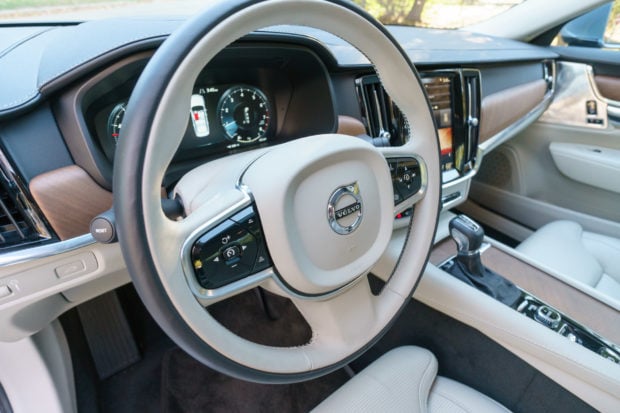 I also highly recommend the $2,650 splurge for the Bowers & Wilkins Premium Sound System, which will treat you to one of the best automotive audio experiences out there. It's not a $10,000+ Burmester or Naim system, like you'd find in an S-Class or a Bentley, but it's pretty darned close in terms of overall sound quality.
The B&W sound system not only offers extremely crisp and clean audio with plentiful volume, but some fantastic customization features. While many will be lured in by the "Gothenburg Concert Hall" and it's echo effects, it's the "Individual Stage" mode which is super impressive, allowing the driver to cater the intensity and envelopment of their own personal soundstage.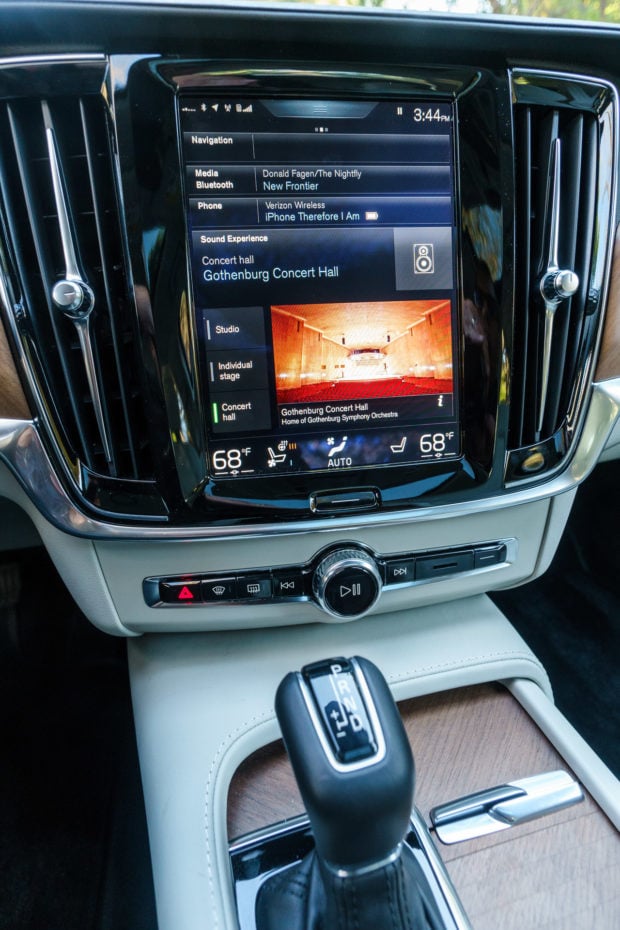 Volvo has really knocked it out of the park with the 2017 S90. Unlike some cars on the road, it's obvious that design and engineering worked closely together throughout, resulting in an incredibly consistent and integrated vehicle on every level. It's elegant and substantial, powerful and quiet, and smarter than just about every other car out there.