This Wrapped BMW i8 Looks Like an Old Rustbucket
The BMW i8 is a rare car that you don't see often as it is. For singer Austin Mahone owning a seldom seen $140,000 electric sports car apparently wasn't enough. He took his i8 to a place called MetroWrapz in Hollywood, Florida to get some customization.
Since the car is an EV, it's not like you can get an exhaust system or anything like that. What these guys did was wrap the i8 in a questionable rust wrap that doesn't really make the i8 cooler in my eyes. Maybe it's a theft deterrent like the old Chameleon XLE.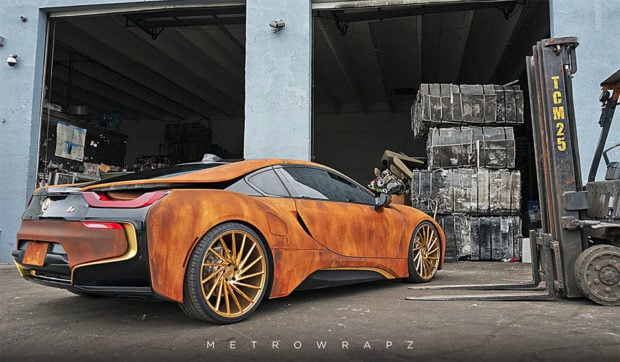 If that rusty wrap wasn't enough, they also put some ugly gold wheels on the ride. The upside is all this work can be undone down the road, with the wrap peeled off and the original wheels put back on.