Red Bull F1 Car Takes to the Slopes
f1 | max verstappen | red bull | snow | December 26, 2016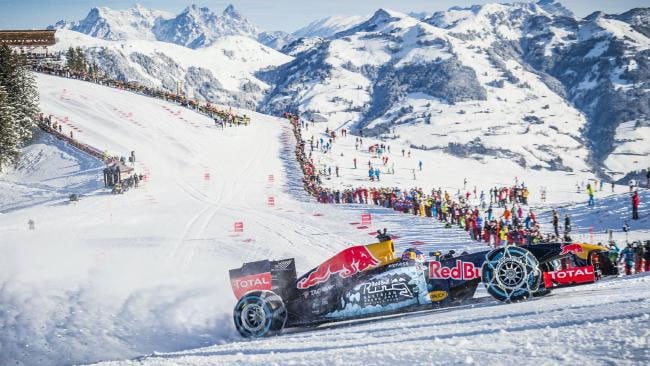 Red Bull recently put driver Max Verstappen behind the wheel of one of its F1 cars that was modified for a specific purpose. This car was fitted with spiked tires and snow chains so Max could drive it in the snow. Specifically, Max and his winter-outfitted racer headed to the Streif ski course in Kitzbuhel, Austria.
I don't even want to know how hard it was to drive an 800hp rear-wheel drive racing car on snowy hills. Max did some donuts, then drove up and down a gentle ski run:
If you're curious, this is the same car that ran some drag races last year with Daniel Ricciardo behind the wheel. Techs retuned the car to make it easier to handle in the snow. Specifically, the throttle mapping was changed to make it easier to control.