Review: 2017 Mazda6 Grand Touring
mazda | mazda6 | December 30, 2016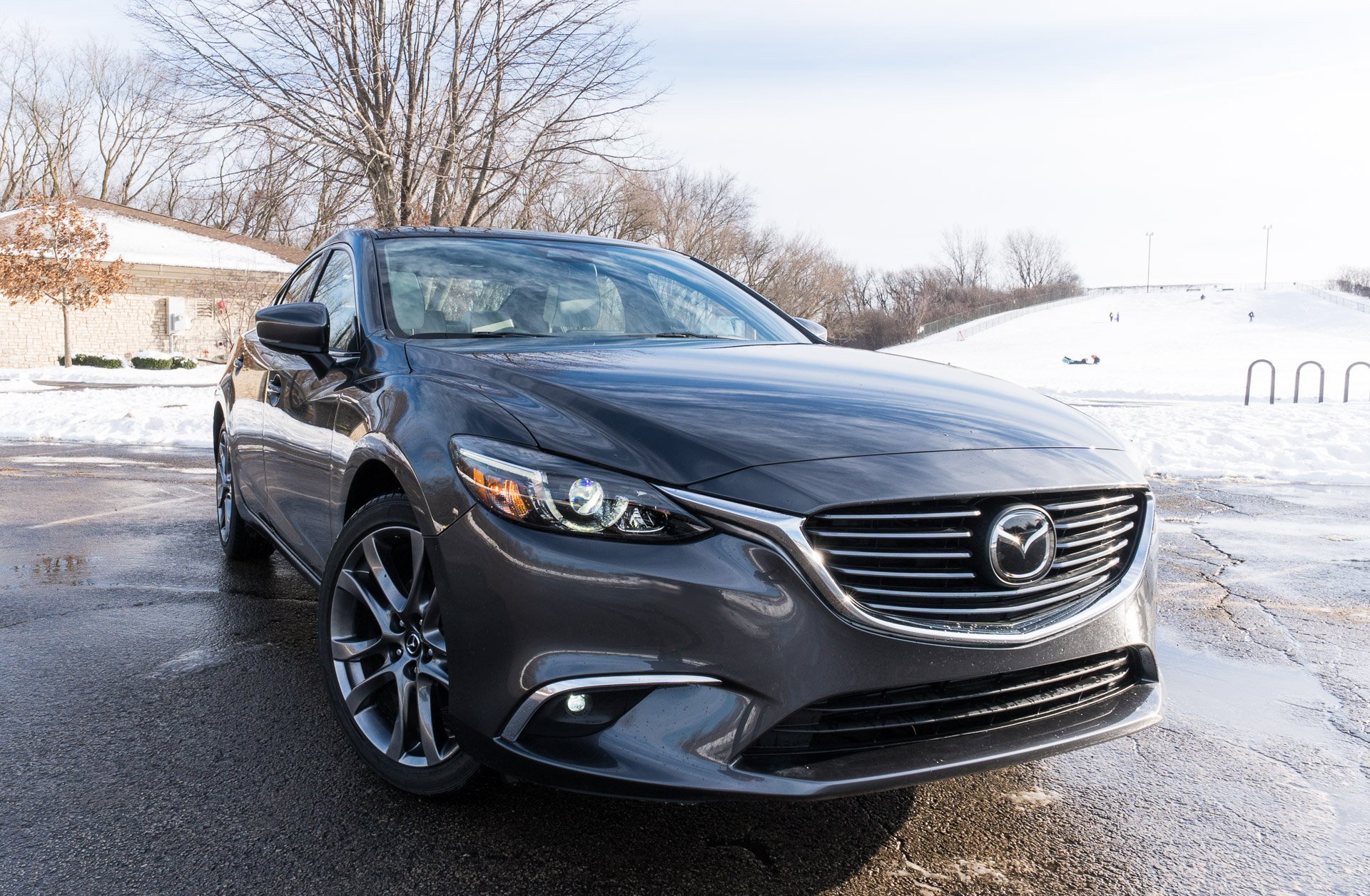 2017 Mazda6 Grand Touring

Engine: 2.5-liter 4-cylinder w/VVT
Horsepower: 184
Torque (lb-ft.): 185
Transmission: 6-speed automatic (avail 6-speed manual on Sport/Touring trims)
Drive Configuration: FWD
0-to-60 Time (secs): ~7.3
City/Hwy/Combined MPG: 27/35/30
Wheelbase (in): 111.4
Total Length (in): 191.5
Width (in): 72.4
Base Price (USD): $30,695
Price as Tested (USD): $34,530
Not that long ago, Mazda changed its tagline to "Driving Matters," and in a rare case of a product living up to its marketing message, I think Mazda has truly delivered on that promise. I can't name another full-line manufacturer whose entire line-up has such consistent concern for the driving experience. From the impressively well-mannered full-size CX-9 SUV to the zesty and fun MX-5, the entire Mazda line was clearly designed and engineered by folks who love to drive. The mid-size Mazda6 sedan is no exception, offering an enjoyable and all-around quality ride.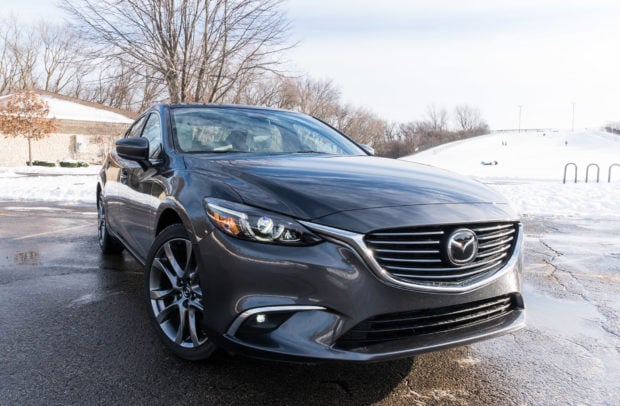 The 2017 Mazda6 carries forward the same appealing and dynamic design aesthetic now found in every vehicle in the Mazda line, with sporty contours and one of my favorite grille designs in the industry. In its most premium trim, the Grand Touring, that grille is flanked by bright LED headlights and rides on dark silver finished 19″ alloy rims which are just the right size for its athetic proportions.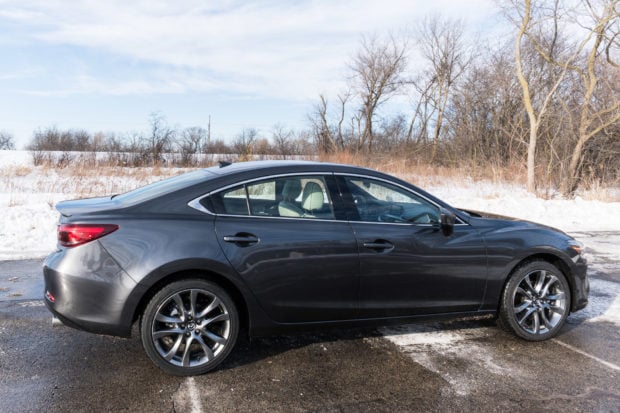 From the side, every Mazda6 gets upscale touches like chrome trim around the windows, beneath the grille, and along the trunk lip. The Grand Touring also gets a small lip spoiler on the trunk that's more aesthetic than functional, but gives it more of a finished look.
Beyond sleek and modern looks, what really sets Mazda apart from the pack is its obvious passion for the way their cars drive. Whether you drive a sedan, crossover, SUV, or sports car, the idea is that it should be something you look forward to, and not just in terms of features, but the way the driver connects with the car. While the Mazda6 is probably the least thrilling car in the current Mazda lineup, it's still leaps and bounds beyond much of its competition in terms of overall driving dynamics.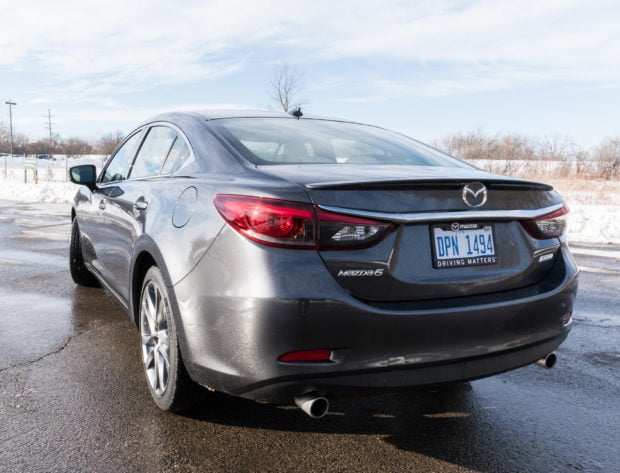 Powered by a 184 hp naturally-aspirated 4-cylinder engine, it's not exactly a speed demon, but you quickly forget about such things when you're sitting in an environment that's as comfortable and well-behaved as this one. Mileage is quite good as well, offering 27 mpg in the city and 35 mpg on the highway. I averaged about 29 mpg in mixed driving during the week I drove the Mazda6. These numbers are 1 mpg higher than the base model, thanks to the optional i-ELOOP regenerative braking system, which recaptures energy like a hybrid does, but in this case it uses the electricity solely to power the car's 12v accessory system.
Handling is exceptional for a front-wheel drive vehicle, with a nice and direct steering feel, and a suspension that errs on the firmer side of things. That's not to say it's harsh in the least – it's just not soft or mushy, and body roll is really well managed so you always feel in control. The 2017 Mazda6 is the first North American Mazda to get their G-Vectoring Control system, which helps improve overall cornering response and significantly improve corner stability by dynamically adjusting torque application to help keep the car balanced.
Manual diehards will be happy to know that the Mazda6 can still be had with a manual transmission, though only in Sport and Touring trims. The car I drove featured the 6-speed automatic, which shifted smoothly and predictably. There are paddle shifters as well, though I found little occasion to use them.
There's a little bit of wind noise that makes its way into the cabin, but overall the interior is quiet and free of vibrations or rattles. Of particular note are the leather-stitched sport seats, which are extraordinarily comfy, and offer great support and bolstering.
The upgraded off-white parchment Nappa leather with grey trim elements looks great, though I'm always a bit wary of the long-term issues of keeping light-colored seats clean. Fortunately, the interior can be had in a fantastically rich black material with espresso brown accents.
Front passengers are treated to heated seats and good degree of power adjustability, while rear passengers get heated seats as an option. A power moonroof comes standard on the Grand Touring trim as well. Legroom is good in the rear, and there's room for 3 adults back there, though headroom is a little tighter than I prefer, with just about an inch above my head when I sat in the rear. One thing I love about the Mazda6 is that the back seat can fold in a 60/40 split, dramatically increasing cargo space over and above the standard 14.8 cubic foot trunk.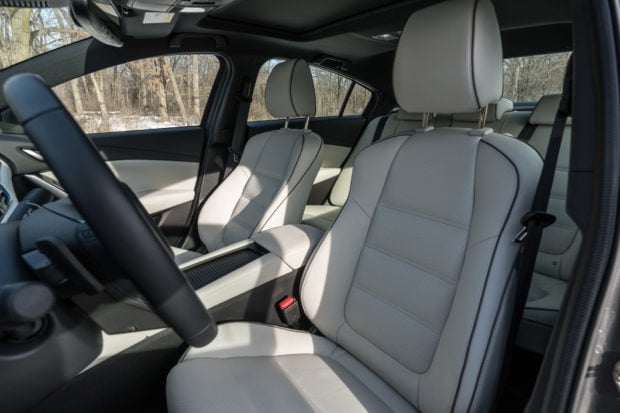 Cabin ergonomics are good, offering well placed buttons, knobs, and controls, and a simple and clean analog display cluster. Convenience features include dual-zone climate control, rain-sensing wipers, heated side mirrors, auto-dimming rear and driver's side mirrors, and pushbutton start/stop. A heated steering wheel comes along with the optional GT package. The Mazda infotainment system is one of the more simple and intuitive on the market, and while it's fairly spartan in terms of advanced features, it gets the job done, and is easy to use via either a control wheel or touchscreen input. Those looking for Apple CarPlay or Android Auto will have to look elsewhere.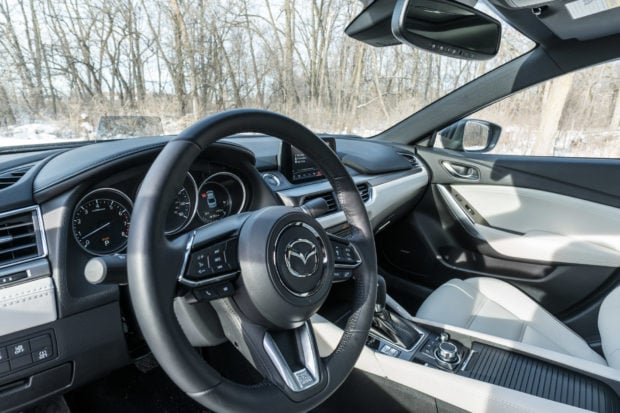 When it comes to safety tech, the Mazda6 is quite well equipped, offering blind spot indicators, a backup camera, adaptive cruise control, lane departure warning with lane keep assist, traffic sign recognition, automatic emergency braking from 9 to 99 mph, and a city emergency braking capability which can detect cars, large objects, and even pedestrians when driving, and intervene if needed.
There's also a small heads-up display that shows speed, road sign, navigation, and blind-spot information. It's functional, but I've never been a big fan of this type of display that sticks out of the dashboard instead of being reflected directly onto the windshield. The new CX-9 has moved towards the latter approach, so I'm hopeful the Mazda6 will do the same next year.
The bottom line is that the Mazda6 is a great car to drive. It's visually quite appealing, comfortable, and offers handling, steering, and an overall ride feel that's more sporty than cushy. It's not the most technologically advanced car in its class, but it's one of the most enjoyable sedans to drive on a daily basis, and given Mazda's tagline, that's what matters most.