Review: 2017 Toyota 86
toyota | toyota 86 | January 7, 2017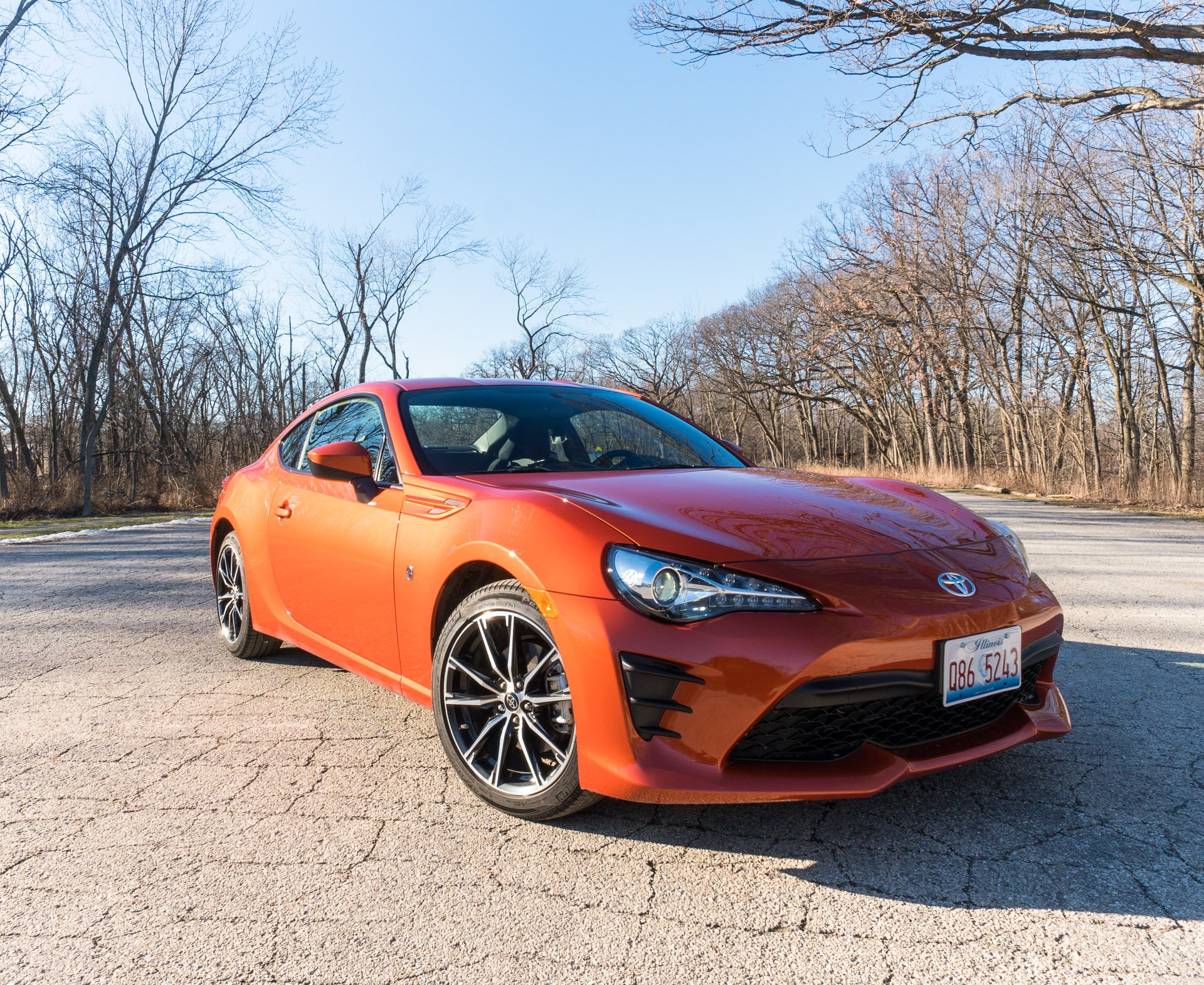 2017 Toyota 86

Engine: 2.0L 4-Cylinder
Horsepower: 205 (MT) / 200 (AT)
Torque (lb-ft.): 156
Transmission: 6-speed manual or automatic
Drive Configuration: RWD
0-to-60 Time (secs): 6.4
Top Speed (mph): 136
City/Hwy/Combined MPG: 21/28/24 (MT) / 24/32/27 (AT)
Curb Weight (lb): 2774 (MT) / 2815 (AT)
Wheelbase (in): 101.2
Total Length (in): 166.7
Width (in): 69.9
Base Price (USD): $26,975
Price as Tested (USD): $27,840 (w/delivery)
There's nothing quite like a proper rear-wheel drive sports coupe. The way they push you down the road, and have a tendency to oversteer, they're almost always more fun than their front-wheel drive (and often all-wheel drive) counterparts. The Toyota 86 is one such RWD car that offers great driving entertainment for not a whole lot of money.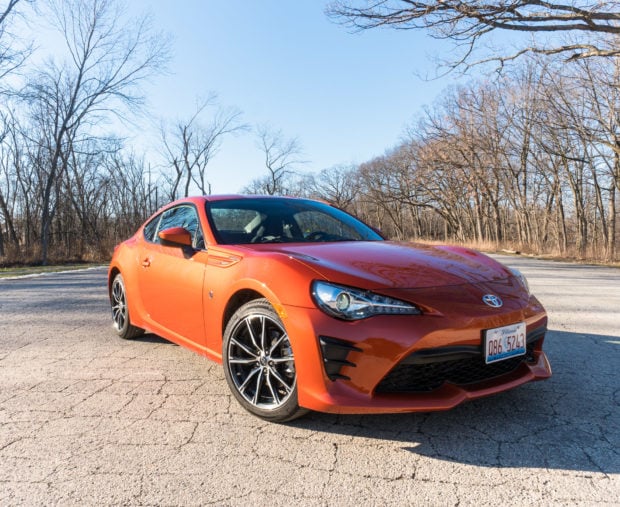 Formerly sold as the Scion FR-S (and still sold in Subaru BRZ packaging), the 2017 Toyota 86 is largely the same as the Scion it replaces. There are minimal changes to the front end, with sporty looking fins flanking the honeycomb grille, a more aerodynamic chin spoiler, and new LED daytime running lights. Out back, there's an updated rear diffuser to improve airflow, and the vortex generators along the tops of the fenders not only look cool, but help improve stability. Beyond those tweaks, the only real cosmetic difference is the addition of more prominent "86" badging throughout the car. Not that the car needed any big design changes. I already think it's quite sexy – especially in the Hot Lava orange color of my review loaner.
The 86 is a well-proportioned car overall with its cabin-rearward design helping provide extra weight over the rear wheels, and an excellent 53/47 front-to-rear weight distribution. Its short rear end looks great, though it does limit cargo space, especially since there's a rear seat. I'd rather see a hatchback and lose the impractical back row, but as I understand it, 2+2s mostly exist to keep insurance premiums lower. That said, I drive a 2-seater, and my insurance is not much worse now than it was with a 2+2.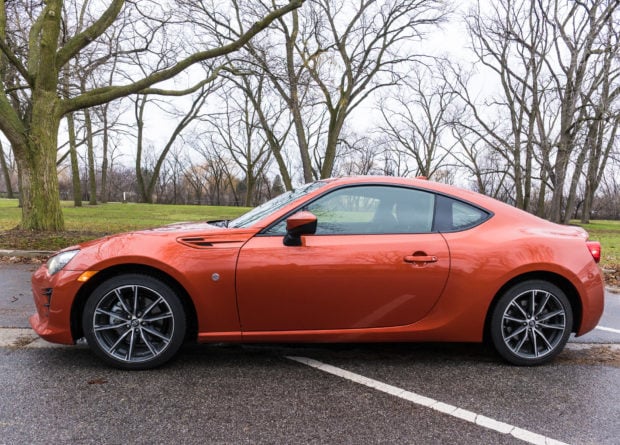 The 86 comes from the factory with clean and sporty looking 17″ alloy wheels, and mine were shod in Michelin Primacy HP summer tires. Fortunately, there was no snow on the ground this week in Chicago, so I actually got to enjoy them. You can also upgrade to TRD 18″ alloys which add about $1000 to the price, plus the cost of tires.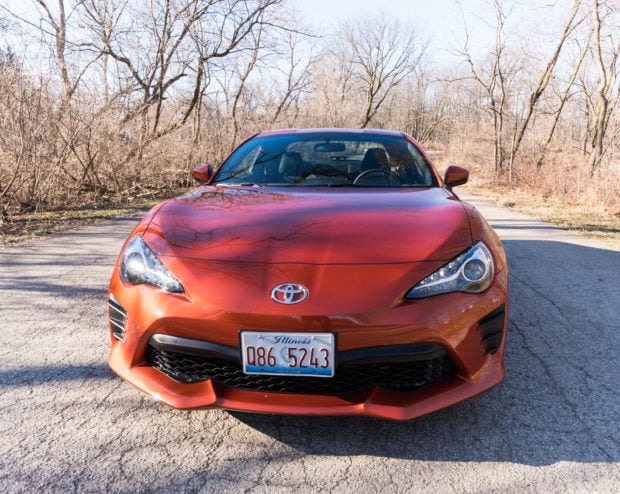 Under the elongated hood sits a 2.0-liter Subaru Boxer engine. This naturally-aspirated DOHC motor produces 205 horsepower when paired with the manual transmission, and 200 horses with the automatic. This high-revving power plant provides an entertaining 7,400 RPM redline, though its exhaust note is pretty tame in the stock 86. There's an $1100 TRD performance dual exhaust which offers a much more impressive rumble if you like noise candy.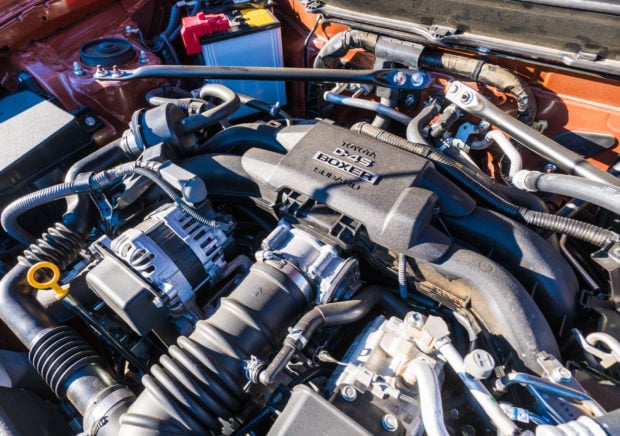 Last time I drove an FR-S, it came with the 6-speed manual, which was definitely more engaging than the 6-speed automatic I drove this time around, but the sequential auto is well-behaved, offering up sporty and satisfying shift points along the way. There's a pair of paddle shifters too, so you don't have to feel left out from the shifting process, and as long as you switch into "M" mode, it won't upshift until you tell it to.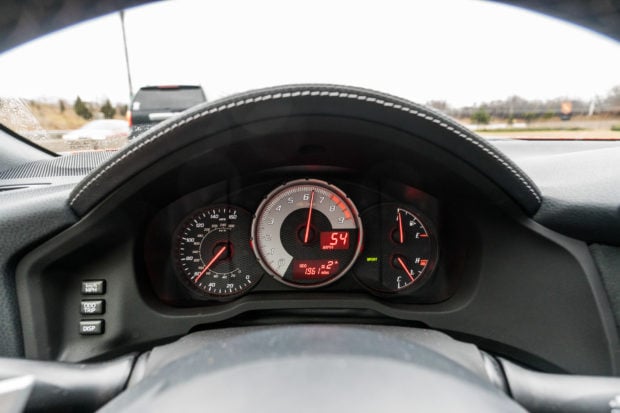 With a 0-to-60 time upwards of 6 seconds, the 86 isn't exactly a powerhouse, hence the many grumblings you'll hear from FR-S and BRZ owners for a horsepower bump. Frankly, it didn't bother me, as this car isn't about running drag races. What the 86 is good at is providing thrills on twisty and turny roads. It's not like you hear people whining that the Miata is underpowered, because it's not a straight-line car, and such is the same case with the 86. If you think about the 86 in those terms, you'll enjoy it much more.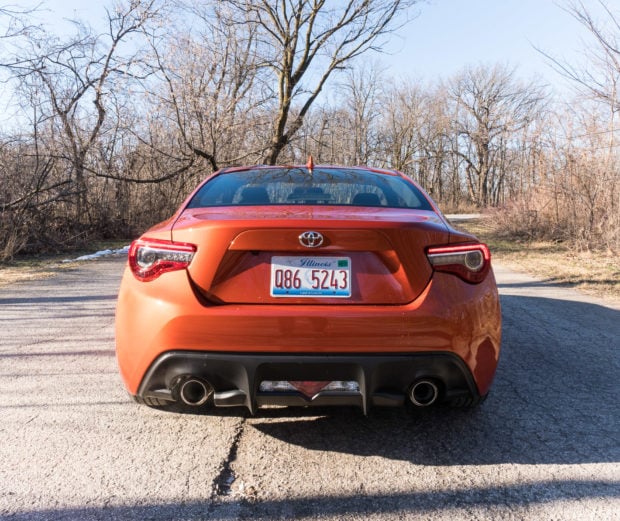 Thanks to its exceptionally low center of gravity, relatively light weight, and good balance, it goes around curves brilliantly. Just point and aim. Body roll is minimal, which makes it less of a roller coaster ride than the MX-5 too. The MacPherson front struts and dual wishbones in back do a great job keeping you connected with the road, providing a firm and sporty feel.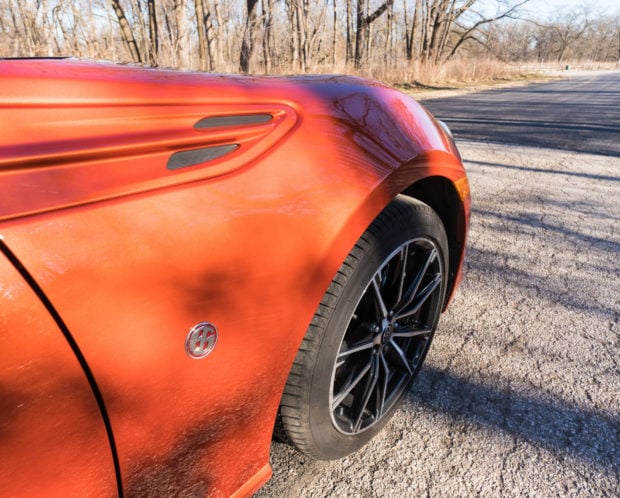 With the default stability and traction control nannies engaged, the 86 does does shockingly well for a RWD car, following your turning arc brilliantly and without noticeable oversteer or understeer. But drop into Track mode, and the rear will definitely come around on you more, so it's definitely driftable if that's what you're into.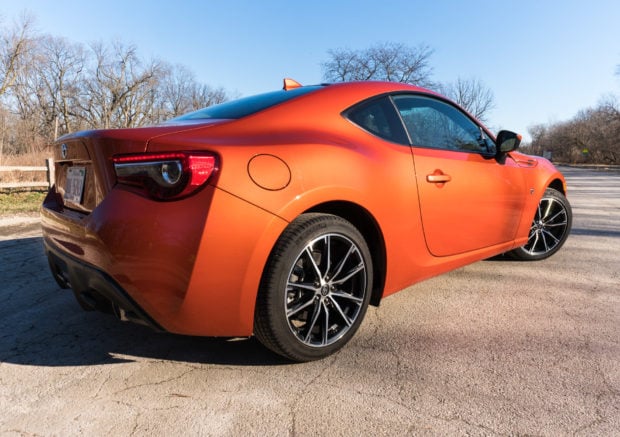 Since the 86 is a reasonably priced "starter" sports car, you shouldn't expect a fancy interior with lots of bells and whistles. It comes with cloth-covered bucket seats, and the dash and console materials are pretty basic. That said, I do like the microsuede material above the glovebox and along the window ledges. The aluminum pedals look nice, as do the aforementioned "86" logos throughout the interior.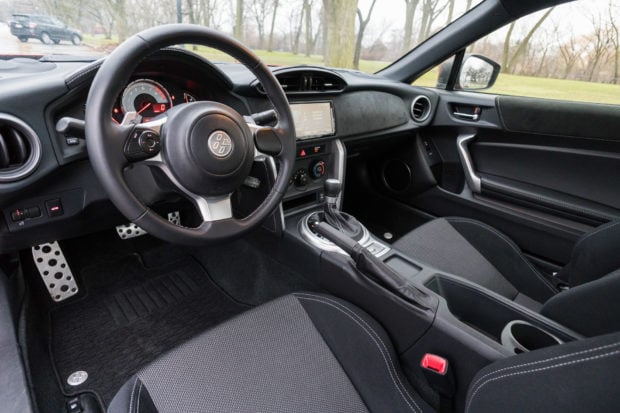 In terms of interior comfort, the seats provide good support, but I found the side bolsters to be a bit narrow for my liking. I also like how the cupholders are placed far back in the console, making them less likely to be bumped into when shifting the manual gearbox.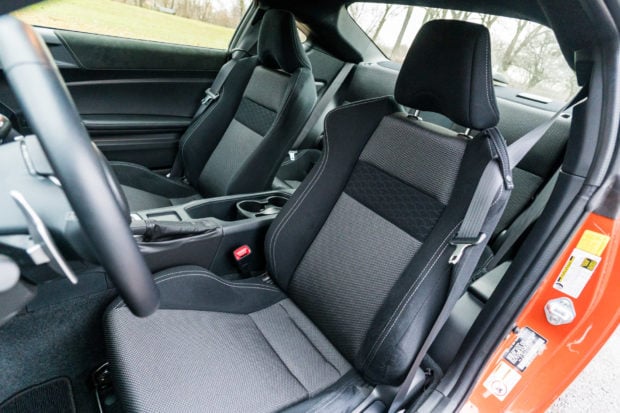 There's a very basic 7″ touchscreen in the console which provides AM/FM/HD radio, Bluetooth and USB connectivity, connected to a better than expected 8-speaker Pioneer sound system with good volume and clean sound overall. Those looking for fancy stuff like Apple CarPlay or Android Auto won't find them here, but you can add navigation as an option. Me, I'd just stick with my smartphone's maps over Bluetooth and save the 900 bucks. That all said, these things matter little in the grand scheme of things for a car that's all about driving enjoyment.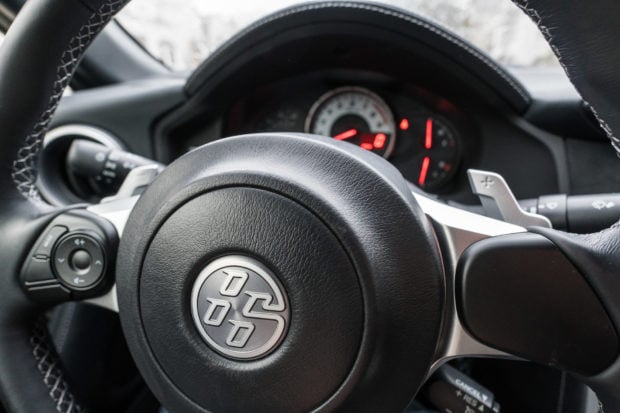 In general, I really enjoyed my brief time with the Toyota 86, and am very glad that they decided to continue on with the car now that the Scion brand is no more. It's a fun car to drive, especially if you've got some good country roads around. It handles extremely well, and offers thrills whenever it's not pointed straight ahead. Could it use more power? Sure, but this car is never going to be a drag racer. I'm hopeful that now that it's under Toyota's wing, we'll start to see some evolutionary upgrades in coming model years, though if you buy one now, you'll still have a great time.