2018 Lexus LC 500 Performance Coupe Prices Announced
lexus | lexus lc 500 | January 10, 2017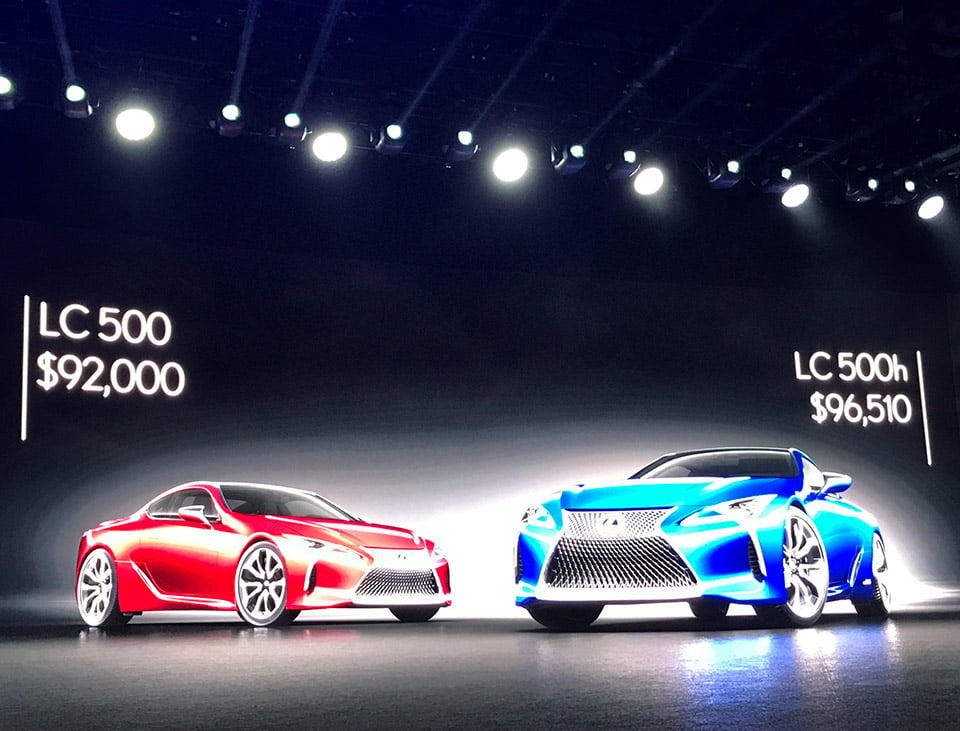 Lexus showed off its cool new LC 500 sports coupe a while back, and the one thing we didn't know about the car was just how much it would cost. The answer is a lot. The starting price for the LC 500 is $92,000. The LC 500h hybrid starts at $96,510. Naturally, options can add lots more to those amounts, easily pushing the price into six figure territory.
The gas-powered LC 500 packs a hefty 5.0L V8 making 471 hp and 398 lb-ft of torque, while the hybrid LC 500h has a 3.5L V6 and electric motor combo that makes 354 hp. I'm honestly not sure why someone would spend $4,000 more for a car that makes almost 120 fewer horsepower.
Both versions come with lots of standard features like triple projector LED headlamps, daytime running lights, drive mode select, premium audio, and lots more. Options packages include a touring package, which adds a glass roof, 20″ wheels, heated/ventilated seats, Mark Levinson audio, and a few other bells and whistles.
That package adds $4,000 on the LC 500 and $2,790 on the LC 500h. The Sport Package with Glass roof gets 20″ wheels and Alcantara heated/ventilated seats, adding $4,000 for the LC 500 and $2,400 for the hybrid. The Sport Package with Carbon adds a carbon fiber composite roof, 21″ wheels, Alcantara seats, and more, and runs $7,000 for the normal version and $5,400 for the hybrid. The most expensive option package is the Performance Package with Carbon that adds active rear steering, and more carbon fiber bits, among other things for $10,000 on LC 500 and $8,790 for the hybrid.