The Top 10 Cars from Sci-Fi Movies
science fiction | January 15, 2017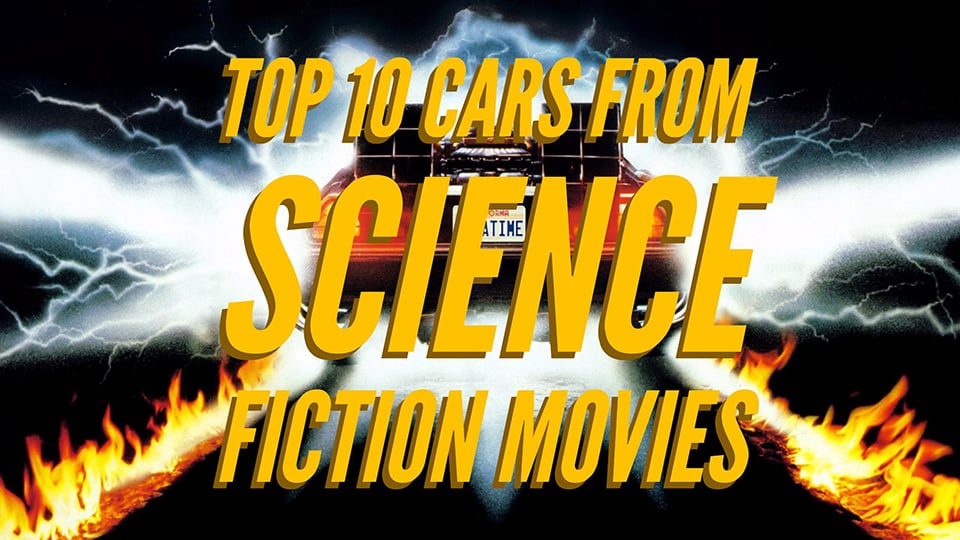 Science fiction writers have often been recognized for predicting a future that ends up to be surprisingly prophetic. But when it comes to personal transportation, science fiction films usually fall back to something that we all recognize as a car, even if the film is set decades into the future. Despite all the promises of people-movers and transporters, science fiction writers oftentimes fall back to the somewhat more mundane automobile in their storylines.
But that doesn't mean we haven't seen some incredible cars in science fiction films. And they don't have to be wildly futuristic to be recognized here, sometimes a heavily customized V8 muscle car will get our adrenaline rushing just as well as a sleek, cutting edge supercar.
 1. DeLorean Time Machine, Back to the Future
What beats a flying car? How about one that travels through time? The DeLorean DMC-12 featured prominently in the trilogy and, in many ways, was the true star of the show. Fitted with a flux capacitor, the Time Machine requires a whopping 1.21 gigawatts of power to reach cruising-through-time speed; the equivalent, if this math is right, of 1,621,400 horsepower. No wonder Marty's tires catch fire!
 2. Flying Yellow Cab, The Fifth Element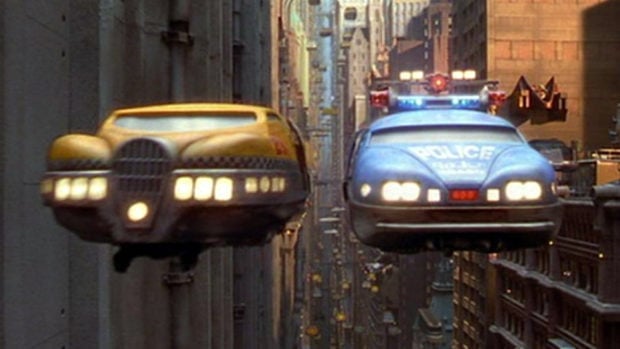 Who needs wheels at all when you're in a world of flying cars? In 1997's The Fifth Element, Korben Dallas (Bruce Willis) steals a futuristic New York City yellow taxi that can deftly maneuver through the skies above Manhattan, dodging through skyscrapers, under bridges, and whatever it takes to avoid the flying police cars that give chase.
3. Ecto-1, Ghostbusters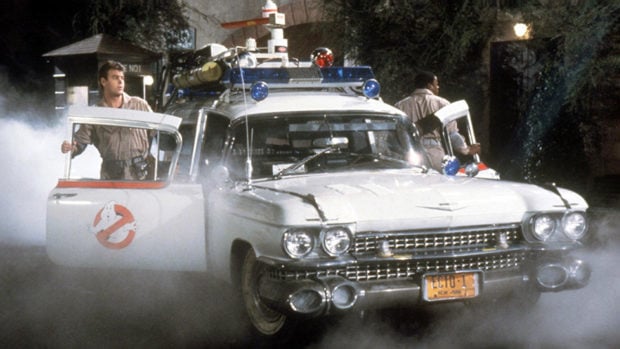 A car does not need to be futuristic, incredibly fast, or to breathe fire to become an iconic part of popular culture. Dr. Ray Stantz gave us just such a vehicle when he showed up with a 1959 Cadillac for use by the fledgling Ghostbusters business. After a good deal of work went into repairing and customizing the vehicle, we were presented with the classic Ecto-1, a car that did its part to save New York City from Gozer and Mr. Stay Puft.
4. The FireCar, Mad Max: Fury Road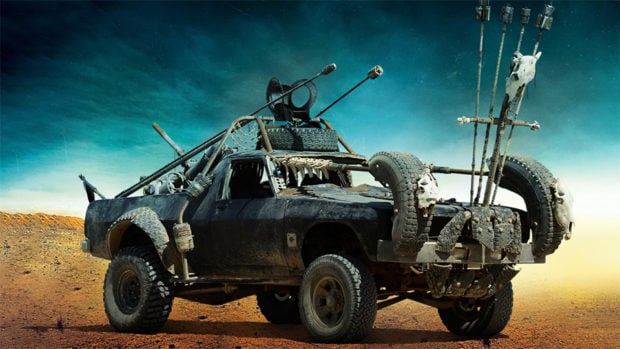 It's hard to choose just one car from all the creations we saw in Mad Max: Fury Road. But I must admit that the Mad Max franchise brings to my mind Australian muscle cars. So my pick is the flame-throwing FireCar. Based on a 1970's Holden HZ Ute, this car includes awesome tire armor all around, a gunner seat atop the cab, and rear-facing flamethrower. With this sort of vehicle, I can't believe the War Boys lost.
5. Spinner, Blade Runner
In 1982, Ridley Scott gave us a futuristic view of the city of Los Angeles and Rick Deckard's task of tracking down the rogue replicants who are banned from Earth. But L.A. is famous for awful traffic and it seems that won't be resolved in the future if Blade Runner is any indication. But we've moved to a three-dimensional traffic space, and flying cars abound in the city. The police themselves rely on the Spinner flying cars, which can take off and land vertically. It will be interesting to see what sort of cars will appear in the Blade Runner 2049 sequel.
6. Watney's Electric Rover, The Martian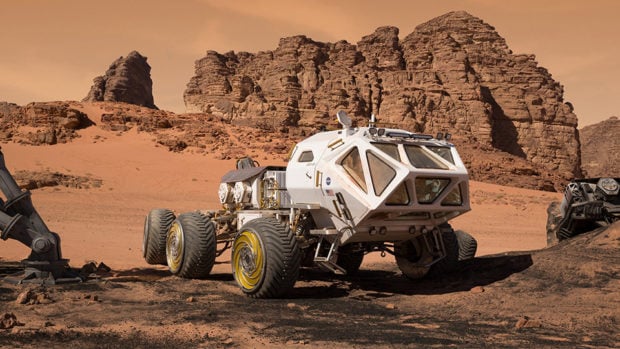 In 2015's The Martian, Mark Watney must find a way to travel more than 2,000 miles from the research base to Ares 4, where his only means of escape exists. He is able to get there thanks to two electric-powered rovers that he modifies heavily to make the journey. Using solar panels to recharge the vehicle's batteries and a plutonium-powered space heater, the rover carries Watney over the harsh Mars landscape and ultimately to his rescue.
7. Light Runner, TRON Legacy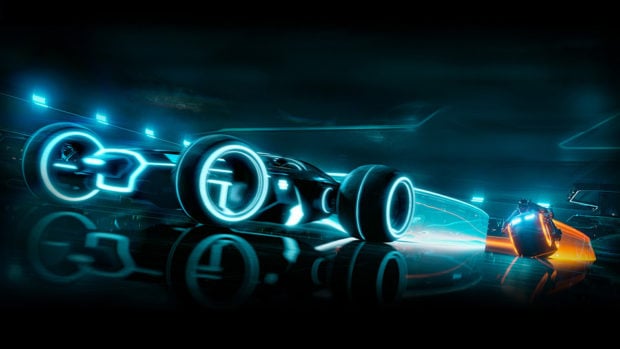 While the Light Cycles stole the show in the original 1982 Tron, the four-wheel Light Runner was first seen in the 2010 TRON: Legacy. It's hard to beat a completely virtual vehicle for handling, since it's hardly limited by the laws of the physical world.
8. Audi RSQ, I Robot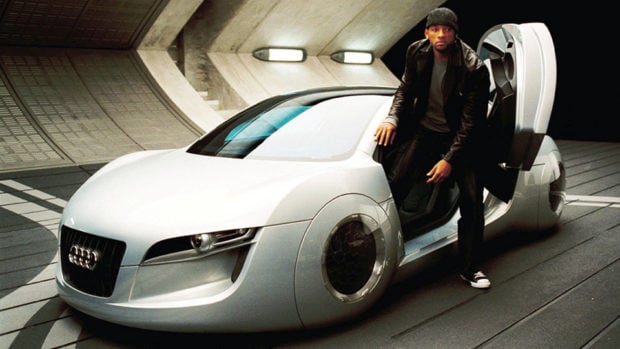 Audi certainly does its share of product placement in action films (see, Tony Stark's daily drivers). But one of the coolest versions of an Audi has to be the one driven by Will Smith's character, Detective Del Spooner. The two-door coupe isn't too far out of this world, looking somewhat like a 2025 version of the R8, complete with the familiar trapezoidal front grille and Audi four-rings logo. More interestingly, the car doesn't use conventional wheels but is instead outfitted with spheres, allowing it to move in pretty much any direction. Makes it almost worth getting hunted by a squad of maniacal robots.
9. Nissan GT-R, Elysium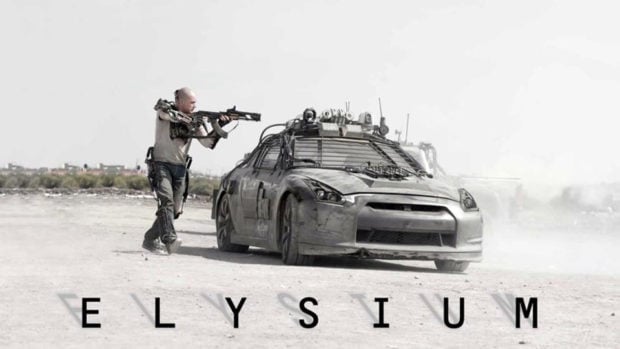 The heavily-modded Nissan GT-R in Neill Blomkamp's 2013 Elysium seems like a great choice for Max to try begin his escape and make his way to the Elysium space habitat. But the destitute environment of Earth in 2154 means that the dwellers must be very resourceful, even if that means keeping a 140-year-old Nissan GT-R operational. Just add some armor plating and metal window louvres and those guard droids will be left behind.
10. Centauri's Star Car, The Last Starfighter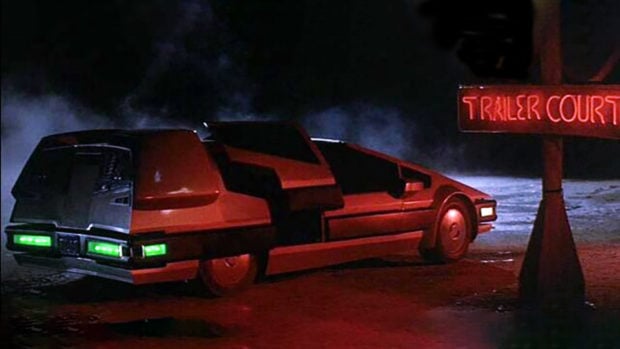 I'm certainly dating myself with this last one, but I still really like watching The Last Starfighter. From its cheesy "this kid is great at video games so he'll be a great Starfighter" premise to his weird-looking alien partner, Grig, everything about this film is memorable. When our hero, Alex Rogan, is recruited to join the battle in space, his new mentor, Centauri, shows up in a spaceship that transforms into a car for use on Earth. After traveling across space, the ship again transforms into a four-wheel vehicle and navigates through the mothership.
While we're all waiting for our hoverboards and teleporters to show up, I'll be happy to make do with one of these awesome cars from the realm of science fiction.