First Drive Review: 2017 BMW 540i
bmw | BMW 5-series | bmw 540i | January 24, 2017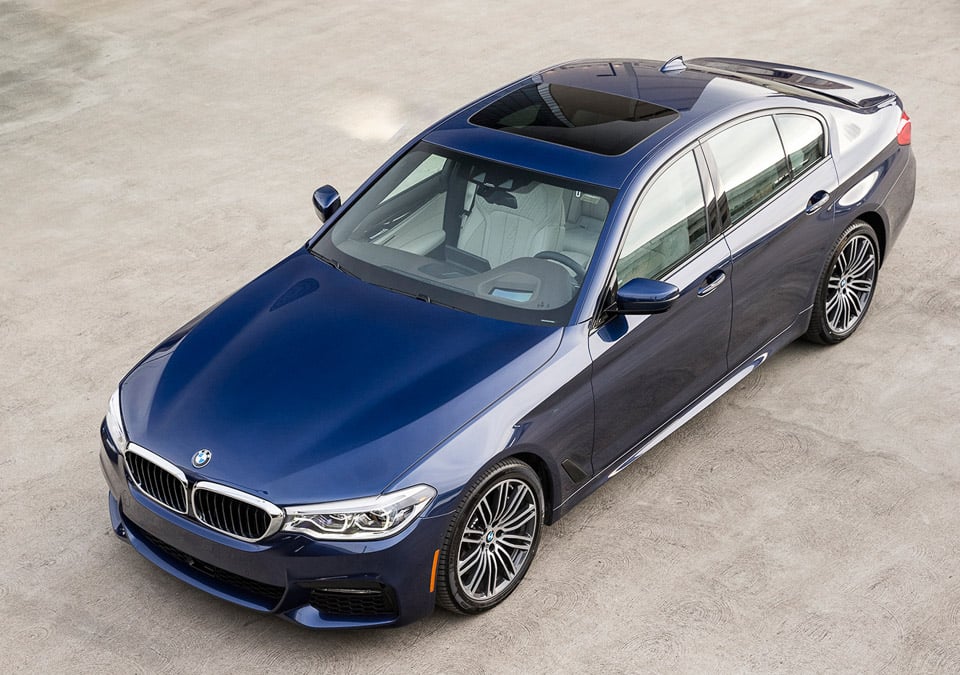 The BMW 5 Series may not be the brand's most popular sedan, but it may be its most important. Having a mid-size sedan that 3 Series buyers can move up to is critical to keeping young couples in the brand as their families grow. And yes, while SUVs are capturing more of the market each day, there are some of us who still prefer a car. If you're looking for one that offers luxurious comfort for four adults, excellent handling, ample performance, technology so advanced it borders on silly, and a heaping helping of heritage that dates back to 1975, you'll find all that and more in the new BMW 5 Series.
I was invited to drive the new 530i and 540i from Palo Alto to Napa, California, with a quick stop at BMW's high-tech innovation center in Silicon Valley. And in addition to getting familiar with the new Bimmer on all kinds of roads, I also got some insight into BMW's plans for electrification, automation, and other technological advancements. But let's start with the car, because that's what you'll be able to buy today (actually February 11).
Available for the time being with three powertrains, all 5 Series models will be available in either rear-drive or with xDrive all-wheel drive. The 530 features a 2.0L 4-cylinder twin-scroll turbocharged engine that makes a healthy 248 horsepower. I drove that model in the morning and was pleasantly surprised by the car's overall performance. Even though this year's model is 1.2 inches longer, 0.6 inches taller, and 0.3 inches wider, they managed to cut the car's weight by nearly 150 pounds thanks to the judicious use of aluminum and magnesium alongside high-strength steel in the frame, suspension, and body panels.
The result is that the 530i, equipped with the M-Sport package and just about every available option except xDrive, is agile and comfortable. A lot of drivers will find its performance perfectly satisfactory. In fact, I did. It merged easily onto the 101, passed cars quickly when necessary, and hummed along comfortably with traffic. It isn't until you get behind the wheel of the 540i with its 335 horsepower, twin-scroll turbocharged 3.0L I6 engine that the 530 feels inadequate.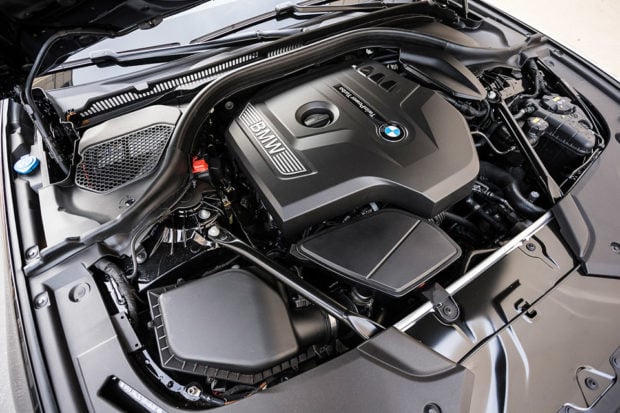 After a short one-hour drive in the 530i, I was able to spend the bulk of the day with the 540i, so the rest of this review will focus on it. The only difference between our two cars is the engine which adds 87 horsepower and a mere 101 pounds. All the tech, interior trim, brakes, suspension, transmission and other bits are identical. So everything I say about the 540 will apply to the 530, just add a few seconds to the 0-60 and passing times. Top speed, which is electronically limited, is the same for both.
From an aesthetic standpoint, BMW's team hasn't wandered too far afield from the car it's replacing. It still features short front and rear overhangs, a low hood that's smoother, a strong character line running from the front wheel to the taillamp, and of course the signature Hofmeister kink at the c-pillar. What you have here is an evolutionary change that is simpler, more elegant, and more aggressive. That aggressiveness really comes to play in the new front end where the kidney grilles sweep more seamlessly into the standard all-LED headlamps and at the rear where the overall effect makes the car look lower and wider.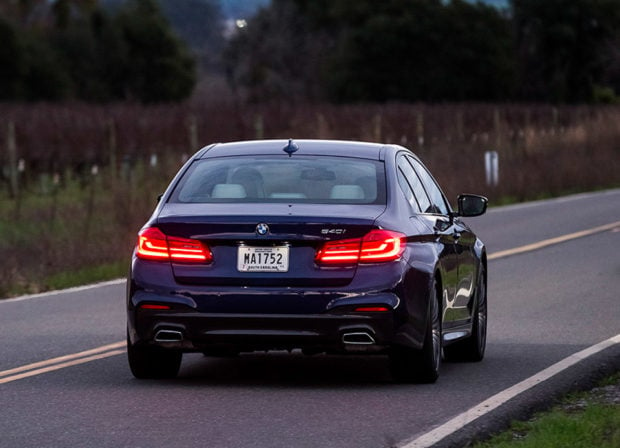 Inside, BMW has upped their game again. Equipped with optional Nappa Leather in Ivory, a new sweet sounding Bowers & Wilkins sound system, upgraded instrument panel and infotainment system, the 540i rivals Mercedes-Benz for the best interior in the category. The M-Sport steering wheel felt great in my hands, the seats offer plenty of comfort and support. In my car they were also heated and ventilated with a massaging function. Rear seat passengers get all the benefit of the extra length in the 5 Series with every one of the 1.2 inches going to increased legroom in back.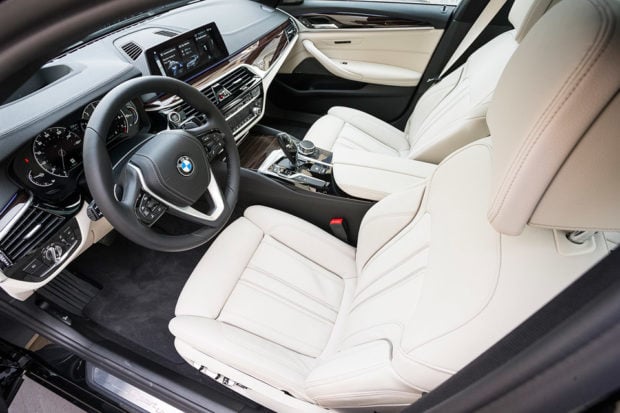 The even bigger news inside the car is that BMW has taken the electronic architecture from the 7 Series and applied it to the 5 Series. It also includes the latest edition of iDrive which includes several enhancements. The most important of these is a new customizable graphic interface that uses tiles to display important information on your home screen. These tiles contain basic information that is expanded when you activate it via the touch screen or through the iDrive controller. BMW also brings gesture control to the 5 Series, so you can answer your phone and adjust the volume on the radio with a wave of your hand. It's one of those features that while cool, sounds better in theory than in practice. It works great for answering or dismissing a phone call, but the volume adjustment isn't very precise and found myself using the interface on the steering wheel more for that.
All in all, they did manage to improve the iDrive and interfaces, but there's still a lot of complexity in the system. You have to dig through menus to find the seat massagers, and setting up a customized drive mode can take some work. These probably aren't problems when you live with the car, but on outings like this where you hop in the car and start driving, making sure you have things like the lane-keep assist or adaptive cruise properly activated can be tricky.
Another BMW technology first is the ability to wirelessly connect to Apple CarPlay. All other manufacturers currently require you to plug the phone in to access your iPhone's apps. BMW makes it part of the Bluetooth protocol, so now once you pair your phone, you can keep it in your pocket to use all your apps. Other technologies include wireless charging, a wifi hotspot that can connect up to 10 devices and a couple of technologies that make parking easier.
BMW has equipped the 5 Series with parking assist that takes over all the controls – steering, shifting, acceleration and braking – if you don't feel like parking the car yourself, and does so in spots just 30 inches longer than the car. You also get remote parking, so you can back your car into a spot from outside the car using the interactive key fob. This is great when the spot you want to use has big puddles or might be a little tight. Finally, they've included 3D surround view cameras that make parking easier if you choose to do it yourself. The other nice thing about the surround view cameras is that you can check on your car using your smartphone via BMW's connect app. Just fire it up and as long as your car has an internet connection, you can see the area surrounding it and make sure no one's screwing with it, even if you're halfway around the world.
All those things are well and good, but BMW still bills itself as the "Ultimate Driving Machine," so the big question is how does the 540i drive? The short answer is pretty damn well.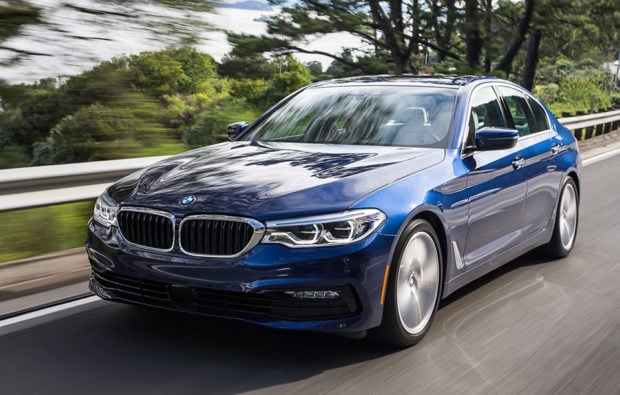 The engine feels like it delivers a lot more than the stated 335 horsepower (as this burnout we executed demonstrates). BMW claims 0-60 times are 4.9 seconds for the RWD and 4.7 seconds for the 540i with xDrive. I wasn't able to put a clock on it, but even without using launch control it felt quicker than that. Mated to a ZF 8-speed automatic with fairly tight ratios, the power was always readily on tap. BMW says peak torque (332 lb-ft.) begins at 1,450 RPM but the engine really comes to life when the tach climbs past 3,000 rpm. Even then, however, the car's exhaust note is unremarkable. I guess will have to wait for the V8 M550i to get one that really roars.
I enjoyed the car most when we got off the 101 and started carving up Highway 1 along the coast. I put the drive control in Sport Plus, stiffening up the adaptive suspension and steering, and pulled the shifter to the right so I could change gears manually using the steering wheel mounted paddles. What you get is a car that drives lighter and smaller than it is. The latest version of BMW's electromechanical power steering feels much more natural than the previous generation. Turn in was precise, quick, and progressive. Even at speeds well above the legal limit on roads that were less than whiskey smooth, the steering and suspension with its active roll control system worked together to keep the car firmly planted and in complete control. The M-Sport brakes were plenty capable of bringing the car back to the legal limit, and I was forced to do so pretty aggressively when I came over a hill only to spot a county sheriff on the other side. Fortunately I was able to mosey on past with him giving me nothing more serious than a dirty look.
This new 5 Series is everything it should be. It's better in every way than the car it succeeds. It has that reserved Teutonic character I love in BMWs, but with a level of luxury that'll have you wondering why someone would spend three as much for a Bentley. A base 530i starts at $51,200 and the 540i starts at $56,450, but that's just the starting price. Start adding features like the M-Sport package, Nappa leather, driver assist technologies, suspension upgrades, bigger wheels and tires, the $4,200 B&W stereo and more, and my test car stickered out at $82,610. The only thing that price didn't include was xDrive which adds another $2,300 to the equation.
Also available at launch is a 530e iPerformance version which offers 15 miles all electric range, the same 248 hp output of the 530i, and overall MPGe of 65 miles per gallon. The M550i xDrive with its 456 hp, 4.4L twin-turbo V8 is coming in a few months. No word on an M5, but if it's not out by the end of the year, you can color me shocked.
Standard features:  Sport leather steering wheel, power moonroof, power front seats, LED headlamps, navigation, enhanced USB and bluetooth connectivity, wood trim, split folding rear seats.
Major Options: Mediterranean Blue Metallic paint ($700), Nappa leather seats and door trim ($1,000), Cold weather package ($800), Driving assistance package ($1,600), Driving assistance plus ($1,400), Driver assistance plus II ($1,700) Dynamic handling package ($3,200), M Sport Package ($2,600), Luxury seating package ($1,600), Premium package ($1,950), Bowers & Wilkins sound system ($4,200)