2017 Chevrolet Bolt EV First Drive Review: A Pure EV without Trade-offs
chevrolet | chevrolet bolt | chevy | EV | January 26, 2017
---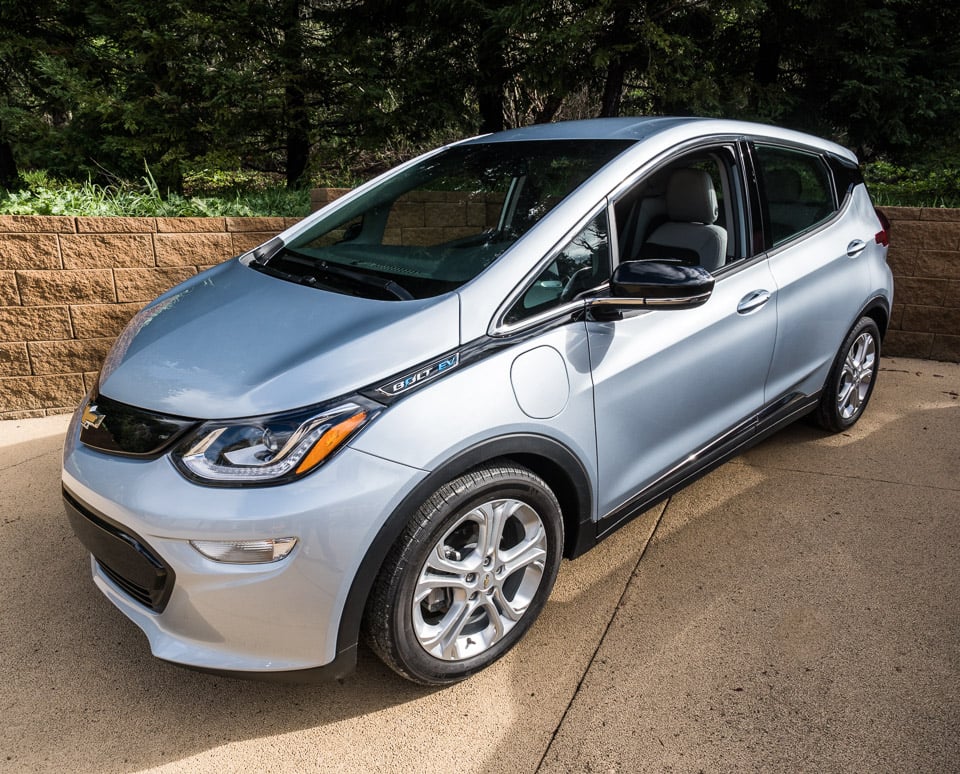 You might think that the car I was most looking forward to driving this year might be a supercar, or some luxo barge, but the vehicle I've been most anticipating since it broke cover is the Chevrolet Bolt EV. That's not because it's the most sporty, powerful, or luxurious car on the road. It's that the Bolt represents a major shift in thinking for alternative fuel vehicles. Rather than a car designed for some narrow market segment, like earthy-crunchy types or millionaires who want to flaunt their eco-consciousness, the Bolt is the first EV for everyone.
The Bolt looks and drives like a proper car, with great handling and driving dynamics, a comfortable and practical cabin, scads of cutting-edge technology, driving range that easily tops 200 miles, and a price tag that won't deplete the kids' college fund. This combination makes the Bolt the first EV that the average American family can truly live with as their daily driver – without any major compromises.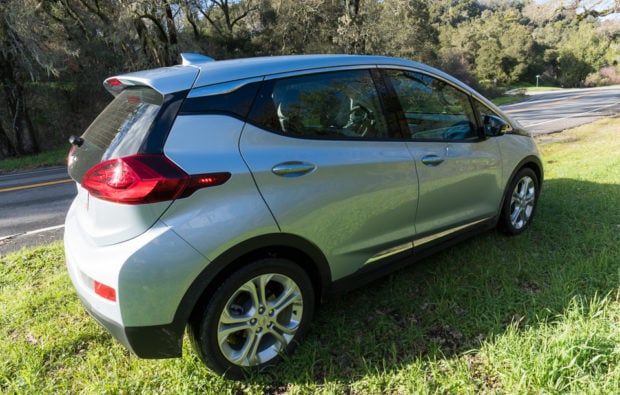 On style alone, the Bolt is out of the ordinary – in a good way. It defies categorization. It's not a sedan, SUV, minivan, hatchback, or a station wagon. Led by designer Stuart Norris at Chevrolet's Korea-based studio, the Bolt is totally its own thing, and I think that's great.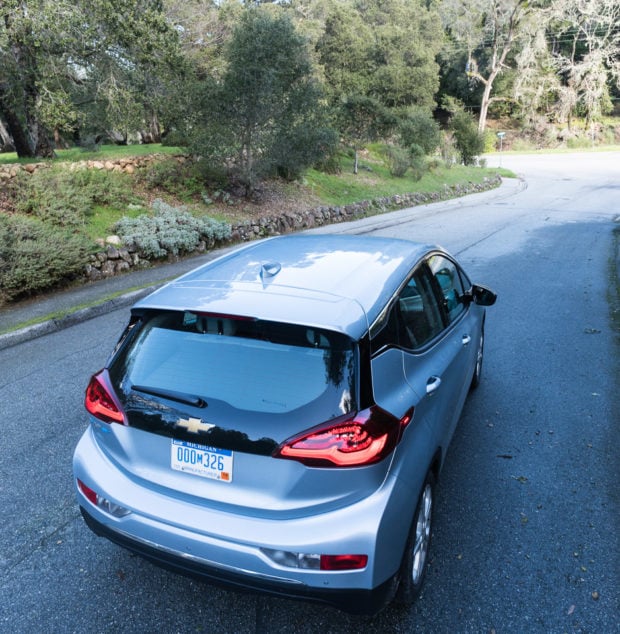 Its short nose and wedge-shaped profile are a welcome change from the "teardrop" shape that so many other energy-efficient cars have. Rather than designing the Bolt in the wind tunnel, Chevy designed a desireable car, then refined it in for aerodynamic efficiency.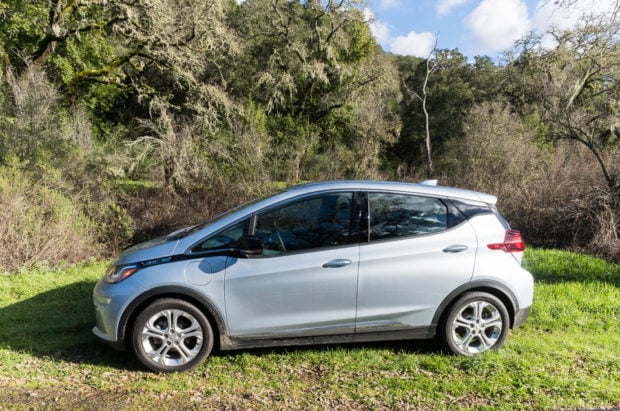 Despite its compact 164″ long by 69.5″ wide footprint, the Bolt is quite spacious inside, offering a great sense of height and overall room for both front and rear seat passengers. Sitting in the back seat, I had almost 6 inches of knee room with a 6-foot-tall person sitting in front of me.
You'll have no problem driving the Bolt with five life-size humans aboard. Plus, cargo space is great, with more than 16 cubic feet of space behind the rear seat, which expands to 56.6 cubic feet if you fold down the rear seats, which fold flat in a 60/40 configuration.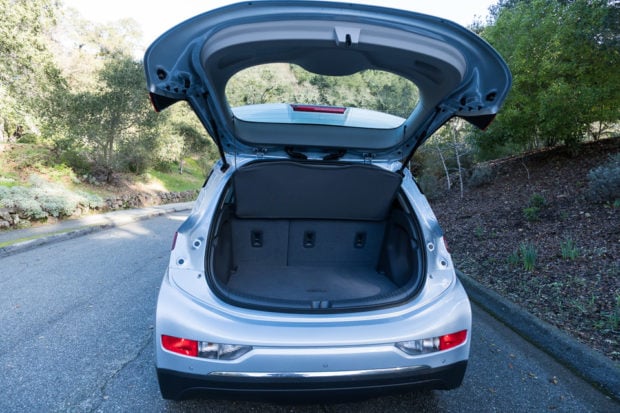 The interior of the Bolt is decidedly modern, with smoothly sweeping surfaces that meld seamlessly from the doors to the dash to the center console and back. Despite the lack of a sunroof option, the cabin feels bright and airy, in part thanks to the massive solar ray absorbing windshield up front, along with light-colored accents.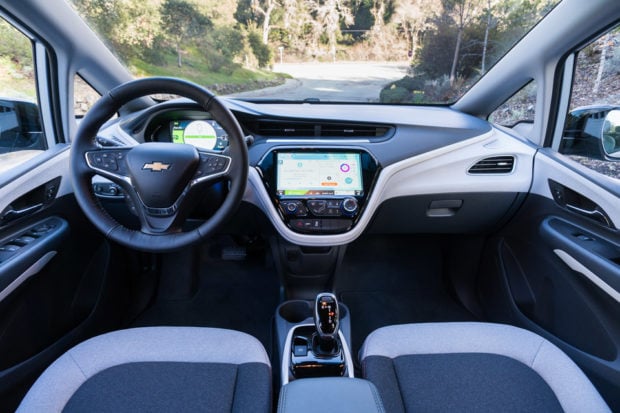 Most of the cabin materials are pretty utilitarian, done up in a mix of gloss and textured plastics, and lightweight fabrics on the seats (the Premier trim gets perforated leather.) Heated seats and a heated leather-wrapped steering wheel are standard on the Premier, and optional on the LT, but I highly recommend that every buyer go for these, as they're far more energy-efficient than using the main HVAC system to keep warm.
There's a huge 10.2″ touchscreen in the center console that sports a brand new user interface developed specifically for the Bolt. Its sleek, contemporary style is echoed in the car's 8″ digital instrument panel, which provides clear and concise information on estimated range, real-time power usage, and one of the cleanest, easiest to read digital speedometers I've encountered.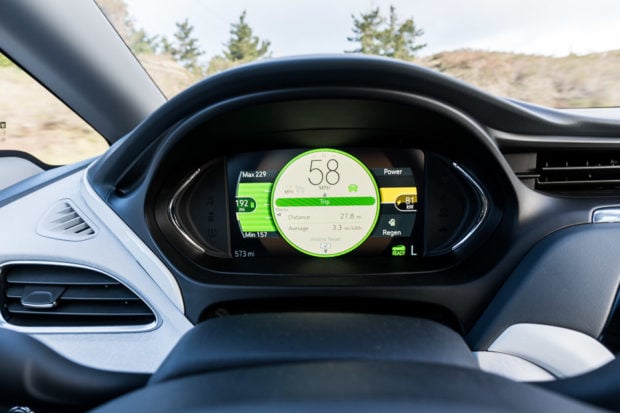 From a performance perspective, the Bolt EV feels great, with its 60kWh battery pack and 150kw motor pushing out as much as 200 horsepower and 266 lb-ft. of torque. It does 0-to-60 in 6.5 seconds, which isn't a bad number to begin with, though the burst of instant low-end torque makes it feel quite a bit faster off the line – especially with Sport mode activated.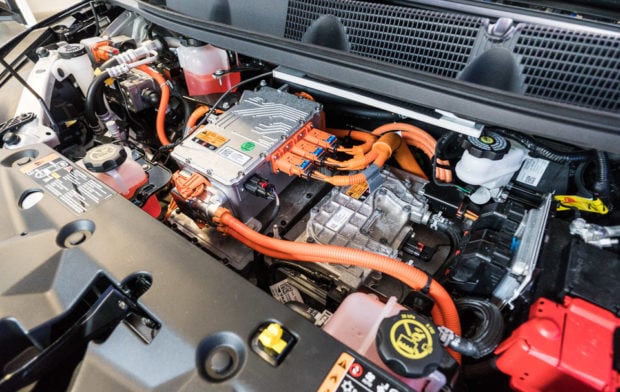 The Bolt handles extremely well, with a nice stiff chassis with minimal body roll, and just the right amount of feedback through its steering wheel. The cabin is extremely quiet, which is impressive given the fact that lightweighting must have had some impact on how much acoustic insulation the Bolt can carry around. Of course, the motorized power train eliminates engine noise.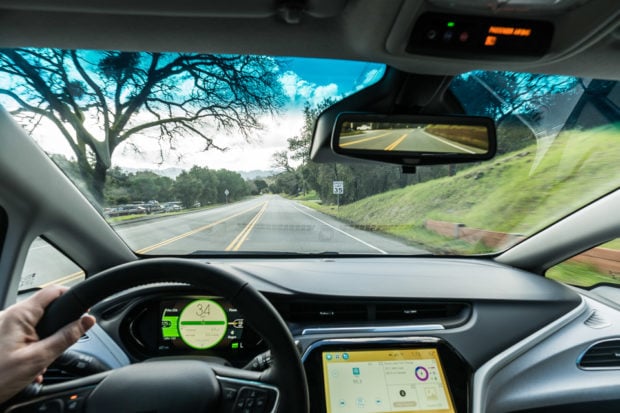 There are two primary driving modes: "Drive," which feels much like a regular gas car in terms of feedback and torque crawl, and "Low," which enables a more aggressive regenerative braking profile. In this mode, you can actually drive the Bolt with minimal need for the brake pedal, as the car accelerates and decelerates using just over the right pedal. Low mode is especially nice when driving downhill, eliminating the urge to ride the brakes, while recapturing extra energy along the way.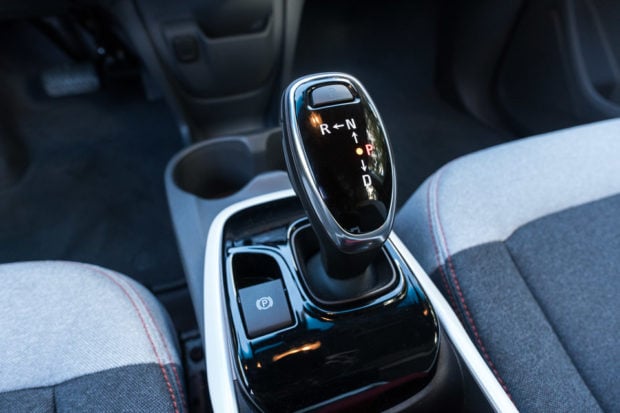 This single-pedal driving mode is surprisingly intuitive, and not nearly as jarring as the similar tech on the BMW i3. In Drive mode, the Bolt's estimated driving range is an extraordinary 238 miles, but you can do even better in Low mode. In my time driving the Bolt, I saw little reason to run the Bolt outside of Low mode. It provides greater driving range and doesn't interfere with the driving experience in any meaningful way. There are two more aggressive regenerative braking modes which can be activated via a paddle on the steering wheel if you want to try and recapture even more energy through more severe engine braking.
One of the big questions about any electric vehicle is how long it takes to charge up. If you use a 240-volt Level 2 charger, you can expect about 25 miles of range for every hour of charging, so you're looking about about 9 hours or so to fully charge up from a completely empty battery. Keep in mind that you'll rarely let you battery drain all the way, so real world charge times should be shorter. If you opt for the DC Fast Charging feature, you can get up to a 90 mile charge in just 30 minutes at a station which supports the tech. You can also juice up in a pinch using a standard household 110-volt outlet, but that'll take an hour for just 4 miles of range, so this should only be used as a last resort.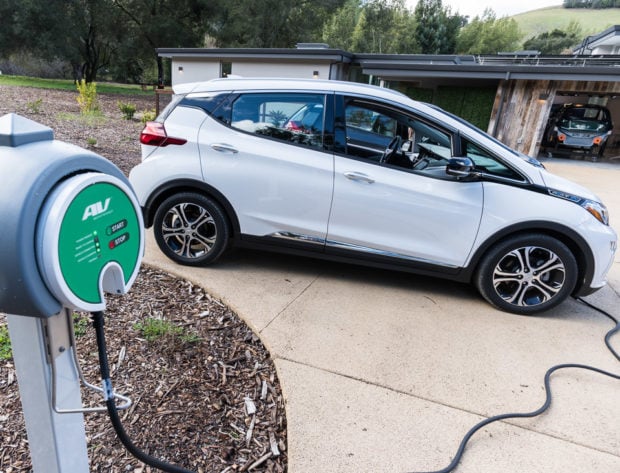 The Bolt's touchscreen provides the ability to customize charging schedules, in case your electric company charges extra for peak hours, and you can set unique weekday/weekend schedules as well as by season or location. For data geeks, there are detailed graphs available which show historical power consumption so you can see how energy efficient your driving has been.
In the technical department, there's lots of nifty bells and whistles on board, including Apple CarPlay and Android Auto compatibility, a 4G LTE Wi-Fi hotspot, 2 USB ports up front and an option for 2 more in the back, a slick rearview mirror with a built-in LCD screen which expands your view angle from 20 degrees to 80 degrees, and available wireless charging for smartphones. A companion app called "myChevrolet" lets you monitor your vehicle's charging status remotely, and lock and unlock doors remotely, among other features.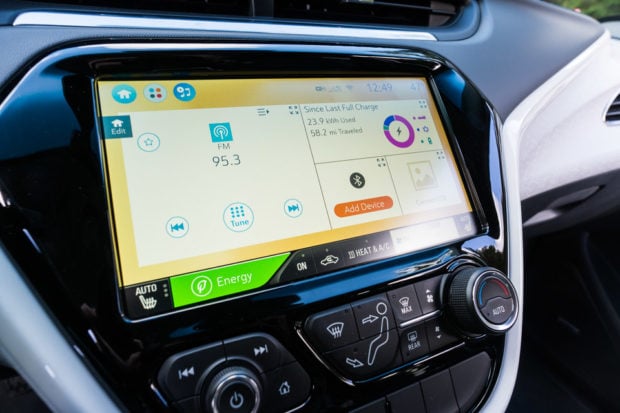 One feature that isn't available is on-board navigation, so you're expected to use your mobile device for driving directions. This is all fine, unless you find yourself in a location with no cell coverage like I did at one point when I went off my planned route. Fortunately, OnStar came to the rescue, and downloaded voice-based directions to the car.
The Bolt's available safety features include blind spot monitors, pre-collision warning, autonomous emergency braking with pedestrian detection, rear cross-traffic alert, lane departure warning, intelligent headlights, and a surround camera that provides a top-down view of the entire car while parking. There's also a standard cruise control, but unfortunately there's no adaptive cruise available.
Chevy has a true game-changer on its hands with the Bolt EV. Between its excellent driving dynamics, spacious cabin, great driving range, and plentiful tech, it's a fantastic vehicle for everyday use. Even if it weren't an EV, the Bolt would be a great car, and that's a testament to Chevrolet's design and engineering teams. The fact that you'll never spend a dime on gasoline or generate any emissions is the icing on the cake.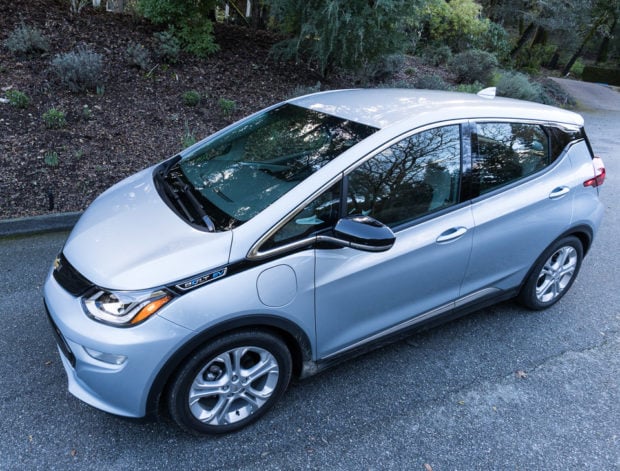 The Bolt EV LT starts at $37,495, which brings it in at just under $30,000 after the maximum $7500 Federal EV tax credit. A fully-loaded Premier trim vehicle has a sticker price of just North of $43,000, before tax credits.
Chevy has already rolled out the Bolt in California and Oregon, and it will gradually to dealers across America through mid-2017. You can also purchase a 240-volt level 2 charging station via Chevrolet's partnership with AeroVironment, which can be financed along with the vehicle's payments.