Jeep Easter Safari 2017 Concepts Get Official
easter jeep safari | jeep | March 31, 2017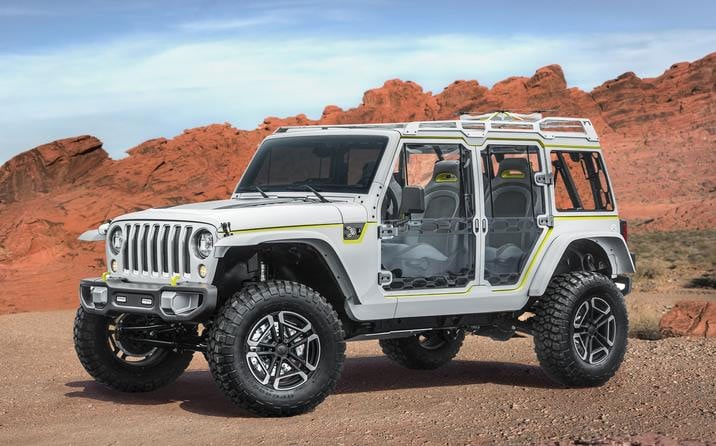 After teasing us earlier this week, Jeep has unveiled official pictures and details on the concepts that it will have on hand at the 2017 Easter Jeep Safari in Moab, Utah. The Jeep Safari is meant to bring the outdoors in, while keeping the roof and doors on. This Wrangler based vehicle has a translucent hard top with a drone rack, raked windshield, boatsided rocker panels, LED headlamps and more. Those cool doors are made from aluminum and clear vinyl.
The Grand One is a refreshed 1993 Grand Cherokee with custom wheels, fender flares, an extended wheelbase, and a 2-inch lift. It also has retro accessories like a car phone and more.
The Quicksand is meant to be fun in the sand and gets power from a massive Mopar 392 crate HEMI engine with 6-stack injection and a 6-speed manual. It is based on a Wrangler with a longer wheelbase and minimalist interior. It has a staggered tire system with 32-inch tires front and 37-inch rear.
The Trailpass is based on the all-new Compass and it looks fantastic. It's a step further beyond the Compass Trailhawk and it has a roof basket, rock rails, and cross rails. Power still comes from the stock 2.4L engine and 9-speed auto. The Switchback has a boatload of Mopar and Jeep Performance Parts thrown at it and is meant to be the ultimate for off-road performance. Those see-through half doors are pretty neat for letting passengers better see their surroundings.
One of the coolest vehicles is the CJ66 Jeep Wrangler CJ – it's less of a concept and more of a demonstration of Mopar's capabilities to customize. It's got the body of a 1966 Wrangler CJ, but packs a powerful Mopar 345 HEMI crate engine, cat-back exhaust, upgraded axles, big 35″ lug tires, and lots of other upgrades.