Getting My Manual Swagger in the 2017 Volkswagen Jetta
manual transmission | volkswagen | volkswagen jetta | April 12, 2017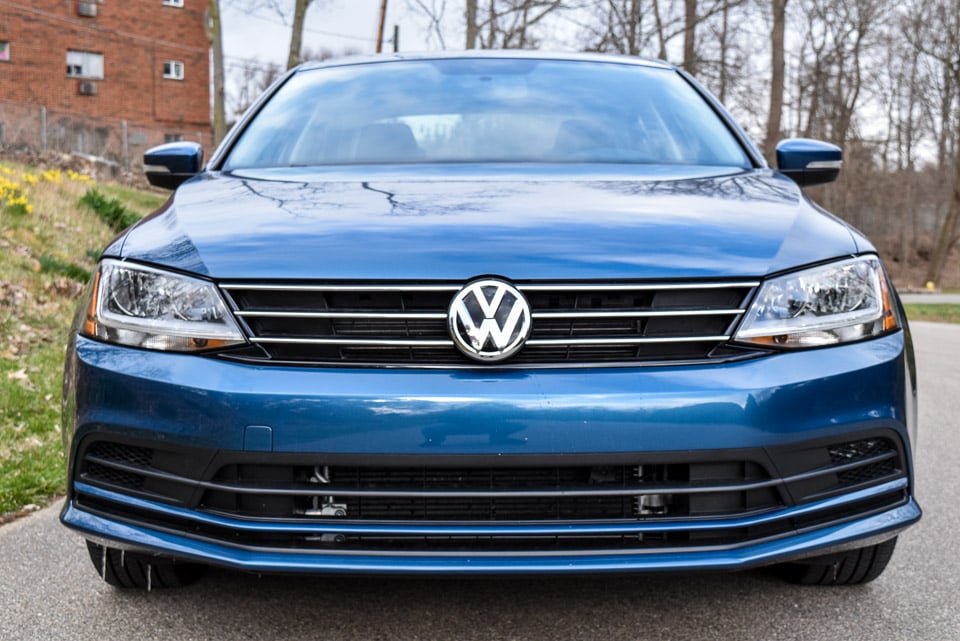 2017 Volkswagen Jetta SE

Engine: 1.4-liter turbocharged 4-cylinder
Horsepower: 150
Torque (lb-ft.): 184
Transmission: 5-speed manual
Top Speed (mph): 125
City/Hwy/Combined MPG: 28/40/32
Curb Weight (lb): 2939
Wheelbase (in): 104.4
Total Length (in): 183.3
Width (in): 70
Base Price (USD): $20,895
Price as Tested (USD): $20,895
Who ever heard of an auto journalist who can't drive a stick shift? Often, I took criticism over my inability to drive a manual transmission. I missed out on driving several amazing cars because of this. But, there's a good reason for my "inability".
Quick backstory – I was born with spina bifida, and I've had 13 surgeries in my life, mostly orthopedic in nature. I'm almost 44 years old and I wasn't really supposed to walk at all. Yet, I walk, albeit with a limp (which I like to call swagger). Frankly, I'm quite lucky, and I realize that every single day. Despite the aches and pains and issues I have to deal with from my disability I manage to challenge myself, and push forward and face challenges.
Don't ever take things for granted – like being able to go on hikes, walk long distances or stand on your feet for a long time. Those are all things I can't do. I also thought I couldn't drive a manual transmission, on account of my disability, as my left foot is braced and barely functions. That makes for clutching difficult. I had written it off as just another thing I couldn't do. And I was fine with that, despite my profession.
The legendary Henry Ford said: "Whether you think you can, or think you can't – you're right." That quote resonates profoundly with me. People with disabilities face their limitations all the time. Every single day. But they also like to challenge themselves and push those limitations. Thanks to a miscommunication with the fleet company that provides my test vehicles, I was afforded a chance to push one of those limitations.
This week's tester was the 2017 Volkswagen Jetta with a peppy 1.4-liter direct injected turbo 4-cylinder engine. And it had a five-speed manual transmission (which is standard). When I saw that clutch, the third pedal on the floor, I panicked. What am I going to do? How am I supposed to drive this? Here was one of the daily challenges and limitations smacking me in the face. At first I was upset. But then I looked at it as a chance to see if, after all these years, I could drive a manual.
With assistance from my brother-in-law, who is an experienced driver with his CDL, he took me to an abandoned parking lot to see if I could clutch. I adjusted the seat and had to pull it up closer to the steering column than I normally do as I was going to have to clutch with my heel. I have no pivotal movement on my foot.
After a quick lesson from my brother-in-law, I started my manual adventure. Shifting the Jetta into first gear was the most challenging. And, as anyone who's driven a manual transmission knows, timing the clutch to gas pedal with the shift was the biggest challenge. My first attempt I stalled. That's to be expected.
I didn't give up. I tried again, and rather harshly, shifted and hit the gas, and despite a jerky start, I was off. I then smoothly shifted to second gear, made a turn, and got up more speed into third gear.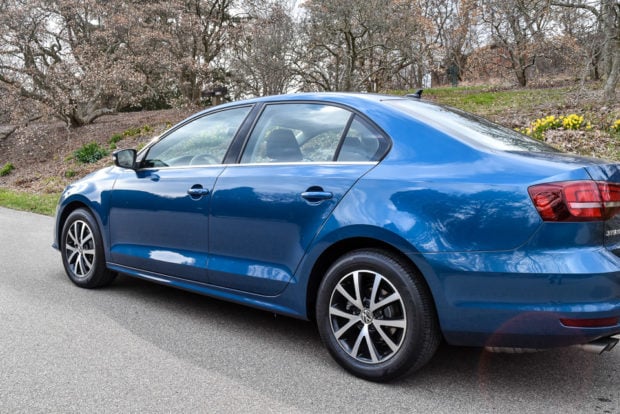 I was doing it! Who says I CAN'T do this? That Henry Ford was right (as usual)! I can drive a manual transmission. Sure it's not ideal for me, and I won't be telling the fleet companies to send me more, but I even got the Jetta shifted from a stop up a small hill, and I only stalled once.
The fond memory of this Jetta and this experience won't taint my limited-mile review of it. Note: Despite my "conquering" the manual transmission, I never actually drove it on the open road, as I was afraid to stall in intersections, etc. So, my take on this sedan will be more limited than my other car reviews.
On looks, the Jetta is conservative, with simple, clean looks. The grille features two rows of lights, and the daytime running lights have lines that run congruently and help balance out the front end to give it a nice look. The back side of the Jetta is rather dull. For sure the Jetta could use some more styling panache, and the back side could use a lot more excitement to bring its looks more up to the speed with the rest of its modern competition.
There are three engine options for the Jetta, including the 1.4-liter turbo I drove, as well as a 1.8-liter turbocharged, and a 2.0-liter turbo. It was difficult for me to gauge much about acceleration or overall engine performance with the limited amount I drove. My brother-in-law, who drove it on the road, found it to be peppy enough, although we both thought the road noise was pervasive. We both appreciated there was no backward drifting as there are on other manual transmission vehicles.
Like its outside, there's no flare or flashiness to the Jetta's interior. But at this price point, just having soft touch points is all you can expect. The front seats are comfortable with heated leather seats, and there's a leather steering wheel and shift knob. The Jetta is considered a compact car, but the interior space feels more like a midsize. The back seat offers ample legroom and headroom. Two adults and one child could be comfortable in the back.
The trunk is one of the largest in the segment with 15.7 cubic feet of space. Plus the rear seat folds in a 60/40 split that expands that space even further.
The technology in the Jetta is disappointing. It feels a little dated. Although the 6.3-inch touchscreen does interact with smart phones through Apple CarPlay and Android Auto, the screen is not very responsive and the system itself is underwhelming.
There are four trim offerings starting with the base S, then the SE, then the SEL and the top-of-the-line GLI. My tester was the SE, with a starting price of $20,895. Several driver assistance features come with this trim, as well as the heated seats and leather accents. For the price, it seems nicer than the bare-boned S trim.
Apologies to anyone who wanted a little more in-depth driving experience from the Jetta. Hopefully you understand. This car will hold a memory for me as the first manual car I ever drove. Hopefully it serves as a lesson to everyone to persevere and push your boundaries. Remember what Henry Ford said, and for me, as I face all life challenges, I will continue to swagger on!