Toyota FT-4X Concept: For the "Casualcore" Lifestyle
2017 new york auto show | 4x4 | crossover | suv | toyota | toyota ft-4x concept | April 12, 2017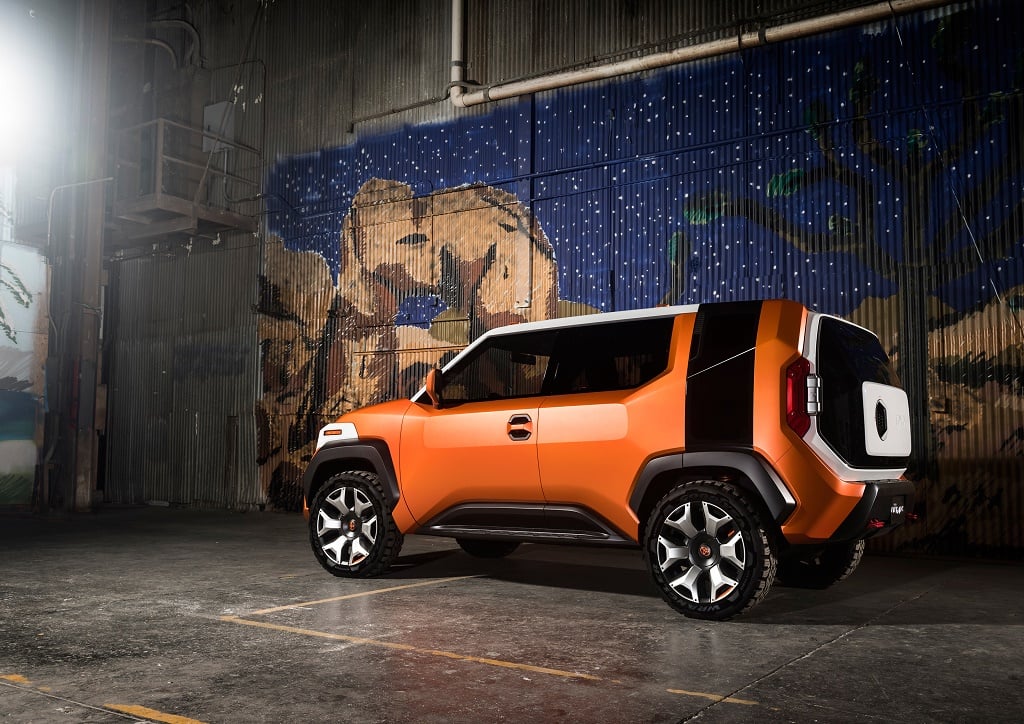 Toyota has coined a term for adventure-seeking urbanites who like blending practicality with 4×4 performance: "Casualcore." Utilizing the same global C-Platform as the latest Prius, the recently revealed FT-4X crossover is a CUV concept designed to offer a little bit of everything to Millennials searching for practicality and off-road audacity.
Take its hatch design for instance, which comes with a duo of insulated spaces for warm and cold storage, opens both horizontally and vertically, and features a rotating handle for selecting a preferred mode of movement. It also has tow hooks that double as tie downs, a flat roof that's reinforced for heavy hauling and features additional tether hoops at each corner, and there are external power outlets at the base of each corner.
Off-road animals will likely appreciate the FT-4X's sizable approach and departure angles, bulging over-fenders, rugged Goodyear rubber, and vertical rear window, which can be swapped with various tinted glass options. There's also a GoPro HERO5 Session camera integrated into the driver's side rearview mirror and a hidden storage compartment beneath the rear cargo hold that even Han Solo would approve of. Other cool features include headliner lighting that doubles as a flashlight, door handles that are also water canteens, armrests with USB ports, and a dome light that becomes a locator beacon.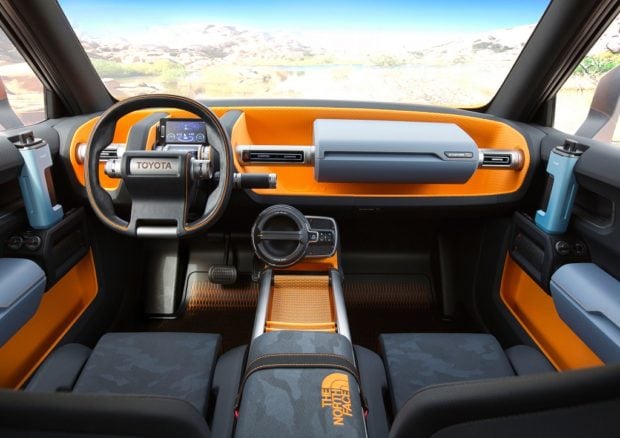 The placement of a North Face sleeping bag within the center console turns it into an armrest, and the multimedia audio system is removable, making it part boombox. Interestingly enough, there is no navi screen in this vehicle due to the fact that downloadable smartphone apps remain a widely preferred form of navigation, especially with younger drivers. Instead, you get a driver display cell phone storage shelf and a ton of connectivity options.
Equipped with mechanical four-wheel drive and the ability to engage low-range settings, the FT-4X offers 4×4 promise that is only accentuated by its raised MacPherson strut front, double-wishbone rear suspension setup. While no powertrain specifics were provided for this insanely cool concept, it's safe to assume that based upon its proportions a production model would likely receive the same naturally aspirated 2.0-liter setup found within the C-HR we drove recently.
Unfortunately, all we can do now is hope that Toyota actually puts something like this into production down the line, while preserving as many of these neat attributes as possible.